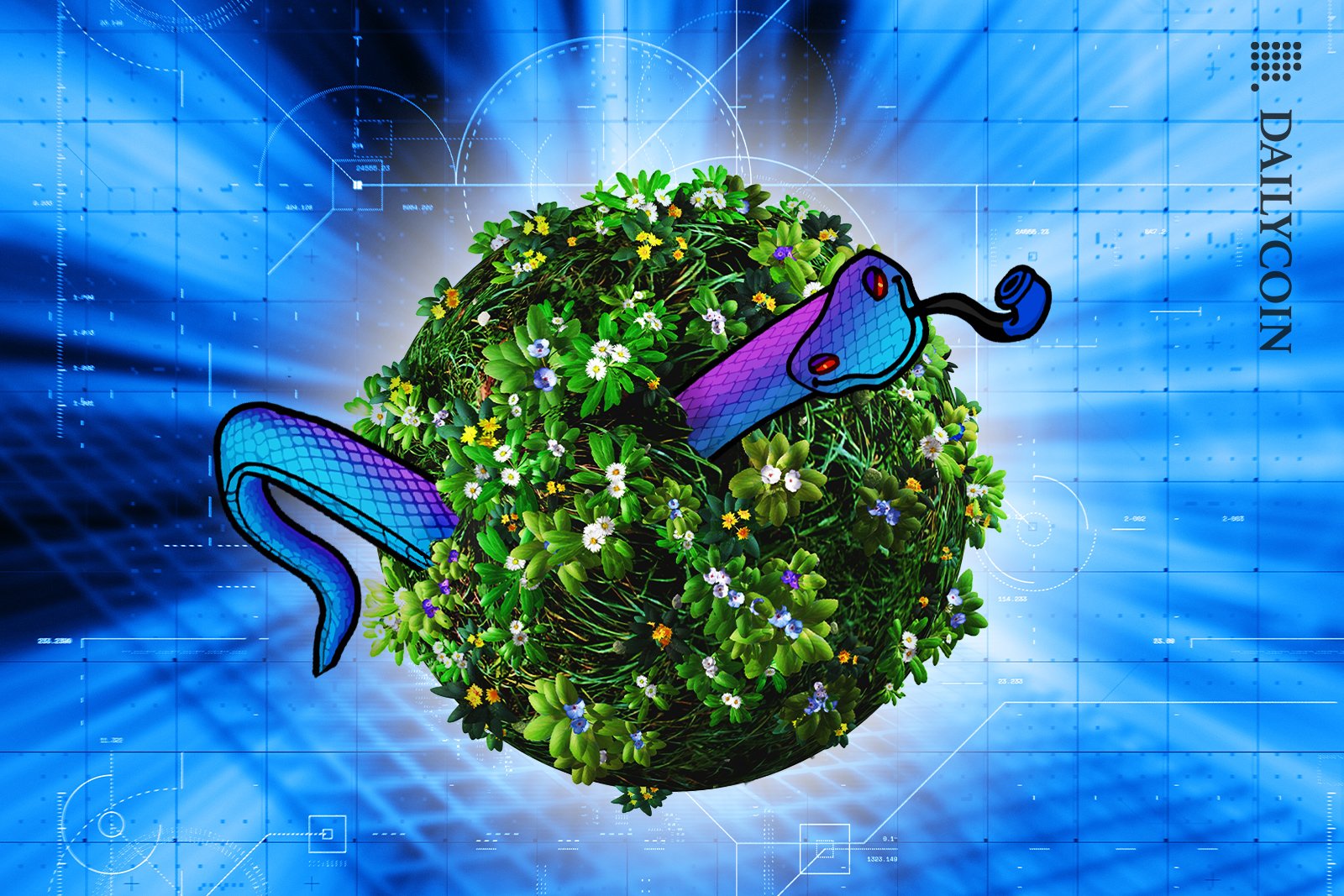 SNEK, a Cardano meme coin, is stealing the limelight from its canine brothers on other blockchains. While showstoppers like PEPE, Shiba Inu (SHIB), and DogeCoin (DOGE) have bled out all over the charts, Cardano meme coin SNEK slithered into our hearts and broke trading volume records on the Cardano network.
Cardano community members are rallying behind SNEK. With trading volume on the Cardano blockchain at all-time highs and network TVL (Total Value Locked) steadily rising, is Cardano DeFi finally starting to make a name for itself in the crypto market?
Can Cardano-based meme coins ever compete with the likes of SHIB and DOGE? What's special about SNEK, and why did it warrant a mention from Charles Hoskinson himself?
What Is SNEK?
SNEK is a crypto meme coin launched on the Cardano blockchain. According to its official website, SNEK is a community-driven token that aims to "provide a rewarding experience" for holders and create a symbiotic relationship where everyone can thrive and have fun together.
While meme coins on other networks like Ethereum and Binance Smart Chain are typically based on dogs, the Cardano community flipped the script and went for a snake-themed alternative. Perhaps a forked tongue-in-cheek nod to Cardano's Hydra technology?
With a total supply of 76,715,880,000 tokens, SNEK distributed is a true community-led meme coin. No coins have been set aside for the founding team, with the initial circulating supply distributed in the following allocations:
50% – Presale contributors.
40% – Initial Liquidity on Minswap, Cardano's top decentralized exchange.
5% – Partnerships and project development.
3% – Crypto exchange listings.
2% – Community airdrops.
What Does SNEK Mean for DeFi on Cardano (ADA)?
The explosive growth of SNEK has attracted plenty of attention to the Cardano ecosystem. Compared to other Layer-1 networks, Cardano has often been criticized for its limited range of DeFi applications, low on-chain trading volume, and TVL.
After launching in early May, SNEK has boosted MinSwap trading volume tenfold and attracted DeFi traders to bridge the Cardano ecosystem for the first time. With some early buyers enjoying 50x returns on their SNEK holdings, might this be the beginning of a Cardano-based meme coin season?
The on-chain data seems to think so. With exciting catalysts and updates on the horizon, like the Voltaire update and over 150,000 new native tokens minted on the Cardano blockchain, IOHK's blockchain went from strength to strength throughout May. Cardano's TVL has continued to surge throughout 2023, showing no sign of slowing down.
At its all-time high, SNEK's market capitalization was over $284M USD, making it the third largest cryptocurrency in the Cardano ecosystem. At this valuation, SNEK surpassed DJED, Cardano's native stablecoin.
Charles Hoskinson and SNEK
Not only did the glitter of SNEK's scales dazzle digital asset traders, but even Cardano's leading man Charles Hoskinson also took to social media to get to the bottom of SNEK hype.
Charles has since needed to reaffirm that he and IOHK have no relationship with SNEK after hopeful community members and crypto news outlets teased the rumor that a potential partnership might be coming.
As always, it's crucial to do your own research before believing whatever investment advice you might read in meme coin Telegram groups.
The Ethereum (ETH) to SNEK Cardano Bridge
In a bid to attract liquidity and trading volume from crypto whales on the Ethereum network, the SNEK team developed a smart contract that helps cross-chain traders buy SNEK directly with ETH.
As someone who spends a lot of time diving between different blockchains, I'm impressed by the strategy and foresight shown by the SNEK team and community. Moving between chains manually can be time-consuming and expensive. Automating this process makes it easy to migrate over to the Cardano blockchain and buy SNEK in one simple motion.
SNEK Gets Listed on a Crypto Exchange
As if breaking trading volume records on the Cardano network wasn't enough, the SNEK charmers could work their magic and accomplish other milestones for the Cardano ecosystem. SNEK became the first Cardano-based meme coin to be listed on a centralized cryptocurrency exchange.
As of 03:30 UTC on the 31st of May, SNEK is available to trade against Tether (USDT) on CoinEx, an admittedly low-tier exchange. Following CoinEx's announcement, SNEK has also been listed for trading on BitTrue.
SNEK vs. Other Cryptocurrency Meme Coins
SNEK has proven that it can win the hearts of the Cardano community and attract attention from users of other blockchains, but how does it stack up against the other meme coin leviathans like SHIB and DOGE?
Compared to SHIB and DOGE, SNEK doesn't offer any unique utility or features other than being a Cardano-native cryptocurrency. The SNEK team's ETH to SNEK smart contract is undoubtedly a creative and novel tool, but DogeCoin is the industry's original meme coin with years of history and its own blockchain.
On the other hand, Shiba Inu is a thriving and complete ecosystem with DeFi tools, a metaverse, and several NFT collections. Even Floki (FLOKI) and BONK (BONK) have more developed products, including Floki University and Bonk's wide range of Web 3 apps.
That said, SNEK has just poked its reptilian head out of the egg. The SNEK community has already achieved what no other Cardano meme coin has been able to do. This may be the beginning of a Cardano DeFi powerhouse. For now, holders must be content with staking SNEK in liquidity pools on MinSwap for yield farming rewards.
On the Flipside
Don't expect SNEK to be the next Bitcoin (BTC). Meme coins are intended to be fun, harmless digital assets that give traders a sense of online community. They don't need to provide wild utilities to 'succeed.'
Why This Matters
Whether SNEK surges to new highs or fizzles out to nothing, it has proven that the Cardano ecosystem is expanding and attracting users. SNEK brought many DeFi traders to the Cardano blockchain, prompting them to use it for the first time.
FAQs
Where can I buy SNEK?
SNEK is listed on a few Cardano-based decentralized exchanges like MinSwap and SundaeSwap. It's also available on some crypto exchanges like CoinEx and BitTrue.
Will SNEK reach $1?
If SNEK reached $1 USD, it would have a market cap of around $76B. While this valuation isn't impossible, it is unlikely that SNEK will achieve these levels.
Can Cardano beat Ethereum?
Cardano is a Layer One blockchain network and a direct competitor to Ethereum. While Cardano is dramatically more scalable, its transaction speeds and gas fees have yet to threaten Ethereum's user count and market dominance.
What meme coins are on Cardano?
Apart from SNEK, other meme coins on Cardano include $BANK and $HOSKY, which were named after the Cardano founder Charles Hoskinson.