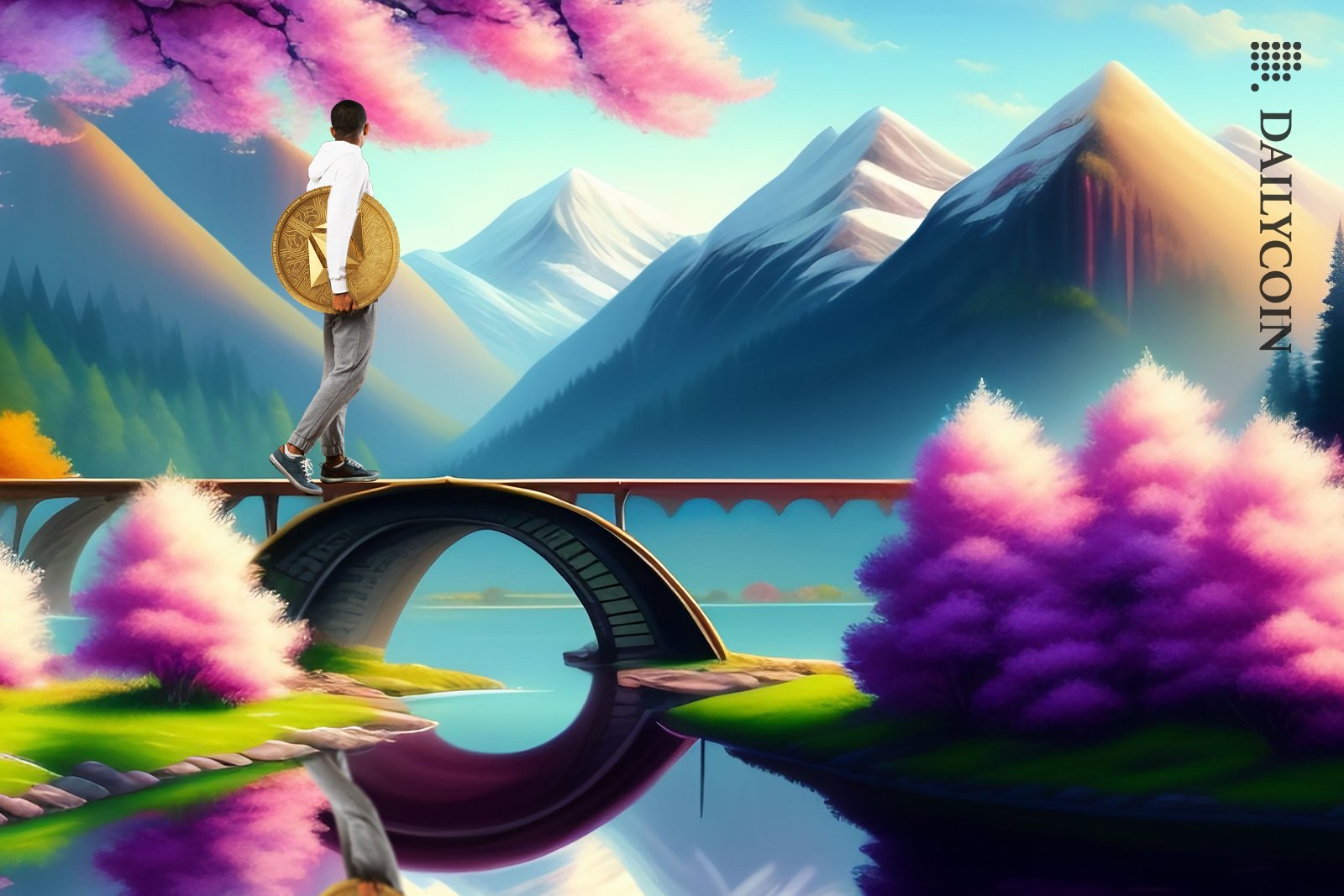 Cross-chain bridges are an essential instrument in your DeFi toolbox. As the cryptocurrency industry expands at a dizzying rate, being able to shift your funds across different blockchain networks securely helps you explore new ecosystems easily.
Despite what the maxis tell you, no one chain will rule them all. There are hundreds of different networks in the Web3 world, each with its unique identity and decentralized applications.
Staying fixated on just one chain, like Bitcoin (BTC) or Ethereum (ETH), will significantly limit your opportunities within the crypto market. The need for interoperability between networks has never been higher.
What exactly are cross-chain bridges, and why should I use them? Are blockchain bridges safe?
In this article, we'll explain why bridging between blockchain ecosystems is such a valuable skill and why cross-chain interoperability is so important for the growth of the cryptocurrency industry.
What Is a Cross-Chain Bridge?
A cross-chain bridge is a blockchain-based application that allows users to transfer digital assets and data from one network to another. For example, you can bridge ETH tokens from the Ethereum mainnet to the Binance Smart Chain (BSC), which has lower gas fees.
In the true spirit of DeFi (decentralized finance), crypto bridges are permissionless, meaning anyone with a crypto wallet can access them and transfer tokens without being intercepted by centralized authorities.
Most bridges use a 'Lock and Release' function, similar to how wrapped crypto assets like wBTC work.
Imagine each blockchain is an island. When you initiate a token transfer, you deposit cryptocurrency onto the bridge from one side. The bridge application locks your deposit into its wide liquidity pool and releases an equal number of the same tokens to your wallet on the destination chain, or new island.
While it may sound surprising, the same token can exist simultaneously on multiple networks. An easier way to think of it is to imagine apps in a mobile phone. Underneath the hood are slight differences between the Twitter app on Android and the Twitter app on iOS. However, the average end user isn't bothered by the technicalities.
Why Would I Want to Use a Cross-Chain Bridge?
Using various networks is a great way to learn about blockchain technology and its use cases. While the Ethereum network has far more dApps than other chains, every blockchain has its own thriving ecosystem, with exclusive applications, tokens, and NFTs.
User experience varies from chain to chain, with some networks being much more affordable than others. For example, the Ethereum blockchain is plagued with scalability issues. A token swap might cost upwards of $50 in transaction fees, while the same swap on Polygon would only cost you a few cents.
Bridging tokens to emerging chains is another excellent way to qualify for crypto airdrops. Sending a handful of ETH tokens and interacting with a handful of smart contracts on Arbitrum netted some users thousands of dollars worth of ARBI.
Best Cross-Chain Bridges
Now that you're clued up on why bridging over to exciting new blockchains is worthwhile pursuit, let's take a look at some of the best cross-chain bridges in crypto. While there are hundreds of directional bridges and cross-chain swaps, it's essential to know what to look for.
The top cross-chain crypto bridges should provide the following:
A good variety of networks and tokens.
Secure transfer of assets.
An easy-to-use interface.
Let's see who made the list!
1. Synapse
The Synapse Bridge is one of the most trusted cross-chain bridges in the crypto space. With a simplified UI that resembles a basic DEX (decentralized exchange) and over one million users, Synapse protocol is a popular choice for first-time bridges.
The platform offers a wide variety of ERC-20 token standards and EVM-compatible blockchain networks. What's great about Synapse is that it also supports several popular stablecoins, like USDT and USDC.
Synapse also converts a small percentage of your transfer to the destination chain's native cryptocurrency. For example, when you bridge to the BSC, a smart contract in the dApp automatically provides you with a small amount of BNB to pay the first few gas fees as you explore the chain.
Key Takeaways
User-friendly design.
Millions of users.
Fast transfer of assets.
Offers staking.
Supported networks: Ethereum, Arbitrum, Avalanche, BNB Chain, Optimism, Polygon, Aurora, Boba, Canto, Cronos, DFK Chain, DogeChain, Fantom, Harmony, Klaytn, Metis, Moonbeam, Moonriver.
2. Portal (Wormhole)
The Portal bridge is the epitome of interoperability. While most other bridges are limited to transfers between EVM-compatible networks, Portal takes things one step further.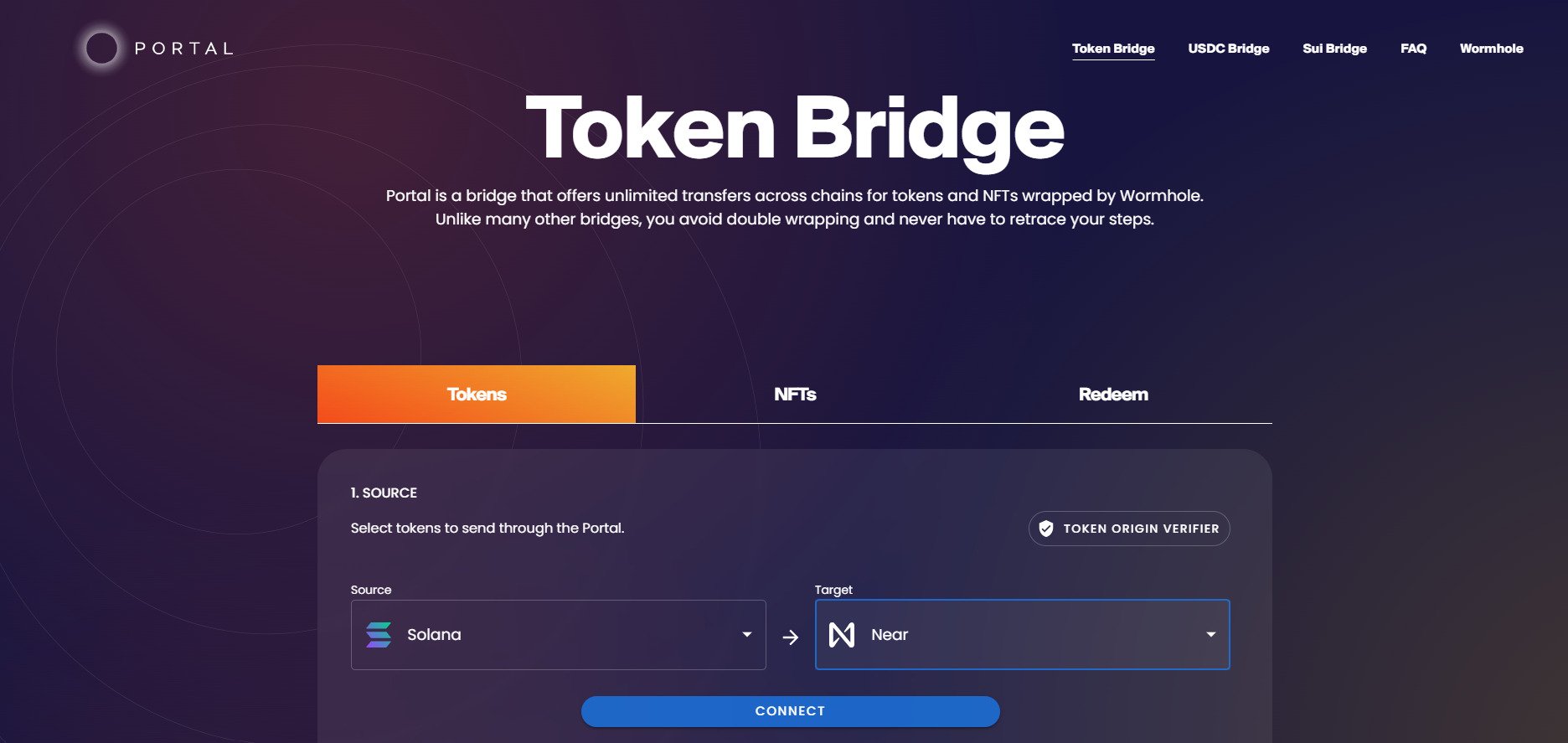 With Portal, crypto enthusiasts can bridge digital assets between alternative Layer-1 blockchains that don't use an EVM. These include popular PoS (Proof-of-Stake) chains like Aptos and NEAR. This gives experienced chain-hoppers greater flexibility than other cross-chain bridges and opens immense opportunities.
If that wasn't enough, Portal also supports NFT bridging. Like wrapped tokens, tokens can be locked and minted on other chains. A famous example of this was when HGE.SOL, a Solana NFT whale, fractionalized and bridged 50 cryptopunks to the Solana blockchain.
Key Takeaways
Supports transfers between EVM and non-EVM networks.
Bridge ERC-721 tokens (NFTs).
Supported networks: Acala, Algorand, Aptos, Arbitrum, Aurora, Avalanche, BNB Chain, Celo, Ethereum, Fantom, Injective, Karura, Klaytn, Moonbeam, NEAR, Oasis, Optimism, Polygon, SUI, Terra, XPLA.
3. Multichain (formerly Anyswap)
Previously known as Anyswap, Multichain truly lives up to its old name. This cross-chain bridge offers the widest breadth of networks of any application in the crypto space.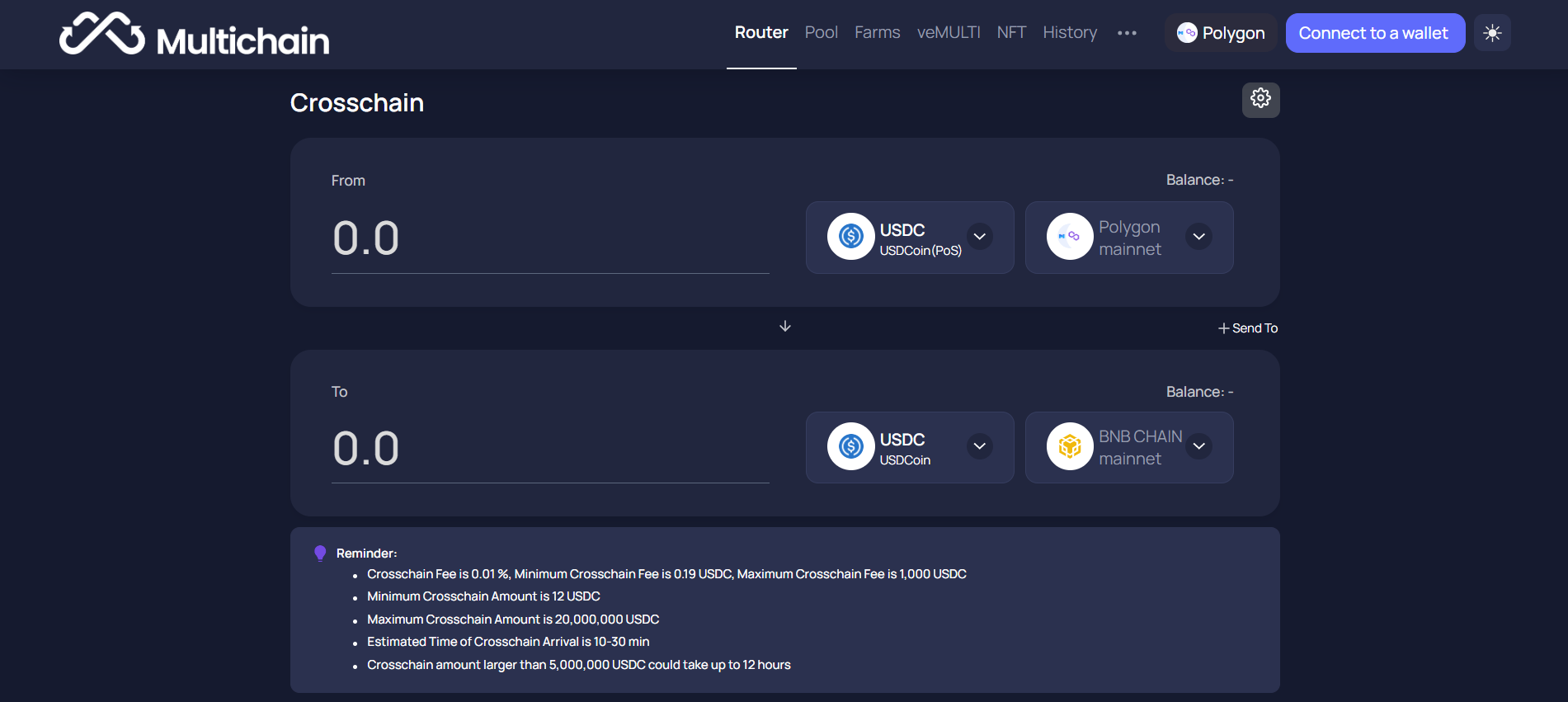 Within Multichain's spread of 92 different blockchains are the classic chains we all know and love, with a multitude of other networks most people haven't even heard of.
Multichain also supports NFT wrapping and bridging, as well as cross-chain swaps and staking services. If Multichain had one fault, its user experience is comparatively sluggish and unintuitive.
Key Takeaways
The crypto industry's range of integrated networks.
NFT wrapping and bridging.
Popular supported networks: Ethereum, BNB Chain, Polygon, Avalanche, Arbitrum, Fantom, Optimism, Cardano, Solana, Aptos, NEAR, Moonbeam, Cronos, Telos, Fuse, Litecoin, Bitcoin.
4. Polygon Bridge
While the Polygon bridge has far fewer integrations than other members of this prestigious list, it brings its own X factor. Designed by Polygon Labs, the Polygon Bridge is explicitly built for products and services within its native ecosystem.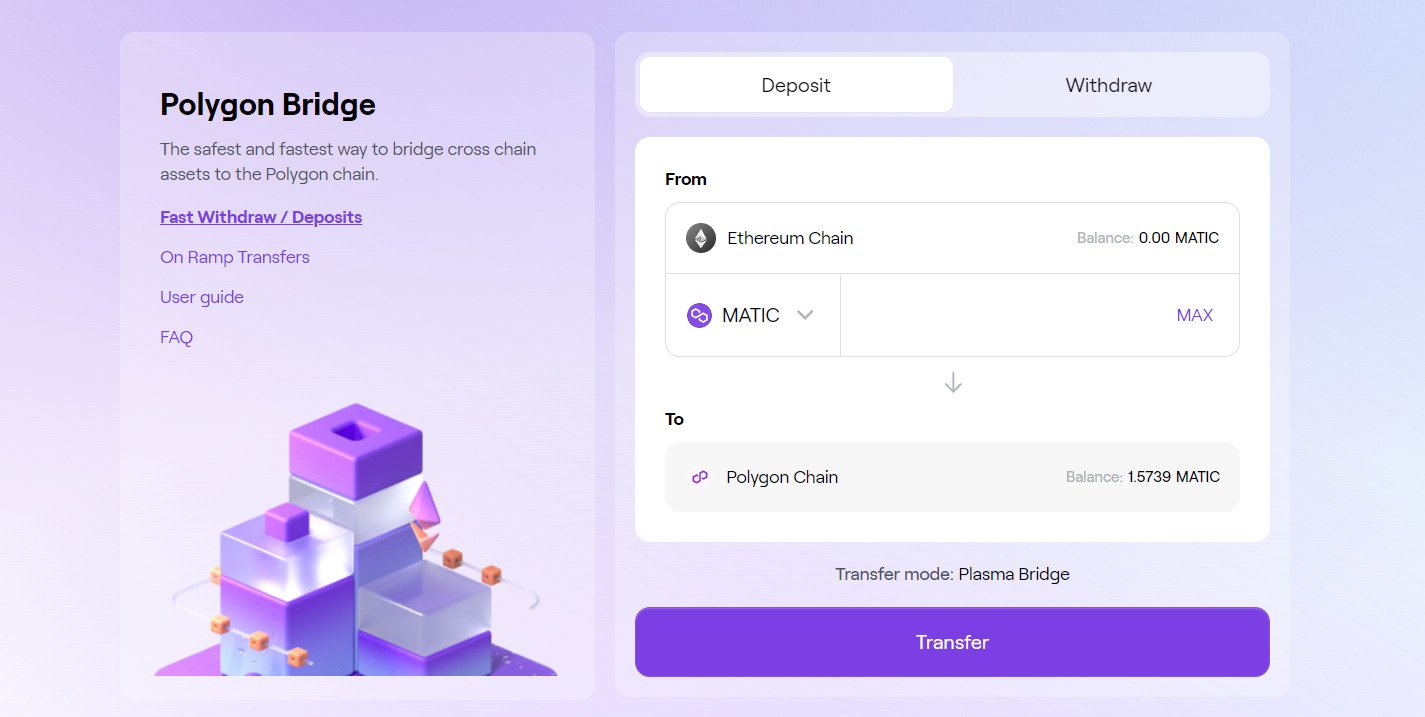 It enables users to bridge cryptocurrencies like ETH, MATIC, and popular stablecoins between the Ethereum mainnet and the Polygon sidechain. Most importantly, it is the first official application with a bi-directional bridge to the Polygon zkEVM chain.
Like everything built by Polygon Labs, the Polygon Bridge has been designed with simplicity and mass adoption in mind and boasted a beginner-friendly interface.
Key Takeaways
Accessible user interface.
Official access to Polygon zkEVM.
Supported networks: Ethereum, Polygon, Polygon zkEVM.
5. Avalanche Bridge
Designed by AvaLabs and Core, the Avalanche Bridge serves various functions. Not only does it facilitate the transfer of assets between the Avalanche C-Chain and other networks like Bitcoin and Ethereum, but it's also used internally within the Avalanche ecosystem.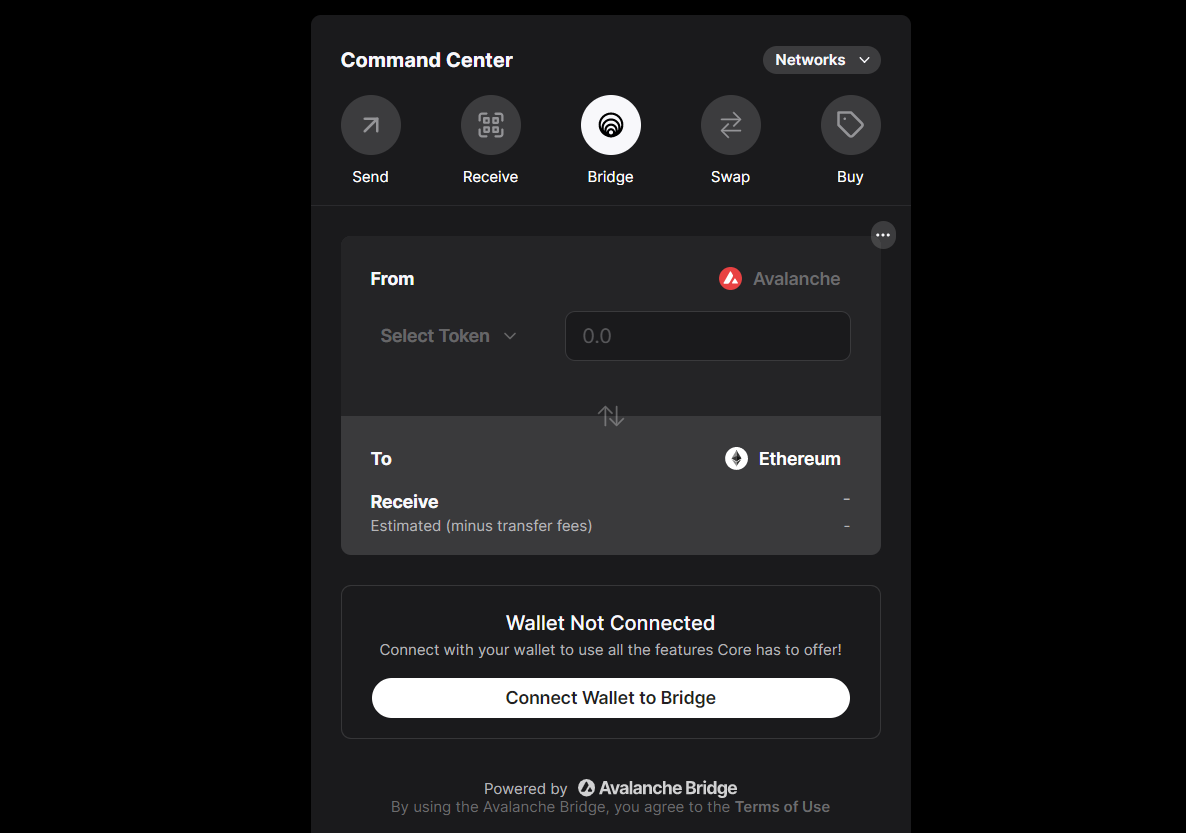 What many users don't understand about Avalanche is that the network is comprised of three separate blockchains, X-Chain, P-Chain, and C-Chain. While most DeFi and NFT enthusiasts are only interested in the C-Chain, blockchain engineers often use the other two chains for development.
Avalanche bridge developers expect to introduce further support for more ERC-20 tokens in the future.
Key Takeaways
Official bridge of the Avalanche Ecosystem.
Connects users to internal Avalanche chains.
Supported Chains: Bitcoin, Ethereum, Avalanche C-Chain, and other internal chains.
What Happened to Binance Bridge?
Until recently, the Binance Bridge was one of the industry's largest and most popular cross-chain bridges. It appears that the Binance Bridge is either currently unavailable or discontinued.
The most recent publication from Binance mentioning their bridge indicates that an updated V2 bridge was rolled out in March 2020. However, visiting the application encourages users to either transfer tokens internally through the Binance exchange or use an alternative platform.
Binance recommends using AnySwap, which rebranded to Multichain in 2021.
Are Crypto Bridges Safe?
For all the wonder and excitement that cross-chain bridges bring, there are some risks. Blockchain bridges are notoriously complicated at an architectural level, making them a common target for hacks and exploits. In fact, over $1.4 billion was stolen through crypto bridge hacks in 2022.
Bridge hacks are devastating, with some networks never truly recovering from a catastrophic attack. Since hackers drained the Harmony Horizon bridge and disappeared with over $100 million in crypto, the Harmony network has struggled to recapture its former glory.
Even the most popular and reputable bridges are liable to make mistakes, and blockchain security audits always look good until a malicious hacker finds a chink in the code.
To keep yourself safe in the crypto space and protect your funds, you should always revoke any approvals confirmed in your wallet after using a bridge. This only takes a couple of seconds with sites like Revoke.cash, and might protect you from getting your entire crypto portfolio stolen in a bridge hack.
On the Flipside
Bridging tokens is a great way to explore dApps and NFT collections on different blockchain networks. However, the Web 3 world is plagued with user experience issues, making this a daunting and intimidating task for first-timers.
Beyond that, bridge hacks are the most common exploit in the crypto space, so please revoke token approvals after bridging to protect your wallet's integrity.
Why This Matters
The cryptocurrency industry is growing at a startling pace. The variety of innovative dApps, products, and services in a cross-chain world is staggering and opens a world of opportunity to those willing to explore emerging ecosystems. Many Ethereum NFT maximalists refused to buy DeGods because they couldn't be bothered bridging to Solana. Today, they're some of the most valuable NFTs in the market.
FAQs
Why are cross-chain bridges vulnerable?
As a rule of thumb in blockchain security, the simpler a smart contract is, the safer it is because less can go wrong. Cross-chain bridges rely on complicated codebases with a lot of moving parts, and typically hold high rates of TVL (total value locked). This makes them a popular target for hackers.
What is the most used cross-chain bridge?
Among the cross-chain bridges in this list, the Polygon Bridge and Mulitchain are used the most based on monthly volume.
What are the benefits of cross-chain bridges?
Cross-chain bridges allow users to transfer digital assets like cryptocurrencies and NFT across different blockchain networks and explore new ecosystems.