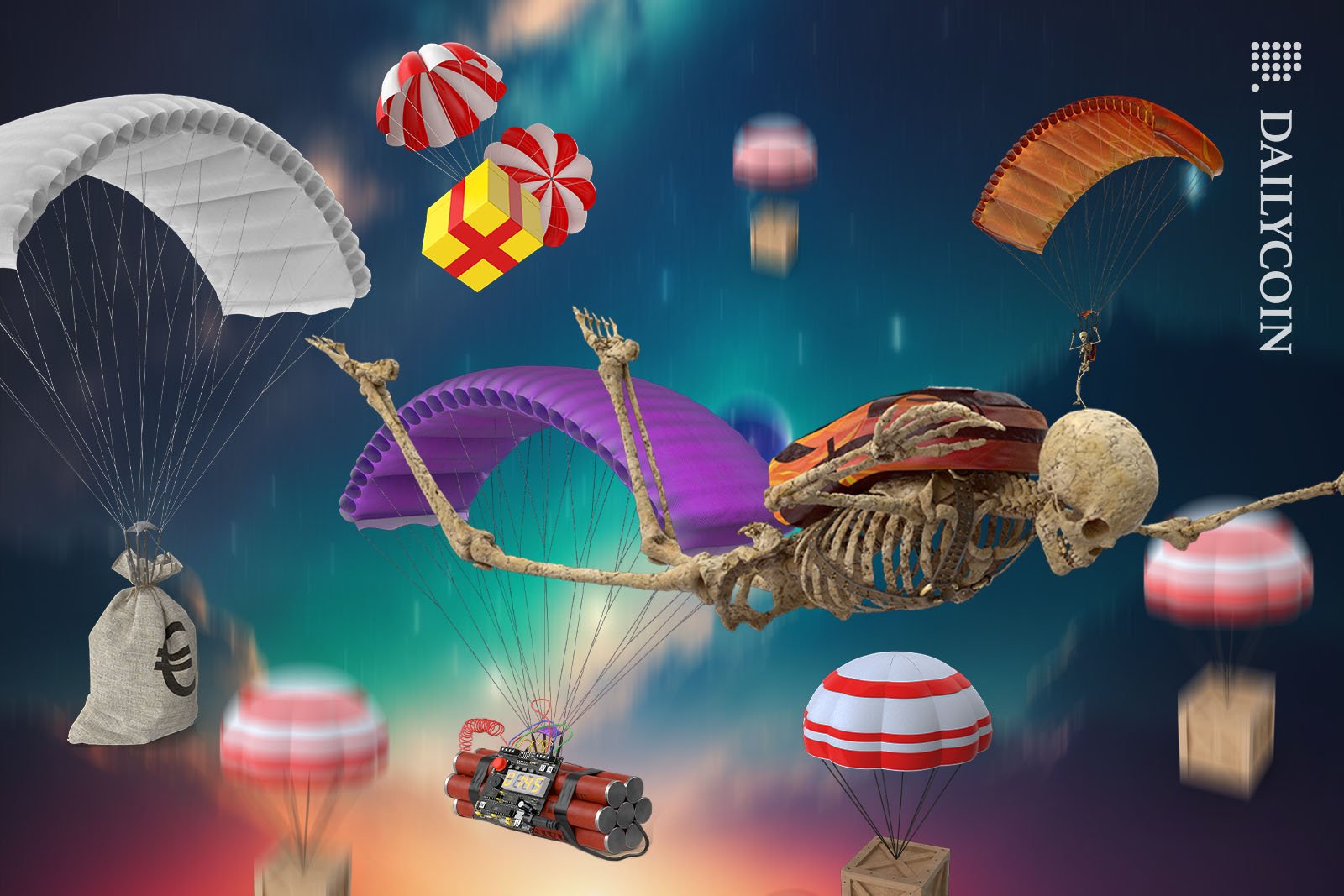 What is a crypto airdrop? Is it an easy way to bolster your crypto wallet with free tokens, or is it a devastating hack waiting to happen?
For some people, airdrops are a ticket to life-changing wealth. Uniswap's governance token airdrop is a prime example, with early adopters receiving over $10,000 worth of UNI tokens. But this is crypto; not all that glitters is gold.
While potentially a lucrative exercise, airdrop hunting gone wrong can be a one-way ticket to an empty crypto wallet. Scammers are always circling, trying to get you to hand over the keys to your wallet unknowingly.
In this guide, we'll break down the basics of crypto airdrops and how to stay safe while hunting for free crypto tokens.
What Is a Crypto Airdrop?
A Crypto airdrop is a typical event where blockchain projects distribute free tokens or coins to their community or ecosystem participants. While some community members call it a reward, the more skeptical crypto enthusiasts consider it a marketing strategy.
Crypto airdrops are a token of appreciation or a way to stir up some buzz around a new project. Think of it like a startup handing out free samples to get new users hooked on their product. According to crypto market legends like Gigantic Rebirth, airdrops are essential for people looking to grow their capital quickly.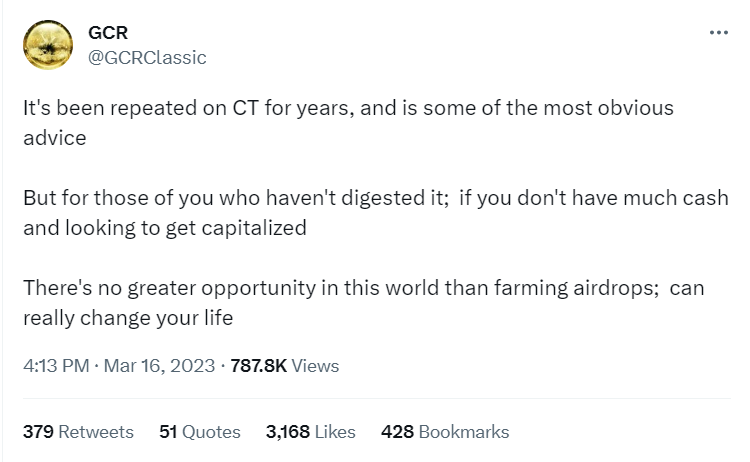 Cryptocurrency airdrops are a win-win for everyone involved. For crypto projects, it's a way to generate excitement and attract new users. For the users, it's an opportunity to get their hands on some free cryptocurrency tokens, or even NFTs, which could potentially increase in value over time.
While most Airdrops are typically a small amount of tokens that are barely worth anything, some airdrops can be worth thousands. The last year has proven lucrative for Airdrop farmers, with cryptocurrency airdrops for projects like Aptos (APT) and Arbitrum (ARB) distributing millions of dollars worth of free crypto.
How Do Crypto Airdrops Work?
Here's how it generally goes down: A blockchain project, DeFi application or NFT collection decides to increase its user base, build hype around its platform or even reward its loyal users.
In most cases, airdrop receivers need to complete some small task that qualifies them for free crypto assets. This could be anything from something small and insignificant like signing up to a newsletter, all the way to providing liquidity on a DEX or running a validator node on a new network.
Once the criteria are set, the project takes a 'snapshot' of the blockchain at a specific point in time. This snapshot is like a group photo of all the eligible wallets. If you've met the criteria and your wallet address is in the snapshot, congratulations, you're part of the airdrop squad!
Thanks to blockchain technology and smart contracts, distributing digital currencies to users' wallets en masse is an easy task.
Different Types of Airdrops
Of course, the eligibility criteria for crypto airdrops aren't always the same. Let's briefly examine the different types of standard airdrops that we're likely to see in the blockchain industry.
1. Bounty Airdrop
Perhaps the most common kind of Airdrop in the crypto space is the Bounty Airdrop. Like a scavenger hunt, users must complete certain tasks that qualify them to earn free tokens. These tasks might be simple things like sharing posts on social media or inviting people to join a crypto discord or telegram group.
At the higher end, a bounty airdrop might ask participants to explore the testnet of an emerging blockchain network or provide liquidity to a decentralized application. For example, running a node and minting NFTs on the Aptos testnet meant users were airdropped between 150-300 APT tokens for free.
2. Holder Airdrop
Holder Airdrops are more common amongst NFT collections than digital currency projects. Imagine a Holder Airdrop like a loyalty program at your favorite coffee shop. If you hold a certain NFT, or a specific amount of a project's cryptocurrency, you get rewarded with more digital assets. It's like getting a free coffee after buying ten cups.
For example, Yuga Labs' Bored Ape Kennel Club was airdropped to all Bored Ape Yacht Club Holders. Likewise, everyone who held an Azuki NFT was rewarded with a free Azuki Beanz NFT.
3. Exclusive Airdrop
Exclusive Airdrops are like VIP events – only a select few get invited. These airdrops are targeted at a specific group of people. In most cases, exclusive airdrops are reserved for ICO participants, crypto whales, and influencers as a reward for their support.
How to Find Crypto Airdrops?
Fortunately, learning about upcoming airdrops is getting easier and easier, with plenty of dedicated sites designed to help you find the next opportunity. In the interest of safety, it's best to stick to reputable sites, like CoinMarketCap, that won't lead you down the wrong path.
Bear in mind that airdrops will almost always be a way of injecting new crypto tokens into the market. If someone's promising to airdrop you Bitcoin (BTC) or Ethereum (ETH), it's probably a scam operated by crypto crooks.
The Dark Side of Crypto Airdrops
Of course, the world of crypto airdrops isn't all free tokens and happy dances in the Metaverse. There's a darker side to it that's plagued with potential scams and risks. Let's put on our detective hats and sniff out these potential pitfalls.
In the crypto world, not every airdrop is your friend. Like a wolf in sheep's clothing, bad actors are waiting to pounce on unsuspecting users. These scam airdrops often lure users with the promise of free tokens, only to steal their information or funds.
The most common, and most lethal, scam is the 'private key' scam. Scammers will create fake websites with malicious code designed to hack your crypto wallet and steal your private keys or seed phrase. Once a scammer has your keys, it's game over. They'll have full control over your wallet and can drain all your crypto assets in a few minutes.
These scam sites can be hard to recognize, because they'll often look like an exact replica of trusted sites like OpenSea or Uniswap. They might also run fake Twitter profiles and share dangerous links. In the example below, we can see a Twitter post from an unofficial Apecoin account promising a $500,000 reward.
Another type of airdrop scam is the 'advance-fee' scam. In this case, the scammers ask users to send them a certain amount of cryptocurrency to 'qualify' for the airdrop. It's like someone asking you to pay for a free sample. If it sounds too good to be true, that's because it is. Remember, legitimate airdrops will never ask you to send them funds.
How to Claim Airdrops Safely
Crypto airdrops are a great way for people with limited capital to start investing and trading in the crypto market. At the same time, airdrops are a minefield waiting to blow up in your face. Here are a few crucial tips to remember if you want to stay safe while airdrop hunting.
Never share your private keys or seed phrases – A genuine crypto project will never ask you for your private keys or seed phrase. I don't care if it's Vitalik Buterin in your DMs, report them and move on.
Do your own research – Research the airdrop and the project behind it. Check their official website, social media channels, and community forums to ensure the team runs a genuine airdrop.
Don't send any funds – Be cautious of airdrops that require you to transfer crypto assets before getting rewards. If an airdrop requires you to send funds, it's probably a scam.
Use fresh accounts for Airdrops – Always use a dedicated crypto wallet, email address, and Twitter account for airdrops. This way, even if you do fall for a phishing scam or wallet-drain link, the scammers won't get access to the bulk of your funds, or your personal or business emails.
Take Extra Care When Downloading Files – Installing malicious files onto your computer is a sure way to give a scammer access to your wallet. Always ensure you're downloading files from official sources.
Trust your Gut – If an airdrop doesn't 'feel right,' that's probably because something's wrong. Trust your instinct.
Pros and Cons of Crypto Airdrops
Crypto airdrops can be exciting and rewarding but also risky and challenging. Let's recap the pros and cons of crypto airdrops.
Pros
Free Tokens – Who doesn't love free stuff? Airdrops are a good way of getting free crypto assets for minimal effort.
Exposure to New Projects – Airdrops help you learn about new blockchain projects that you might not have discovered otherwise.
Potential for Profit – If the project takes off one day, the free tokens you receive could increase in value.
Cons
Scams – The world of airdrops is rife with scams. It only takes one lazy mistake to lose an entire wallet's worth of crypto.
Privacy Concerns – Some airdrops require you to share personal information, which could put your privacy at risk.
Tax Implications – In some jurisdictions, airdropped tokens are considered income and are subject to tax.
On the Flipside
In recent times, airdrop farming has become a competitive battlefield, with some greedy farmers running bots that try and game the system to earn unfair rewards.
Why This Matters
Airdrops have proven over time to be an excellent tool for both crypto enthusiasts and emerging blockchain projects to grow their capital and ecosystem. Knowing how to find airdrops and stay safe while airdropping is essential in the crypto market.
FAQs
What are the benefits of crypto airdrops?
Crypto airdrops help new blockchain projects reward their early supporters and grow their ecosystem.
How do you get crypto airdrops?
You can get crypto airdrops by completing tasks that help emerging blockchain projects and applications expand their reach or by testing their products.
Are crypto airdrops risky?
Yes, some scammers will create fake airdrop sites or social media posts to try and extract sensitive data, like the private keys to your crypto wallet.