If you are searching for the top ten crypto signals telegram groups in 2023, then you are in the right place. Crypto Telegram channels are a known source of information among seasoned cryptocurrency traders. Telegram channels are often one of the few places where real-time updates on market fluctuations can be found. 
These Telegram channels are also a great place for anyone without technical expertise to find expert opinions on traded assets while gathering insights and trading signals with a high level of precision. They are also quite useful to professional traders, who are constantly on the lookout for the ideal group to join.  
To help you get started, we've put together a list of this year's top ten crypto signal channels. But before we dig into the channels, let's cover what crypto signals are and why it is crucial to join some of the crypto signals telegram groups that offer this service. So, what are crypto signals?
Understanding Crypto Signals
Simply defined, crypto signals are trading analyses, concepts, or recommendations based on an assessment of the current and/or historical market conditions. 
However, because most financial markets, including the cryptocurrency market, are volatile, these signals are often analyzed and generated using technical indicators, with time and price relevance in mind. This means that a trading signal is just as good as the technical analysis put into generating it. 
Depending on the level of expertise, there are different reasons why traders look for signals. 
An expert trader may want to find out how frequently an asset is traded, as well as tips on the best practices for investing in certain financial instruments. 
A newbie, on the other hand, may be looking for free signals from verified crypto traders that they can use to create their own trading strategy. When just getting started, many traders prefer to navigate the market by following those that have hard-earned experience.  
How do Crypto Trading Signals Work?
Crypto signals are generated manually or automatically.  ​​
Automated crypto trading signals are typically generated by trading software, which is overseen by trained specialists and programmers. These types of software utilize both human effort (i.e professional crypto signals providers) and software algorithms. Together the software is able to use special indicators or indexes capable of assessing prior data on the price movement of cryptocurrency pairs to identify trends. Those trends are then found by a crypto trading bot and used to populate crypto telegram channels with investment advice.
Manual crypto trading signals are created using a feedback technique in which crypto signal providers (i.e expert traders and interpreters) provide an unfiltered review of a crypto asset. Typically, an experienced trader surfs and analyzes the market in an attempt to spot trading opportunities, while the interpreter breaks down the best and most appropriate way to capitalize on an opportunity (which is usually time-sensitive).
When it comes to manual crypto trading signals, there are a lot of places one can gather professional trader information. However, Telegram remains one of the most popular sources to find the best free crypto signals. Most crypto Telegram groups offer members free trading signals, which makes them a much more convenient alternative to other paid signal platforms.
That being said, the following is our selection of the best crypto signals groups (free and paid) to consider joining.
Top 10 Crypto Signals Telegram Channels
Coming in at number 10, WolfxSignal kicks off our list. 
WolfxSignal is one of the most accurate crypto trading signals services on the internet as a whole. The channel offers both manual and automated crypto trade signals. Having existed for almost a decade, WolfXSignal boasts +90% accuracy and over 80,000 "happy traders." With that being said, most of their crypto-particular strategy tips are behind a paywall on their website.  
WolfxSignal has a dedicated website where they provide various paid services, including auto trading support and signals (like technical analysis). However, to drum up interest they created the free Telegram group. 
WolfxSignal's free Telegram channel typically shares between three to four crypto signals on a weekly basis. Anyone who pays to be in their closed VIP group will also gain access to between 20 to 25 best-paid crypto signals per week.
Next up, we have DeFi Million. Arguably one of the most prominent Telegram groups on the internet today, DeFi Million boasts over 140,000 subscribers. Most of these subscribers benefit from bulk buying. If you have ever heard of this Telegram group then chances are that you would have heard about their participation in the "pump and dump" game. 
This Telegram group is known for frequently purchasing specific tokens in bulk. This causes their value to appreciate drastically, thereby helping participating group members. 
Along with its track record of influencing relatively new tokens to generate ridiculous profits for members, this free signals Telegram group also has expert crypto signals providers. They often randomly share free crypto signals for interested members.
Learn2Trade is another popular name on this list, mostly because it offers both Forex and crypto signals. 
Learn2Trade also has a dedicated website where it provides a wide range of paid services. These include crypto trading, auto trading, affiliate marketing, and so much more. 
Crypto trading signals are just one of its many services. Interested users can either join the free crypto trading Telegram group or subscribe to one of four different paid packages and gain access to their VIP groups. The reason why these groups are not free is that they have among the best signals on the market. Such signals do not come cheap.
7. Universal Crypto Signals:
Founded in January 2018, Universal Crypto Signals (or UCS as it's commonly known) is one of the best crypto signal providers. The group offers both automated and manual trading signals. Right now, UCS offers free crypto signals that are based on information coming in from various exchanges including Binance, Bybit, KuCoin, etc.
Prior to launching its website in 2018, USC offered crypto signals to many users via its free Telegram group. It has over 36,000 members and still exists to date. However, as expected, they also offer interested users the opportunity to subscribe to their paid channel. Here they offer unlimited signals and boast of maintaining an accuracy rate of 96% since it began.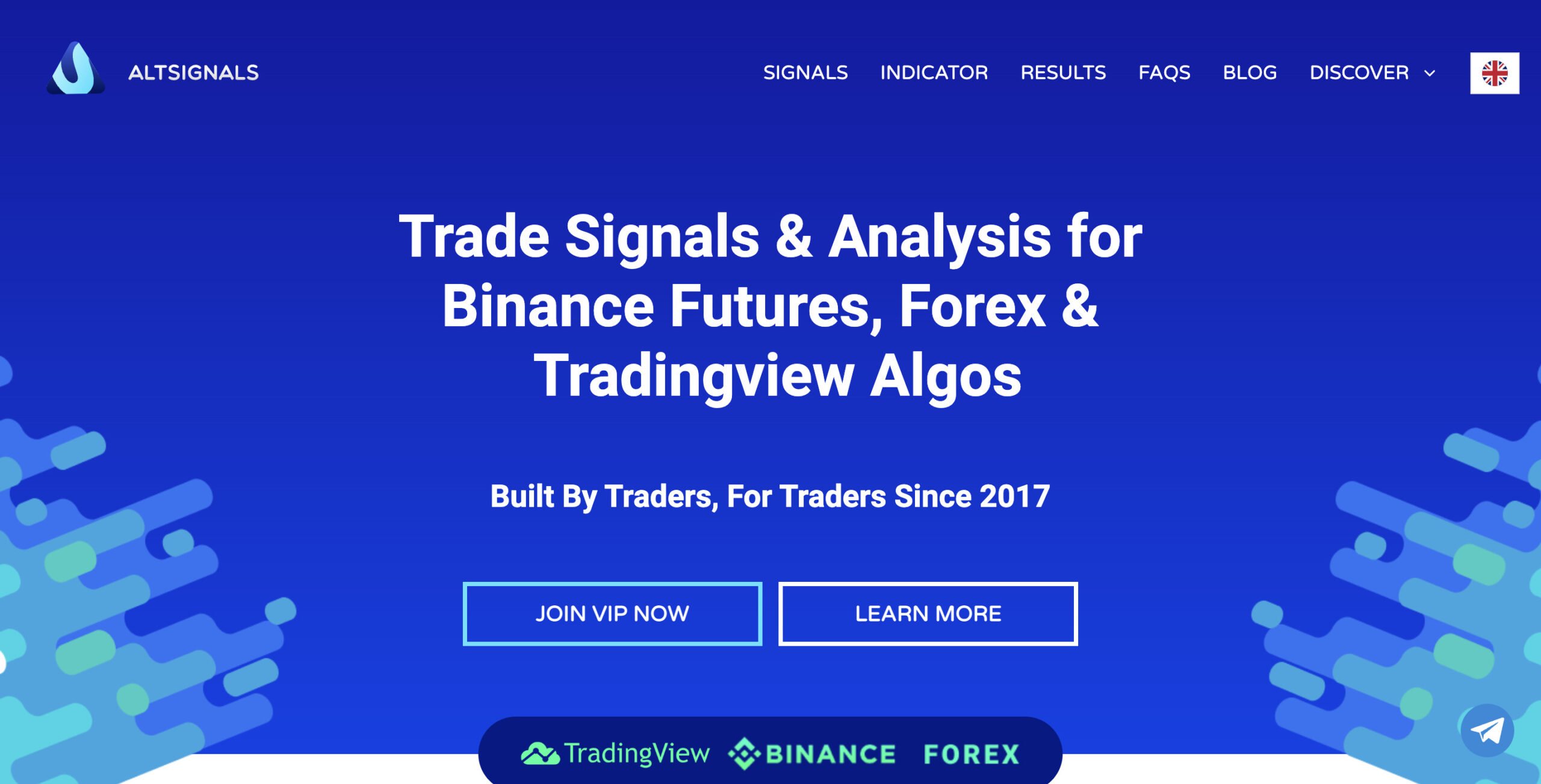 Priding itself on being the number one crypto signals provider on Telegram, AltSignals provides trade signals and analyses for crypto derivatives across various crypto exchanges, including Binance. 
AltSignals has reached over 50,000 members. It has always strived to provide consistently profitable trading signals, analyses, quick support, and a good user experience. Interested users can join their free Telegram group or join their premium subscription to gain access to up to ten times more quality signals. 
AltSignals is one of those crypto trading signals providers that understand how to provide value to subscribers. Their 50,000 members speak very highly of the quality of signals they get from the group. 
Next up is BTC Champ. This crypto signals Telegram group has over 90,000 subscribers and aims to groom crypto traders (especially newbies). 
The BTC Champ Telegram group has a wide range of expert signal providers who randomly share tips on trading best practices, trade signals, and general information about various crypto assets. But, as the name suggests, their claim to fame comes from the Bitcoin trading signals that are shared on the group. 
BTC Champ also provides a platform for members to make trades amongst themselves. However, this is not advisable due to the lack of secure trade infrastructure within the social forum. 
As the name implies, Whale Alert watches "whales" in the crypto world. It is a very popular crypto trading signals service known for alerting the market when big money is on the move. 
Whale is the term used to address a class of investors that have a significant holding of a particular crypto asset. Prominent examples of whales include individuals like Brian Armstrong, CEO of Coinbase, and companies like Microstrategy, who owned approximately 130,000 Bitcoins (BTCs) as of September 20, 2022.
A single transaction by this set of investors can influence the entire crypto market positively or otherwise. So, if you want to stay up-to-date with when and where crypto whales move, Whale Alert is the perfect crypto signals Telegram group. 
Whale Alert notifies its 330,000 members anytime there is movement between a whale wallet and an exchange. This allows them to make more informed trading decisions. Whale Alert also has a dedicated website whose sole purpose is to offer alert and tracking services. This helps make blockchain data more accessible and transparent. 
The channel also provides a custom API that allows private blockchain projects to create their own custom alerts. 
If you thought of a real paradise full of cryptocurrency for a second, then you are not alone. With its catchy name, MyCryptoParadise is a popular crypto signals provider that has to be included on any crypto signals space list.  
MyCryptoParadise offers two free crypto signals Telegram groups that focus on Binance and KuCoin trading. They have a professional website and a wide range of membership programs to choose from.  
Like others, they also have paid VIP groups that offer members up to 80 highly professional signals every month. These groups offer highly technical signals that are based on technical analysis, news, and existing market structure.
This telegram group is a good fit for both amateur and professional traders. They provide learning materials on their site to bring and keep you up to speed about all of the biggest things happening in the crypto space.
If you are just starting your career as a crypto trader, then this is the crypto signal Telegram group for you. CryptoSignal.org is a colossal crypto signals provider. It has years of providing free crypto trading signals to back its reputation up.
CryptoSignal.org makes it easy for beginners and experienced traders alike to navigate the crypto ecosystem by providing accurate cryptocurrency signals. 
The channel has a dedicated website that is full of learning materials. More importantly, by joining the platform's free Telegram group participants will receive three VIP signals every week. 
If you get hooked on those signals, they also offer a premium paid group which provides up to three VIP  trading signals a day. These groups are also usually filled with verified crypto traders, so they have even more knowledge to share.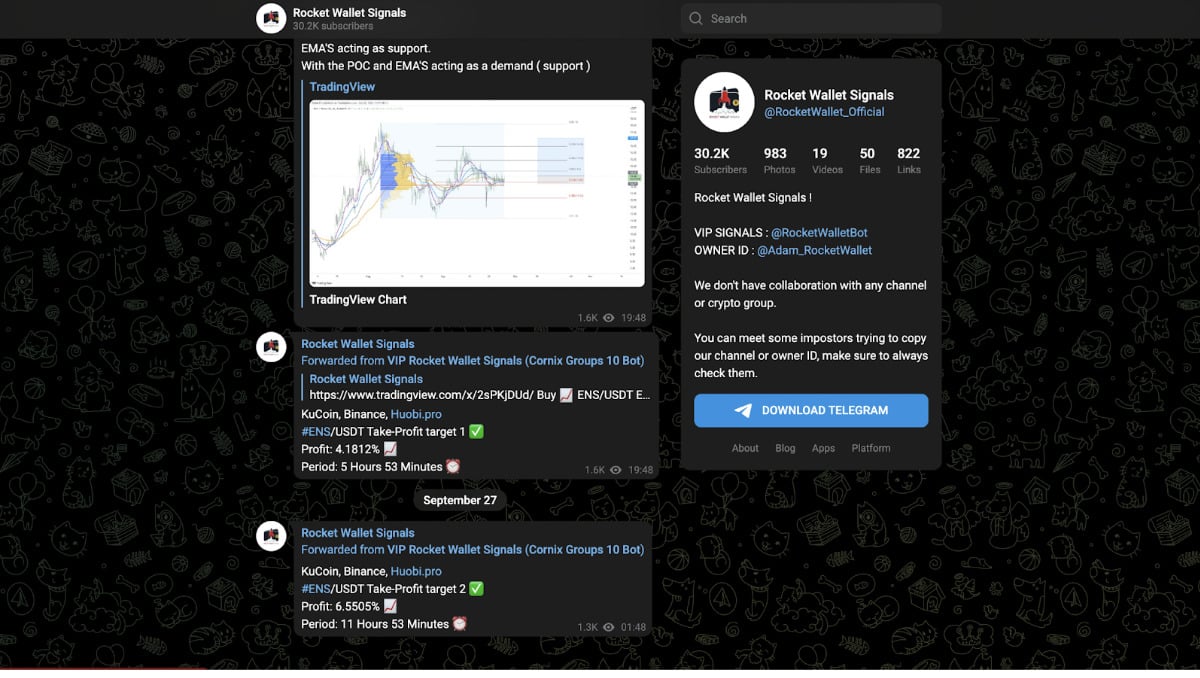 At the very top of our list is RocketWalletSignal.We've placed it at the top spot for good reason! If you are looking for the best crypto signal provider on the internet, there is really none better than RocketWalletSignal. This telegram channel has high ratings for transparency and open communication. 
RocketWalletSignal shares reports that cover all of the actual profit and losses (PnL), ensuring complete transparency with community members. There is also a RocketWalletSignal Bot that provides comprehensive reports on the latest earnings and losses.
The channel has several different paid crypto signals groups that cover everything from signals and updates to insights and chat options. But they also offer free crypto signals in a public group with nearly 40,000 members.  
RocketWallet Signal's group of channels offers benefits including trading signals across different exchanges and live trades and market updates. These all help members make more informed decisions. 
Final Thought On Joining a Crypto Signals Telegram Group
Crypto trading is as tough as it is profitable. While it is easy to become a millionaire overnight, the same can be said about going from 100 to zero. However, to prevent the latter, crypto traders, particularly newbies, have learned not to rely only on their market knowledge. 
These trading signals providers on Telegram, and other options like them, can help traders get real-time information about market conditions, trading signals, and price swings. They can, quite literally, provide the very best crypto signals– but they could also provide the worst.  In fact, the best crypto signals telegram groups always ask subscribers to do their own research.
You should also note that nothing in this article is an absolute endorsement of any particular trading strategy or crypto trading signals provider. Crypto buy signals are not absolute and even the best crypto trading signals can go wrong.
In any event, it is crucial for traders to thoroughly vet even the best crypto signals providers before making commitments or following risky advice. This is especially true now that there is an onslaught of fraudulent channels masquerading as reputable signal providers. Traders should also remember that the best crypto signals come from research. They should not act based on a single crypto trading signal without knowing what they are getting into.