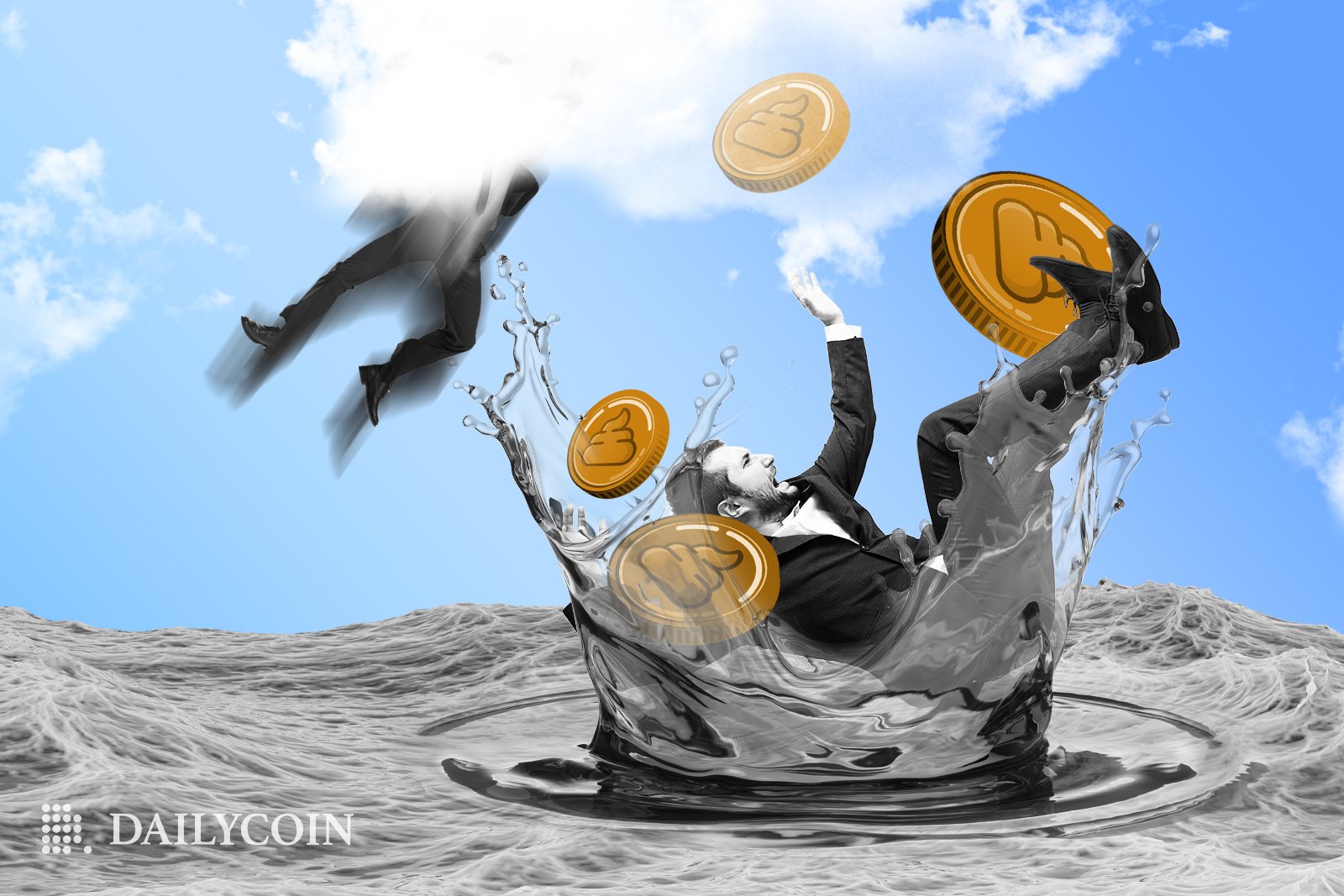 Crypto pump-and-dump scams have become increasingly prevalent in the last two or three years. The popularity of these scams has led people to distrust crypto assets. 
Such scams are also referred to as rug pulls, as they figuratively pull the rug from under users and customers. They generally consist of fraudulent projects acting like Ponzi schemes. The projects are heavily advertised and hyped within the crypto community. When they become valuable, the project runners either sell their holdings or sink the liquidity. 
These sorts of scams are popular due to the nature of crypto. A lot of projects in the ecosystem are fuelled by hype alone. Unfortunately, this presents an exciting opportunity for scammers to have their way. 
In this article, we'll look at some of the most dramatic pump-and-dump scams ever in crypto. 
One would not expect a token named "Save the Kids" to be a scam. But that's exactly what it was. 
The token was developed by three individuals, Lucas, Manny, and someone known by the letter H. Lucas was known, but Manny and H remained anonymous co-founders of the project. The project was marketed as a charity project where a percentage of the transaction fee would be donated to a Binance-operated charity program. 
Many influencers and YouTubers widely promoted the project. These were highly respected influencers, and most people believed the project was legit. But it wasn't. 
Save the Kids had an inbuilt anti-whaling mechanism that prevented whales from buying and dumping tokens. This was a good thing and theoretically could have prevented a pump-and-dump scam. 
However, the code had been tweaked at the last minute, allowing whales to sell their holdings indiscriminately. 
Investigations by YouTuber Coffezilla revealed that the scam had been engineered by a group of influencers. The anti-whale mechanism had been designed to sell the project to people as an anti-pump-and-dump token. But in reality, it wasn't. The influencers behind the project had pumped it, and they dumped it just as quickly. 
Scams are always obvious in hindsight. Today, people can wax lyrical about always knowing that the Squid Game Token was a scam. But even the most cynical analyst didn't expect it to unravel so quickly. 
The year is 2021, and Squid Game has just been released on Netflix. It's an enthralling series about a man who enters a macabre game to pay debts. The series broke countless records and became incredibly popular. 
Its release coincided with the massive bull market of 2021, so crypto was quite popular too. A few weeks after the series made its debut, a Squid Game token appeared. 
It was a Play-2-Earn token inspired by, but not affiliated with, the series. The Squid Game Token quickly rose in value; before long, it had left the 1$ mark in the dust. 
The game's entire mechanics relied on lots of people buying into it, and people did. In a short while, the token found the attention of legacy media. CNBC reported on it, and this made it even more popular. But legacy institutions neglected to report that the token was unaffiliated with the Netflix series. 
As more people bought the token, they realized one crucial thing; they couldn't sell. According to the project's whitepaper, users would have to purchase additional tokens to sell.
But things were about to get even worse. A few months after the token was launched, its liquidity pool was taken off the blockchain. Within ten minutes, the token fell from over two thousand dollars to less than a dollar. It was a wipeout of catastrophic proportions. 
The Squid Game Token had been pumped, and it was now dumped.
SushiSwap is probably the fastest earth-to-moon crypto story. Just a few days after going online, SushiSwap was listed by Binance. And just days after that, the SUSHI token crossed the dollar mark. 
SushiSwap is a fork of Uniswap, an automated market maker on the ETH network. The only real difference between SushiSwap and Uniswap is that SushiSwap gives users incentives to provide liquidity. The liquidity is provided through a liquidity provider token, the SUSHI token. 
SushiSwap grew exponentially. Just eleven days after the protocol's launch, over a billion dollars was locked. Since users got more SUSHI tokens for buying and holding their tokens, there was a rush to buy. 
But things got weird when the anonymous creator of the project, Chef Nomi, suddenly decided to sell all his tokens. He sold the tokens in one fell swoop and converted them all to ETH. A few days after creating the project, Chef Nomi dumped it as a wealthy man. 
The community behind the token refused to take this lying down. They raised hell on Twitter, and Chef Nomi was eventually forced to deposit his tokens back into the project. 
It's not every day that one finds a celebrity as big as Kim Kardashian in the middle of a crypto scam. But that's exactly what happened with Ethereum Max. 
Perhaps the most astonishing thing about this scam is that Kardashian wasn't the only celebrity caught in it. Floyd Mayweather, widely regarded as one of the best boxers ever, was involved too.
The company behind the project had paid Kardashian and Mayweather thousands of dollars to promote the coin. This gave the token massive reach, as many people bought into it. However, the celebs neglected to mention one thing; they'd gotten paid. 
People believed that the promotion of the coin was completely organic, making it even more popular. Unknown to people buying the token, it was a classic pump-and-dump scam. And things were in the pumping phase.
At one point, the coin reached a $250 million market cap, and business was booming. But then, the dump came. The group behind the token sold all their tokens, and the coin's value came crashing down. 
The people who'd bought the tokens were left holding the bag. They suddenly realized Ethereum Max was a smokescreen for a scam. They'd been sold a lie.
However, one bag holder, Ryan Huegerich, refused to go down easily. He filed a lawsuit and sued Kardashian, Mayweather, and the people behind the project. 
In the end, Kardashian agreed to pay over a million dollars as a penalty and to refrain from crypto promotion for at least one year.
Scams aren't limited to crypto tokens alone. NFTs can also be pumped and dumped. 
In August of 2021, popular YouTuber Logan Paul launched a crypto project. The project's name was CryptoZoo, which was supposed to be a Play-2-Earn game. The game was supposed to allow users to breed NFTs like pets. They could then go on to sell these NFTs if they so wished. 
But just a month after the product's launch, there were signs that things weren't going according to plan. The developers who worked on the project left it to build their own project called Zoo Labs. The team also accused Logan of stealing tokens and lying to the public. 
As this went on, people continued to buy eggs from the original CryptoZoo project. They fully expected to get exotic NFTs once their eggs hatched. But they got the exact opposite. All their eggs hatched were stock photos of basic animals like penguins and the like. 
Logan Paul then went AWOL for 15 months. It wasn't until Coffezilla published a video that exposed the failed CryptoZoo project that he retraced his steps. At first, Paul threatened to sue Coffezilla, but he eventually apologized to the CryptoZoo community. 
But at that point, people had already lost thousands of dollars in a project that was nothing but a cash cow for its owners.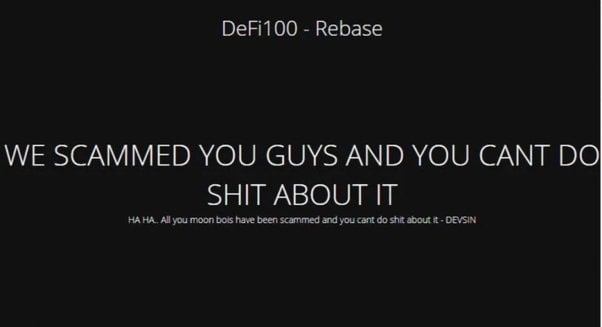 This is probably the most brazen crypto pump-and-dump scam in history. The DeFi100 project was initially meant to be a DeFi protocol, and it sold itself as such. It was built on the Binance smart chain and looked legitimate. 
But it wasn't. It was a scam from the very beginning. The project was rather popular for a while, with thousands of people buying into it and building a legitimate community. 
Unfortunately for them, that only lasted for a short while. Instead of just disappearing like regular scammers, the runners of the DeFi100 project did something different. They published a message on the project's website saying, "we scammed you guys and you can't do anything about it." 
According to estimates from analysts, the scammers made away with around $32 million in user funds. 
Many of these projects came out of nowhere and were run by anonymous founders. This means they were likely to be scams, and more experienced crypto users expected them to be bogus. Unfortunately, people still fell for them. 
The crypto ecosystem is rife with scams. It is essential to understand what forms those scams come in and what they look like. This helps regular people avoid them and safeguard their assets.