Coinbase is one of the most popular and trusted crypto exchanges in the blockchain industry. Founded by Brian Armstrong in 2012, Coinbase has seen several crypto market cycles' euphoric highs and despairing lows. Throughout its lifespan, the digital asset company has gone from strength to strength and is widely considered the most beginner-friendly crypto exchange.
What is it about Coinbase.com that is so appealing to newcomers buying Bitcoin (BTC) and Ethereum (ETH) for the first time? What kind of features separate Coinbase from competitors like Binance? 
For all appearances, Coinbase looks like they're doing everything right. Executive officer Brian Armstrong stays more or less in line with regulators, and Coinbase stock is publically traded on Wall Street. Is the San Francisco-based unicorn a reliable place to store crypto assets, or is Coinbase another FTX disaster waiting to happen?
What Is Coinbase?
Coinbase is a crypto exchange where traders and investors buy and sell digital currencies like Bitcoin and Ether. While best known for its brilliantly simplistic interface, Coinbase offers an advanced trading terminal. This lets experienced traders dabble in high-risk, high-liquidity derivatives and futures markets.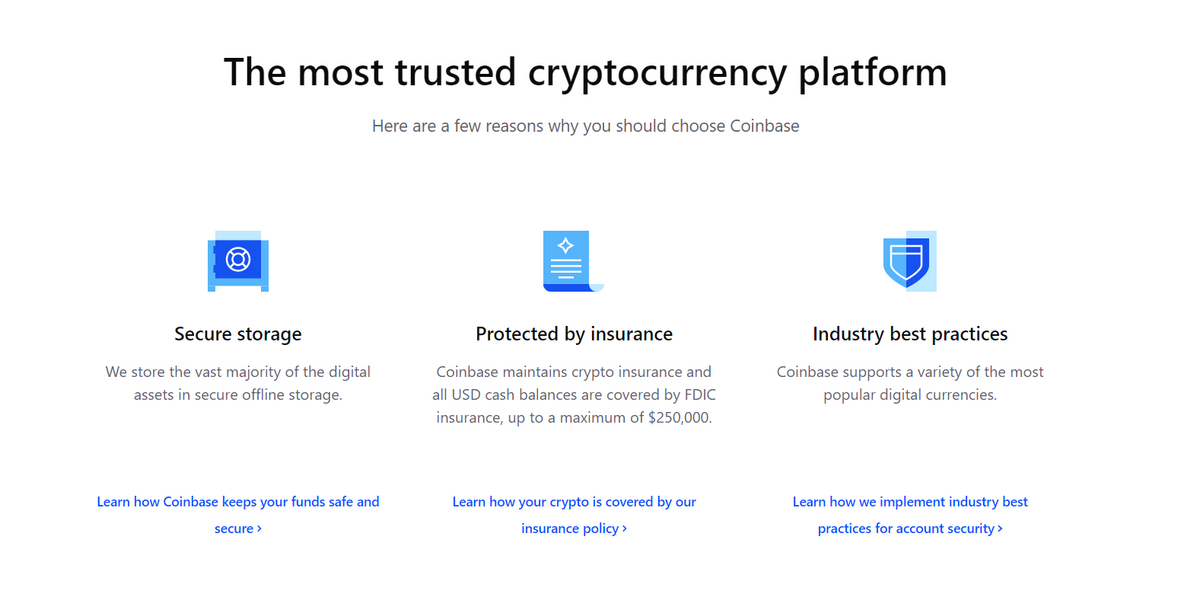 Beyond its accessibility, Coinbase is careful. In an industry known for its fair share of scams, Coinbase goes above and beyond to ensure it's legally compliant and that customer security is a priority. For example, all USD cash balances are insured up to $250,000, covered by FDIC.
According to Coingecko, Coinbase is the cryptocurrency exchange with 2nd highest trading volume and average monthly visitors. The exchange is available in over 100 countries and supports over 150 digital currencies, including top altcoins like Solana, Dogecoin, and Litecoin.
Coinbase History
Coinbase was originally founded in 2012 by Brian Armstrong. The software engineer came from an impressive background, with previous work experience at AirBnb, IBM, and Deloitte. After reading Satoshi Nakamoto's Bitcoin whitepaper, Armstrong began coding his tools and software for buying and storing cryptocurrency on weekends.
Armstrong's early programs proved successful. He presented his findings to others and enrolled in a Y Combinator startup incubator, which kickstarted his burgeoning business plan with a $150,000 grant. Searching for a co-founder to share his vision, the Coinbase CEO took to Reddit. After meeting with over fifty potential suitors, Fred Ehrsam finally fit the bill and stepped into the role.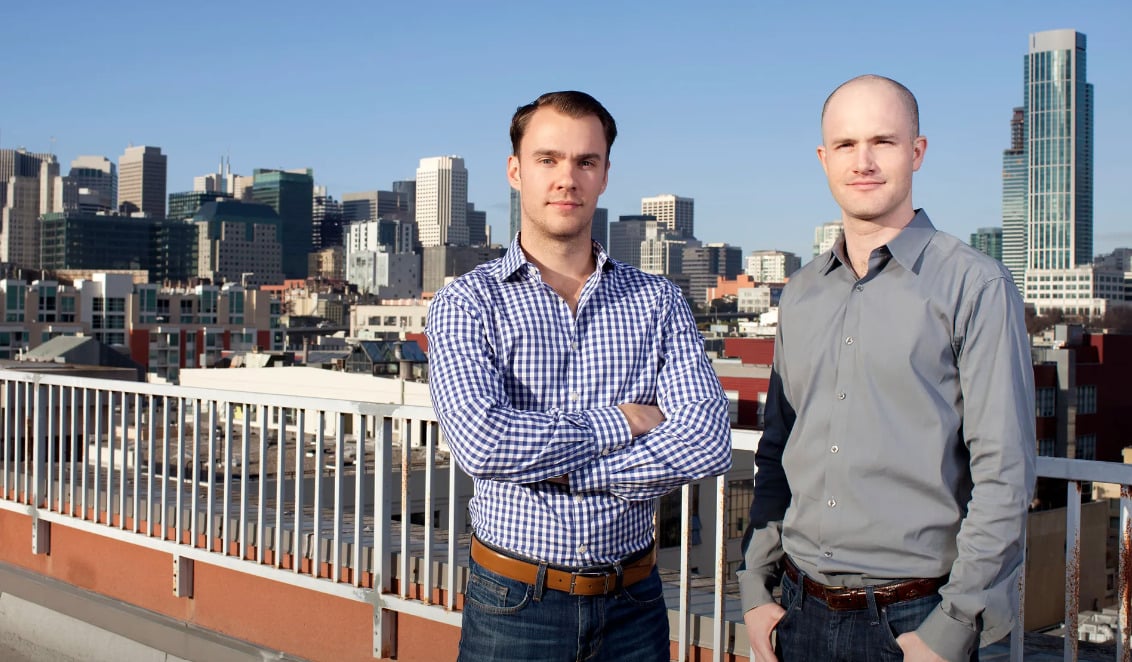 Throughout 2013, Coinbase attracted plenty of investment interest. This began with a $5M funding round led by Union Square Ventures and was reinforced by a $25M investment from venture capital firms like Andreessen Horowitz and Ribbit Capital. BY 2014, Coinbase had already amassed over one million unique users.
Over the years, the company has continued to expand. The platform now supports over 110 million verified users and has launched a suite of extra products to the exchange. Outside of Coinbase's main exchange, the company created its investment firm, Coinbase Ventures, in 2018.
Coinbase Products & Features
Like most crypto exchanges, Coinbase has built out its main platform to offer a range of tools and features beyond simple crypto trading. Coinbase aims to create a one-stop shop that provides its users with everything they could need to get started in crypto.
Every feature under the Coinbase umbrella is also available on their mobile app, which supports both Android and IOS devices and has over 100 million downloads.
Coinbase Crypto Exchange
Coinbase provides a market where users can buy and sell digital assets—from classics like BTC to trending altcoins and stablecoins like USDC. The platform offers a traditional pro trading interface with candlestick charts and order books and a hyper-simplified convert feature.
Coinbase Wallet
For those who don't want to store their cryptocurrency on an exchange, the Coinbase wallet offers a self-custody solution. The wallet is basic and convenient and stores various crypto tokens and NFTs.
Additionally, the Coinbase Wallet connects to Web3 dApps like UniSwap or OpenSea. This introduces new crypto users to DeFi and NFT collecting and lets investors monitor their portfolio's value in real-time.  
Earn
Coinbase Earn is a crypto staking platform available to verified accounts. By locking up their tokens in staking contracts or DeFi yield incentives, like liquidity provision, investors earn staking rewards that help them organically grow their investments.
Brian Armstrong is a strong advocate of staking rewards. Coinbase's CEO has actively spoken against the SEC on their staking crackdowns of early 2023.
Learn
One of Coinbase's most popular features amongst newcomers is its 'Learn' section. With Learn, users watch a short video about a specific crypto asset that gives them a basic understanding of how it works. After correctly answering a few questions, they'll receive a few dollars worth of that token for free.

This is a great way to incentivize learning and education within the blockchain industry. Emerging crypto projects get to increase their holders and introduce their products to a wider audience, while users get to earn small amounts of crypto for free.
Resource Center
Along the same lines as Coinbase Learn, the platform provides a comprehensive resource center. These helpful guides answer many basic questions about blockchain and cryptocurrency in general and teach users how to protect themselves from scams in the Web 3 space.
Borrow
As the name would suggest, Coinbase Borrow helps users secure instant liquidity by borrowing against their Bitcoin. By collateralizing their crypto, account holders can enter new trades without selling their BTC or breaking any existing positions.
While this can be useful for traders, there is still a risk. Significant drops in Bitcoin price could liquidate your collateral. You should learn more about how lending and borrowing work in the crypto market before accessing these kinds of tools.
NFT Marketplace
In a bid to bring NFT culture and collecting to their millions of users, Coinbase launched its very own NFT marketplace. The idea was to reduce NFT onboarding friction and give Coinbase users access to the excitement and opportunity of the NFT market within the comfort and familiarity of Coinbase's user experience.
However, Coinbase's NFT marketplace is a bit of a mixed bag. Before launching, it was hyped as a massive step toward NFT adoption. The launch fell flat, with only 150 users on its hotly anticipated first day.
Base
The latest edition to Coinbase's growing Web 3 empire is the reveal and roll-out of the exchange's own Layer-2 blockchain network. Base is the company's Ethereum scaling solution that aims to provide Coinbase users with a full on-chain experience. The network is built using the Optimism Stack in collaboration with the Optimism Foundation, one of the leading Ethereum L2s.
What are Coinbase's Flaws?
At first glance, it sounds as though Coinbase boasts an impressive range of features that make it a standout leader amongst crypto exchanges. However, many of these features are industry standards that almost all other exchanges provide. In some cases, competitors offer a complete service.
For example, OKX offers its own crypto-borrowing platform, OKX Loan. While Coinbase only lets users collateralize Bitcoin, OKX supports dozens of digital currencies within its Loan feature.
What's more, Coinbase is expensive. While creating an account is free, the exchange charges some of the highest trading fees in the crypto market. Binance, the largest exchange in the industry, charges a 0.1% maximum on trading fees, compared to Coinbase's initial 0.4% rate.
It would seem simplicity comes at a premium price.
Finally, Coinbase is one of the only main crypto exchanges that don't display public proof-of-reserves. In the wake of the FTX disaster, most exchanges have published a verifiable balance sheet that proves to customers that they are sufficiently solvent and can handle mass withdrawals.
While Coinbase's reserves are audited for security, other exchanges like Binance have made their proof-of-reserves publicly available.
Coinbase Global Inc in the Stock Market
Coinbase Global Inc made history when it became the first cryptocurrency exchange to be publically traded. On April 14th, 2021, Coinbase stock was listed on the NASDAQ stock exchange.
The stock was given a reference price of $250 per share ahead of its direct listing, with a valuation of approximately $65B. The value of Coinbase stock has significantly dropped since its debut, despite the company's continued growth. Unfortunately for buyers, the stock does not pay dividends to investors.
On The Flipside
Coinbase offers a great range of extra tools and is easy to use. However, the platform charges much higher fees than most other exchanges. Additionally, competitors typically offer the same additional features, sometimes with even greater utility.
Why You Should Care
Coinbase is one of the crypto industry's largest and most prevalent exchanges. Its founder, Brian Armstrong, is a key figure within the space, helping bring cryptocurrency and blockchain technology to the masses.
FAQs
Is Coinbase good for beginners?
Coinbase is a good exchange for beginners because it has a straightforward interface and plenty of educational material on cryptocurrency and blockchain technology.
Why are Coinbase fees so high?
Coinbase is a US-based crypto exchange and is subject to SEC regulations. These are typically a bit more stringent than in some other countries, which means that Coinbase may have higher compliance costs and overheads.
Who owns Coinbase?
Brian Armstrong originally founded Coinbase. In 2021, Coinbase began a publically traded company following the direct listing of Coinbase Stock on the NASDAQ exchange.
How do I get my money out of Coinbase?
To get your money out of Coinbase, you'll need to verify your bank account and KYC details. Then sell your crypto for your local fiat currency and request a withdrawal.
How does Coinbase make money?
Coinbase makes money by taking a percentage of platform fees from users. The crypto exchange also makes money from advertising and listing fees from crypto projects.