Crypto trading is rapidly becoming one of the most profitable fintech professions, with approximately $112 billion traded in cryptocurrency daily. Meanwhile, with more investors coming into the scene and taking crypto trading seriously, about 52% of crypto investors are reportedly focusing on crypto trading as their primary source of income, according to Binance, the world's largest crypto exchange. 
Interestingly, most investors know that cryptocurrencies are notorious for being incredibly volatile; more often than not, the prices of various crypto assets can swing dramatically within a few minutes of trading. While professionals may find this unusual, it is not always the case for newbies, which usually result in trial-and-error trading. 
However, some techniques are now adopted by crypto traders when navigating the market, including the use of crypto trading bots. They essentially allow crypto investors to automate buying and selling of positions based on key technical indicators. 
Besides, crypto trading bots are a great financial tool, and it is estimated that trading bots carry out 86% of the crypto trading volume. To help you find the best crypto trade bot for you, we've assembled a list of the top 12 alternative bots to consider in 2022.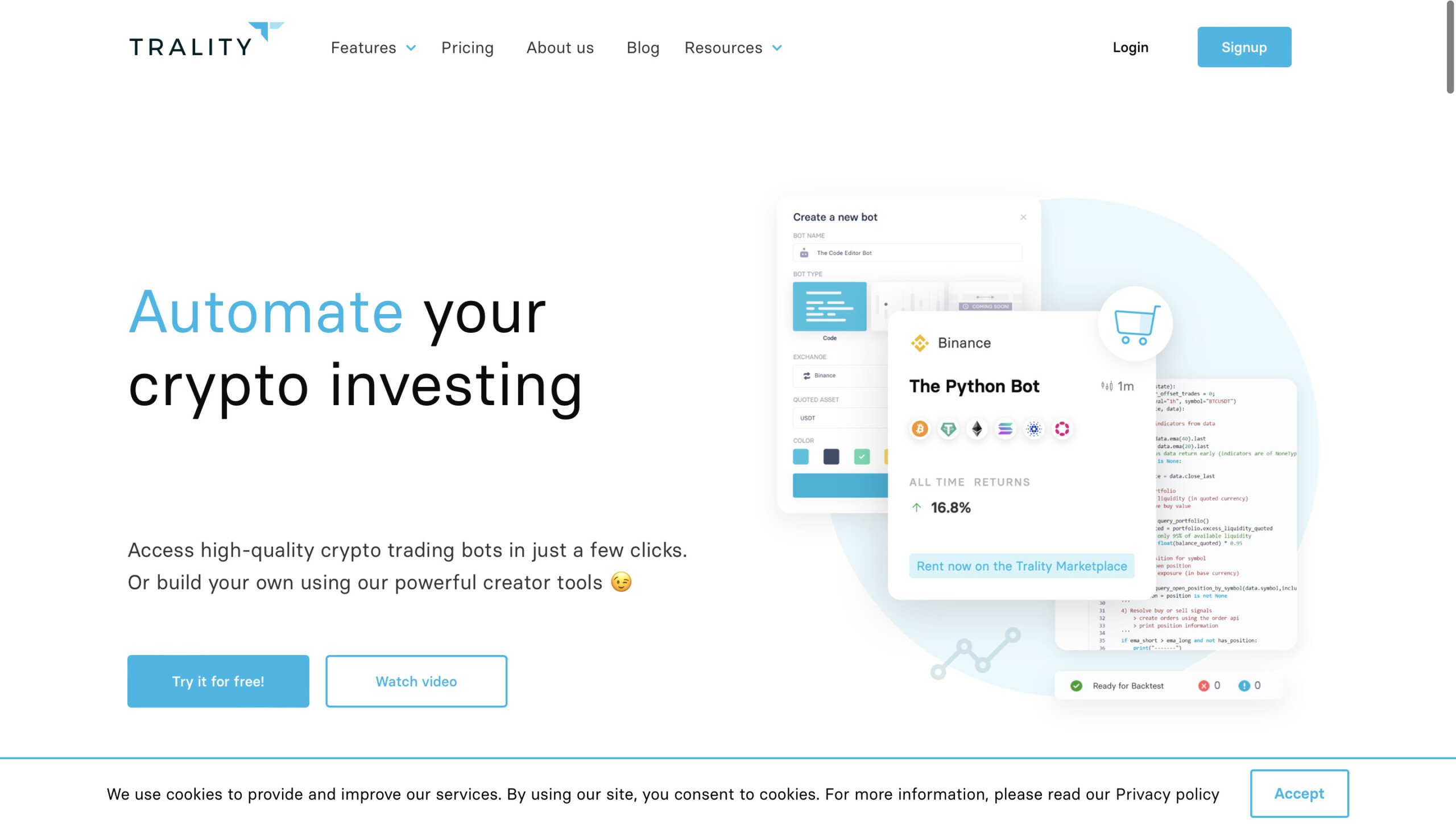 Trality is a leading European fintech based in Austria that provides innovative algorithmic trading bots suitable for both beginner and advanced cryptocurrency traders based on the Python application programming interface (API). 
The platform lets you design and customize your own crypto trading bot; the cloud-based system also allows you to build a trading bot through your web browser.
One great advantage of Trality is its paper trading and backtesting capabilities, which lets you practice trading using virtual money before you commit any funds. It has a free plan with a free trading volume of €5,000 and three other paid plans with more features and more significant trading volumes.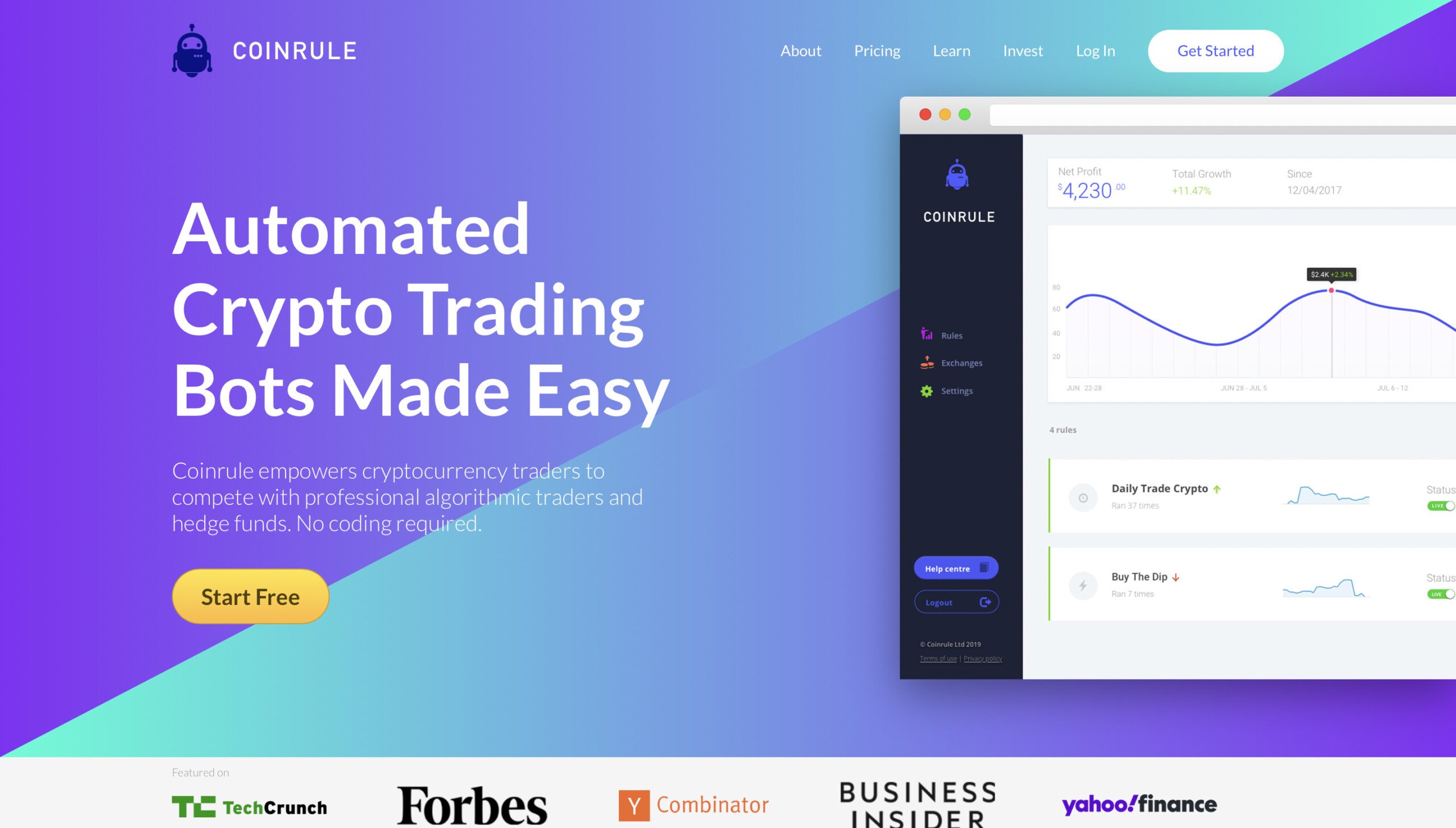 After five years, Coinrule has proven itself to be a great trading bot for beginners. The automated crypto trading platform allows its users to create strategies (rules) to analyze the market for trading opportunities and execute them automatically.
Likewise, the platform provides an easy-to-use paper trading platform that lets you test its rules before implementing them in live trading. 
Coinrule further ensures the security and safety of user accounts and information through secure login and authentication, API key management, DDoS-proof and secured payment processing. Coinrule offers subscriptions ranging from $29.99 to $249.99, while also offering a free plan.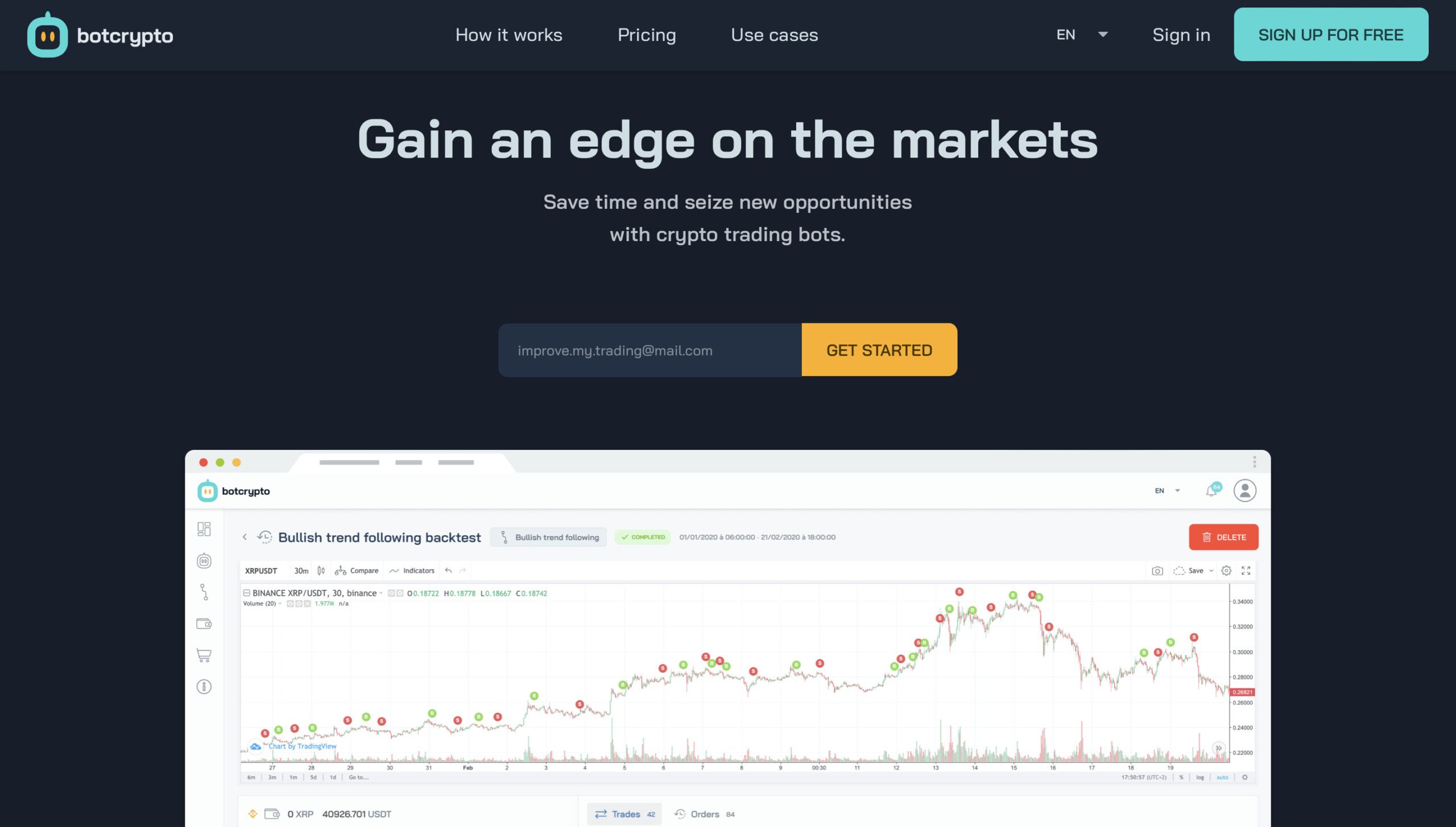 Launched in 2017, Botcrypto is a cryptocurrency trading automation web platform dedicated to retail traders and helps users create and customize crypto trading bots using its visual editor feature. These robots can be configured without any IT foundation. 
Botcrypto also allows you to perform simulations to get started without risk and to learn best practices with its educational resources. 
Interestingly, there is a free version that offers you unlimited strategies and unlimited imported strategies, among others. Alongside, there are four other paid plans, including Bronze at €9.99 per month; silver at €29.99 per month; gold at €59.99 per month and Custom, whose prices vary based on modifications.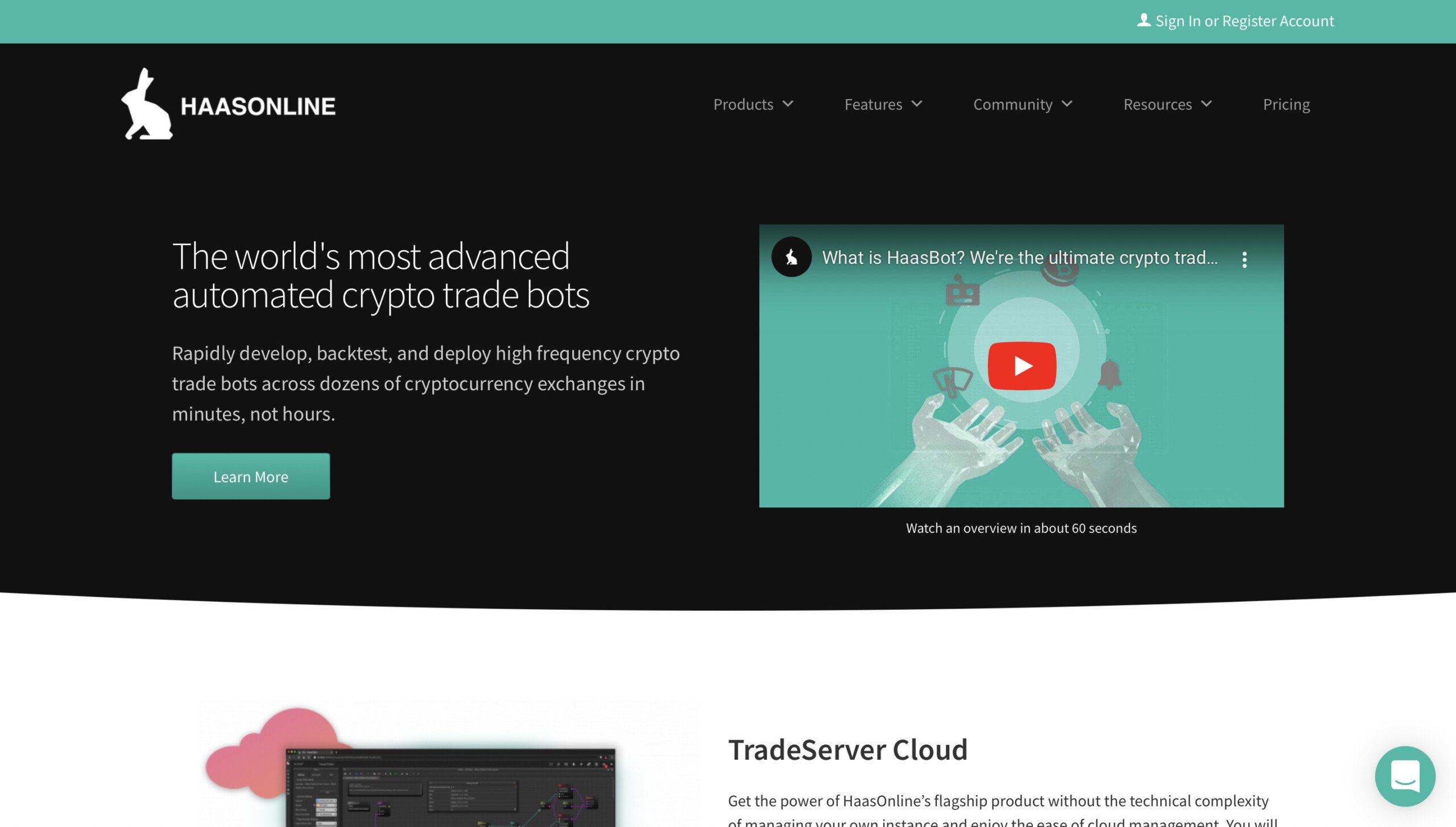 Being one of the oldest trading bots in crypto, HaasOnline is reputable for giving experienced traders the platform to connect to exchanges, leverage platforms, and spot crypto exchanges using API keys.
It supports many cryptocurrency exchanges and can give you access to multiple bots that can simultaneously implement trade strategies on different exchanges and currencies. 
Using your HaasScript programming language, you can create, test, and refine trading strategies completely from scratch. It offers a discounted two-week trial license for 0.001 BTC. The beginner licensing plan starts at 0.047 BTC.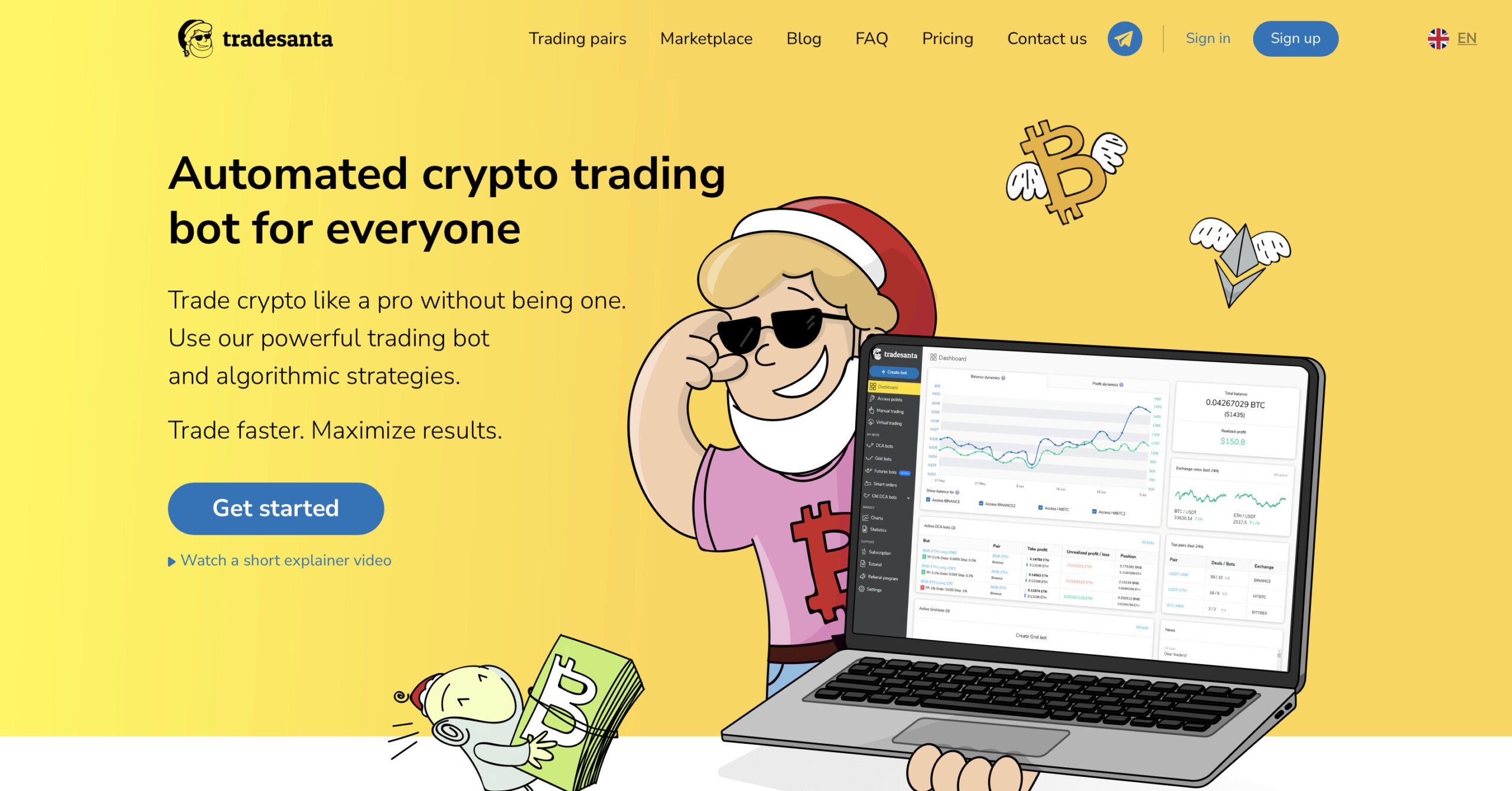 Founded in 2018, TradeSanta simplifies crypto trading for users, allowing them to trade like a pro. It is highly recommended for beginner crypto or automated investors, as well as intermediate to advanced traders.
TradeSanta has already helped thousands of users simplify their daily trading, with more than 22 million transactions completed. The trading platform also has many great features, including trading on futures, and spot markets with an automated stop-loss feature. 
Currently, its demo trading allows you to test your strategy against real market conditions without putting in any real money. TradeSanta offers subscription packages at three different price points, starting from $15 per month.
EndoTech is an algorithmic trading platform that claims to deliver hedge-fund results for investors with the help of its built-in automated trading bot tool.
Originally launched in 2012, the platform offers a great selection of trading strategies and provides much more data than the majority of its competitors. In addition, it leverages machine learning and artificial intelligence algorithms to identify opportunities and automatic trading mechanisms to execute trades across accounts instantly.
EndoTech's payment structure consists of an annual subscription fee and performance fees. It has a monthly crypto trading volume of $2,412 billion and total connected client accounts north of 162,548 as of writing.
Nothing is more assuring than a crypto bot that is trusted by well over 500,000 traders across Binance, KuCoin, Bybit, and more. Bitsgap is famous for automating the process of crypto trading for those "who live busy lives."
The platform lets you make a profit from every market move 24/7, with fully automated trading bots and back-tested GRID and DCA strategies. You can control your risk/reward ratio with tools your exchange doesn't offer.
Bitsgap offers a demo mode, also known as paper trading, which lets you try crypto trading with simulated funds. It also offers a seven-day free trial and three paid plans from Basic to Pro.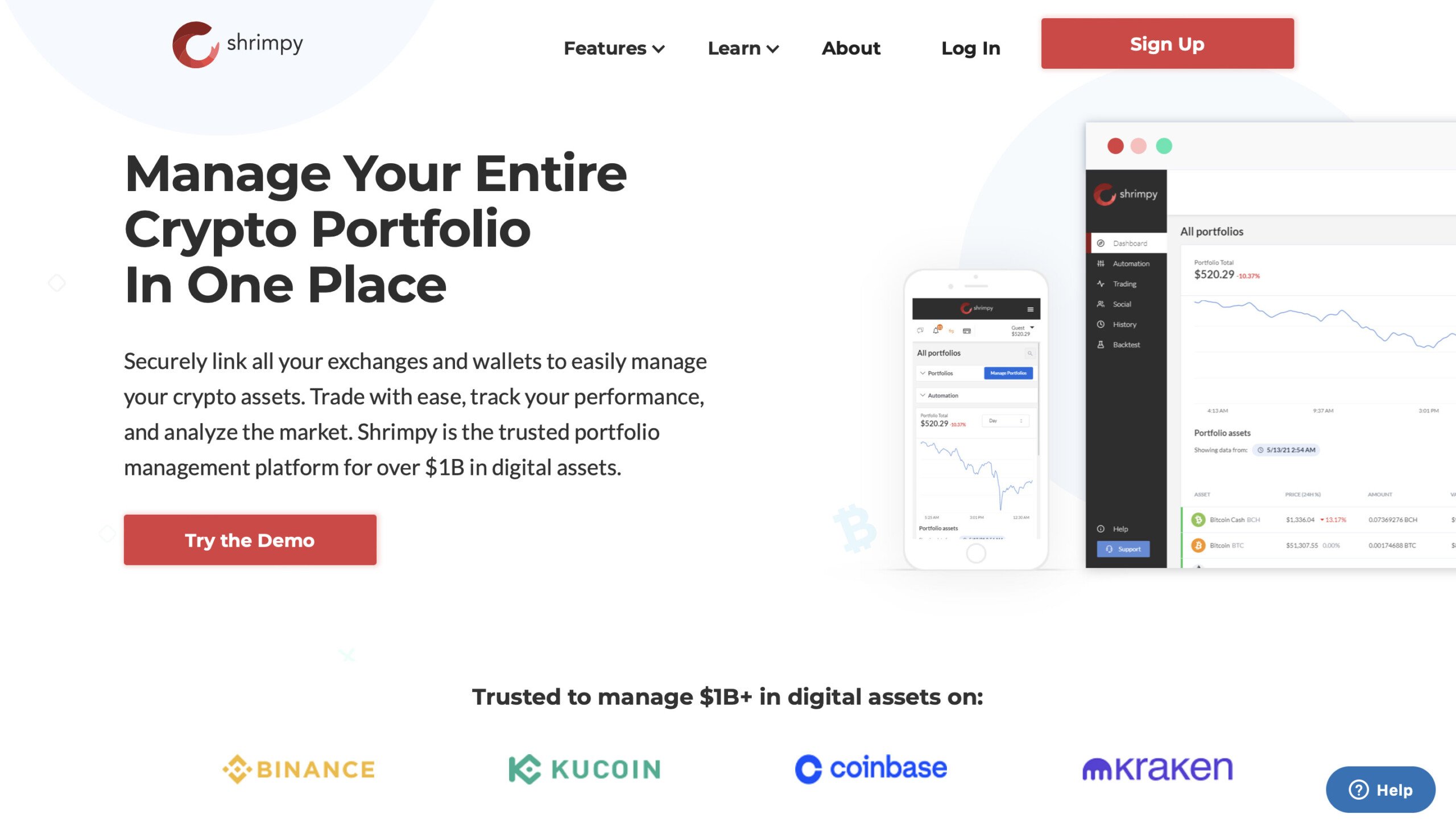 Since 2018, Shrimpy has been a sought-after portfolio rebalancing tool and social trading platform for cryptocurrencies. It offers an interactive user interface, unique features, and responsive customer support. 
With Shrimpy, users can develop custom cryptocurrency index funds, copy trading strategies, and even automate rebalancing. Copy Trading and Social Trading is the platform's unique selling point. 
They have a free option that includes almost all features with an affordable paid version as well ($19/month). Shrimpy also supports major crypto exchanges such as KuCoin, Coinbase Pro, and Kraken. So far, the platform boasts over 30+ integrations, $13 Billion+ in trade volume and 500k in daily trade volume.
NAGA is another popular social crypto trading platform that allows users to initiate automatic copy trading and emulate expert traders. Specifically, this trading platform has a feature dubbed 'leaderboard' that comprises a list of top traders alongside their ratings and success rates. 
With the NAGA Autocopy, users can choose from a pool of expert traders on the platform, follow them and copy their trading strategies. While this is a good feature for non-experienced traders, it can only be accessed after an initial deposit north of €250.
You can trade crypto, stocks, ETFs, CFDs, and over 90 other financial instruments on the platform which is regulated by Cyprus Securities Exchange Commission. Besides, it has an in-built wallet that allows users to deposit, receive, withdraw, send and hold cryptocurrencies.
Cryptohopper is a world-class automated crypto trading bot that makes investing in the cryptocurrency market easier and more intuitive. 
Investors can automate their investing processes, copy professional traders, set signals and alerts through their mobile app, and more directly through Cryptohopper. 
You can trade 100+ cryptocurrencies connected through 18 major exchanges. Cryptohopper's platform is free to use for most investors. It has paid plans starting from $99 per month, which contains more features.
3Commas is a social trading platform that allows the use of automated trading bots. Notably, users can follow and copy trade strategies used by successful traders as well as track top portfolios with high accuracy scores.
Not only that, but the platform also lets you engage in smart trading; basically, you can customize your own trading strategies, set up a stop loss, and take profit commands. It has over 33,000 traders using the service and handles over $10m in daily trading volume.
This bot has free and paid plans, with the latter starting from $9.99 per month. All plans support 18 exchanges, a multi-level referral program, trading view integration, plus more than 20 trading features.
Pionex is a highly sought-after free crypto trading bot since it does not require API keys like most alternatives. The platform also functions as an exchange, with 16 crypto trading bots built into the system. Notably, it offers a variety of trading activities, including arbitrage, social trading, copy trading, dollar-cost averaging, and scalping methods, among others.
Furthermore, the platform has a Money Services Business (MSB) licensed by the Financial Crimes Enforcement Network (FinCEN). Now to the best part, Pionex is a good low-fee choice since its trading fees are incredibly competitive at only 0.05%. So far, the platform boasts more than 100,000 users with $5 billion in monthly trading volume.
When searching for an ideal crypto trading bot, we tend to look for one that allows backtesting of automated trading strategies and offers multiple indicators and approaches, all of which are offered by each of the bots listed above. Ultimately, bots are transforming the crypto trading landscape by leveling the playing field for all while equally providing an enabling, efficient and transparent platform for new and old investors to thrive in today's market conditions.