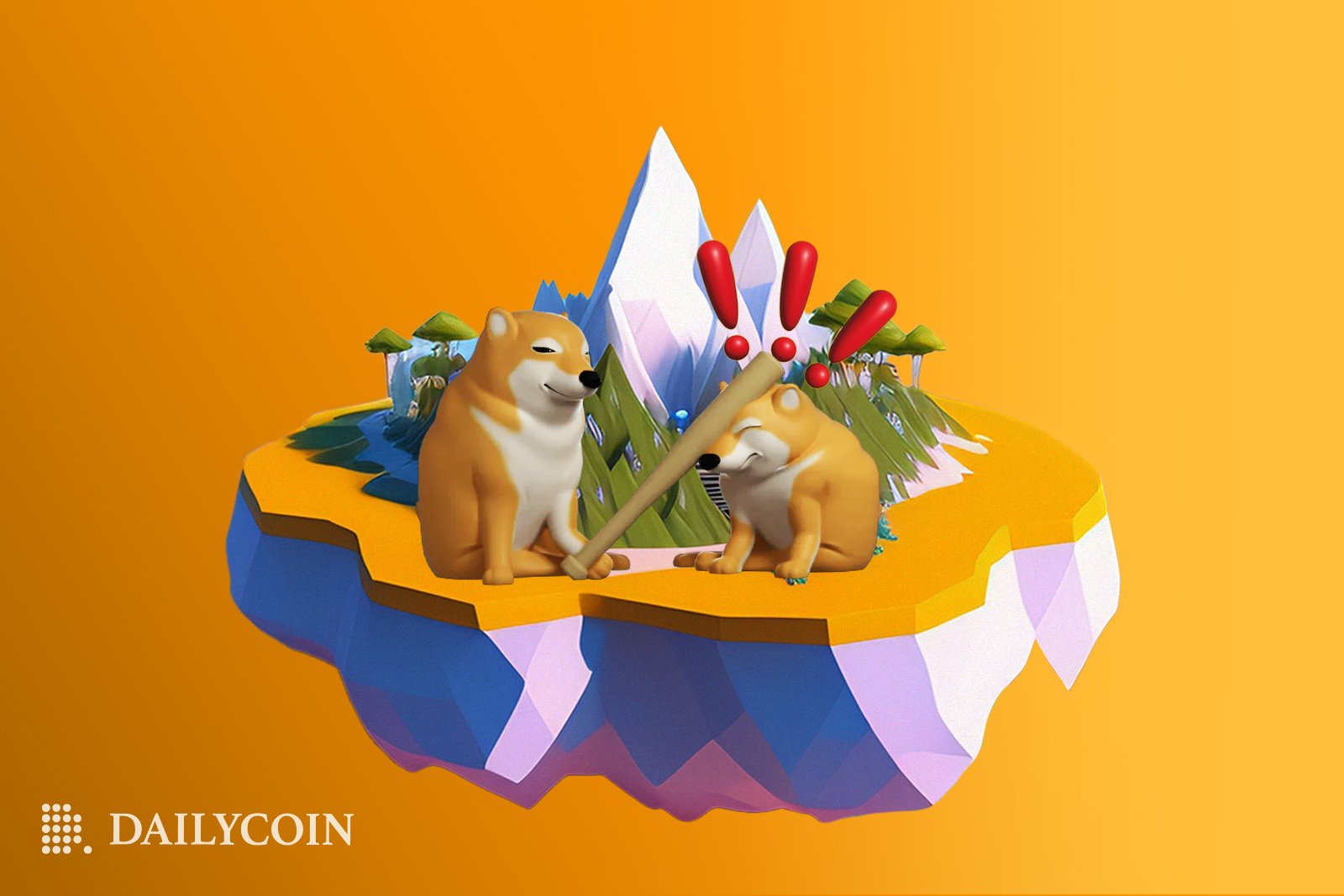 A beacon of hope for the Solana community, Bonk (BONK) is a cryptocurrency meme coin that arrived at the perfect moment to breathe new life into the Solana (SOL) blockchain. Bonk Inu showed first-hand how powerful memes are in the crypto market.
The BONK airdrop couldn't have been timed better. Amidst the depths and darkness of the FTX collapse, BONK tokens brought light-hearted fun to Solana, at a time when things looked like they might never improve.
What is Bonk? Is this canine-themed meme coin just a Solana-based copy of Dogecoin (DOGE) or Shiba Inu (SHIB), or does BONK bring something new to the table?
What Is Bonk (BONK)?
Bonk is a meme coin that was launched on the Solana blockchain. Like many community-led meme coins, Bonk is a cryptocurrency created 'for the people, by the people.' Tired of the predatory 'Alameda' tokenomics that were commonplace on Solana, the anonymous creators of Bonk wanted to create a dog coin that gave everyone a fair shot.
The Bonk Whitepaper, or BonkPaper, tells the story of Bonk's vision. Solana has always benefitted from a passionate, thriving community of users and developers. However, the Bonk team felt that this network was constantly the victim of exploitative venture capitalists who constantly extracted value from retail investors.
Bonk's goal is simple. Give everyone on Solana a chance to take back power and control of the network and have some fun with BONK tokens in the process.
The Unexpected Birth of Bonk
To fully appreciate the birth of Bonk, we need to rewind the clock to December 2022. Solana had suffered a brutal year, plummeting month after month. From its all-time high of $260 in November 2021, SOL had spent the year in free fall.
When FTX collapsed in late 2022, it looked like the final nail in Solana's coffin. Sam Bankman Fried's support had been a huge source of strength for Solana, so when his empire fell, SOL came crashing down with it. Morale within the Solana community was at an all-time low, and it looked like SOL would never recover.
On Christmas Day, 50 trillion BONK tokens were airdropped to members of the Solana community. This was concentrated between holders of specific NFT collections and artists, developers, and DEX users on the network.
Initially, many people dismissed the BONK tokens as a scam, not trusting the unexpected airdrop. However, within just a few weeks, BONK exploded in value, reaching a market cap of around $500M. The Solana community rallied around the token, with developers creating dozens of dApps and games that used BONK tokens.
For example, frustrated SOL holders could use BONK tokens to watch this dog 'Bonk' SBF on the head.
Many of these apps were designed to burn BONK tokens, removing them from the circulating supply and increasing bonk scarcity. Others let you play games to earn BONK rewards or stake tokens and NFTs to earn BONK.
Since BONK launched, Solana has successfully dug itself out of a pit of despair created by the FTX collapse. The immense trading volume of BONK on cryptocurrency exchanges brought a lot of new eyes and users to the Solana ecosystem.
Who Is Behind Bonk?
The team behind Bonk is fully anonymous. All we know is that the Bonk founding team comprises 22 individuals from within the Solana community. While speculation abounds about who these founders could be, they have chosen to remain unknown.
All the founders have previous experience developing dApps for the Solana blockchain or leading prominent NFT collections within the Solana ecosystem. The Bonk team created the token using the Dexlab launchpad app and distributed the airdrop using tools provided by the Famous Fox Federation, a top Solana-based NFT collection.
The Bonk Ecosystem
When BONK started gaining traction in the market, developers raced to find a way of incorporating it into DeFi apps and games across the ecosystem. Let's look at the range of tools within the Bonk Ecosystem.
BonkSwap
BonkSwap is a decentralized exchange built on the Solana blockchain. Using Bonkswap, traders instantly swap digital assets like SOL and USDT in a permissionless and trustless environment.
The platform lets users create liquidity pools and earn crypto rewards in real time by accumulating a percentage of the pool's transaction fees.
On top of that, BonkSwap hosts a prediction market called BonkOrBust. In BonkOrBust, players bet BONK on whether the price of SOL will go up or down over a certain period.
BONK Integrations
From analytics platforms to crypto exchanges and online stores, Bonk is integrated with 50+ protocols across the cryptocurrency space. This includes a variety of DeFi and gambling apps, as well as payment solutions and social media tipping services.
The full list is available on the Bonk Coin website.
Bonk NFT Mint Tracker
The Bonk NFT Mint tracker aggregates an automated list of all the NFT collections currently being minted. This tool is helpful for collectors looking to mint new digital assets before they sell out.
What's interesting about the Bonk Mint Tracker is that it doesn't only list Solana NFT collections. The tool also showcases ongoing mints from other top chains like Ethereum (ETH) and Binance Chain (BNB).
Bonk Tokenomics
From the outset, Bonk coin aimed to provide fair token allocation for the Solana community without giving any power to venture capitalists and private investors. What's unique about the BONK airdrop is that no one was expecting it, so when the price of BONK started rising, it truly felt like a gift the Solana community gave to itself.
The total supply of BONK tokens was initially distributed in the following allocations:
21% – Active NFT Collections
21% – Early Contributors
16% – Early DeFi OpenBook Traders
16% – BonkDAO
5% – Solana Artists
5% – Solana Developers
5% – Initial Bonk Market Liquidity
5% – Marketing
Is Bonk the Dogecoin or Shiba Inu of Solana?
In many ways, Bonk resembles the other top meme coins in the cryptocurrency market. Bonk was created to give Solana a fair shot at building a community around a meme. Like any good meme coin, Bonk kept things light and fun, never taking itself too seriously.
This vision mirrors the origin story of both Dogecoin and Shiba Inu. Dogecoin founders Billy Markus and Jackson Palmer made Dogecoin as a joke, essentially making fun of the crypto industry. Meanwhile, Ryoshi aimed to foster a community free from insider VCs who only wanted to dump tokens on retail investors.
With this in mind, you could be forgiven for thinking that Bonk doesn't differentiate itself much from other top dog coins. However, one of the anonymous founders thinks Bonk has already proven its worth over its competitors.
In an interview with Coindesk, a Bonk founder claims "It's (BONK) already more useful than either of those. There's (not) much you can do with SHIB or DOGE on-chain."
On the Flipside
If there was one cause for concern in the Bonk ecosystem, it's the early contributor allocation. For a token that claims to be born purely out of goodwill to give everyone on Solana a fair shot, it seems dishonest to reserve 37% of the max supply for early contributors and the BonkDAO.
Why You Should Care
Trending meme coins have proven time and time again that they're not a force to be reckoned with in the crypto market. DOGE and SHIB have already made millionaires in the past, and BONK was already to lead SOL to a strong recovery after a seemingly endless crash.
FAQs