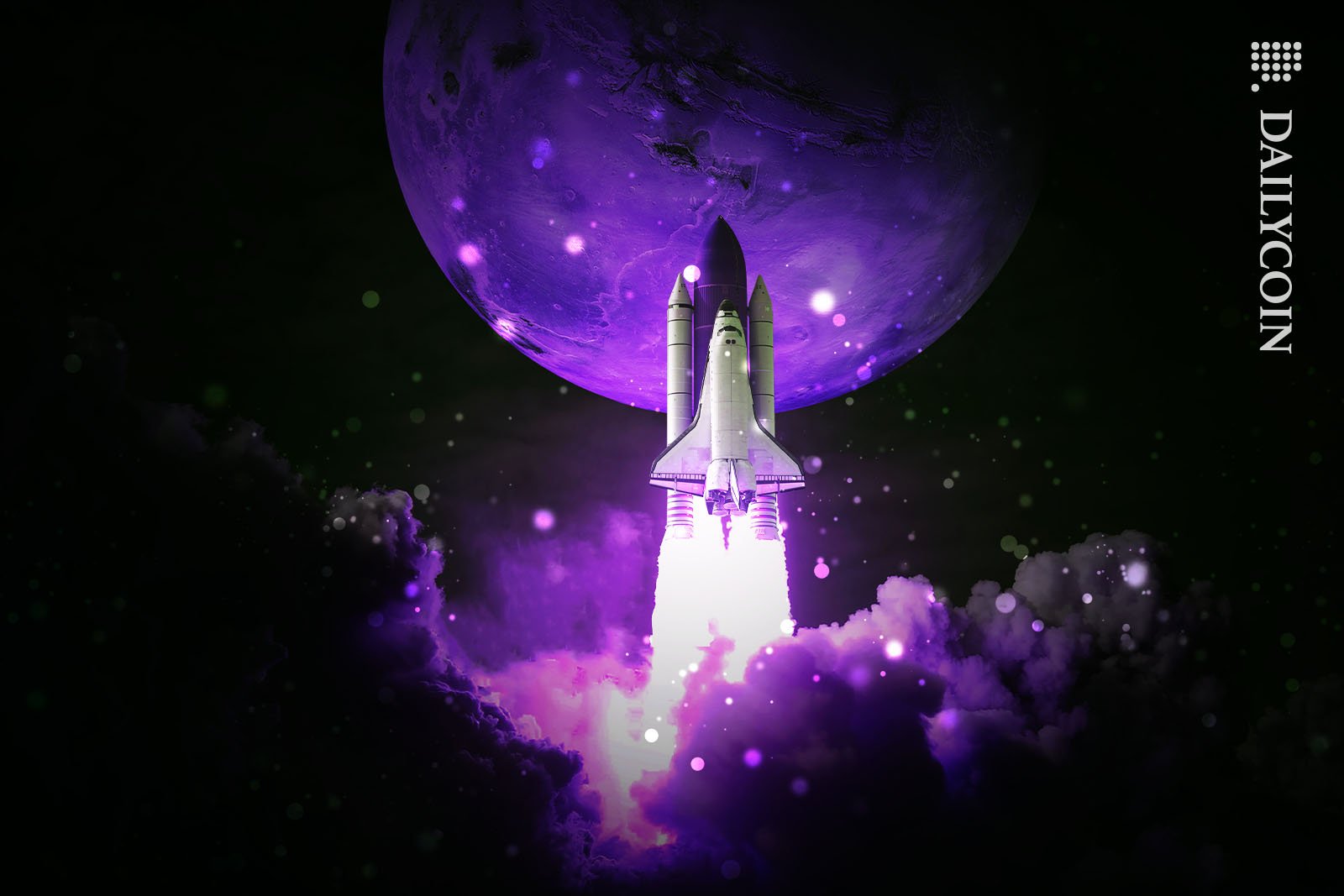 Crypto Launchpads are an excellent tool that brings emerging blockchain projects and excited cryptocurrency investors together. The crypto space has no shortage of innovative startups looking for fundraising. IDO launchpads help these next-generation protocols dive into the crypto space and hit the ground running.
As is often the case in the crypto industry, knowing whether these incubators are legit can be hard. While some launchpad projects explode in the crypto markets, plenty of flops and scams still leave token holders completely wrecked.
This article will give you a crash course on launchpad platforms. When you reach the bottom of the page, you'll know what separates the best crypto launchpads from the pretenders and have a great list of incubators to help you get started in early-stage investments.
What Is a Crypto Launchpad?
A crypto launchpad is a platform that helps new crypto projects raise funds and build a community of passionate investors. In most cases, crypto launchpads host token sales that give investors early access to promising projects before tokens get publically listed on a cryptocurrency exchange.
Like most things in the blockchain ecosystem, crypto launchpads come in a variety of formats. While popular cryptocurrency trading platforms like Binance host some, decentralized launchpads use blockchain technology to create token sale platforms supported by on-chain governance.
While most incubators host new ICOs (Initial Coin Offerings) for emerging crypto projects from various niches, some platforms are more specialized. For example, it's not uncommon to see a crypto launchpad cater specifically to NFT, GameFi, and Metaverse projects.
As more and more people start using crypto launchpads, providers have had to devise more creative methods of deciding which investors are entitled to a presale allocation for new cryptocurrency projects.
Some use a raffle system powered by smart contracts, where lucky prospects win a spot on the whitelist. Others use a tier system, where native utility token holders can stake coins to earn access to new opportunities.
Why Use a Crypto Launchpad?
One of the reasons crypto launchpads are so popular is that they're mutually beneficial for both crypto projects and retail investors.
For New Cryptocurrency Projects
Emerging blockchain projects use launchpads to help raise capital and fund their early-stage development. They also get access to mentorship and a team of experienced advisors that guide the project in pursuing its goals.
Launchpads are also excellent marketing partners. They put new projects in front of thousands of potential investors and are well-connected to top crypto influencers who help to drive interest and adoption.
For Investors
Crypto launchpads give retail investors access to exciting new projects long before they hit the market. Early access to disruptive startups is a luxury that was previously reserved for venture capital funds and investment firms.
Finding hidden gems before they're listed on public exchanges has led launchpad buyers to outstanding gains in the past. Imagine buying Axie Infinity (AXS) for just $0.10 on the Binance Launchpad before it hit $165 a year later.
What makes a Good Crypto Launchpad?
It's important to remember that not all crypto launchpads are created equal. For every success story, dozens of launchpads seem never to catch a break or list downright scams to snatch a share of the fees.
Here's what you should be looking for in a launchpad platform:
A Good Reputation – If a launchpad is constantly getting slandered on Twitter for stealing people's funds or providing false information, it's probably best to avoid it entirely. It's important to always do your due diligence before putting your funds through a launchpad.
History of Success – A crypto launchpad's track record should speak for itself. If an incubator can show that they've helped dozens of high-quality crypto projects grow in the market, that indicates they know how to get the job done.
Transparent Information – Every launchpad should be able to tell you everything you need to know about the blockchain projects they're hosting. You should be able to find out exactly how many tokens are for sale, the price, and any presale vesting periods.
Blockchain Compatibility – Most crypto launchpads are multi-chain and support projects across the Web3 world. While chain-exclusive launchpads might have great connections and knowledge within their network, you should remember that a great project on a dying chain might struggle to get traction.
Top Crypto Launchpads
Now that we better understand what crypto launchpads are and why we should use them, it's time to dive into our list of the best crypto launchpads for 2023.
1. Binance Launchpad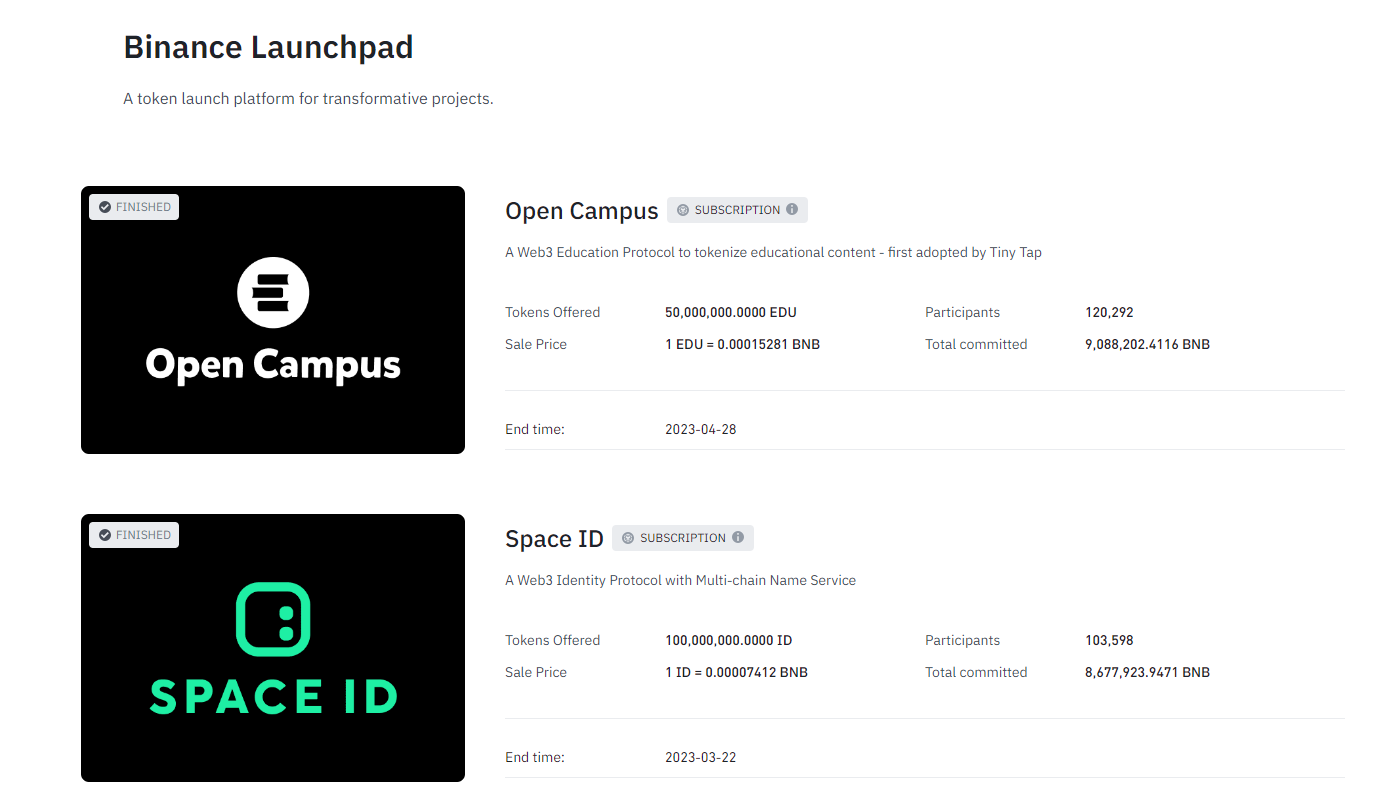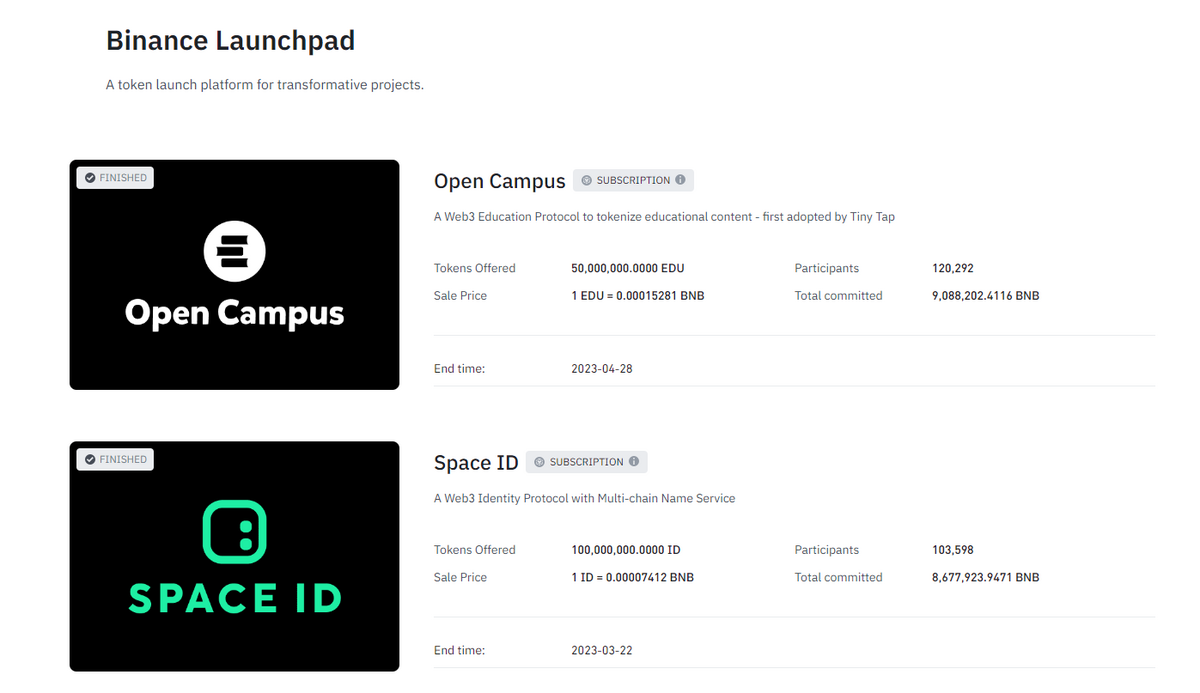 It should come as no surprise that the world's largest cryptocurrency exchange is also the provider of one of the industry's top launchpads. The Binance Launchpad offers unmatched attention to detail and has strict vetting procedures to ensure only high-quality projects are listed.
Seen as the grail of the crypto industry, being listed on the Binance Launchpad is considered a big win for crypto startups and a huge marketing boost.
The Binance Launchpad also offers the Launchpool platform. Users can stake their BNB coins to earn new tokens. This great feature means that users don't need to part while gaining exposure to new digital assets.
Supporting IEOs (initial exchange offerings), Binance Launchpad has helped projects like Axie Infinity (AXS) and Stepn (GMT) enjoy astronomical growth.
Number of projects: 34
Total funds raised: $130 million USD
Pros
Great reputation in the crypto space.
Excellent track record of successful projects.
Supports projects on all major blockchains.
Provides top-tier support for new projects.
Cons
High competition for allocations.
Low frequency of launches due to strict requirements.
2. KuCoin Launchpad
Also called KuCoin Spotlight, the popular crypto exchange's launchpad offers various digital assets. Whether you're into groundbreaking DeFi and metaverse coins or new layer 1 Ethereum (ETH) killers, Kucoin likely has something for you.
Like Binance, KuCoin is also very careful about who gets through its vetting process. Less than 10% of applicants make the cut and get listed in on KuCoin spotlight. Unlike the rest of KuCoin's services, KuCoin Spotlight isn't KYC-free.
KuCoin has hosted some great IEOs and given new blockchain projects the tools they need to succeed in the crypto market. Some top performers launched through KuCoin include Sui (SUI) and Victoria (VR).
Number of projects: 26
Total funds raised: $43 million USD
Pros
A strict vetting process that protects investors from scams.
Strong track record with historically good returns.
Multichain support.
Cons
Blacklists investors from certain countries, like the US.
IEO market share is dominated by Binance.
3. DAO Maker
DAO Maker is a trendsetter in this niche and is one of the best crypto launchpads in the decentralized on-chain world. The DAO Maker ecosystem has helped over 100 crypto startups find their feet and enjoys fully decentralized governance thanks to its native token, DAO.
Hosting IDOs (initial dex offering), the DAO Maker token launch platform is part of a growing ecosystem offering staking services in exchange for new tokens. Access to some IDOs is gated based on a tiered system, so holding DAO tokens is necessary for allocations to top projects.
Being a decentralized launchpad, DAO Maker's selection criteria are more lenient than Binance or Kucoin's vetting process. Despite this, the IDO platform still lists great projects like My Neighbor Alice (ALICE) and Sweat Economy (SWEAT).
Number of projects: 118
Total funds raised: $56 million USD
Pros
Fully decentralized platform.
KYC-free, anonymous on-chain services.
Wide range of available token launches.
Multichain support – including popular networks like Polygon and Solana.
Cons
Lenient selection criteria mean riskier investments.
Users typically need to hold DAO tokens to access the best projects.
4. BSCPad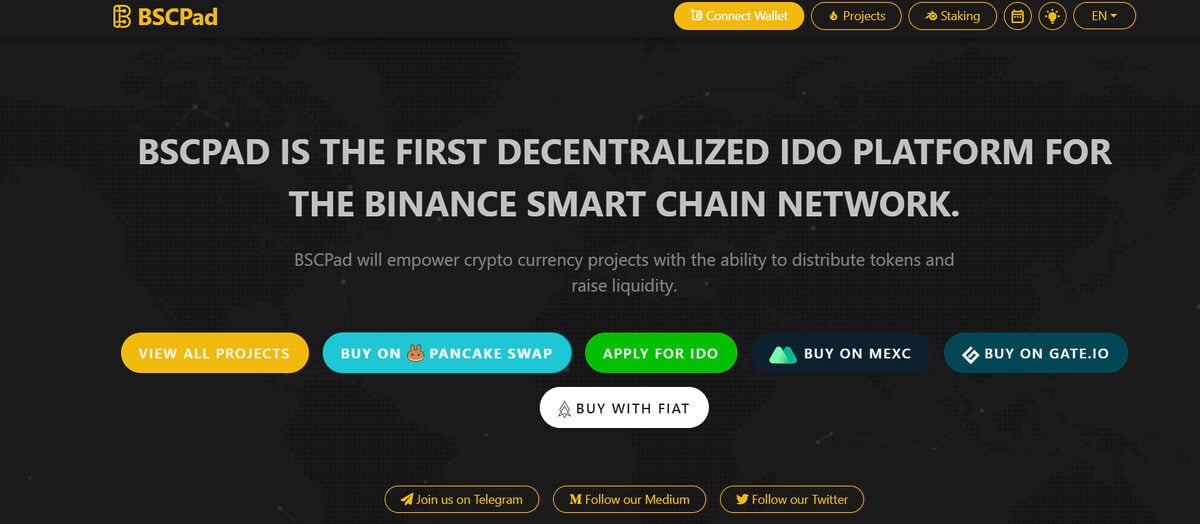 Specialized for projects launching on the Binance Smart Chain, BSCPad is a decentralized IDO platform. While BSCPad doesn't offer the same multichain flexibility as other crypto launchpads, it makes up for it by being the largest BSC-exclusive incubator.
What makes BSCPad popular is its unique approach to token launch distribution. Users can improve their chances of winning in allocation by staking BSCPAD tokens to the platform and sharing emerging projects on their personal Twitter profiles.
After the first allocation round for stakers, new tokens are sold off to the higher tiers on a first-come, first-served basis. After the token sale is complete, liquidity is listed on PancakeSwap, the leading decentralized exchange on the Binance Smart Chain.
BSCPad is well connected within the Binance Smart Chain ecosystem and has supported popular crypto projects like AIOZ Network (AIOZ) and Outer Ring (GQ).
Number of projects: 71
Total funds raised: $16 million USD
Pros
Twitter integration improves allocation chances for lower tiers.
Token distribution method means that everyone is guaranteed an allocation through staking.
Largest BSC-exclusive crypto launchpad.
Cons
Lower success rate than competing decentralized launchpads.
Direct token sales are only available for higher tiers.
5. Seedify
If you've got a soft spot for crypto gaming and metaverse projects, Seedify should be on your radar. Seedify is arguably the best crypto launchpad for blockchain gaming and NFT projects. As is common in decentralized launchpads, Seedify employs a tiered system powered by its native utility token, SFUND.
Seedify takes decentralization to the next level, allowing anyone to submit ideas and projects to the platform. Whether or not a project makes it through the screening process and gets the opportunity to host an IDO is decided by Seedify's passionate community of crypto gamers.
Beyond IDOs, Seedify offers a varied ecosystem complete with SFUND and NFT staking and liquidity farms to earn crypto rewards in tokens from new crypto projects. Seedify has previously incubated successful projects like Bloktopia (BLOK) and Hypercycle (HYPC).
Number of projects: 60
Total funds raised: $20 million USD
Pros
Community-led decentralized launchpad.
Supports emerging projects from several blockchains.
Specialized in crypto gaming, metaverse, and NFTs.
The SFUND token is easily available and listed on popular cryptocurrency exchanges like Kucoin and ByBit.
Cons
An expensive tier system makes for a high barrier to entry.
Community-led vetting process means that selection criteria can be lenient.
6. PolkaStarter
Don't let the name fool you. Even though PolkaStarter is the leading decentralized launchpad for PolkaDot crypto projects, that's just the tip of the iceberg. The multi-chain platform also boasts password-protected private pools and a creative auction mechanism within its token sale platform.
Users gain access to private sale opportunities by holding a qualifying amount of POLS tokens or earn new tokens through staking rewards. PolkaStarter enjoys a great reputation within crypto industry, and is governed by a decentralized body of investors.
PolkaStarter is also great for beginners. The IDO platform has a comprehensive resource section dedicated to explaining the basics of IDOs and helping new users take their first steps in this complicated realm of DeFi.
Top crypto projects like Ethernity Chain (ERN) and OpenOcean (OOE) raised funds and grew their platforms after launching through PolkaStarter.
Number of projects: 106
Total funds raised: $32 million USD
Pros
Best crypto launchpad in the PolkaDot ecosystem.
Creative auction system for token launches.
Strong reputation and reliable track record.
Cons
Low average raise compared with other platforms on this list.
Token-gated access to token sales.
What Are the Risks?
Like everything in the crypto market, investing in projects listed on launchpads doesn't guarantee good returns. Because tokens are often listed on exchanges at higher prices it's quite common for presale buyers to dump their tokens on launch for a small profit.
It's good practice to always do thorough research before investing in crypto projects hosted on a launchpad.
The native tokens used by decentralized launchpads are also volatile cryptocurrencies in their own right. Some investors are easily frustrated because they need to buy thousands of dollars worth of tokens like DAO, BSCPAD, or POLS to access a launch, only for the native token to dump after a hyped token sale leaving investors at a loss.
On the Flipside
Crypto launchpads hold no responsibility for the success or failure of new blockchain projects they host. Yes, they help provide marketing services and help expand the project's reach, but ultimately a project's success depends on an enormous variety of factors.
All this to say, good launchpads can still host objectively bad projects that bring disappointing returns.
Why This Matters
For gem hunters and investors with a high appetite for risk, crypto launchpads can be an excellent tool for getting in on a new blockchain project on the ground floor. That being said, you should always do your own research and avoid being tempted by what looks like discounted presale prices.
FAQs
Are crypto launchpads a good investment?
Some investors have enjoyed great success investing in both crypto launchpads and the tokens they support. However, all investing and trading is a zero-sum game, meaning that there must be a loser wherever there is a winner. It is up to you to decide whether or not you think crypto launchpads are a good investment.
What is the most famous crypto launchpad?
The Binance Launchpad is the most famous and has raised more funds for emerging crypto projects than any other incubator.
Is Binance Launchpad profitable?
In most cases, yes. According to coinranking.io, the Binance Launchpad has an average ROI of around 2,000%. Whether investors realize these profits is up to their own trading strategy.
What is the difference between Launchpad and Launchpool?
Launchpads host token sales where you exchange funds for crypto tokens. In a Launchpool, users stake a native utility token to earn emissions on a new token without necessarily needing to exchange capital.