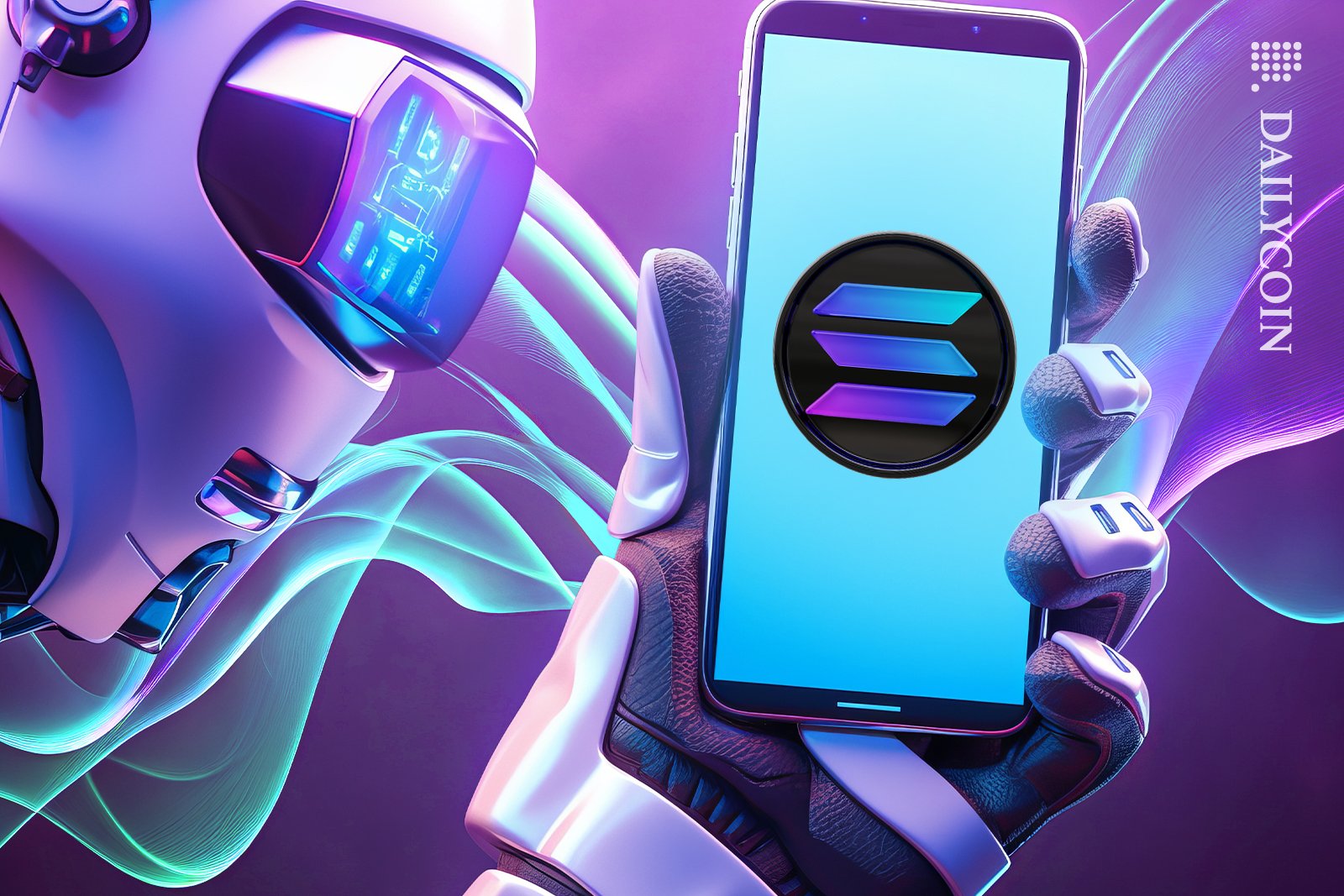 If you're getting tired of explosive gas fees and recycled dApps on Ethereum (ETH) and other EVM chains, Solana dApps are here to offer a breath of fresh air.
With its minuscule network fees and instantaneous transactions, Solana provides thousands of users with some of the best dApps blockchain technology offers. From NFT services to DeFi staples like decentralized exchanges, Solana has everything you need to maximize your digital assets.
In this guide, we'll highlight some of the top dApps and products making waves and driving innovation on the Solana blockchain.
What Are Solana dApps?
Decentralized Applications, or dApps, are the backbone of any blockchain ecosystem. These applications run on a peer-to-peer network of validator nodes rather than a single computer, giving users greater security and transparency than centralized alternatives.
As the name suggests, Solana dApps are built on the Solana blockchain, a high-performance network known for its lightning-fast transaction speeds and minimal costs. As a result, Solana has established itself as one of the most popular blockchains amongst crypto enthusiasts, boasting over 300,000 active crypto wallet addresses per day.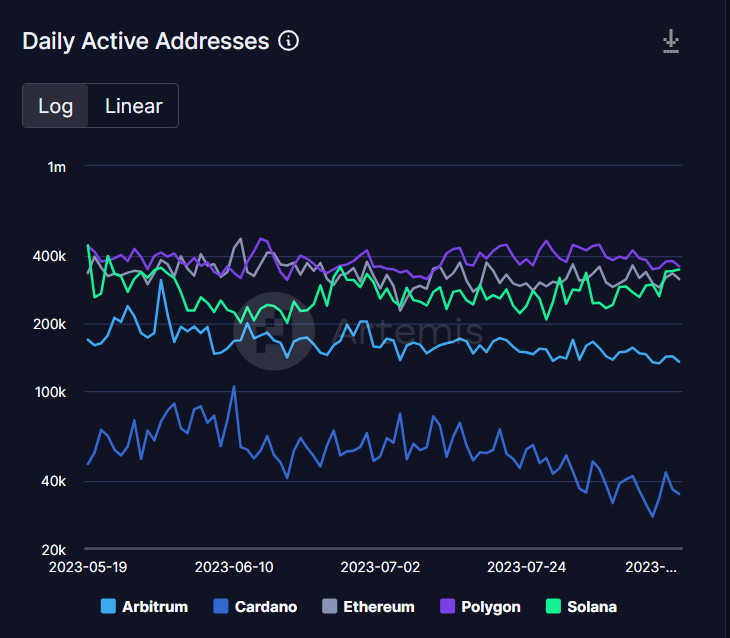 Solana's unique architecture sets these dApps apart from their Ethereum-Based counterparts, which allows developers to create scalable and user-friendly applications that can handle thousands of transactions per second. Whether trading cryptocurrencies, minting NFTs, or exploring the metaverse, Solana dApps offer a seamless and user-friendly experience.
What Makes Solana Apps Special?
In the crowded race to become the top Layer 1 blockchain and usurp Ethereum's reign of power, Solana's scalability and powerful network of decentralized applications give it a competitive edge. Here's why:
Blazing Speed – Solana's unique consensus mechanism, Proof of History, ensures transactions are processed at breathtaking speed, making it one of the fastest blockchains in the industry.
Cost-Efficiency – High gas fees are a common gripe in the blockchain world. Solana dApps boast meager transaction costs, making them accessible and affordable for developers and users.
Scalability – Solana's architecture is designed for growth. While Ethereum battles to achieve 15-20 transactions per second, Solana hums along nicely with over 4,000. Upcoming network upgrades are expected to push this figure even higher, breaking the 100,000 TPS mark.
Eco-friendly – Legacy blockchains like Bitcoin (BTC) rely on energy-intensive mining processes that are destructive to the environment. Solana, on the other hand, is far more energy efficient. For example, one Solana transaction uses less energy than a simple Google search.
How Do I Access Solana Apps?
To access Solana dApps, you must set up a crypto wallet compatible with the Solana network. Solana wallet providers like Phantom, Backpack, and SolFlare offer simple browser extensions with a great clean UI to make exploring Solana's on-chain ecosystem a breeze.
Thanks to its cross-chain architecture, Phantom Wallet is an excellent first choice. It integrates smoothly with all Solana apps and SPL tokens, but Phantom also supports the Ethereum and Polygon (MATIC) blockchains and Ledger Hardware wallets.
Top 8 Solana dApps
The Solana ecosystem is teeming with creative and permission dApps, each bringing its own flair and functionality to the table. While narrowing down the best is challenging, here are eight essential Solana dApps that have captured the community's attention.
1. Tensor

In case you missed it, Solana is perhaps best known for its thriving NFT scene. While Ethereum is still the birthplace of NFT culture, Solana's NFT trading volumes dominate all other networks and have paved the way for dozens of iconic NFT collections and projects.
At the heart of Solana's NFT ecosystem is the Tensor NFT marketplace. On Tensor, NFT collectors and traders can explore the thousands of NFT projects that call Solana home. Tensor hosts many helpful analysis features and supports NFT liquidity pools and market-making services.
While Magic Eden has worn the crown for over a year, Tensor recently overtook Magic Eden in terms of trading volume, making it the leading NFT Marketplace on the network.
2. Orca
Amidst the vast ocean of decentralized finance platforms, Orca has dominated the currents to become the biggest fish in Solana DeFi. Like what Uniswap is to Ethereum, Orca is leading DEX on Solana. The open-source trading platform allows users to swap SPL tokens, including stablecoins like USDC, in permissionless liquidity pools.
While Raydium and Serum were the original Solana DEXes, it didn't take long before Orca stole the spotlight and became one of the best Solana apps. Unlike a traditional order book, Orca is a concentrated liquidity automated market maker (AMM). This unique smart contract mechanism ensures that traders get optimal prices for their trades, minimizing slippage and maximizing potential returns.
In the true spirit of decentralized applications, Orca's non-custodial nature ensures that users have full control over their assets. When you trade on Orca, the protocol interacts directly with your wallet, ensuring transparency, security, and peace of mind.
3. MarginFi
What would a DeFi ecosystem be without a permissionless money market? In short, MarginFi is to Solana what AAVE is to the Ethereum network. With MarginFi, users can lend their digital assets to other users in exchange for interest. Moreover, they can also deposit cryptocurrency as collateral and borrow against it.
This Solana dApp is helpful for DeFi traders who need to secure instant liquidity to enter a new trade or yield-generation strategy but don't want to sell their holdings. The platform supports a variety of Solana-based cryptocurrencies, including meme coins like BONK.
On top of that, MarginFi also offers a cross-chain bridge to alternative blockchains like Arbitrum (ARB) and Avalanche (AVAX). By ensuring interoperability with other networks, MarginFi helps the Web3 world become smoother for all users.
While some users would argue that SoLend is the dominant lending platform in Solana DeFi, it can't be denied that SoLend suffered greatly from the FTX collapse. TVL has dwindled on SoLend since then, while MarginFi has enjoyed growth in active users and TVL statistics.
4. Marinade
Next up on our list of the best Solana dApps is Marinade Finance. Emerging as a refreshing solution for SOL stakers, Marinade Finance is a culinary delight in the DeFi space that offers a unique blend of liquidity and staking rewards.
Marinade Finance is Solana's leading liquid staking solution. By transforming staked SOL into mSOL, users can freely navigate the Solana ecosystem, enjoying the benefits of free-flowing liquidity while simultaneously reaping staking rewards.
This means that your SOL isn't just sitting idle; it's working for you, earning rewards, and providing the flexibility to be used in various DeFi protocols.
But Marinade's commitment goes beyond individual gains. Backed by the Solana Foundation, the platform decentralizes the entire network. By distributing stakes to a myriad of validators, Marinade ensures users get their staking rewards and contributes to the broader health and security of the Solana blockchain.
5. SharkyFi
You've heard of DeFi, but I bet you weren't familiar with NFTFi. At first glance, it might seem like just another lending protocol, but SharkyFi brings a unique twist, redefining how we perceive collateral in the decentralized finance space.
Imagine using an NFT, a digital collectible, as collateral for a loan. Using SharkyFi, NFT holders can instantly take out a loan against their NFTs. This broadens the utility of NFTs and offers a lifeline to those who might need liquidity without parting with their prized digital possessions.
What borrows like about SharkyFi is its seamless UI. The beauty of SharkyFi is its loan orderbook, which ensures that borrowers always get the best deal available. There's no need to argue over terms with the lender, simply connect your wallet and secure the best possible loan in a few clicks.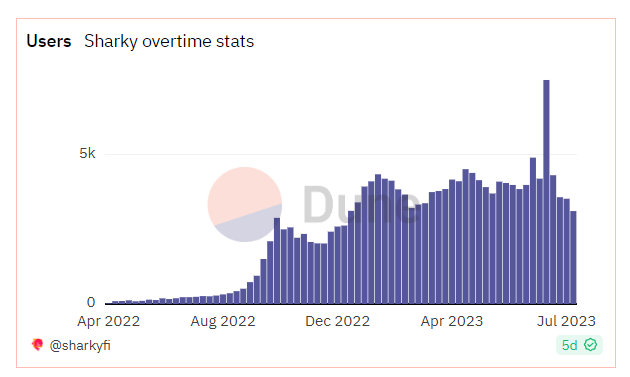 As mentioned earlier, Solana's burgeoning NFT scene sets the perfect backdrop for NFTFi Solana dApps. Since its initial launch, Sharky has enjoyed sustained growth, supporting thousands of daily users and securing millions of USD in TVL (Total Value Locked).
6. Audius
Breaking away from typical blockchain tools, Audius is a Solana app designed with mass adoption in mind. Setting its sights on rivals like Spotify and Apple Music, Audius is a revolutionary space aiming to redefine the music industry, one track at a time.
Gone are the days when artists needed to be tethered to record labels to reach their audience. Audius offers a decentralized platform where musicians, irrespective of their label affiliations, can share their creations, connect with their fanbase, and even monetize their craft. From budding artists sharing their first compositions to seasoned musicians dropping their latest albums, Audius is a haven for all.
What truly sets Audius apart is its commitment to the artist. The platform is built with the ethos that creators should have complete control over their content. This means no intermediaries, no hefty fees, just pure, unadulterated music. Artists can share their works in progress, gather feedback, and then unveil their craft for the world to enjoy.
For listeners, Audius is a treasure trove of fresh tunes and undiscovered talent. The platform's decentralized nature ensures a diverse range of genres, styles, and artists, offering a listening experience that's both unique and exhilarating.
7. Drift Protocol
Another Solana dApp that's pushing the boundaries of blockchain technology, Drift Protocol offers a powerful, seamless trading experience. While Orca focuses on liquidity pools and automated market makers, Drift Protocol hosts decentralized perpetual trading markets.
This means traders who don't want to share their details or endure invasive KYC procedures can still get their fill of leverage trading popular cryptocurrency assets like Bitcoin, Ripple (XRP), and Aptos (APT).
With a clean UI and Solana's unmatched speed and low gas fees, Drift Protocol offers deep liquidity and sophisticated trading tools, giving experienced traders everything they need to execute a winning strategy.
8. Famous Fox Federation
Rounding out our list of the best Solana apps is the Famous Fox Federation. If you think it looks like a cute NFT collection with no added utility, you're in for a surprise.
The team at Famous Foxes started small, unveiling a collection of 7,777 unique and colorful foxes living on the Solana blockchain. With time, the Famous Fox Federation has evolved into a sprawling ecosystem within its own right, packed with so many convenient tools that it's sometimes hard to keep track of everything on offer.
Amongst that staggering number of products and services available, the most commonly used apps include the Famous Token Market, FoxySwap P2P trades, and the Citrus NFT Lending platform.
Honorable Mentions
Given the wealth of great Solana apps in the ecosystem, keeping this list short has been no easy task. Amongst the heavyweights mentioned above, here are a couple of other Solana dApps making great contributions to the network.
Pros and Cons of Solana Projects
With its blazing-fast transaction speeds and innovative architecture, Solana has undeniably made a significant impact in the blockchain space. But as with anything, it's important to stay objective. Let's dive deep into the pros and cons of Solana apps.
Pros
High Throughput – Even with new Layer-1 blockchains joining the race, Solana remains the fastest network in the crypto space, notching thousands of transactions per second.
Low Transaction Fees – Solana gas fees are minimal, with most transactions costing the user around 0.0002 USD.
Near Instant Finality – Transactions on Solana are executed at lightning speeds, making it perfectly suited to high demand.
Simple, clean UIs – All Solana apps have one thing in common; they're incredibly easy to use. This makes it easy for newcomers to join and contribute to the ecosystem.
Cons
Young Network – Solana is relatively new compared to established blockchains like Ethereum. This means it might face challenges and growing pains as it expands.
Centralization Concerns – Some critics argue that Solana's node requirements can lead to a degree of centralization, as only entities with significant resources can run a validator node.
Network Downtime – One of the biggest issues Solana has faced is network outages due to overwhelming demand. This makes the blockchain unreliable, especially when put under significant pressure.
On the Flipside
While Solana apps offer plenty of tools and utilities, Solana DeFi is nowhere near as nuanced and complete as Ethereum. In their current form, Solana smart contracts and the SPL token standard don't offer the same level of versatility and composable as their Ethereum-based counterparts.
Why This Matters
Since the unexpected FTX disaster in November 2022, Solana has constantly grown. Despite the calamity, Solana usage statistics are overwhelmingly positive. Learning about Solana apps and how to use them will help you confidently navigate the Solana ecosystem and make the most of this vibrant network.
FAQs
What are Solana dApps?
Solana dApps are decentralized or permissionless products and services built on the Solana blockchain.
How many apps are built on Solana?
According to DeFiLlama, there are over 100 apps built on Solana, though it's likely that many more are not listed on this tool.
Why is Solana interesting?
Solana is interesting because it offers fast transactions, low gas fees, and high transaction throughput, making it a scalable and secure blockchain.