The upcoming Shibarium launch marks a critical turning point for Shiba Inu (SHIB). It signifies a long-awaited moment for the SHIB Army, when their beloved cryptocurrency evolves from a canine meme coin into a fully-fledged blockchain.
Shibarium promises to be the Shiba Inu community's home in the Web3 world. It represents the fulfillment of Ryoshi's vision and solidifies the Shiba Inu ecosystem. Led by Shytoshi Kusama, the Shib Army will finally leave Ethereum (ETH) forever and forge its own destiny with lower fees and newfound scalability.
What exactly is Shibarium? What does this historic launch mean for SHIB holders, and what awaits the Shiba Inu community in this brave new world?
What Is Shibarium?
Shibarium is a Layer-2 solution built on top of the Ethereum blockchain. Since Shiba Inu was first created back in 2020, the growth of its ecosystem has been restricted by Ethereum's scalability issues.
High gas fees and slow network transactions on Ethereum have made dApps like ShibaSwap challenging to use, discouraging crypto newcomers from exploring Shiba Inu's potential.
With Shibarium, this is all set to change. By launching its own network, the Shiba Inu community will be able to grow its flourishing ecosystem without being inhibited by Ethereum's limitations.
The Shibarium blockchain will be faster and cheaper than Ethereum while still enjoying the base network's security.
How Does Shibarium Work?
The Shibarium blockchain uses a new consensus mechanism called Proof-of-Participation. In a PoP network, validator nodes are selected for verifying transactions and securing the network based on the number of BONE tokens they hold. This makes it far more energy efficient than Proof-of-Work chains like Bitcoin (BTC).
Like most Ethereum Layer 2 networks, Shibarium will also operate an EVM (Ethereum Virtual Machine), allowing developers to easily deploy Ethereum-based smart contracts and dApps on the new network.
Moreover, Shibarium developers intend to create a permissionless bridge between the two networks, making it easy to migrate Shiba Inu tokens from Ethereum to Shibarium.
Shibarium History: The Story So Far
Ryoshi, the founder of the Shiba Inu, teased the idea of an entire blockchain dedicated to the community as far back as May 2021. In the now-deleted blog post, Ryoshi envisioned a network where developers and users could create and explore applications that would expand the Shiba Inu ecosystem.
Shytoshi Kusama, the lead developer, has kept information about the development of Shibarium behind closed doors. The blockchain has been in the works for years, with the secrecy and mystique only adding to anticipation and excitement.
That all changed in March 2023 with the release of the Shibarium beta testnet. Nicknamed Puppynet, the test network is open to the public. This allows every member of the Shib Army to test dApps and products and deploy smart contracts in a risk-free environment.
The Shibarium puppynet is expected to be the final step in the development process before the official mainnet launch of the Shibarium blockchain. 
The Shibarium Launch
On August 16, 2023, it finally happened. Shytoshi Kusama, the Shibarium development team, and the SHIB Army had poured years of blood, sweat, and tears into the iconic network. While Shibarium went live as expected, the architects behind Shiba Inu's blockchain underestimated the demand.
Amidst the excitement of Shibarium's launch, extreme demand sent the network into a fail-safe 'pause' state, effectively halting the network. As expected, this outage caused fear, uncertainty, and doubt throughout the Shiba Inu community. Who'd have thought that after months of testing, Shibarium wouldn't be able to handle the influx of users on launch day?
Shytoshi Kusama wasted no time in running community damage control, announcing in a blog post that there were no inherent technical issues with Shibarium or the bridge to the network. The outage was a simple security feature designed to protect users if the network was overwhelmed.
While the Shibarium development team had expected a surge of users on launch day, the reality was that they simply didn't purchase enough monthly compute units from Alchemy, their blockchain architecture provider.
Based on testing, Shibarium is expected to need no more than 400 million monthly compute units. When the Shibarium launch expended over 160 million compute units in just half an hour, it became evident that Shibarium might be on track to become one of the most popular and active Layer 2 networks in the industry.
The Shibarium Bridge – Locked Funds
Even after the halted network and ripples of FUD throughout the Shiba Inu community, the launch day drama was far from over. Wanting to be among the first to use Shibarium, hundreds of SHIB Army warriors attempted to bridge their funds to the network as quickly as possible.
Eager users were left wanting after the technical difficulties caused funds to be stuck in the Shibarium bridging contract with no means of escape until the network resumed. Over 1,000 ETH and 600,000 BONE were locked away and inaccessible, waiting for Shibarium to restart.
In typical Shytoshi fashion, the lead developer quickly put the community's mind at ease. He guaranteed the SHIB Army that there were no faults in the bridging contract and insured all locked funds if there are ongoing difficulties after Shibarium kicks into action.
What Can I Do On Shibarium?
If you're familiar with Ethereum and any other Layer 2 networks built on top of it, like Arbitrum, Shibarium will offer a very similar experience. In the true spirit of a decentralized and permissionless blockchain, everyone will have complete freedom to create an application that they believe will bring value to the Shiba Inu community and ecosystem.
DeFi
Decentralized Finance on Shibarium will likely begin with ShibaSwap, Shiba Inu's native DEX. Users can trade cryptocurrencies through on-chain liquidity pools, taking advantage of Shibarium's high network speeds and low transaction fees.
Other DeFi apps, like lending platforms, will bring greater liquidity to all tokens in the Shiba Inu ecosystem, like BONE, LEASH, and TREAT. The creativity of developers within the Shib Army only limits the potential for DeFi growth on Shibarium.
Shibarium NFTs
The Shibarium blockchain will provide a native home for all Shiba Inu ecosystem non-fungible tokens. NFT collectors will be able to buy and sell their favorite pieces without paying the prohibitive gas fees typical on Ethereum.
This isn't limited to current collections like Shiboshis and SHIB Metaverse Land Plots. Shibarium allows the Shiba Inu community to launch their own NFT collections and contribute to the ecosystem.
Shibarium MetaVerse
SHIB: The Metaverse is an immersive virtual world where the Shib Army can gather to play and create Shiba Inu-inspired games, build digital businesses and show off their digital identity. It aims to create a digital environment that the SHIB community will call home.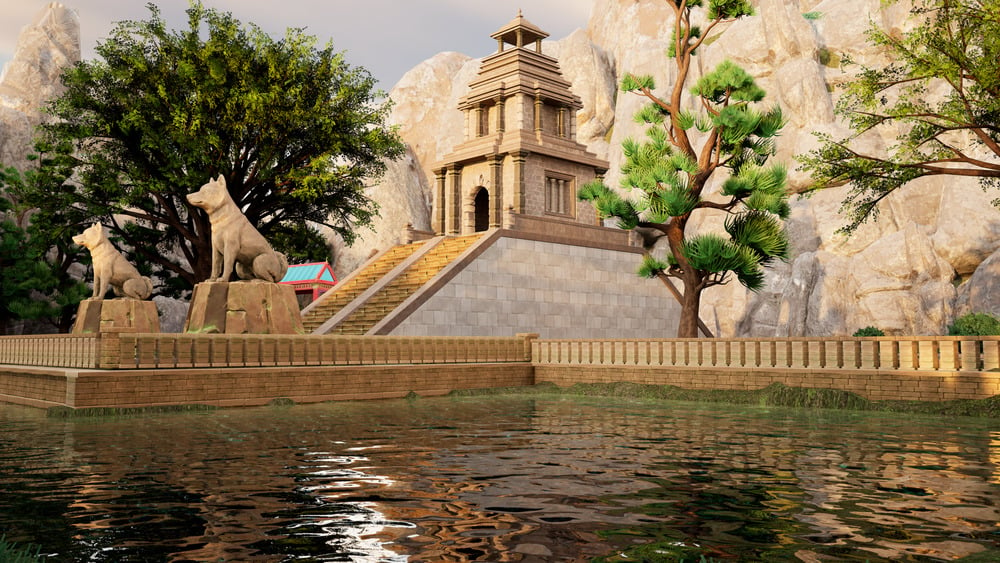 Developed using Unreal Engine 5.1, SHIB: The Metaverse is visually stunning. The virtual landscape features various Hubs and allows every user to create dynamic, customizable Avatars to explore the space.
There are 100,595 land plots in the SHIB metaverse, with each plot having various development and characterization options. Owners can do whatever they please with their virtual real estate, like opening digital stores or hosting events.
Shiba Inu Tokens
The Shiba Inu ecosystem is home to a range of digital assets, each serving a different purpose. Let's break down the role and utility of all the cryptocurrencies underneath the Shiba Inu umbrella.
SHIB – The OG itself, SHIB, is the cornerstone of the Shiba Inu ecosystem.
BONE – BONE plays a crucial role in the Shibarium network. It's the native gas token of the network, meaning it's needed to pay transaction fees on the Shibarium blockchain and can be staked to validator nodes to secure the network and create new blocks.
LEASH – LEASH is a rewards token previously used to incentivize liquidity provision on ShibaSwap and give holders early access to SHIB Land Sales.
TREAT – Still unreleased, TREAT is another rewards token to be distributed to BONE stakers and validators once they reach certain milestones.
SHI – The native stablecoin of the Shibarium blockchain, SHI will be pegged to $1 and by a hedge against crypto market volatility.
What Does Shibarium Mean for SHIB?
The launch of Shibarium is expected to be a positive catalyst for the growth of Shiba Inu. The network brings a wealth of utility to the entire ecosystem and gives the Shib Army a place to call home.
Perhaps the biggest impact that Shibarium will have on the SHIB token will be felt through its unique burn mechanism.
The SHIB Burn
SHIB has the largest token supply of any cryptocurrency on the market, with a total supply of one quadrillion tokens. While more than half of these tokens have already been burned, the Shibarium blockchain will introduce a creative new burn mechanic to permanently remove SHIB tokens from circulation and increase their scarcity.
When transactions are processed on the Shibarium blockchain, 70% of every transaction base fee will be collected and stored in a locked contract. These fees are collected in BONE, the gas token of the network.
Once $25,000 worth of BONE has been accumulated, the Shiba Inu community can open the Burn Portal and initiate the token burn process. BONE is sent to the Ethereum Mainnet, which automatically trades to buy SHIB tokens, providing additional buy pressure. The smart contract then sends all the purchased SHIB to a burn address, making SHIB a deflationary asset in perpetuity.
Shibarium Pros & Cons
The Shibarium launch is arguably the most significant event in Shiba Inu's history, apart from perhaps the disappearance of Ryoshi. Its success or failure will have an enormous impact on the future of SHIB. Let's take a quick look at the benefits and drawbacks of the Shibarium network.
Pros
Scalability – Shibarium will be significantly faster and cheaper than Ethereum, making it far more accessible for most users.
Compatibility – The network will be EVM compatible, making it easy for developers to port over Ethereum-based contracts and build a rich ecosystem of dApps quickly.
Brings new utility to Shiba Ecosystem tokens – All Shiba Inu digital assets, including NFTs, will gain exciting new cases.
SHIB Burn – The SHIB burn rate is expected to positively impact SHIB tokenomics, reducing the token supply and providing constant buy pressure to SHIB.
Separates SHIB from other meme coins – The launch of Shibarium gives SHIB new use cases and a far richer ecosystem than alternative meme coins like Dogecoin (DOGE).
Cons
Layer-2 competition – Between Arbitrum, Polygon zkEVM, and zkSync, the Ethereum Layer-2 race is brutal. From what we know of Shibarium before its launch, there is nothing to indicate it has superior technology than its better-resourced competitors.
Uncertainty around performance – Key metrics when analyzing the performance and capabilities of a network, like transaction throughput and finality, are still unclear.
Lack of incentives – Other new networks with more resources offer ecosystem grants to encourage developers to build dApps on their chain. Shibarium is yet to offer any funding for developers, meaning we might not see a great range of applications when the network eventually launches.
On the Flipside
One thing that cannot be overlooked is the strength and tenacity of the Shib Army. Their enormous social media presence and community spirit have previously overcome all kinds of fear, uncertainty, and doubt.
Even if Shibarium falls short of expectations and is technically inferior to alternative Layer 2s, Shiba Inu's resilient community will probably still use it. It's an extension of their culture and story, which, for the Shib Army, might be a stronger pull factor than blockchain performance.
Why You Should Care
The Shibarium launch is a massive milestone for Shiba Inu and its community. Shiba Inu is one of the largest cryptocurrencies in the space in terms of market cap, and the success or failure of Shibarium will likely have a domino effect of similar coins in the market.
FAQs
What is the use of Shibarium?
Shibarium is a Layer-2 blockchain designed to scale the Ethereum network and expand the Shiba Inu ecosystem. 
Is Shibarium different from Shiba Inu?
While Shiba Inu is a cryptocurrency that can be traded on an open market, Shibarium is a network capable of hosting dApps, smart contracts, and payments.
Will Shiba Inu rise after Shibarium?
There is no guarantee that Shiba Inu (SHIB) will rise after the launch of Shibarium. While it is widely considered a positive event for the Shiba Inu ecosystem, the crypto market often reacts unexpectedly. You should always do your own research before investing in any cryptocurrency.
Who is developing Shibarium?
Shytoshi Kusama is the lead developer of the Shibarium blockchain.
How much will Shibarium burn?
The Shibarium burn mechanism aims to take 70% of transaction base fees and use those fees to buy SHIB tokens directly off the market. The purchased SHIB tokens are automatically burnt and permanently removed from the supply.