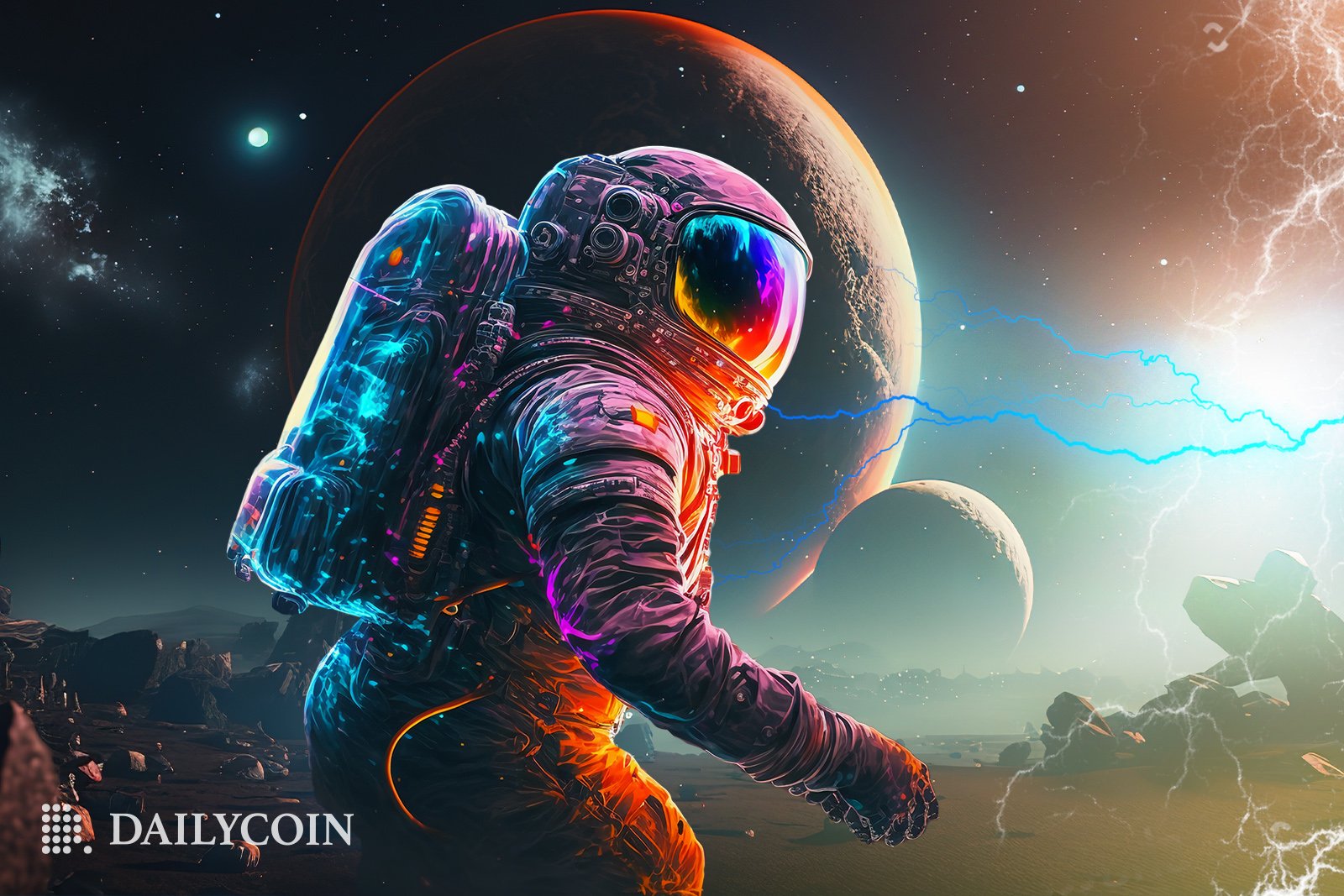 Testnets are the unsung heroes of the crypto world. Every time a shiny new blockchain, cryptocurrency, or dApp goes live, it's almost guaranteed that it has already existed for months on a test network.
Like a shadowy vigilante, testnets expose hidden vulnerabilities and protect the cryptocurrency ecosystem. What many people don't know about testnets is that there is a litany of benefits to using and exploring them, even if you're not a developer.
How is something designed to be valueless so valuable?
What are blockchain testnets? Why should everyone use them, and how can I get started?
What are Testnets?
A testnet is a valueless, low-risk sandbox environment similar to a main network. Blockchain engineers and smart contract developers use testnets to trial the functionality of their protocols and decentralized applications before deploying them on a mainnet or live blockchain.
Because a testnet is a separate ledger from its main network, all coins and tokens have no value. Regardless of the market price of Bitcoin (BTC), testnet bitcoin should always be worth $0. As a result, all transaction fees on a testnet are essentially free.
This is important for DeFi developers on networks like Ethereum (ETH), infamous for expensive gas fees. The Ethereum testnet enables developers to send thousands of transactions for free, which would normally cost tens of thousands of dollars.
What Is the Purpose of Test Networks?
The main purpose of a testnet is to trail contracts and applications in a free environment. This helps developers ensure their applications run smoothly but also helps expose vulnerabilities and potential security issues.
Cybersecurity attacks in the crypto space are commonplace, with the on-chain world of DeFi and NFTs being particularly hazardous. White-hat hackers and security auditors use blockchain testnets to find potential faults before contracts get deployed on the mainnet, where an exploit could cost developers, and users like you and me, millions of dollars.
The cost of failure of a main network like Ethereum or XRP could be devastating. Hence, developers need a secure, valueless environment to make mistakes and break things safely before the public uses them.
Do Testnet Coins Have Any Value?
Remember when I said earlier that testnet coins have no value? The truth is, it's not so black and white.
Developers still need testnet coins, like Goerli Ethereum (gETH), to pay 'transaction fees' on the testnet. That means they still have some demand from developers testing decentralized applications.
Testnet coins are collected from faucets, or free sites that 'drip' small amounts of test cryptocurrency into a testnet wallet. During periods of high demand, these faucets actually empty their supply of testnet coins, making them a hot commodity on the crypto market. For a brief moment, gETH was trading at over $1.

In February, a bridge opened between the Goerli Ethereum Testnet and the Ethereum Mainnet. Developers needing gETH can buy testnet Ethereum if the faucets are empty or unavailable.
You can't trade gETH on a crypto exchange like Binance or Coinbase, but decentralized exchanges like UniSwap aren't bound by the same restrictions as their centralized alternatives.
This was great news for developers and testnet faucet farmers who've been collecting gETH for free over time. In fact, one savvy player could even play a Cryptopunk NFT worth over $100,000 with gETH they accumulated for free.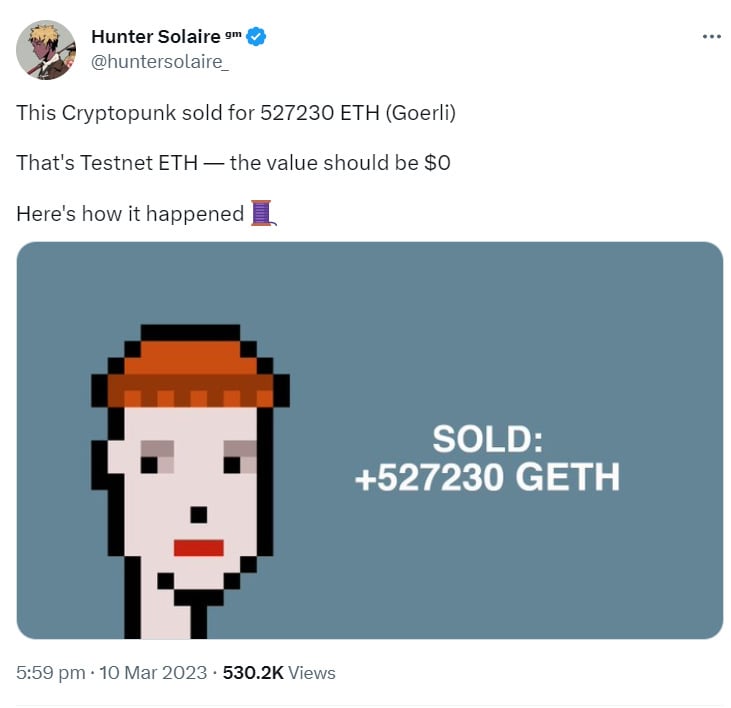 Ultimately, testnet coins are intended to be free for everyone and have zero value on the market. That doesn't mean that there is no demand and that testnet crypto is worthless.
Why You Should Use a Testnet, Even If You're Not a Blockchain Developer
Even if buying a Cryptopunk for free isn't enough of an incentive, the non-developers out there might be thinking:
'That's all very interesting, but what does that mean for me, a humble crypto enthusiast?'
There are plenty of benefits to using a testnet, even if you aren't building dApps or designing blockchains. Many emerging crypto projects ask community members to trial products on a testnet in exchange for rewards, like token airdrops.
For example, the Aptos Incentivized Testnet gave anywhere between 150-300 APT tokens to selected users who operated a node validator or minted an NFT on their testnet. These tasks didn't take long to complete, and participants could claim an airdrop worth over $5,000 at Aptos' all-time high price.
How Do I Access A Testnet?
The good news is that accessing a blockchain testnet is easy. Metamask is a great open-source testnet wallet for any EVM (Ethereum Virtual Machine) network, like Polygon.
All you need to do is visit a trusted site like Chainlist and connect your wallet. Then, check the box to 'Include Testnets' and search for your chosen network, and the site will automatically configure your testnet account for you.
Which Blockchain Networks Have a Testnet?
Almost every blockchain in the cryptocurrency industry uses a testnet of some description. That includes leading Layer-1 networks like Solana and Cardano.
Some networks, like Ethereum, have multiple different test networks for different areas of development. You must make sure you're connecting to the right network for your specific testing requirements, or else you might run into some errors.
On the Flipside
Blockchain testnets are an obscure area of the crypto industry. As a result, you may find the occasional scammer who will try and confuse you into sending your real crypto for valueless testnet coins.
As always, take extra care when exploring the possibilities of a blockchain testnet and never give anyone your crypto or seed phrase.
Why You Should Care
Even if you're not a developer, using a blockchain testnet can make you eligible for generous airdrops and give you a better understanding of how certain blockchains and decentralized applications work for free.
FAQs
What are the uses of testnet?
Testnets help users and developers trial their blockchain applications and infrastructure in an environment where funds have no value. This lowers the cost of failure and helps developers and auditors find potential bugs and security risks before deploying contracts to the mainnet. 
Are testnet tokens real money?
No, testnet tokens are intended to have no value and are freely available to users and developers through testnet faucets. However, there can still be shortages of testnet tokens if faucets are empty, increasing the demand for testnet tokens.
Are there gas fees on testnet?
Technically speaking, there are gas fees on a blockchain testnet. To complete a testnet transaction, you will still need to pay a small transaction fee. However, because the testnet token has no value, the gas fees don't cost you any real money.
Does Bitcoin have a testnet?
Yes, the Bitcoin blockchain has a testnet.