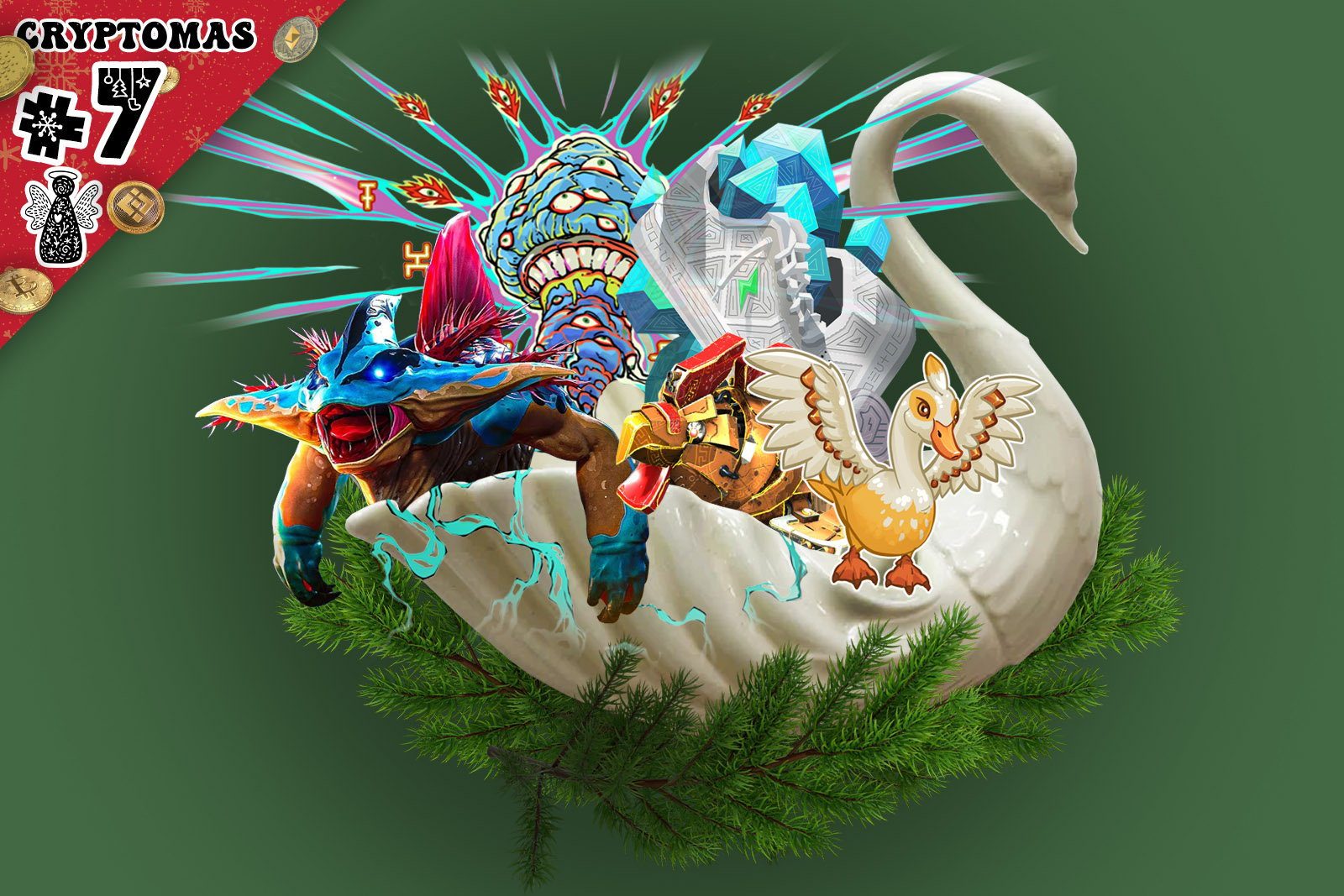 In the vast sea of NFTs, it's not always easy to find a unique collection that catches the eye. That certainly seems to have been the case for the industry in general, as NFT trading volumes gradually sank as the year progressed. Having said that, amidst the multitude of projects, several swans were swimming gracefully through the storm that certainly caught the spotlight.
So, with our tie-in established, on Day Seven of Cryptomas, here are seven NFT project swans swimming, in no particular order, toward a bright future.
Home to reportedly 500,000 monthly active players, Mini Royale: Nations is the first multiplayer game built on Solana. Developed by Faraway, Mini Royale is the network's flagship browser-based, free-to-play FPS title hosting coveted FPS game modes. They include Team Deathmatches, Capture the Flag, and more.
Mini Royale is one of the most popular Web3 FPS titles in the space, and some might even say it's the first 'finished' product. However, that may be arguable, with competitors Ev.io and Superior claiming that title. 
The game also recently kickstarted its fourth season, packed with new samurai-themed challenges, maps, battle passes, heroes, and more. Mini Royale hosts a healthy amount of community tournaments, the most recent being the upcoming community jackpot. 
What's unique about the game is its upcoming Gear feature, set to debut shortly. The new feature will enable NFT holders to equip gear on their heroes, making it the first time a game will allow NFTs to equip other NFTs.

Wanderers is a sci-fi Web3 startup behind the Wanderers NFT collection. Backed by industry leaders like Animoca Brands and GameFi ventures, Wanderers features some of the cleanest and most aesthetically pleasing NFTs. 
The project immerses users in progressive story-telling through avatars, short films, concerts, music, and lore. Everything in the Wanderverse, Wanderers' metaverse, is carefully crafted, composed, and produced. The project has released four NFT collections, short films, and planets since its release. Wanderers also continues to expand its NFT ecosystem and entertainment IP. 
Wanderers' extensive NFT ecosystem features Wandernauts, The Wanderers, Planet Pass, and W.anders: Genesis. Each collection is a unique journey, with sci-fi-themed futuristic electronic music, avatars, movies, and more. Its NFT ecosystem has established itself as a leader, projecting over $17.5 million in NFT trading volume and selling over $5 million worth of NFTs. 
The NFT project has announced collaborating with Blowfish Studios to launch a game by 2024 featuring the project's extensive IP. 
Illuvium is celebrated as one of the most exciting Play to Earn (P2E) gaming projects in the Web3 gaming space. It is also home to one of the largest web 3.0 gaming communities. Illuvium offers a set of games, including Illuvium: Arena, a pioneer auto battler; Illuvium: Overworld, a free-to-play open-world MMORPG; and Illuvium Zero, a futuristic city-building mini-game. 
Illuvium Overworld is the highlight of Illuvium's ecosystem, welcoming over 100,000 players to its closed beta. The MMORPG might be one of the most anticipated titles in the Web3 gaming sphere.
The game is reportedly a fan-favorite, nominated for the 'Game of the Year,' 'Best Action Game,' 'Best Mobile Game,' 'Best RPG,' 'Best Graphics,' and 'Most Anticipated' titles in the GAM3 awards show. 
Players can explore seven extraordinary alien landscapes and capture Illuvials with varying abilities and stats. Players can also put their hunt up for sale on ImmutableX without worrying about gas fees or environmental damage. 
The game recently launched the Overworld private beta featuring one of the most aesthetically appealing games in the space. Its rich array of terrains, models, and gameplay mechanics makes it a solid competitor to AAA open-world games. 
If you're a comic enthusiast and have grown up reading Jim Lee's Batman or Stan Lee's comics, then prepare to take a trip down memory lane with 2142. It's a one-of-a-kind NFT sci-fi comic book spearheaded by an ambitious team of game developers and comic artists. It's also the world's first community-driven NFT comic book, where the community decides what will happen by voting, collecting, and crafting.
By participating in a DAO, the community decides how the story progresses and determines the value of the NFT. 2142 is undeniably one of the most innovative uses of NFTs in the space. You follow along with the story set in 2142 AD, when the last Bitcoin is mined. Satoshi Nakamoto's slumbering wallet is awakened, fighting back against the corporations that control the world.
The first edition of the comic book is a 34-page action-filled thriller that will keep you on the edge of your seat. The art used in the comic books pays homage to the style used in Marvel and DC comics. And is a treat for comic enthusiasts. The 2142 team has revealed that they are currently working on the second edition of the comic and are planning to release it in 2023.
Stepn is the world's first and leading move-to-earn game that enables players to earn rewards by walking, jogging, or running. It might also provide you with the motivation to move. 
What's innovative about Stepn is that players can determine how much they earn by selecting virtual sneaker NFTs and equipping them while they exercise. The Web3 title is set on motivating people worldwide to employ a healthy lifestyle by incentivizing them with rewards. So what better way to do it than with cryptocurrencies? 
The Solana-based lifestyle app has set the bar for other fitness apps with its ecosystem and rewards. Stepn has made numerous partnerships with mainstream fitness brands this year, the most recent being with ASICS, a Japanese running shoe company. 
TinyTap is an upcoming platform that hosts user-generated educational games and content. The Web3 platform hosts the world's most extensive educational games library. It lists over 200,000 activities created by educators and publishers worldwide. 
TinyTap is actively trying to digitally transform the world of teaching and learning by enabling educators to earn from the content they create. The platform is hard at work to provide learners with enhanced learning opportunities. 
The code-free platform allows educators to create and share immersive learning experiences for learners worldwide using Web3 technology, such as NFTs. Publisher NFTs are TinyTap's flagship NFT collection that establishes an alternative, decentralized education platform that fairly supports and rewards teachers through royalties. 
Publisher NFTs represent co-publishing rights to a Tiny Tap Course that features a bundle of educational content created by teachers on the platform. NFT buyers can become co-publishers alongside TinyTap, and directly support the content by promoting and marketing the associated courses. 
The project innovatively seams Web2 technology with Web3 by improving educators' earning opportunities and ability to produce content in the rapidly transforming world. TinyTap reportedly sold out its first auction, generating over $228,000 at the time of sale. Over $110,000 went to teachers who authored the content linked to the Publisher NFTs. 
Spider Tanks is in pole position as the world's first Web3 esports title. Since its inception last year, the blockbuster tank-centric brawler game has quickly emerged on the popularity charts. 
Last year we predicted Spider Tanks would be one of the most likely to rise projects in 2022. While the project was still under development the last time we covered it, this year, Spider Tanks is at the forefront of Web3 esports, bagging multiple nominations across different categories. 
Previously the PvP brawler game required users to own NFTs from the Spider Tanks NFT collection to play the game. However, the game officially turned 'Free-for-all' on Halloween this year and has been packed ever since. 
Spider Tanks features some of the best NFT collections and mechanics in the Web3 gaming space. Players can mix and match parts of their tanks, similar to Beyblades, and battle it out in the arena against other players. 
The game is unlike any other, as it projects impressive numbers week after week. We're excited to see what Spider Tanks has planned for next year. 
Despite the fear and uncertainty engulfing current markets, the NFT sector, primarily Web3 gaming NFTs, has been at the forefront of crypto adoption by major corporations. 
The Japanese NFT market is predicted to reach a valuation of $8.8 billion by 2028. The market has also projected a 53% growth in NFT spending value this year. 
While major tech companies have been on mass lay-off sprees, Web3 gaming companies and NFT projects are actively hiring and expanding.
This crypto winter has undoubtedly calmed the NFT Craze, filtering out contagions and potentially dangerous projects. We're also fortunate to see projects with good practices, strong fundamentals, and exciting concepts come up before they're lost in the noise. NFTs will transform Web2 into Web3 thanks to its extensive capabilities. While still in its nascency, the sector needs builders to establish the infrastructure with new concepts that serve its users. These projects are some of the many that will set the narrative straight for innovation and new perspectives in the space.