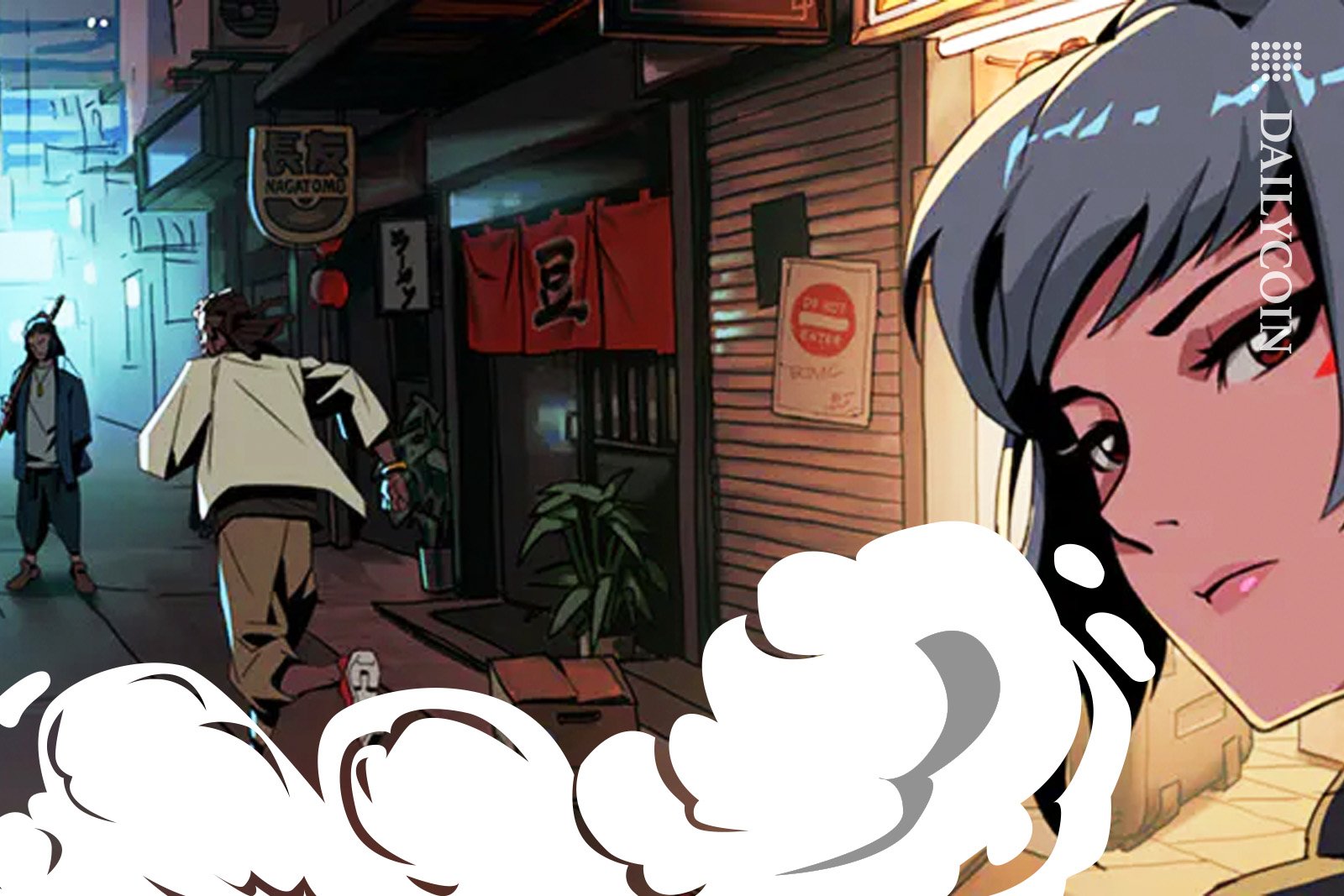 Love them or hate them, Azuki NFTs are everywhere. These anime-style Avatars are some of the most recognizable PFPs in the NFT market, second only to Yuga Labs' Bored Ape Yacht Club.
The Azuki story is as polarizing as it is compelling. While Azuki NFT collections have boasted astronomic price appreciation and explosive trading volume, the ecosystem has been tarnished by a dark history of failed projects and disappointing new collections.
Despite its flawed reputation, the Azuki NFT ecosystem has been a trendsetter within the cryptocurrency space. The Azuki community has been through multiple baptisms of fire and come out the other side uncharred and unfazed.
In this article, we'll take the Red Bean and go down the Rabbit Hole to explore all the non-fungible tokens and FUD that shape this mysterious and iconic Web3 startup.
What Are Azuki NFTs?
Initially, Azuki NFTs were a collection of 10,000 unique digital avatars, each boasting a distinctive Japanese anime-themed design. Launched in January 2022 by a group of artists based in Los Angeles, Azuki's skyrocketed in popularity, becoming a sensation in the Ethereum (ETH) NFT community.
Since then, the Azuki Ecosystem has expanded, with multiple NFT collections and a tight-knit Web3 community. Ownership of an Azuki avatar grants access to a range of exclusive benefits, including Whitelist opportunities for new NFT drops, collaborations with streetwear brands, and invitations to live events.
This is all part of the Azuki vision to create a vibrant and interactive community known as The Garden, where artists, builders, and Web3 enthusiasts put their creative heads together to shape the future of the decentralized internet.
The Azuki Metaverse
If The Garden represents the beating heart of the Azuki community, Hilumia is the thriving on-chain Metaverse that will host Azuki's digital experience.
Hilumia development is still in its early stages, so it's still not completely clear what this blockchain-based digital universe will look like. The Azuki Metaverse is divided into ten separate areas, including a Skatepark, Dojo, and Arcade.
What's Growing in The Garden: Azuki Collections
A range of NFT collections have taken root and sprouted with the Azuki Garden. Each collection represents a different aspect of the Azuki universe, offering a diverse range of digital assets for collectors and enthusiasts.
Azuki Main Collection
The Azuki main collection is the cornerstone of the Azuki universe. Launched in January 2022 through a Dutch Auction, Azukis are 10,000 unique digital avatars, each hand-drawn and boasting an anime-inspired aesthetic. These avatars have quickly gained popularity for their distinctive style and the unique traits they possess.
During the initial mint, the Azuki NFT collection sold out in minutes, registering about $30 million USD in sales, trending on NFT marketplaces like OpenSea, and catapulting Azuki into the spotlight of the NFT world.
Each Azuki avatar is a unique piece of digital art, with individual characteristics that set it apart from the rest. From different hairstyles and clothing to unique accessories like swords, skateboards, and boomboxes, the diversity of Azuki avatars mirrors the community's diversity.
Like Bored Ape Yacht Club NFTs, an Azuki pfp is one of the most popular digital flexes. Repping an Azuki NFT on social media is a sure way to get noticed within NFT circles.
Beanz
In a bid to make entrance to The Garden more accessible and reward existing holders, Azuki Beanz sprouted from the dirt. Chiru Labs, the team behind the Azuki ecosystem, describes Beanz as sidekicks that help expand the wider Azuki community.
During the Beanz airdrop, Azuki holders were gifted two new NFTs. At their all-time high, Beanz fetched 5 ETH on NFT Marketplaces. The Beanz airdrop was considered a shining success that not only rewarded loyal members of the Azuki community but also added a new layer of intrigue and anticipation around the Beanz collection.
Azuki Elementals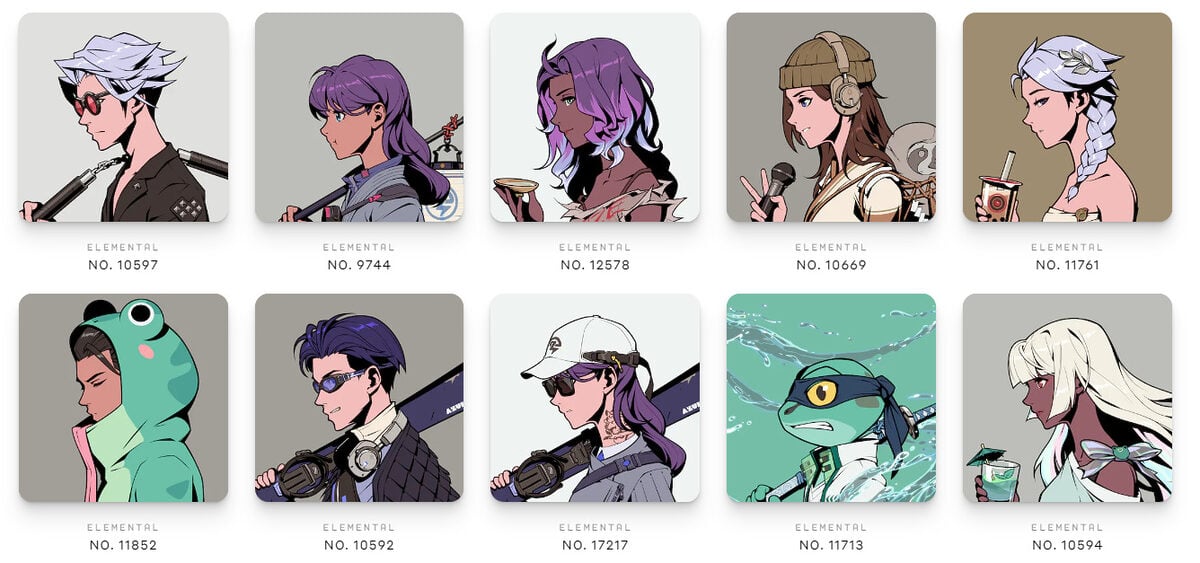 If you can't tell the difference between OG Azuki's and Azuki Elementals, you're not alone. The release of Chiru Labs new collection was met with both anticipation and controversy. Despite raking in $38 million USD within 15 minutes of its release, the Elementals collection faced overwhelming criticism from community members.
Can you blame them? Azuki Elementals are so similar in appearance to the original collection that many loyal supporters abandoned The Garden, calling Chiru Labs nothing more than grifters and cash-grab artists guilty of extracting millions from the NFT space.
While there are slight differences and the occasional Animal avatar, the similarities in design and aesthetic led to a significant backlash, with critics arguing that the Azuki Elementals felt like a cheaper and diluted version of the main collection. In the wake of the controversy, Azuki ecosystem floor prices dumped by over 40%.
In a desperate bid to stop the flow of criticism from the crypto community, Chiru Labs acknowledged that they'd made a blunder and pledged to improve communication and execution in the future.
Golden Skateboards
Azuki Golden Skateboards are perhaps the most daring and innovative product released by Chiru Labs. In a bold fusion of the physical and digital realms, Azuki made waves by auctioning eight Golden Skateboard NFTs. This creative auction raised a staggering $2.5 million and introduced a new concept to the NFT space: PBTs (Physically-Backed Tokens)
The Golden Skateboards are not just digital assets; they're tied to tangible, gold-plated skateboards that can be redeemed by burning the NFT. Weighing in at 45 pounds each, these skateboards are not recommended for riding but would make a statement as a physical piece of luxury art.
Thanks to a cryptographic 'BEAN chip' implanted in each board, the physical skateboards can be transferred digitally, separate from the original NFT. This unique blend of the material and digital worlds is a new take on the burgeoning "phygital" collectibles market.
Whether holders of the Golden Skateboards choose to redeem their tokens for the physical skateboard or hold for resale value remains to be seen. But one thing is clear: Azuki's Golden Skateboards have added a new dimension to the NFT landscape, pushing the boundaries of what's possible in the intersection of physical and digital collectibles.
A Murky Past: Azuki History
The journey of Azuki has been a fascinating one, marked by rapid success, ambitious innovation, and a fair share of controversy.
Zagabond, the Azuki founder, has a shady past. He's faced criticism due to his association with previous projects that did not meet expectations. Prior to launching Azuki, Zagabond was involved with projects such as Cryptophunks, Cryptozunks, and Tendies. All of these collections failed to gain traction and ultimately did not succeed, with some being considered downright rugpulls that Zagabond abandoned.
Azuki detractors suggest that these past failures as a cause for concern, questioning whether Azuki could suffer a similar fate. Some members of the NFT community have expressed skepticism about Zagabond's ability to deliver on the ambitious promises made by the Azuki project, given the track record of his previous ventures.
Of course, supporters of Azuki argue that it's not all doom and gloom in the Garden. Past failures do not necessarily predict future outcomes. Azuki fans quickly point out Azuki's rapid success and innovation as evidence of Zagabond's ability to learn from past mistakes and adapt.
Despite the controversy, Azuki has managed to carve out a significant place for itself in the NFT landscape, demonstrating that it is possible to overcome past setbacks and achieve success in the dynamic and often unpredictable world of NFTs.
Whether they overcome the fallout of the Azuki Elementals debacle remains to be seen.
Azuki Pros and Cons
NFTs are a speculative asset class at best. Azuki comes with its own set of advantages and challenges that are worth considering if you're interesting in joining The Garden.
Pros
Iconic Art Style – Let's face it, Azuki's anime-inspired aesthetic is stunning. The distinctive and quality design of the avatars has resonated with a wide audience, contributing to the Azukis rapid success.
Holder Benefits – Ownership of an Azuki avatar grants access to a range of exclusive benefits, including new NFT drops, collaborations with streetwear brands, and invitations to live events.
Creative Technology – Despite being an art-driven NFT project, Azuki has still managed to introduce innovative concepts to the NFT space, such as physically backed tokens (PBTs) with the Golden Skateboards collection.
Strong Community – Azuki's community is known and respected as one the most robust in the NFT space. They've shaken off waves of FUD that would squash competitors flat and come through stronger than before.
High Sales Volume – Despite controversies, Azuki has managed to maintain a high sales volume, indicating strong demand for their NFTs.
Cons
Past Failures – Zagabond, the Azuki founder, has been previously involved in alleged rug pulls. This shady history has led to some skepticism and criticism from the community.
Running Out of Ideas? – The Azuki Elementals drop was, quite simply, a disaster. This led to a significant drop in floor prices and caused many loyal holders to abandon the project.
Uncertain Future – Like many NFT projects, the future of Azuki is uncertain. The fallout from the Elementals release has many collectors losing faith in Azuki's future.
On the Flipside
Azuki NFTs are an art-driven project. For collectors passionate about digital art and online communities, Azuki NFTs might be just what they're looking for, as opposed to an investment vehicle.
Why This Matters
The Azuki NFT Ecosystem is arguablely the largest outside Yuga Labs. Azuki inspired dozens of similar NFT collections to adopt anime-inspired art or side-facing pfps. Despite Azuki's criticism, they have proven to set trends for others to follow.
FAQs
How much did Azuki make from mints?
Between the original Azuki collection, the Golden Skateboards and Azuki Elementals, Chiru Labs has made over $70 million USD from mints.
What is special about Azuki?
Azuki pioneered a unique art style and side-facing PFP, making them popular amongst collectors. Chiru Labs has also developed PBTs, an intriguing use case for NFT technology.
Is Azuki a blue-chip?
Azuki NFTs are some of the most highly valued in the industry. This, alongside the perks and benefits of joining the Azuki community, has meant that Azukis are considered blue-chip NFTs.