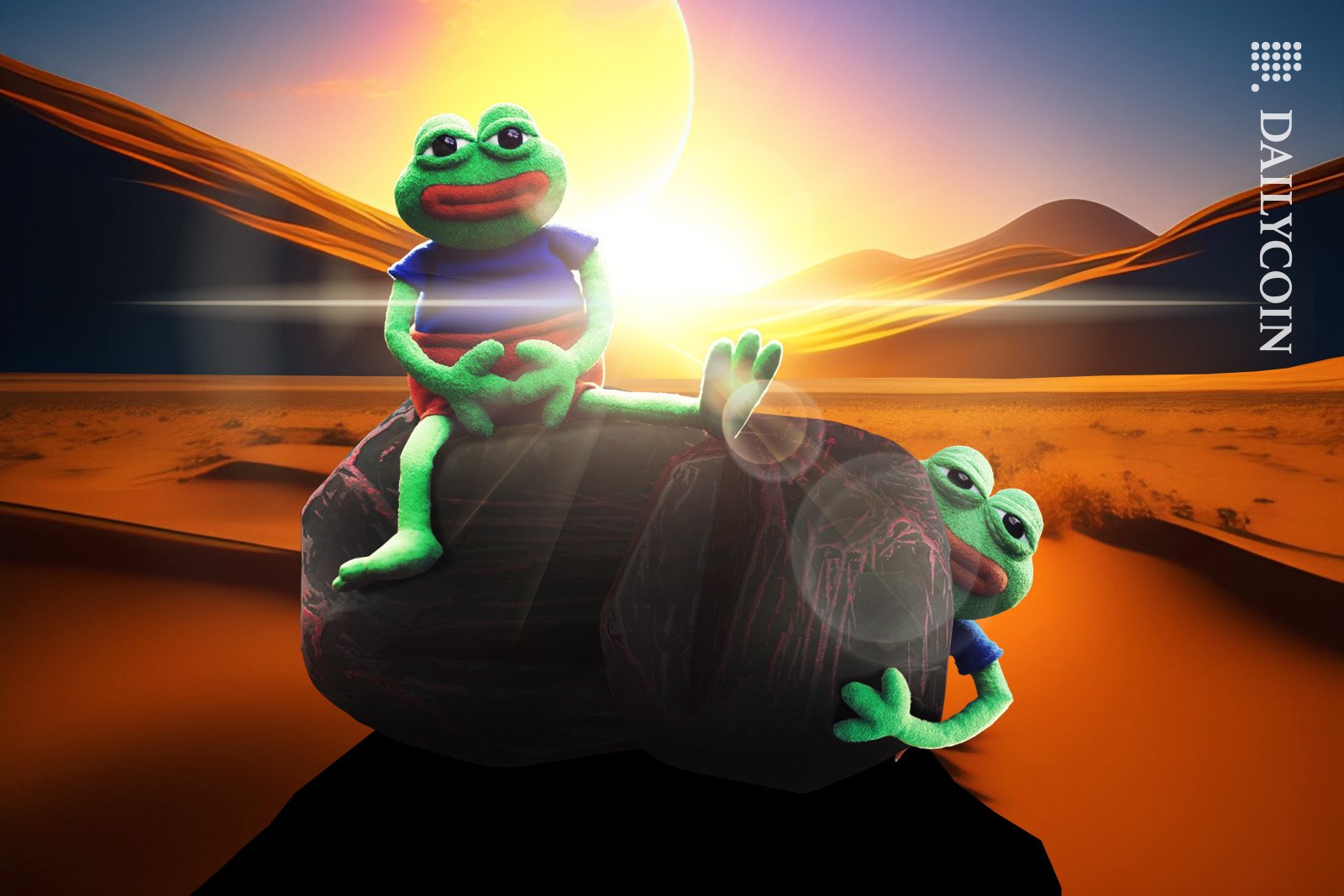 Pepe-inspired memecoin slides 16%.
Bad actors lure into phishing websites that pose as PEPE airdrops.
Fake PEPE airdrop threads on Twitter soar with artificial engagement.
As Crypto Twitter buzzes with Pepe the Frog memes this Monday, the memecoin $PEPE declined by 16% in the last 24 hours for several reasons. Firstly, subsequently trending searches like $PEPE and $GENSLR return fake airdrop results with Twitter profiles imitating the official Twitter handle for Pepe tokens.
While the coin went on a gigantic bull run with 21,000% in the first three days since launch, many crypto investors now speculate that the fun part might be over. On top of that, PEPE is likely to face copyright infringement from Matt Furie, the original creator of the meme, who's having a troubled relationship with crypto.
What are $PEPE & $GENSLR Fake Airdrops?
BitBoy might have set off a wave of bad actors trying to jump on the $GENSLR hype after the famous YouTuber posted a picture of himself patting a dolphin's head with an offensive message to the U.S. Securities and Exchange Commission (SEC) Chair Gary Gensler.
The rather explicit message by BitBoy included the keyword $GENSLR, a new Gary Gensler-themed memecoin inspired by Mr. Gensler's recent roast at the United States Congress. A few hours later, a flurry of phishing scams on Twitter began using the same cashtag, luring crypto enthusiasts into a fake airdrop website with a photo of an open-armed Gensler declaring, "I'm not f*****g regulating!"
How to Spot Counterfeit PEPE Airdrops
Usually, these fake airdrop pages ask users to connect their wallets to "receive" a free airdrop of these memecoins, but they drain most of the funds. To spot one, crypto enthusiasts should always check the number of followers and verified status.
Secondly, check the Twitter thread for comments – usually, the fake airdrops are full of artificial comments from bot accounts and seem too positive, or just have the comments turned off. It's also important to understand that scam accounts with blue check marks are rising; hence Twitter Blue isn't always the indicator.
However, even though most counterfeit airdrops prepared to drain your crypto assets come from new accounts with meager follower numbers, that's not always the case. Numerous well-known Crypto Twitter accounts have been reported promoting the same phishing scams.
In such a case, the visual difference between an authentic website and a phishing scam is indistinguishable, but crypto wallet extensions could be helpful. For instance, pressing on pepe.gift with a Coinbase Wallet extension on Google Chrome instantly issues a warning saying:
"This site may be unsafe pepe.gift. This site has been flagged as dangerous. If you continue, you could lose all of your crypto and NFTs."
Indeed, the blacklists on popular crypto wallet extensions like Coinbase Wallet or Trust Wallet are regularly updated, and a warning like this should be deemed a red sign not to proceed.
On The Flipside
The developer team behind PEPE refrained from commenting and didn't inform investors about the increased phishing attacks.
Why You Should Care
Phishing attacks have been the go-to choice for crypto scammers since 2022.
Delve into the latest DailyCoin crypto news:
Following Dirty Crypto: Binance Investigators Talk Their Profession
Shibarium: Everything You Need to Know About Shiba Inu's Blockchain