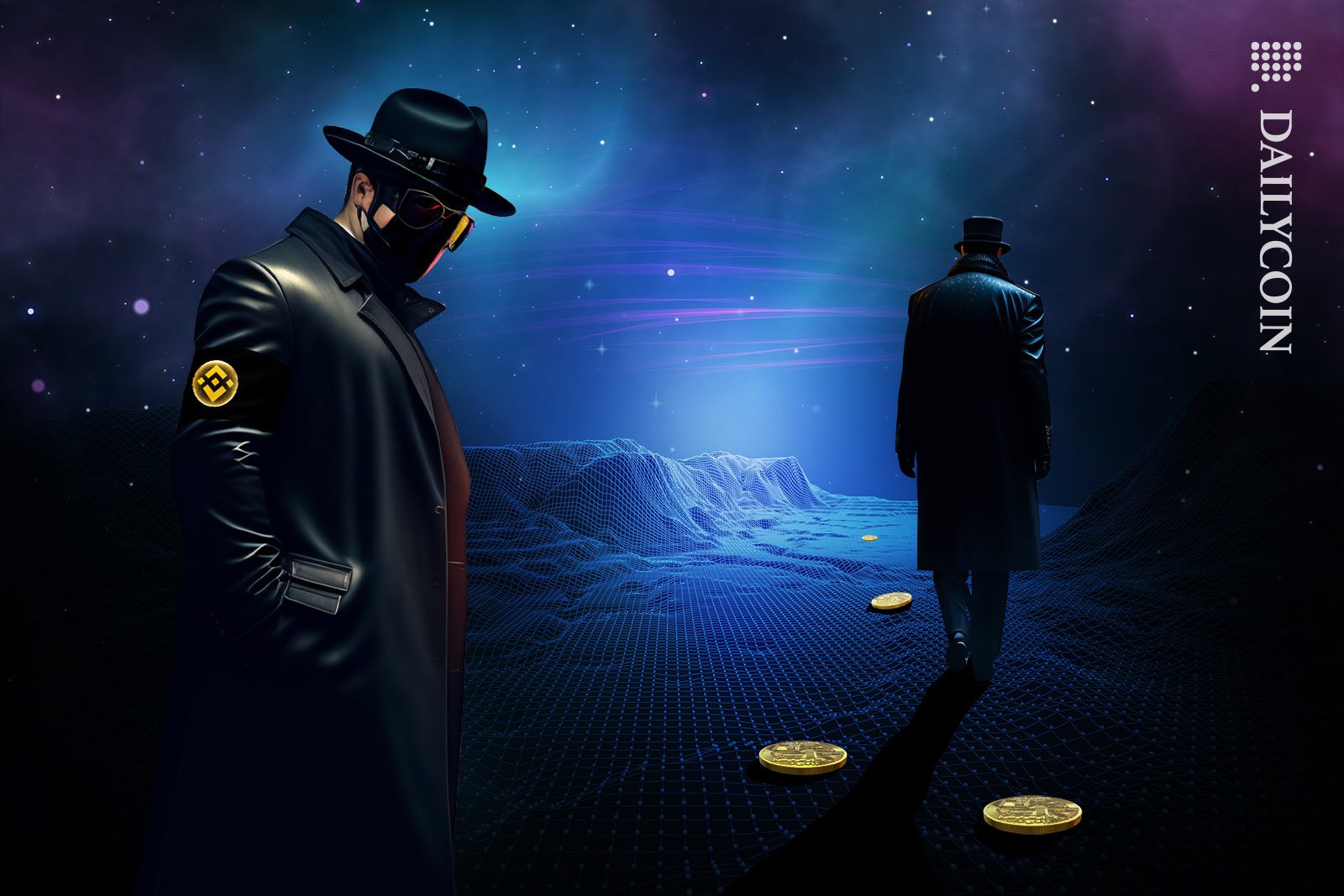 Intricate schemes, high-stake crypto transactions, international networks of criminals. It sounds like a scene from a movie, but this is what crypto investigators face every day at the world's biggest crypto exchange.
Operating in the digital realm, they track illicit funds and navigate complex webs of deceit to uncover the perpetrators behind anonymous transactions. They persistently guard the crypto ecosystem against the bad guys.
What exactly do they do, and what is so special about their profession? Peter and Lilija, two crypto investigators at Binance, agreed to a sneak peek into their line of duty.
Virtual Crime Scenes
"Remember those movies where you see the wall full of pictures and red cord lines connecting them? I've done this in the police. It's the same in crypto," says Peter.
Together with Lilija, both ex-police officers conduct crypto investigations at Binance, connecting virtual dots to reveal the criminals behind money laundering and other illicit schemes that involve digital currencies.
Today they are solving virtual puzzles and investigating crimes on the blockchain. They figure out the hidden connection using analytical tools and sometimes simply a piece of paper to connect the dots. And the "crime scenes" they look into are virtual.
"It's a lot of work. Some victims lose all their life savings. And you feel the pressure of solving these puzzles quicker, bringing justice, and helping the victims quicker," explains Lilija, adding that no day is the same on the Investigations Team at Binance.
The cases they solve vary from the quick ones that require identifying a single suspect to long-term and complex investigations, focusing on bigger illicit networks behind fraud schemes or financial pyramids.
Finding new connections between separate puzzle pieces and identifying unknown suspects is thrilling.
Curious Puzzle-Solvers with Backgrounds in Law Enforcement
Peter and Lilija moved into the private sector after spending years serving in the police.
She has a master's degree in criminal law and criminology and is experienced in tracing cryptocurrencies as part of cybercrime investigations. He has been investigating financial crimes for a decade after gaining a bachelor's in engineering and a master's in criminal investigations from the Police Academy.
Both investigators agree that it's not only hard skills such as technical knowledge of blockchain, forensic tools, and understanding money laundering methods that are essential for investigating and analyzing financial cybercrimes.
Investigators need to be able to think critically to identify patterns and anomalies in crypto transactions and pay close attention to detail to ensure that no evidence is missed. Analytical skills and communicating clearly are equally important for an effective investigation.
Being a good investigator is not only about a university degree, insist Peter and Lilija. It all starts from the love of puzzles and the natural curiosity that leads to becoming educated in the field.
"Compliance departments in financial institutions offer roles where you can train specific skills of puzzle solving. There's also investigative work done there. You always get cases where there's no solution or explanation of what happened and you have to figure it out," says Peter.
The investigators name banking institutions, crypto exchanges, crypto companies, and law enforcement as the best places to gain initial experience in crypto investigations.
Apart from these, one must be passionate about new technologies and have the urge for justice, as investigators always seek to help victims.
"As part of Binance, we're always looking at removing this prejudice that crypto is just a space for criminals. We want to clean up the space and that drives us too," explains Lilija.
No Hiding in Vans
The daily work of crypto investigators is dynamic and fluid. They solve complex crime puzzles, with tasks including research, analytical work, and critical thinking.
According to the Binance investigators, they don't do the undercover work. You won't find them sitting in a vehicle waiting for criminals to show up. This is what law enforcement agencies do.
Financial cybercrime investigators operate in virtual crime scenes and follow the digital traces on a blockchain. Often they conduct large-scale proactive investigations, mostly stemming from different referrals and monitoring suspicious transactions.
"In Binance, we have different investigative tasks. First and utmost, it's analytical work," explains Lilija. "And then, it's a lot of collaboration. Both with our teammates, because we all have different experiences and views on similar things, but also with external partners. For us, it's law enforcement and other private companies. It's a big part of the job."
Being a hub between the cryptocurrency exchange and law enforcement, investigators regularly meet up with officers, regulators, and prosecutors when solving complex money laundering cases or other illicit financial activities.
Such meetings help to bridge knowledge gaps and prejudices that many law enforcement agencies may still have about blockchain. "We put a lot of effort in educating different authorities about the technology," adds the investigator.
Then Peter and Lilija, like any other officer or investigator, write the reports documenting what they found and how they arrived at their conclusions.
Here, one must have skills to translate the technical aspects of blockchain-based crime into understandable and readable reports, says Peter. Otherwise, nothing will emerge out of what the investigator has found.
"Often prosecutors are less experienced and knowledgeable in this specific system. Later in the courts, they need to make decisions based on the findings of investigators or analysts. So, it's really important that we're able to translate that into something understandable."
Tools Help, but the Analytical Mind Is King
The money laundering schemes from ten years ago are different from today. Crime methodologies and technologies develop quickly and require investigators to keep up with them equally fast to understand what's happening.
According to the investigators, understanding blockchain technology is the only way to identify the red flags and risks that arise when transferring or obfuscating value.
There's a lot of information available online, from Coursera to YouTube, so anyone can educate themselves about blockchain and spot suspicious activities.
"You can mirror those examples that they give you. Sometimes you see people on YouTube and Twitter talking about investigating crypto incidents like hacks. Follow their steps and see if you could do the same. That's what I have done myself," reveals Peter.
Back in 2013, when he started, no software tools were available to easily trace or show things graphically. He had to draw all the connections by hand, make exports from blockchain explorers, and formulate the next steps.
Lilija further admitted that basic investigations could be conducted using free and publicly available blockchain explorers. She used to do this during her days at the police. As of today, when commercial tools do the transaction tracing part much easier, the whole investigation process still involves a lot of manual and analytical work.
They both agree that understanding the technology is still the key to success. According to Peter, his early knowledge of blockchain and previous experience investigating traditional money laundering crimes have helped him understand the criminal actions on-chain.
"If you are new in this system, it can be hard to grasp what's happening. Therefore, having a network and reaching out to the investigators with these experiences could also help you to develop the skills. Because this is becoming more and more complex. It's easier to ask your network," he says.
Ask for Feedback on End Results
Revealing the missing piece of the criminal puzzle and cracking the complex schemes they've created is one of the biggest rewards of their work, say both investigators. Another one is getting the whole picture and actionable results.
"The feedback from law enforcement, your other colleagues, that what you did really helped them. That motivates me in my work," confesses Peter.
However, both agreed that getting the feedback is tricky for private-sector investigators.
"This is the trickiest part of being in a private company vs. being in law enforcement. We don't get that thrilling moment of the end result, be it an arrest or bringing justice to a victim," says Lilija.
Although they are often part of bigger criminal cases, the private sector crypto investigators see less of the whole picture and have less interaction with the suspects.
"We always encourage law enforcement to give us feedback about how our information turned out or helped. We don't need this out of curiosity. It's just that it helps us to tailor our defense mechanisms to avoid any possible risks. It also helps us to better assist the same law enforcement and help our users better," adds Lilija.
Seeking Greater Education and Trust
The work of crypto investigators may look fancy and thrilling from the outside. But it also comes with its drawbacks.
"I wish there would be more trust from the regulators," says Peter. "We are now in the private sector working for the company, but it would be nice to see more trust in what we're doing.
We need to develop knowledge, compliance, and regulatory rules to get there with the regulators to build the industry standard. Trust is needed for that."
Seeing the victims losing their life savings is always heartbreaking, adds Lilija. Her biggest wish is to see everyone better crypto-educated and more critical to avoid falling victim to scammers.
"I would love them to think before they act and to assess whether something is not too good to be true."
Learn more about the CFTC lawsuit against Binance:
Binance Lawsuit: CFTC Chief Doubles Down on Accusations Against Exchange
Check out how much altcoin prices depend on Youtubers: 
YouTube Influencers Move Crypto Prices: Professor Brauneis Explains
FAQs
What are the types of crime in cryptocurrency?
Some common types of financial crime in cryptocurrency include fraud, which comes in many forms, such as phishing scams, Ponzi schemes, fake ICOs (initial coin offerings), insider trading, money laundering, ransomware, darknet marketplaces, and hacking in which cybercriminals steal cryptocurrencies from exchanges, wallets, and other online platforms.
Is financial crime only limited to cryptocurrencies?
Financial crime is not limited to cryptocurrencies, but the decentralized nature of digital assets and lack of regulatory oversight makes them particularly attractive to criminals.
What is the most common crypto crime?
According to crypto intelligence firm Chainalysis, sanction evasion and hacking-related cryptocurrency volumes have spiked to all-time highs of $20.1 billion in 2022, suggesting that sanction evasion and thefts from hacking were the most common type of crypto-related crimes.
Can crypto be used to evade sanctions?
Digital currencies operate independently of traditional financial systems and are not subject to the same regulations as traditional financial institutions. On the other hand, blockchain transactions are public and can be traced, making transactions not completely anonymous.
Besides that, crypto exchanges may be required to comply with anti-money laundering (AML) and know-your-customer (KYC) regulations, which can help prevent crypto from being used for illicit purposes, including sanction evasion.