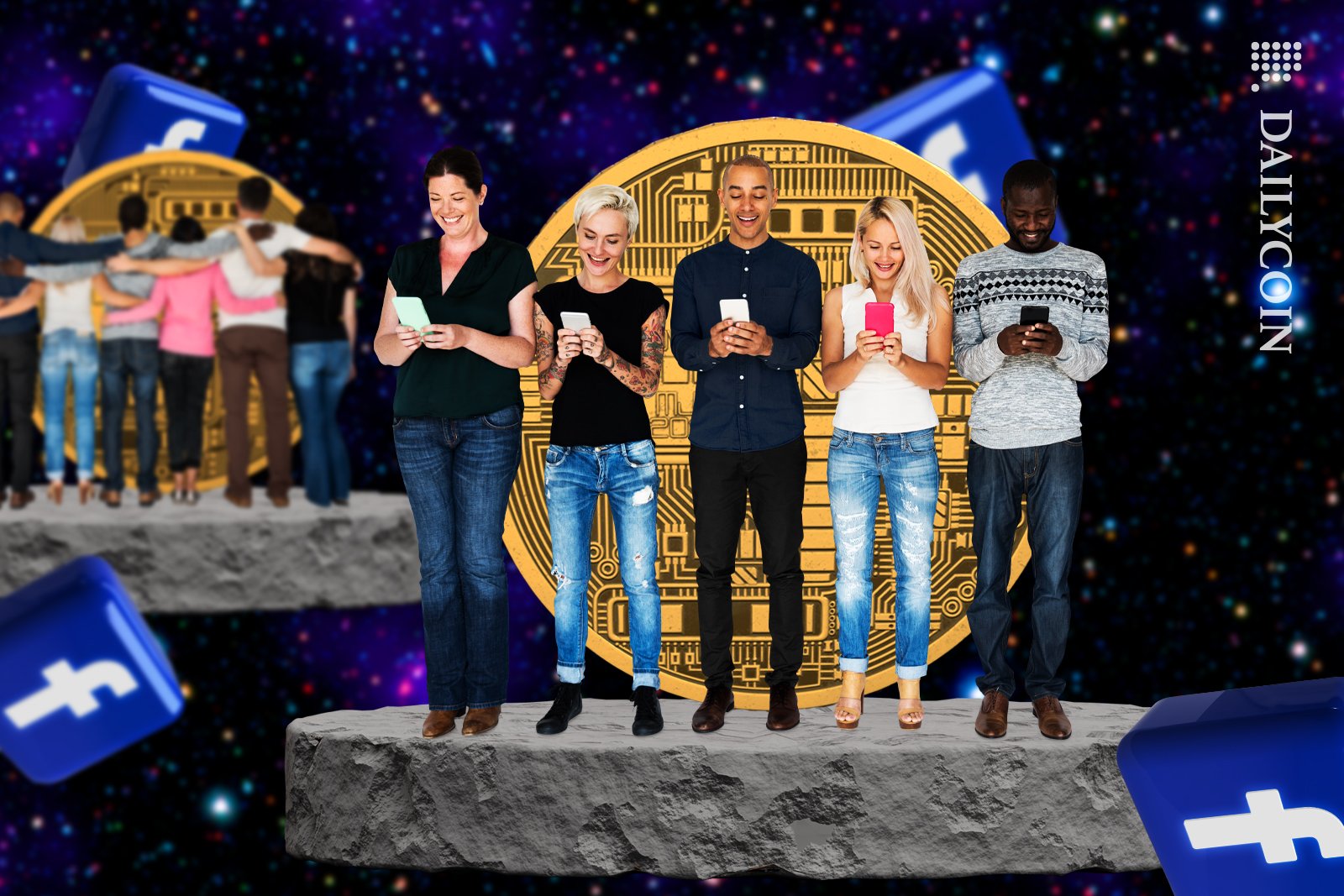 If the thought of trawling through the trolls of Twitter/X or Telegram for crypto news and updates fills you with dread, Crypto Facebook Groups might be exactly what you're looking for.
As cryptocurrency continues its meteoric rise, seasoned investors and curious newcomers seek communities to exchange knowledge, strategies, and the latest updates. While Crypto Twitter is packed with memes and hype posts, crypto groups on Facebook are better suited for thoughtful discussion, making it better suited for beginners.
But how do we separate the chalk from the cheese? Facebook is still the world's most popular social media platform, so no doubt there are dozens of cryptocurrency groups out there that may not have your best interests at heart.
What Are Crypto Facebook Groups?
While it still has plenty of rivals, Facebook remains the dominant social media network, connecting billions across the globe. Facebook truly has something for everyone, so it makes sense that Facebook Groups have emerged as specialized communities where like-minded individuals gather to discuss, share, and learn about specific topics.
Crypto Facebook Groups are no different. These are dedicated spaces where cryptocurrency enthusiasts, from novices to experts, come together to discuss the peaks and troughs of the crypto market and share their knowledge.
Whether it's the latest on blockchain technology, investment strategies, or the buzz around cryptocurrency news and new altcoins, these groups serve as dynamic hubs of information in the crypto universe.
What Are Crypto Facebook Groups Good For?
Navigating the intricate labyrinth of cryptocurrency can be daunting. Blockchain technology is rather complicated at first, and crypto investors will often find themselves overwhelmed with information. Here's how joining a reliable crypto Facebook group can help.
Crypto Education – Crypto Facebook groups are a treasure trove of shared experiences. Whether you're grappling with the basics of blockchain or deciphering the complexities of DeFi, there's likely a member who's been there and is eager to share insights.
Crypto News Updates – In the fast-paced crypto world, staying updated is crucial. These groups are always buzzing with the latest news, from regulatory changes to market trends, ensuring members are always in the loop.
Networking – It's not all about the gains; it's the friends you make along the way. Crypto Facebook groups offer a chance to connect with industry professionals, seasoned investors, and passionate enthusiasts.
Diverse Perspectives – The cryptocurrency community is a global network. Discussing with members worldwide offers a broader understanding of the market and its nuances.
Safety and Support – While exciting, the crypto space is plagued with scams, hacks, and dubious exploits. Being part of a community means having a support system, a place to voice concerns, seek advice, or even get recommendations on trustworthy platforms and tools.
Top 8 Crypto Facebook Groups 2023
The number of dedicated Facebook groups shining a light on the crypto space grows daily. Amongst all the noise, which truly resonates with value, authenticity, and engagement? Here's our curated list of the top 8 Crypto Facebook Groups to join in 2023:
1. Ethereum Group
If you're an Ethereum (ETH) fan or a believer in decentralized finance, this dedicated Facebook community is for you. As one of the pioneering platforms in the decentralized space, Ethereum has garnered a massive following, and this group stands testament to its popularity.
The Ethereum Group has its thumb on the pulse of all things ETH. Whether it's the latest upgrade in the Ethereum network or the nuances of smart contracts, the group offers a platform for detailed, insightful conversations.
Its members regularly share information on promising projects being built on the Ethereum blockchain. Whether you're into creative DeFi platforms or emerging NFT projects, the Ethereum Group gives you a front-row seat to the innovations in the ecosystem.
Key Takeaways
Areas of Focus: Ethereum, DeFi, NFTs, and Metaverse
Members: 471k
Entrance: Private Group
Join The Ethereum Group
2. Cryptocurrency Investing
The Cryptocurrency Investing Facebook group serves as that guiding light for Facebook users, offering a jack-of-all-trades approach to the crypto market.
Beyond just trading tips, this group delves into the broader spectrum of cryptocurrency investing. From long-term holds to short-term trades, from ICOs to established coins, there's a wealth of knowledge to explore and discuss with fellow members.
Moreover, experienced crypto investors and financial analysts often grace the group with their insights, breaking down market trends, potential investment avenues, and risk assessments. This is helpful for beginners who might be dipping their toes into the space for the first time.
The Cryptocurrency Investing Group is a dynamic ecosystem where rookies and veterans share their journeys, insights, and experiences.
Key Takeaways
Areas of Focus: Crypto Analysis and Advice, Market Updates
Members: 158k
Entrance: Public Group
3. Bitcoin Group
Bitcoin Maxis and miners, this one's for you! Bitcoin (BTC) reigns supreme as the pioneering digital asset that started the crypto revolution. As you'd expect, The Bitcoin Facebook Group is the largest Bitcoin community on the platform and is focused almost entirely on Bitcoin and its enduring legacy.
With plenty of insightful posts, this crypto Facebook group will help you understand Bitcoin's journey, from its inception to its current status as a digital gold standard. You can also find your fair share of crypto memes, which is always welcome to take the edge off the market's volatility.
Alongside a great community of Bitcoin enthusiasts, the group benefits from plenty of Bitcoin analysts who share their thoughts and opinions on the state of the market. What's more, Bitcoin miners will have a field day sharing their mining rigs and finding answers to their burning questions.
Key Takeaways
Areas of Focus: Bitcoin, Bitcoin Mining,
Members: 68k
Entrance: Public Group
Join The Bitcoin Group
4. Solana Group
As one of the leading Layer-1 blockchains and Ethereum-killers in the industry, Solana is not one to miss. As the name suggests, the Solana Group on Facebook is dedicated to this high-performance blockchain, serving as a central hub for the SOL community on Facebook.
If you're new to Solana or want to learn more about the network, the Solana Group is just what you need. The community is always happy to receive new members and help them understand the intricacies of the Solana blockchain, from its unique Proof of History consensus mechanism to its lightning-fast transaction speeds.
On top of that, the Solana Group also shares frequent updates on new DeFi and NFT projects being built on Solana. From a developer perspective, the group also explores Solana's architecture, coding tutorials, and discussions on its robust SDKs.
Key Takeaways
Areas of Focus: Solana Ecosystem, DeFi, NFTs
Members: 250k
Entrance: Private Group
Join The Solana Group
5. Captain Altcoin
While Bitcoin and Ethereum often steal the limelight, some people will assure you that the altcoins market is where all the action is. The Captain Altcoin Group aims to demystify the world of altcoins and provide thoughtful insights and relevant information on emerging coins.
With thousands of altcoins in the market, the Captain Altcoin Group shines a light on the most promising ones, offering deep dives into their technology, use cases, and market potential. On top of that, crypto trading veterans share their strategies, chart analyses, and predictions for popular coins like Ripple (XRP) and Litecoin (LTC).
If you're always looking for the shiniest new thing, the crypto warriors in the Captain Altcoin Group have you covered. With so many altcoin enthusiasts gathered in one place, there are plenty of discussions around upcoming ICOs and DeFi platforms.
While exciting, the altcoin market is a breeding ground for scams and rug pulls. The Captain Altcoin community prioritizes member safety, offering alerts on potential red flags and guidance on safe investment practices.
Key Takeaways
Areas of Focus: Altcoins, Crypto Trading
Members: 33k
Entrance: Private Group
Join Captain Altcoin
6. Cryptocurrency Collectors Club
The Cryptocurrency Collectors Club is a sanctuary for seasoned collectors and budding enthusiasts. This Facebook group is designed for rookies and crypto vets looking to share their knowledge and network with others in the space.
As you'd expect from a crypto Facebook group of this size, dozens of fresh ideas and insights are being shared daily. What newcomers like about the Cryptocurrency Collectors Club is that the group's admins are always quick to lend a helping hand and point you in the right direction.
With everything from timely crypto memes to price predictions and market analysis, the Cryptocurrency Collectors Club is a great place for beginners still trying to find their feet in the space.
Key Takeaways
Areas of Focus: Crypto Trading, Altcoins, Research
Members: 73k
Entrance: Private Group
Join Cryptocurrency Collectors Club
7. Cryptocurrency Academy
The Cryptocurrency Academy on Facebook is a community-led educational hub dedicated to enlightening, empowering, and equipping its members with the knowledge they need to succeed in crypto.
Covering everything from basic topics to detailed DeFi tutorials, the Cryptocurrency Academy helps newcomers learn the ropes and confidently dive into the world of blockchain. Some experienced members occasionally host live sessions to share their insights and answer questions.
Within the Cryptocurrency Academy, members can connect with fellow learners, industry professionals, and crypto enthusiasts. As the crypto world grows, these networking opportunities could prove invaluable.
Key Takeaways
Areas of Focus: Education, DeFi, Crypto Trading
Members: 10.2K
Entrance: Private Group
8. Suppoman Cryptocurrency Masterminds
Led by a Facebook crypto influencer, Suppoman, this Facebook group is a quality community for those seeking expert analysis, community engagement, and entertainment. Here's what members can anticipate:
Suppoman, the group's founder, often shares daily updates, breaking down complex market movements into digestible insights, making it easier for members to stay informed.
The community is also active and engaging. Beyond simple posts and discussions, the group hosts live sessions, Q&A rounds, and webinars, fostering real-time engagement and learning. Some members also often get exclusive access to content, courses, and resources, further enhancing their crypto journey.
On top of that, the Supponman Cryptocurrency Masterminds also have their eyes locked on security faults. The group serves as a vigilant watchdog in an industry riddled with scams and dubious projects, alerting members about potential risks and ensuring a safer crypto experience.
Key Takeaways
Areas of Focus: Market Updates, Crypto News
Members: 27k
Entrance: Private Group
Join Suppoman Cryptocurrency Masterminds
Pros and Cons of Crypto Facebook Groups
Crypto Facebook Groups have become pivotal platforms for crypto enthusiasts in the digital age, where online communities shape opinions, drive discussions, and foster connections. But like all things, they come with advantages and drawbacks.
Pros
Knowledge Hub – Crypto Facebook groups offer a wealth of information, ranging from basic crypto concepts to advanced trading strategies.
Real-time Updates – Crypto Facebook groups help you stay updated with real-time news, regulatory changes, and market trends.
Networking Opportunities – As the saying goes, 'Your net worth is your network.' Crypto Facebook Groups help you connect with like-minded individuals and industry experts.
Cons
Misinformation – Not all information shared in these groups is verified or official, meaning that misleading advice or incorrect data can always be shared.
Scams – The crypto space, unfortunately, attracts its share of scammers. Fake investment schemes and phishing attempts are common, even in private groups.
Information Overload – The sheer volume of posts, discussions, and updates can overwhelm newcomers, making it challenging to find valuable content.
Echo Chambers – Groups can sometimes become echo chambers that are out of touch with reality.
Privacy Concerns – Sharing personal investment details, holdings, or strategies exposes members to potential security risks.
On the Flipside
While Crypto Facebook Groups are great for people who use Facebook, Twitter/X is still the crypto market's first port of call for news, updates, and opinions.
Why This Matters
Facebook is the largest social media network in the world, so it's important that cryptocurrency is well-represented on the platform.
FAQs
What is the most popular crypto group on Facebook?
With over 400,000 members, the Ethereum Group is the most popular crypto group on Facebook.
How do I find crypto groups?
The best way to find crypto groups is to read articles from sites you trust, then join the groups that interest you. After joining several crypto Facebook groups, you can leave the ones that aren't a great fit for your needs.
What are crypto groups?
Crypto groups are online communities where cryptocurrency enthusiast can share their ideas and discuss opinions with like-minded individuals.