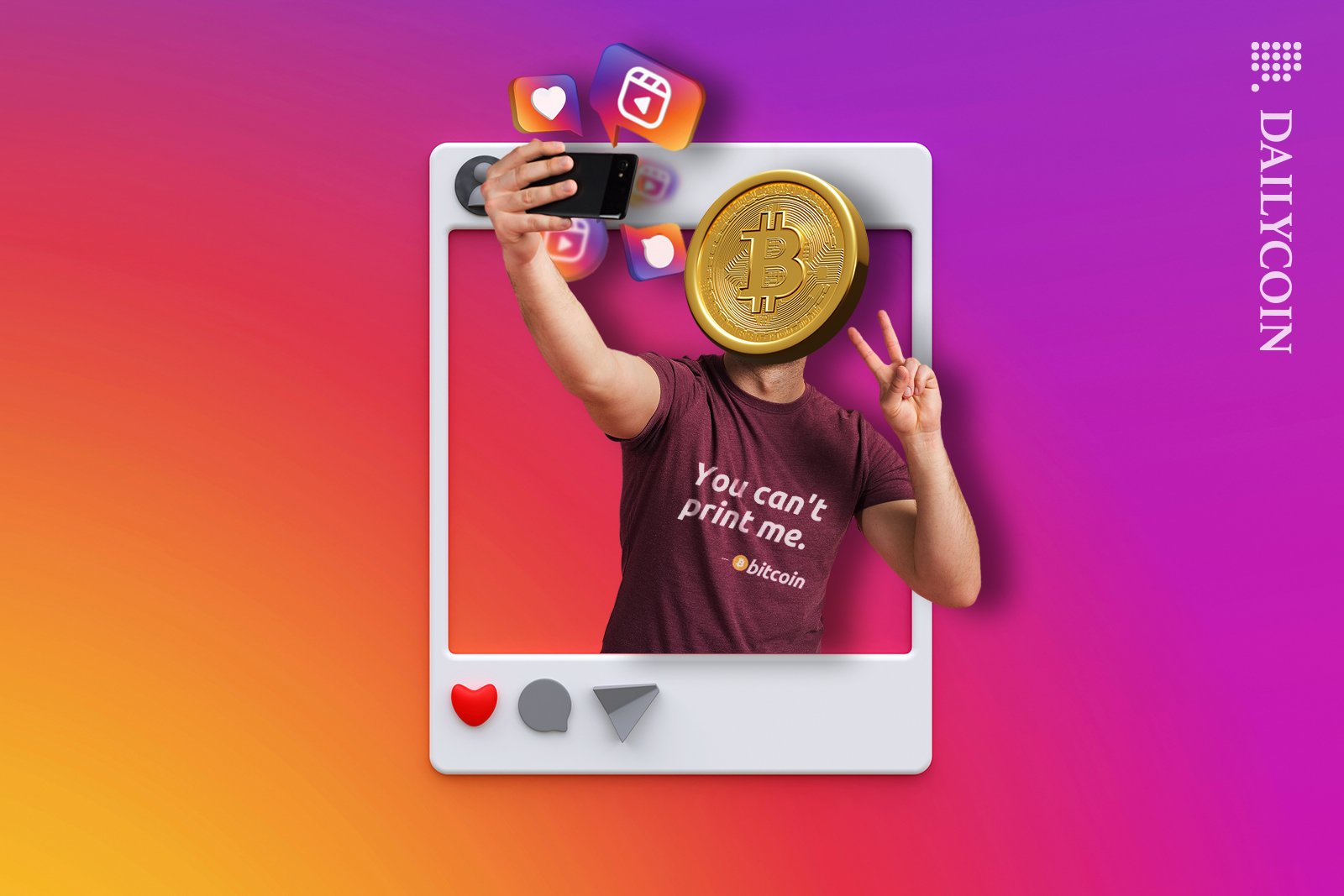 Crypto Instagram accounts are the first port of call for many newcomers entering the space. While Twitter is the leading social media platform for following news in the crypto market, Instagram has a far wider reach, with over 1B more active accounts than Twitter.
As a platform, Instagram values simplicity and accessibility. A picture tells a thousand words, making communicating cryptocurrency news to a large audience much easier. This is one of the main reasons why Instagram accounts are so popular amongst beginners in the crypto space.
In this brief guide, we'll investigate what it means to be a valuable and insightful content creator on Instagram and give you a handful of the top crypto Instagram accounts to help you get started on social media.
What to Look for in Crypto Instagram Accounts
The best crypto Instagram accounts should give you confidence and clarity when navigating the digital currency market. Reliable Instagram influencers should keep you updated on the latest news in blockchain technology and crypto trading trends.
Social media influencers don't need to be the most profitable crypto traders ever. Some of the biggest brains in the industry, like Vitalik Buterin, co-founder of Ethereum (ETH), don't actively trade cryptocurrency. By providing accurate information and high-quality insights, crypto influencers help us learn more about the space and do our own research more effectively.
Most importantly, we're not here to thoughtlessly make whatever crypto investment is suggested to us. Influencer marketing is an essential part of the crypto market, but any Instagram account that relentlessly shills altcoins is a red flag. If an account's engagement doesn't match its follower count, there's a possibility they've artificially inflated their stats.
With all this in mind, let's recap what we look for in a crypto Instagram account:
A trustworthy, reliable source of relevant information
Prompt crypto news coverage
Links to helpful educational content, like YouTube channels or podcasts
Decent levels of engagement
Low shilling frequency
Quality memes to remind us not to take things too seriously
Best 7 Crypto Instagram Accounts
Using the criteria above, we've compiled a list of the best crypto Instagram accounts. These accounts offer good coverage across the blockchain industry, from crypto news to metaverse and NFT market updates.
We've also measured their Instagram follower engagement using TrendHero and marked their shilling frequency from low (1) to high (5). Please bear in mind this list is in no particular order.
1. CryptoManiaks
CryptoManiaks calls itself the biggest cryptocurrency page on Instagram. With over 920k followers, they might just be right! The profile draws attention to both the heavyweights of the crypto space and makes relevant comments on trending meme coins and the flaws of central banks.
This is a great account for crypto enthusiasts already quite well-versed in the industry. Instead of helpful beginner guides, CryptoManiaks caters to people who know their way around the blockchain and want to dig deeper.
Their account highlights are admittedly quite basic, but the account's reels and memes are sure to take the edge off unexpected price moves.
Key Takeaways from CryptoManiaks:
Provides detailed insight on DeFi and NFT markets that more general accounts might gloss over
Turns memes into creative, informative content
Presents practical, real-world cryptocurrency use cases in action, like sharing videos of people buying coffee with Bitcoin.
Engagement rate: 2.25%
Shilling frequency: 3/5
Suitable for: Experienced crypto users, meme lovers
Follow CryptoManiaks at @cryptomaniaks
2. ShareCrypto
ShareCrypto is a good general resource that tracks the biggest stories in crypto news. This includes significant Bitcoin (BTC) price movements and industry updates, like Coinbase's legal battle with the SEC.
What makes ShareCrypto stand out is the depth and variety of its highlights. Just above their image feed, the account shares a wealth of information and recommends top crypto hardware wallets, exchanges, and services.
The account has managed to amass over 440k Instagram followers. It provides plenty of additional content that helps beginners dip their toes into the crypto space with a free ebook and numerous courses. Sharecrypto is perfect for both beginners learning the ropes and crypto veterans looking for reliable news updates.
Follow ShareCrypto at @sharecrypto
Key Takeaways from Sharecrypto
Prompt, accurate information
Covers a wide range of content
Links to educational resources
Engagement rate: 0.23%
Shilling frequency: 1/5
Suitable for: crypto experts looking for deeper information
Follow Sharecrypto at @sharecrypto
3. CryptoExplorer
CryptoExplorer is one of the top crypto Instagram accounts to follow if you're a newcomer. Their posts are eye-catching and informative, doing a great job of simplifying complex crypto jargon across blockchain technology, decentralized finance, and NFTs.
Like other top accounts, CryptoExplorer offers a simple course that introduces beginners to the basics of the crypto market. They also share the occasional tasteful meme, which can help to weather market volatility with a dry smile.
The account's highlights are rather limited but steer you towards CryptoExplorers free ebook. The ebook is a helpful resource that gives a basic introduction to the crypto market and guides newcomers through making their first Bitcoin investment.
Since stepping onto the scene, CryptoExplorer has gathered over 640k committed followers, making them one of the larger accounts on this list. This account is probably more valuable to newcomers who are still finding their feet in the industry as opposed to seasoned experts.
Key Takeaways from CryptoExplorer:
Educational content directed at newcomers
Dedicated course for learning the ropes
Fun memes
Engagement rate: 0.17%
Shilling frequency: 2/5
Suitable for: Beginners learning the ropes
Follow CryptoExplorer at @cryptoexplorer
4. Bitcoin Magazine
While Bitcoin Magazine is primarily geared toward Bitcoin maxis, it remains one of the most prestigious sources for BTC-related content on the internet. This Instagram keeps its followers updated on Bitcoin news, updates, and trends.
Bitcoin Magazine's highlights are dedicated to promoting the digital asset and showcasing previous Bitcoin conferences around the world. On the other hand, the account's reels break down trending news stories and provide valuable context to unfolding events in the crypto space.
If you want to keep track of what El Salvador or Microstrategy is planning or stay on top of what Ordinals and BRC-20 tokens are doing to Bitcoin gas fees, this is the account for you.
Bitcoin Magazine is one of the oldest publications in the industry, with its Instagram account collecting over 200k followers and enjoying high engagement over the years.
Key Takeaways from Bitcoin Magazine:
One of the oldest names in crypto
Detailed and extensive coverage of Bitcoin and its network
Helpful extra resources
Engagement rate: 2.1%
Shilling frequency: 2/5
Suitable for: Bitcoin maxis
Follow Bitcoin Magazine at @bitcoinmagazine
5. TheCryptoGraph
With frequent posts highlighting updates from every corner of the industry, TheCryptoGraph does it all. This Instagram account not only shares market updates but also discusses policy and regulatory standards from all over the world.
The account's story highlights leave a bit to be desired, especially compared to other profiles on this list. Fortunately, TheCryptoGraph makes up for this with its reels section, which provides fascinating interview snippets from all areas of the digital asset industry.
TheCryptoGraph is one of the smaller accounts on our list without a huge range of educational material, but their coverage of global regulation news gives them a competitive edge. If you already know the basics of blockchain technology, this account is a great way to expand your knowledge and exposure.
Key Takeaways from TheCryptograph:
Wide coverage, including global policy and cybersecurity news
Highlights innovative applications of blockchain technology, like NFT ticketing
Engagement rate: 0.11%
Shilling frequency: 1/5
Suitable: Experience crypto enthusiasts
Follow TheCryptoGraph at @thecryptograph
6. Cryptohumor
The crypto market is no stranger to doom and gloom. Sometimes, it's nice to laugh and wait for things to improve. Nothing takes the edge off red candles like a healthy meme; fortunately, Cryptohumor has these in droves.
Unlike the other accounts in this list, Cryptohumor won't try and get you to sign up to course. Their highlights are simply a collection of the account's best memes and topical posts about why the world needs Bitcoin.
Cryptohumor may not be the most informative source of crypto news updates, but their memes are on point. This helps their Instagram followers feel like they're part of a larger community, all learning and laughing together in the crypto space.
Key Takeaways from Cryptohumor:
Quality memes
Engagement rate: 0.51%
Shilling frequency: 0/5
Suitable for: Meme lovers
Follow Cryptohumor at @cryptohumor
7. Ethereum_updates
Ethereum bulls, this one's for you! Ethereum_updates is a crypto Instagram account dedicated to the market's second-largest cryptocurrency. The account gives regular updates about both Ethereum prices and the state of its ecosystem. This includes DeFi news and stories about real-world Ethereum adoption.
The account's highlights section is mostly dedicated to sharing referral links for other crypto platforms instead of educational content. However, Ethereum's updates reels and main feed provide plenty of value, showcasing top news stories about the growth and development of Ethereum.
Ethereum_updates is a must-follow for any crypto enthusiast interested in ETH. Even if you're not an Ethereum holder, the account provides a wealth of information and news that can help you stay on top of trends in the crypto market.
Key Takeaways from Ethereum_updates:
Excellent source of Ethereum-related news
Regular ETH price updates
Shares informative posts about crypto mass adoption
Engagement rate: 0.09%
Shilling frequency: 2/5
Suitable for: Ethereum bulls and DeFi users
Follow Ethereum updates at @ethereum_updates
The Dark Side of Crypto Instagram
Unfortunately, not every crypto Instagram account on social media has your best interests at heart. Crypto influencers on the platform, like Girl Gone Crypto and Brekkie Von Bitcoin, seem more interested in going viral and posting inspirational quotes than sharing educational information.
Some top crypto influencers have come under fire for promoting scams on the platform. Also known as BitBoy Crypto, Ben Armstrong has been criticized for shilling scams over his YouTube channel and Instagram account.
It's important to fact-check anything you see on social media and do your own research before investing in cryptocurrencies shilled by influencers.
On the Flipside
While Instagram is a larger social media platform, Twitter is arguably a better source of crypto market news and updates. Breaking news is typically shared through tweets before reaching other social networks.
Why You Should Care
If you're new to the crypto space and don't want to sign up for a Twitter account, the Instagram accounts mentioned in this list are a great source of informative and engaging content that can help you find your feet in the blockchain industry.
FAQs