Decentralized social media platforms (DeSo) aim to revolutionize one of the world's largest and most controversial industries. Over 4.9 billion people around the world tune in to their favorite social media platforms every single day, with many reaching for their phones the second they wake up.
Despite being so deeply ingrained in the modern human experience, traditional social media networks are far from perfect. Data breaches, content moderation, and a relaxed approach to user privacy have landed almost every major social media company like Facebook, Twitter, and LinkedIn in hot water.
Do blockchain technology and decentralized social networks hold the key to reinventing the online experience for billions of users across the world? Is user data any safer on the blockchain than on centralized servers?
In this article, we'll explore decentralized social media networks and how they might solve the issues plaguing traditional centralized platforms. We'll break down the benefits and drawbacks of blockchain-based social networks and feed you our list of the top DeSo platforms disrupting the online experience.
What Are Decentralized Social Media Platforms?
Like old-school favorites, decentralized social media platforms are online environments where users can share ideas, meet like-minded people and tell their stories. What separates decentralized social networks from traditional platforms is that they're built using blockchain technology and don't rely on a central authority.
User data and content is stored securely on a blockchain network run on independent servers. Like in the cryptocurrency world, DeSo platforms are permissionless and censorship-resistant. This makes them popular with free speech advocates. One of the biggest complaints from Twitter users since Elon Musk's takeover is that he hasn't fulfilled his promise to pull back on content moderation.
While traditional social media platforms must be linked to a genuine IRL identity, anyone can create a DeSo profile using a crypto wallet, protecting user privacy.
Decentralized social media platforms are often backed by cryptocurrency tokens or non-fungible tokens (NFTs). These serve a wide variety of utilities within the DeSo ecosystem. For example, some platforms use cryptocurrency to monetize by rewarding content creators who share engaging posts. Others rely on digital assets to prove account ownership or form DAOs that handle protocol governance and development.
The Decentralized Social Media Experience
Blockchain-based social media networks protect user data by distributing information across several independent nodes and securing it using cryptography. Data security is a massive issue for traditional platforms, which host user data on centralized servers which a prone to attacks from hackers.
Users can also create their own algorithms, meaning they get to decide what content they see online rather than being fed a stream of sponsored content by centralized platforms that sell their personal data to advertisers.
Some platforms even have DeFi-integrations, with links to creative dApps that allow users to send tips to other users using digital currencies.
Decentralized Social Media Pros & Cons
While decentralized social networks solve many of the issues facing legacy platforms, they have plenty of their own challenges. Let's examine the benefits and drawbacks of decentralized social media platforms.
Pros
User privacy and security – DeSo networks offer users better security and privacy than legacy social media platforms.
Control over your data – On a decentralized network, you and you alone control your data and how it's used.
Decentralized governance – A decentralized autonomous organization guides key decisions regarding the growth and development of the platform.
Monetization opportunities – Content creators enjoy alternative monetization methods, instead of relying solely on sponsored posts and advertising.
Censorship-resistant – Decentralized social media networks provide everyone with a platform for free speech. Once a post is shared, only the original poster can remove it.
Cons
Web3 UX issues – Blockchain-based applications are notoriously hard to use. User experience issues can hamstring mass adoption and discourage users.
Tough competition – Existing centralized networks like Facebook and Twitter have monopolized the market, making it difficult to attract new users.
Scalability – Blockchain transaction fees can be expensive, especially on Ethereum (ETH), during periods of network congestion.
Market volatility – Because many platforms are tied to supporting cryptocurrencies, bear markets and crypto market fluctuations can devalue a network's monetization offerings.
Censorship-resistant – Ironically, free speech is a double-edged sword. Without content moderation, decentralized social media networks can become breeding grounds for unrestrained hate speech and cyberbullying.
Best Decentralized Social Media Networks
If you want to break out from the grip of centralized social media platforms and escape crypto twitter, here's a great list of the top DeSo platforms that you can join with Web 3 wallet.
1. Lens Protocol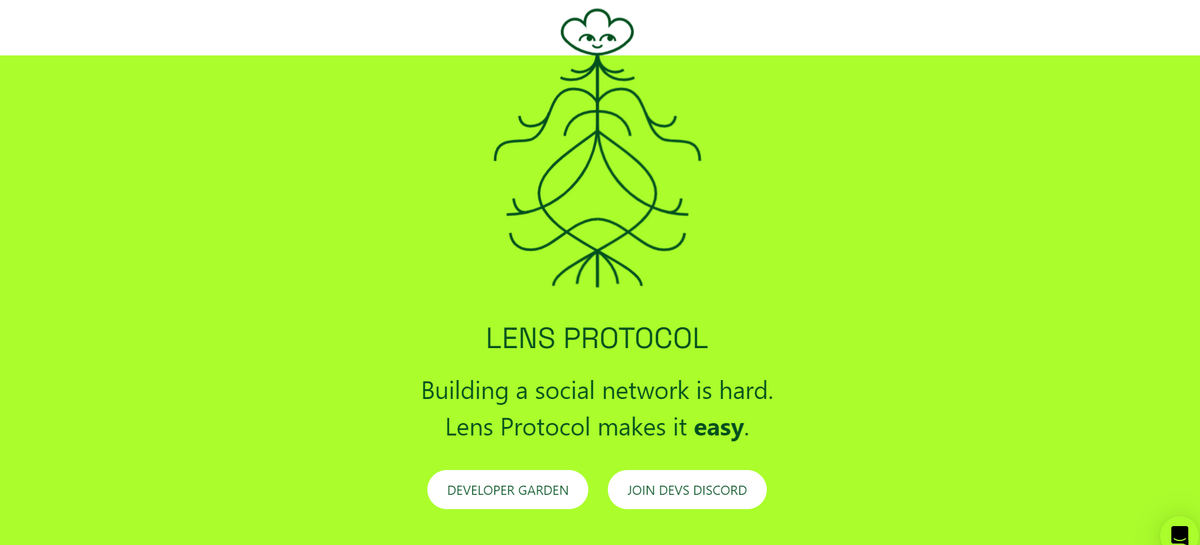 Launched by the team behind Aave in 2022, Lens Protocol is one of the best decentralized social media networks. Lens is a fully composable and decentralized social graph that gives users complete control over their social profile and how it's used.
Users can mint a Lens handle as an NFT to their crypto wallet. These Lens NFTs are also compatible with other dApps and smart contracts in the rapidly expanding LensVerse ecosystem, and can even be sold on secondary marketplaces like Opensea.
Lens is hosted on the Polygon network, meaning that users enjoy low gas fees and fast transactions.
Alternative to: Facebook, Medium
Key Takeaways
Launched by Aave, one of the most experienced teams in DeFi.
Lens handles are minted as NFTs that are interoperable with other ecosystem dApps.
Built on the Polygon network.
2. Mastodon
Mastodon is one of the crypto industry's largest and most popular decentralized social networks. Boasting over three million users, Mastodon is a fully open-source microblogging platform. The platform supports all forms of media, including written content, images, videos, and GIFs.
Your Mastodon feed is completely chronological, meaning the content you see is algorithm-free. Mastodon promises to help you create your very own corner of the internet by letting you create a server that is fully controlled and moderated by you. Each user is responsible for curating their own feed and has unmatched control over who they see, and who can see them, online.
Alternative to: Twitter, Facebook
Key Takeaways
Open-source platform.
Users have full control over what appears in their feed.
Hosts over three million users.
3. Steemit
Originally launched in 2014, Steemit is an OG in the decentralized social media space. Built on its own dedicated blockchain, Steemit is a blogging platform that rewards users with payments using the platform's native token STEEM.
The platform encourages engagement by increasing the rate of STEEM rewards for users who regularly share content, comment, and upvote other users' posts.
By using a dedicated network to host the social network, the Steemit platform is highly scalable and is unlikely to suffer from congestion issues.
Alternative to: Reddit
Key Takeaways
One of the oldest decentralized social networks in the industry.
Powered by its very own blockchain and native token.
Incentivizes users with cryptocurrency rewards.
4. Only1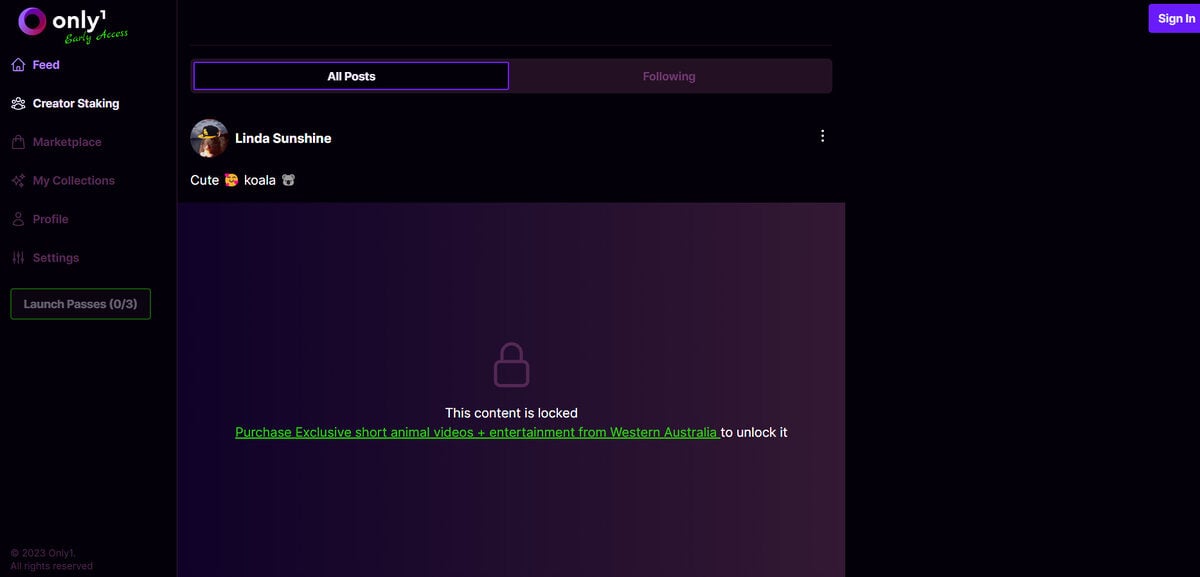 Built on the Solana blockchain, Only1 is a sleek decentralized social platform that aims to strengthen the connection between content creators and their audience.
Building off the business model made popular by platforms like Patreon and OnlyFans, Only1 is a blockchain-based subscription service powered by NFTs and $LIKE, the platform's native token. $LIKE is regularly burnt to stabilize its market value.
Content creators are able to token-gate their posts, only providing access to supporters who hold their NFT or pay a membership fee in $LIKE.
Alternative to: Patreon, OnlyFans
Key Takeaways
Subscription-based service powered by creator NFTs and a native token.
Gives content creators complete control over the monetization of their content.
Built on the Solana blockchain.
5. PixelFed
Stepping into the highly-competitive field of image-first social media networks is PixelFed, a decentralized social media platform that aims to dethrone Instagram. At first glance, there's not much to separate the two applications.
Looking under the hood, it's clear that PixelFed has been designed with user privacy in mind. PixelFed is open-source and ad-free, with no selective algorithm that dictates what users are shown.
PixelFed offers everything an image-focused platform needs, with a great range of filters and image-editing software. The application also supports direct messaging and lets users host their own servers, offering greater control and security.
Alternative to: Instagram
Key Takeaways
Image-first social media platform.
Open source codebase.
Advertising and algorithm-free.
6. Minds
Built on the Ethereum network, Minds is a decentralized social network that aims to regain users' control of their social media experience. Minds puts a strong emphasis on data control and user privacy, giving users full sovereignty over how their content is shared online.
One of the unique features of the Minds platform is that it allows users to set their own algorithm. Beyond that, users are rewarded for creating and posting engaging content and can spend the platform's native token, $MINDS, to boost their own posts and grow their audience.
Alternative to: Facebook, Twitter
Key Takeaways
Built on the Ethereum blockchain.
Rewards users with cryptocurrency payments.
Unique set-your-own-algorithm feature.
On the Flipside
The task that lies ahead of decentralized social networks is undeniably daunting. Social media giants like Meta and Twitter completely dominate the industry, leaving little room for competition.
Why This Matters
Decentralized social networks are a fascinating and novel use of blockchain technology that helps people regain control of their online experience. Despite being a relatively undiscovered niche in the crypto space, there is a wide variety of DeSo platforms to explore and experiment with.
FAQs
Is decentralized social media the future?
While decentralized social media has plenty of desirable benefits that make it an exciting and progressive niche, it's hard to say whether it will overthrow traditional centralized platforms.
What is the decentralized Twitter alternative?
The list laid out in this article suggests some excellent decentralized Twitter alternatives, including Lens Protocol, Mastodon, and Minds.
What is an example of decentralized social media?
This article contains several good examples of decentralized social media, from Instagram competitors like PixelFed to Reddit alternatives like Steemit.
How does decentralized social media make money?
Decentralized social media platforms generally rely on a successful crypto economy and user adoption to make money. Because most decentralized social networks are advertising-free, they do not earn revenue from selling user data.