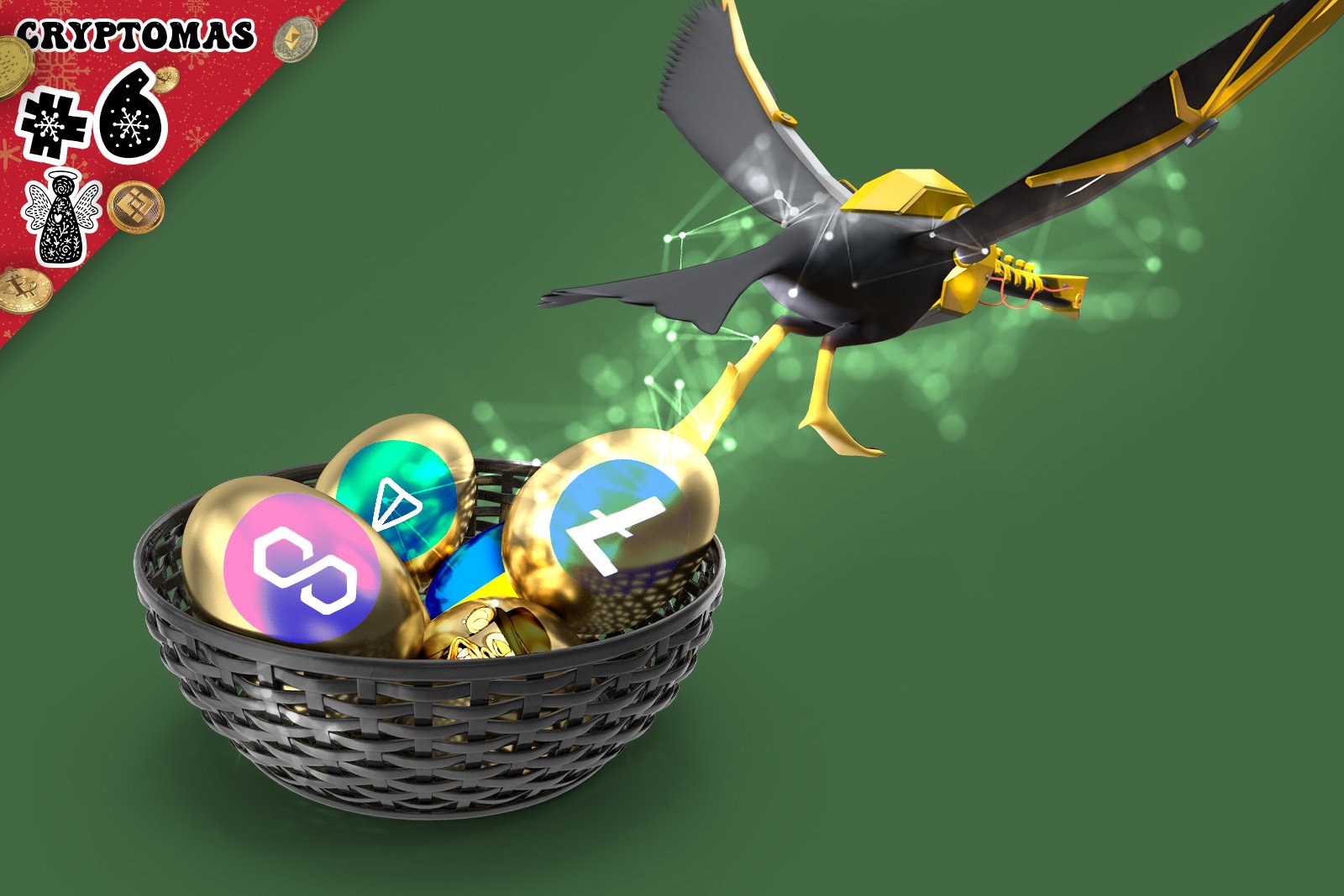 While our 'Twelve Days of Cryptomas' series has aimed to instill some festive cheer this year, we acknowledge that the industry has faced some setbacks. Even so, the six crypto geese were laying and produced several golden eggs for the industry that helped spread the good word of crypto, furthering the cause of mainstream adoption.
As Christmas and the New Year draw closer, the mercurial world of crypto has to come to terms with the prolonged, ongoing crypto winter. After the two heavy blows of the Terra (LUNA) and FTX scandals, Santa Claus definitely has Do Kwon and Sam Bankman-Fried on his Naughty List.
Although the ruthless bears continue to hunt for weak spots, these five golden eggs made significant breakthroughs in the crypto space this year, empowering blockchain technology to shine in the public eye.
Still suffering from war, Ukraine ranks third in the world by crypto adoption. Ukraine's capital Kyiv aims to build itself as a popular crypto hub in Eastern Europe. At the same time, Alex Bornyakov, the Deputy Minister of Digital Transformation for Ukraine, shares heartfelt stories on why cryptocurrencies have become so popular in the embattled European nation.
According to Bornyakov, crypto is "providing flexibility and speed that literally saved our soldiers' lives. Every 'crypto winter' leads to a 'crypto spring', but the industry is here to stay."
On top of that, Ukrainian President Volodymyr Zelensky was used as inspiration for the 'Freedom Squares' NFT collection, which immortalized every square inch of Ukraine in NFT form. Naturally, the 'Freedom Squares' collection was a great success and contributed towards helping Ukraine with $2 million in donations.
Last but not least, North Atlantic Fellas Organization (NAFO) has been using Dogecoin's (DOGE) mascot as its own mascot. The social media movement, based on internet memes, is designed to fight back against the disinformation spread by the occupier.
In addition, Vice Prime Minister of Ukraine Mykhailo Fedorov created a DOGE wallet for the Ukrainian Army back in March, allowing generous donors to support the country's armed forces with the popular meme coin.
Stand with the people of Ukraine
Now accepting cryptocurrency donations. Ethereum. Bitcoin and Tether (USDTtrc20)

BTC — 357a3So9CbsNfBBgFYACGvxxS6tMaDoa1P

ETH — 0x165CD37b4C644C2921454429E7F9358d18A45e14

USDT (trc20) — TEFccmfQ38cZS1DTZVhsxKVDckA8Y6VfCy

— Mykhailo Fedorov (@FedorovMykhailo) February 26, 2022
Polygon (MATIC) made it into the spotlight early this year as the only blockchain company to be nominated for the 'Disney Accelerator Program.' Perhaps one reason for this decision is that the developers prefer building on carbon-neutral blockchain technology, as denoted by the eightfold increase in dApps on Polygon (MATIC).
The blockchain and its projects were also welcomed onto Magic Eden, one of the largest global NFT marketplaces. Over and above that, the altcoin reclaimed the #10 spot in the crypto rankings with a market cap of more than $8bn at the time of writing.
The Ethereum scaling solution wasn't done there, though, as it released a couple of successful NFT collections. Particularly illustrating this, Coca-Cola teamed up with MATIC for the Pride NFT collection. The series fetched over $575,000 on launch. Finally, MATIC powers Starbucks' entrance into Web3 with Starbucks Odyssey for coffee lovers around the globe.
1. Starbucks Web3 Platform in 60 Seconds

Starbucks Odyssey beta went live yesterday as one of the first attempts by a fortune company to gamify brand loyalty.

🧵/It's good, but it could be much better! pic.twitter.com/c6498P2mF8

— EROD (@erodwrld) December 10, 2022
The OG Litecoin (LTC) has been around since 2011, when it was forked from the father of all cryptocurrencies, Bitcoin (BTC). As a slightly modified version of Bitcoin's codebase, LTC offers lower transaction fees and faster validation. Now, the 11-year-old altcoin has become a popular online payment method, with payment processor giant BitPay reporting that LTC is the go-to choice for many customers.
Throughout 2022, LTC has shown stability and even left behind popular new emerging cryptocurrencies like Solana (SOL), Shiba Inu (SHIB), and Avalanche (AVAX) by market capitalization. Nicknamed "Digital Silver," the #14 ranked OG altcoin had a great run in May when the crypto markets were bleeding heavily in the wake of the Terra (LUNA) fiasco.
Litecoin later activated the MimbleWimble (MWEB) upgrade, gaining trust from the crypto community still terrified by Terra (LUNA). Currently, the veteran altcoin is having its best month since the Terra (LUNA) crash, as LTC is up by an impressive 30% in the last 3o days.
JUST IN: ​Litecoin on the rise as top payment method according to BitPay.

— whalechart.org 🐳 (@WhaleChart) December 13, 2022
4. Bored Apes at the MTV Awards
The Bored Ape Yacht Club by Yuga Labs has become easily the most widely adopted blue-chip NFT collection. Huge names across film, television, and music bought into the collection, with Eminem among them. The legendary rapper bought his Bored Ape NFT for $500,000, making it his profile pic on Instagram.
Later in the year, Eminem and Snoop Dogg collaborated on a music video titled From The D 2 The LBC, which featured the duo's BAYC avatars. In a big moment for industry adoption, the song went on to be performed at this year's MTV VMA Awards.
Snoop Dogg liked his Dr. Bombay Bored Ape enough to open a BAYC-themed eatery. The iconic rapper announced plans to open a sweet shop in Los Angeles, California. Of course, the confectionery in LA would accept crypto as a payment method, and members of the Bored Ape Yacht Club would get exclusive deals.
5. Toncoin (TON) by Telegram
Toncoin (TON), the newly launched cryptocurrency by one of the world's most popular instant messaging apps, has emerged into the TOP 30 of crypto by global market cap. Now worth over $3.5bn, the fourth most popular messaging app's native token is shining due to Telegram's new blockchain identity feature.
With the new upgrade, users don't have to use a SIM card to register an account but instead can create a blockchain technology-based identity for a fee paid in TON. Telegram is one of the first platforms to introduce Web3-based verification. It proudly states in its official blog that the move is bringing "a new era of privacy" for its 700 million monthly active users.
Sweatcoin (SWEAT), the popular walk-for-crypto app, launched Sweat Economy (SWEAT) on September 13th, 2022. The first-of-its-kind physical exercise-based cryptocurrency shot up to $0.09 a day after launch but now trades below $0.015.
Chiliz (CHZ) had a couple of bull runs amid very harsh crypto conditions, coming out on top of the key resistance level of $0.27. However, the soccer-related blockchain was hit with FIFA World Cup controversy while recovering from the Terra (LUNA) crash.
Polygon (MATIC) and Litecoin (LTC) are down by 53% and 51% yearly, respectively.
Toncoin (TON) also recorded a small deficit of 5% despite entering the top 30 by market cap.
Crypto and blockchain projects that thrive during vicious bear markets stand out from the crowd and accelerate retail crypto adoption.