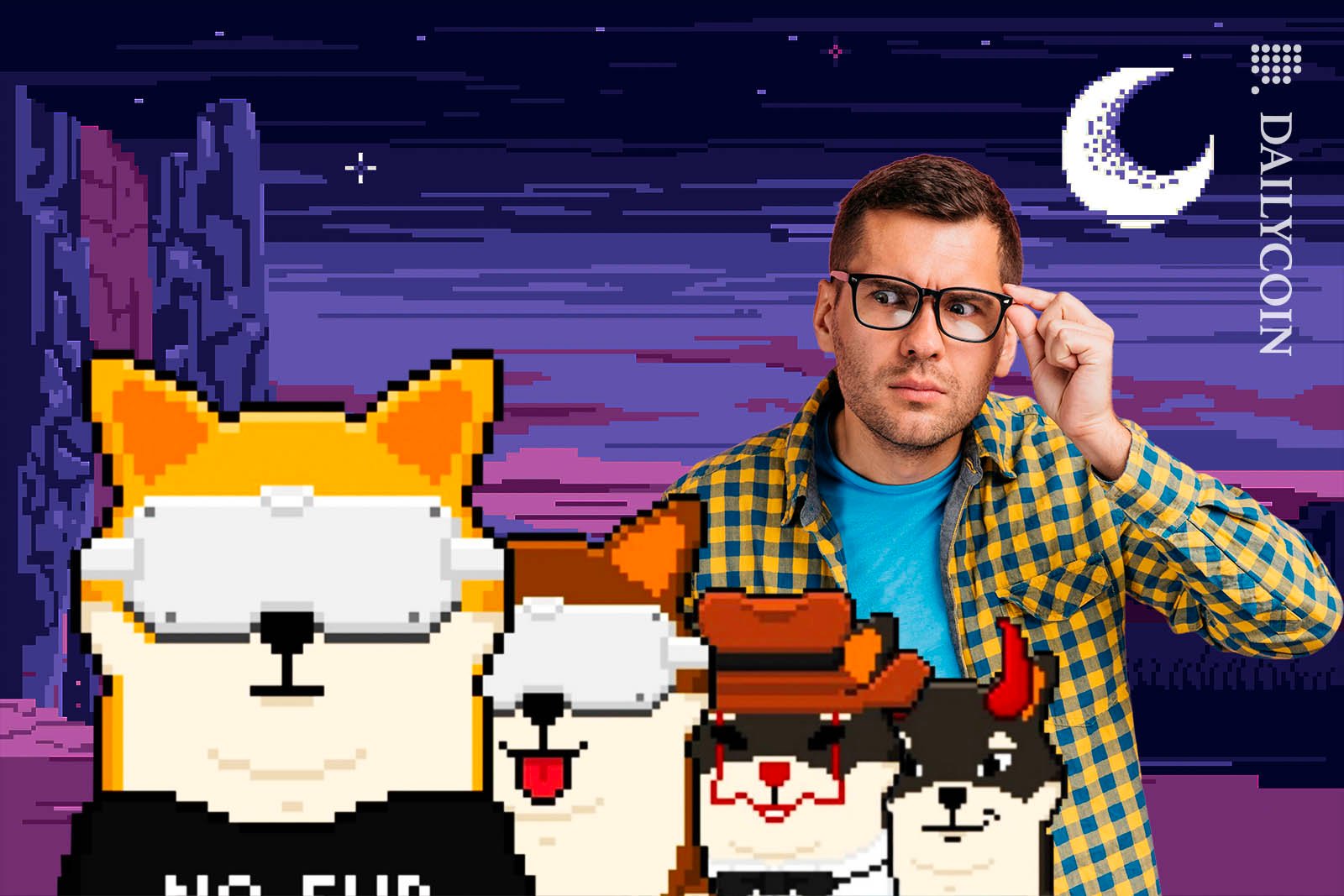 Shiboshi NFTs are the ultimate collector's item within the Shiba Inu ecosystem. For the passionate and devout members of the SHIB Army, repping a Shiboshi on Discord or 𝕏 is a mark of respect and pedigree amongst the Shiba Inu (SHIB) community.
Living on the Ethereum blockchain, these quirky Shibas benefit their holders. In this article, we'll dive into what makes Shiba Inu's non-fungible tokens so special and why SHIB fans might be interested in collecting one.
What Are Shiboshis?

The Shiboshis are a collection of 10,000 NFTs launched by the Shiba Inu cryptocurrency meme coin project. Individually unique, each Shiboshi is etched onto the Ethereum (ETH) blockchain, the home of NFT culture and the birthplace of Shiba Inu's crypto journey.
Inspired by, obviously, a Shiba Inu, these digital collectibles are all completely one-of-a-kind and feature a variety of fun and eccentric traits. From laser eyes to party hats, each Shiboshi boasts individual characteristics that give it a unique identity.
As we venture deeper, you'll discover that Shiboshis aren't merely for show. Every Shiboshi comes packed with utility and plays a role in shaping the future of the Shiba Inu.
Shiboshi NFT Benefits and Utilities
Shiboshi holders own more than humble pixelated NFT. Each Shiboshi acts like a golden ticket that unlocks new experiences and deeper connections with the Shiba Inu ecosystem and SHIB Army.
Let's take a quick look at the perks of holding a Shiboshi.
Shiboshi Social Club
Like the Soho House of Shiba Inu, the Shiboshi Social Club is an elite group for like-minded members of the SHIB army. It's a space where SHIB loyalists can network, share insights, and celebrate their passion for the Shiba Inu ecosystem.
Being part of the Shiboshi Social Club means having a direct line to Shiba Inu developers like Shytoshi Kusama. It's a rare opportunity to engage, ask questions, and get firsthand information on the Shiba Inu's future.
In many ways, the Shiboshi Social Club functions as a Shiba Inu alpha group. Members of this exclusive club wind up with new developments, upgrades, and releases before the bulk of the Shiba Inu community, putting them one step ahead.
Shiboshi NFTs in SHIB: The Metaverse
While nothing has been confirmed and set in stone, Shiboshi NFTs are set to play a pivotal role within SHIB: The Metaverse, the Shiba Inu community's virtual world and digital playground.
In theory, Shiboshis aren't confined to static displays. They're expected to come alive in the Shiba Inu metaverse, potentially serving as avatars or digital entities that users can interact with, enhancing the immersive experience.
In the same way that the Shiboshi Social Club offers exclusivity in the Web3 world, the SHIB metaverse might feature zones or areas accessible only to Shiboshi holders. These could be special events, virtual gatherings, or unique gameplay arenas.
The traits and characteristics of each Shiboshi could have specific utilities within the metaverse. For instance, a Shiboshi with laser eyes might have enhanced vision or other capabilities in a virtual environment.
Moreover, Shiboshi owners might have the chance to trade, lease, or showcase their NFTs in virtual galleries, potentially unlocking new economic opportunities.
Before you get too excited and run to Opensea or Blur to buy a Shiboshi NFT, it's important to remember that these utilities are still speculative. While the SHIB Army loves to theorize what Shiboshis might be used for in the metaverse, nothing has been confirmed.
Shiba Eternity and Other Shiboshi Games
A growing network of Shiba Inu games has been whispered throughout the Shiba Inu community for years. While the official Shiboshi game mentioned on the Shibaswap website has yet to materialize, other games like Shiba Eternity have found their way into the hearts and mobile devices of the SHIB Army.
Shiba Eternity is a strategic trading card game built within the Shiba Inu universe. Players can download the app, create a Shiboshi avatar, and wage compelling battles against other players.
While in-game characters are called Shiboshis, they're not to be confused with the original NFT collection. The Shiba Inu roadmap indicates that Shiba Eternity will support blockchain integration in the future, so perhaps being a Shiboshi holder will unlock gameplay benefits further down the line.
Shiboshi Renaming
As if Shiboshi NFTs weren't unique enough already, the Shiba Inu team unveiled a fun utility that helps holders establish a deeper personal bond with their collectibles. Take a look at BatShib Crazy!
For $100 paid in SHIB tokens, holders can rename their favorite Shiboshi to whatever they like. Not only does this help to add a touch of personality and individuality to each NFT, but the funds collected by the renaming mechanism are automatically burned and removed from the total supply of SHIB tokens forever.
The Shiboshi Launch
The Shiboshi launch took the Ethereum blockchain and crypto news outlets by storm. Minting on October 14, 2021, the 10,000-strong Shiboshi NFT collection sold out in 34 minutes. Unlike most NFT mints of the time, which were priced in ETH, the Shiboshi collection followed a different dynamic pricing structure.
In a nod to the community's loyalty and to drive value to Shiba Inu ecosystem tokens, the Shiboshi mint was priced in LEASH. On top of that, LEASH token holders were given priority during the minting phase, ensuring that the most ardent supporters had the first shot at owning a piece of Shiba Inu history.
The Shiboshis were introduced with a tiered pricing strategy. Paid in LEASH, the initial 3,000 were minted at 0.1 ETH each, followed by 5,000 at 0.2 ETH, and the final 2,000 at a LEASH value of 0.3 ETH. This dynamic pricing was designed to encourage and reward early minters.
Shiboshi Pros and Cons
Every NFT collection, regardless of who creates it, comes with advantages and challenges. The Shiboshis are no exception. Let's delve into the pros and cons of these unique Shiba Inu NFTs.
Pros
Utility-Driven – Unlike many NFTs that serve primarily as digital art, Shiboshis come with tangible utilities like entrance into the Shiboshi Social Club.
Strategic Tokenomics – The Shiboshi renaming mechanism provides a novel way to personalize your Shiba Inu NFTs while burning SHIB tokens.
Continuous Development – The Shiba Inu team's commitment to continuous development ensures that Shiboshis will remain relevant, with new utilities, features, and integrations on the horizon.
Cons
Market Volatility – Like all crypto assets, Shiboshis are subject to market volatility and are currently down around 85% from their all-time high in USD. Their value can fluctuate based on broader market trends, sentiment, and external factors.
Ethereum Gas Fees – The Shiboshi launch, while successful, highlighted the challenges of Ethereum's gas fees. These gas fees can make interacting with your Shiboshi expensive.
Future Uncertainties – NFTs as an asset class face plenty of scrutiny. There are uncertainties about future developments, regulatory landscapes, and technological advancements that could impact the Shiboshi collection.
On the Flipside
With the (relatively) successful launch of Shibarium, Shiboshi NFTs are expected to transition to the new Shiba Inu Layer-2 Scaling solution. This should resolve lingering complaints about Ethereum gas fees impacting Shiboshi interactions and utilities.
Why This Matters
The Shiboshis are the official NFT collection of the Shiba Inu ecosystem. Shiba Inu's expansion and growth have given it significant traction and support against its rival meme coins, like Dogecoin (DOGE).
FAQs
How do you get Shiboshis?
You can buy Shiboshis on NFT marketplaces like Opensea, Blur, or the Binance NFT platform.
What is a Shiboshi?
A Shiboshi is an Ethereum-based NFT designed and used within the Shiba Inu ecosystem.
How much is the Shiboshis price?
Shiboshis were originally minted in LEASH, a native Shiba Inu token, at a 0.1-0.3 ETH value. Since then, Shiboshi NFTs have found support and traded between 0.2-0.3 ETH for many months.