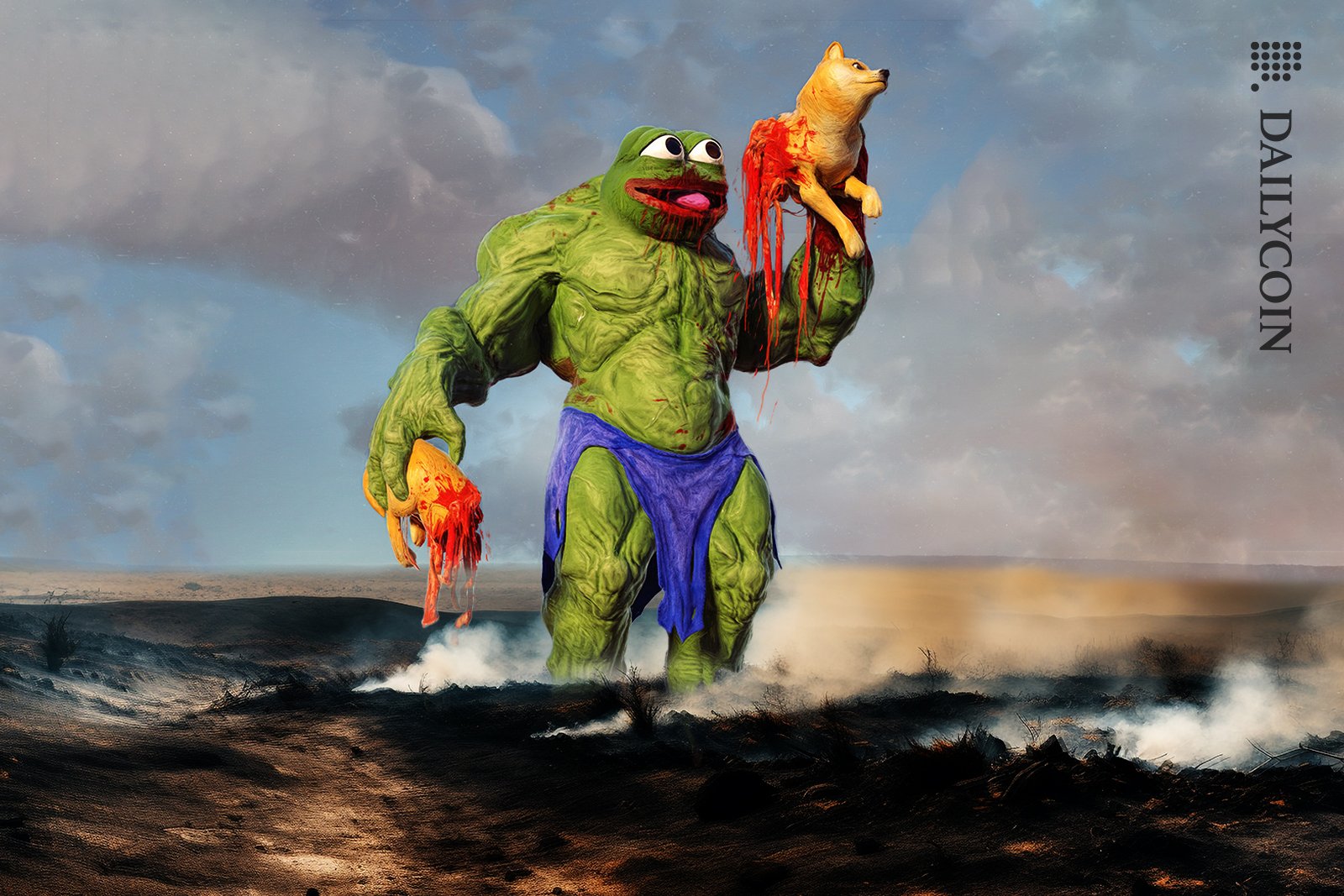 Newcomer memecoin PEPE soared 132% amid its Binance listing on Friday.
Daily charts turn bearish for PEPE, Dogecoin in the consolidation phase.
DOGE and PEPE fans are fighting on Twitter as both memecoins plunge.
The famous NFT artist Beeple took to Twitter to share his new work – a giant Pepe contentedly eating the Dogecoin mascot. The post-apocalyptic avant-garde art set off a fiery reaction from Crypto Twitter. Divided into two camps, crypto enthusiasts are now responding with their own AI-powered artwork.
Memecoin Rivalry Gets Intense
Last Friday, the emerging caecilian cryptocurrency Pepe (PEPE) was included in Spot Trading for Binance, along with another popular memecoin Floki (FLOKI). During the launch day on Binance, $PEPE skyrocketed to TOP 50 by crypto's global market capitalization with immediate 132% gains.
However, things are not looking as easy for $PEPE now. The month-old memecoin plunged by 50%, leaving one recent investor down $500,000, according to Crypto Twitter. The sudden 50% drop in PEPE's market value wasn't left unnoticed crypto traders, who pointed out that Shiba Inu (SHIB) gained around 1000% on Binance launch.
More Setbacks for DOGE?
Ultimately, Crypto Twitter is divided over PEPE's longevity. At press time, Pepe is changing hands at $0.00000228 with a 21% daily downturn, according to CoinGecko. Interestingly, the #52 claiming $PEPE fell below the $1bn market capitalization mark after its Binance listing.
Currently, the frog-themed coin has a global market cap of $956,420,211. Notably, the crypto newcomer has already surpassed veteran projects like Chiliz (CHZ), Terra Luna Classic (LUNC), and Decentraland (MANA) by market cap in just three weeks since launch.
Meanwhile, the top dog memecoin Dogecoin (DOGE) is in a phased consolidation stage. At press time, the leading canine coin trades at $0.074, according to CoinGecko. Even though three bearish on-chain signals follow the consolidation period for DOGE, DOGE declined less in the last seven days than rival coins SHIB and BABYDOGE.
On the Flipside
Initially, Binance didn't want to list Pepe (PEPE) due to safety issues for investors.
CoinMarketCap (CMC) placed two warnings on PEPE's 'fair launch concerns.'
Why You Should Care
Memecoins often spark altcoin rallies and get a lot of new retail investors into crypto.
Delve into the latest DailyCoin crypto news:
Shorting Frauds: What It Takes to Become an Activist Short Seller
Whales Accumulate Shiba Inu as SHIB Price Freefall Continues