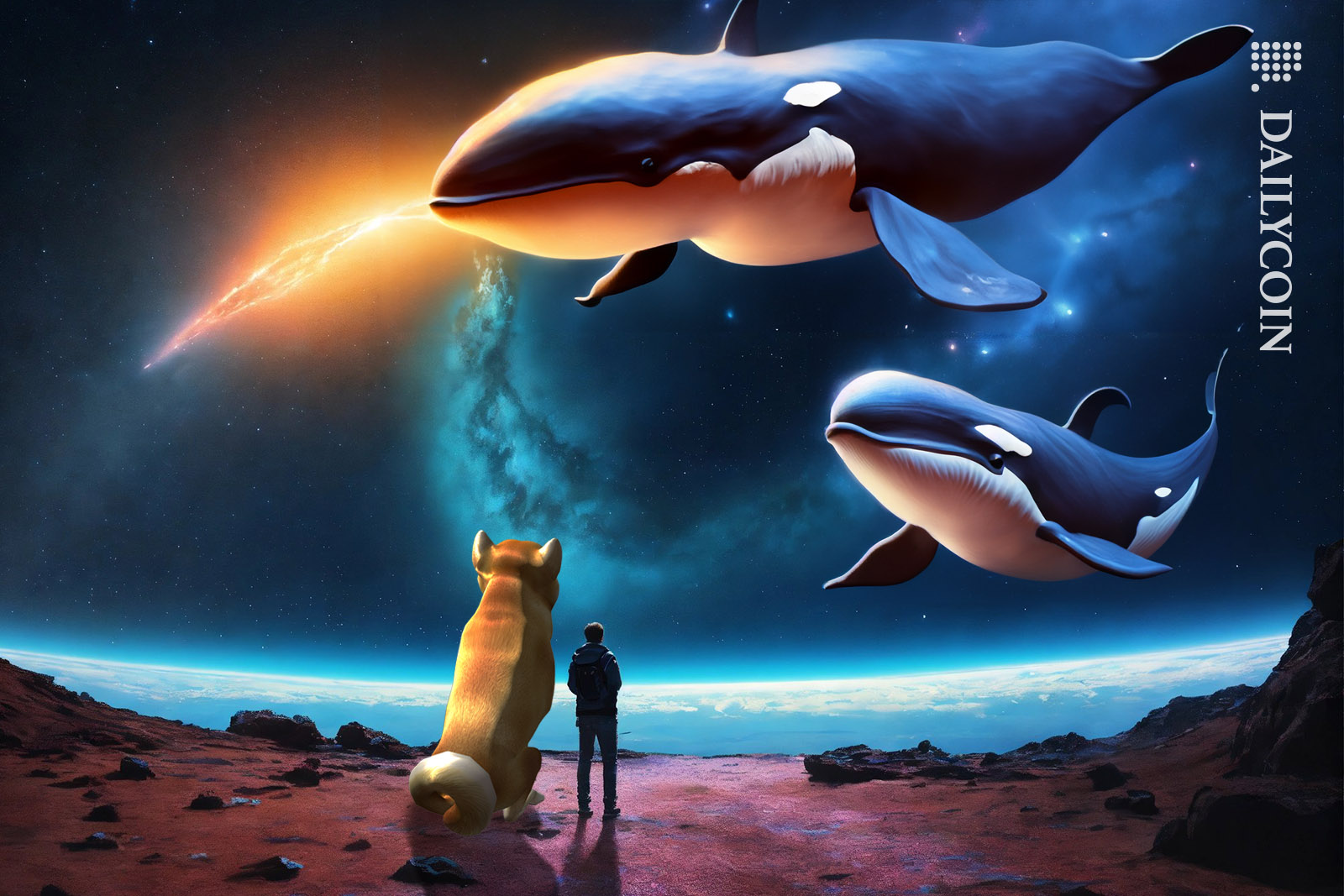 PoW blockchain Dogecoin soared to its highest price in half a year.
DOGE traded in an ascending parallel channel throughout the month.
Centralized exchanges see inflow of DOGE despite strict DeFi stance.
Every dog has its day in the latest Bitcoin ETF-infused cryptocurrency rally. Indeed, the top dog meme coin Dogecoin (DOGE) tapped its 6-month high today, approximately 1 day and 9 hours ago since one cryptocurrency whale had shuffled a whopping 690 million Dogecoins between two crypto wallets.
This unusual whale activity was spotted by WhaleAlert, whilst the on-chain signals for $DOGE also point to an increasing number of large transactions over the last 7 days, now standing at $1.87 billion, according to blockchain analytics enterprise IntoTheBlock.
Meanwhile, Dogecoin's daily price channel has $DOGE jumping above three key support lines. Fetching 8% gains in the last 24-hour period, $DOGE had been trading in an ascending parallel trading channel in the last 30 days. Dogecoin (DOGE) towered to the $0.08 price range on November 11, 2023, but didn't break resistance on the first attempt to break the 8-cent barrier.
This time, the #10 ranked OG meme coin Dogecoin (DOGE) reached $0.082, later facing a slight market correction to trade at $0.079596 at the time of this publication. According to on-chain data, 59% of DOGE holders are currently making a profit at this price rate.
Crypto Whale's $50M DOGE Shuffle Stirs The Waters
One enigmatic Dogecoin whale sparked speculation yesterday when a colossal 693,123,289 DOGE was transferred between on-chain wallets. Converting to fiat, this massive Dogecoin shift was valued at $50,271,845 at the stamped transaction time. Aside from the positive price shift, the move enkindled optimism in the Dogecoin community, evident in encouraging Twitter posts.
Surely, the bold move caught the attention of the public's eye, even though concentration & large transactions remain neutral on the Proof of Work (PoW) blockchain. While it didn't have an immediate impact on $DOGE's price, Dogecoin scorched past three key support lines in the latest 24 hours.
Given that DOGE continues hovering above the confluent resistance at $0.07734, the crypto bulls could take over the steering wheel for longer. Additionally, the historically high correlation of 0.95 between DOGE and crypto's leading asset BTC could serve as a catalyst for DOGE to sustain the positive momentum.
This month's prime setup for a gradual breakout has been discussed by multiple pro-crypto traders on X, including the Doge Coach, who reacted to DOGE's price movement cheerfully declaring: "This is looking promising!". Meanwhile, other crypto traders like Hermann the German see an opportunity for $DOGE to break $0.10 if the bullish wave persists.
On the Flipside
Previously, the Dogecoin Foundation member Misha Boar strongly advised the DOGE Army to withdraw funds from centralized exchanges.
Due to centralization shortcomings and a fresh tide of online phishing scams this year, the Dogecoin Foundation chair member offered self-custodial cold wallets as the safer choice.
Despite the stark warning, the majority of Dogecoin tokens in circulation are being traded on centralized exchanges (CEXs), with Binance taking the lion's share of approximately 15% of volume, while HTX, Coinbase & OKX are also among the leading platforms for DOGE trading.
Why This Matters
Dogecoin is a long-term TOP 10 contender by global cryptocurrency market capitalization, as well as the largest Proof of Work (PoW) blockchain besides the king crypto Bitcoin (BTC).
Discover DailyCoin's top cryptocurrency news:
Atomic Wallet Integrates Shibarium L2, Enraging Hack Victims
$70M Polygon (MATIC) Hits Exchanges Fueling Price Dump Fears