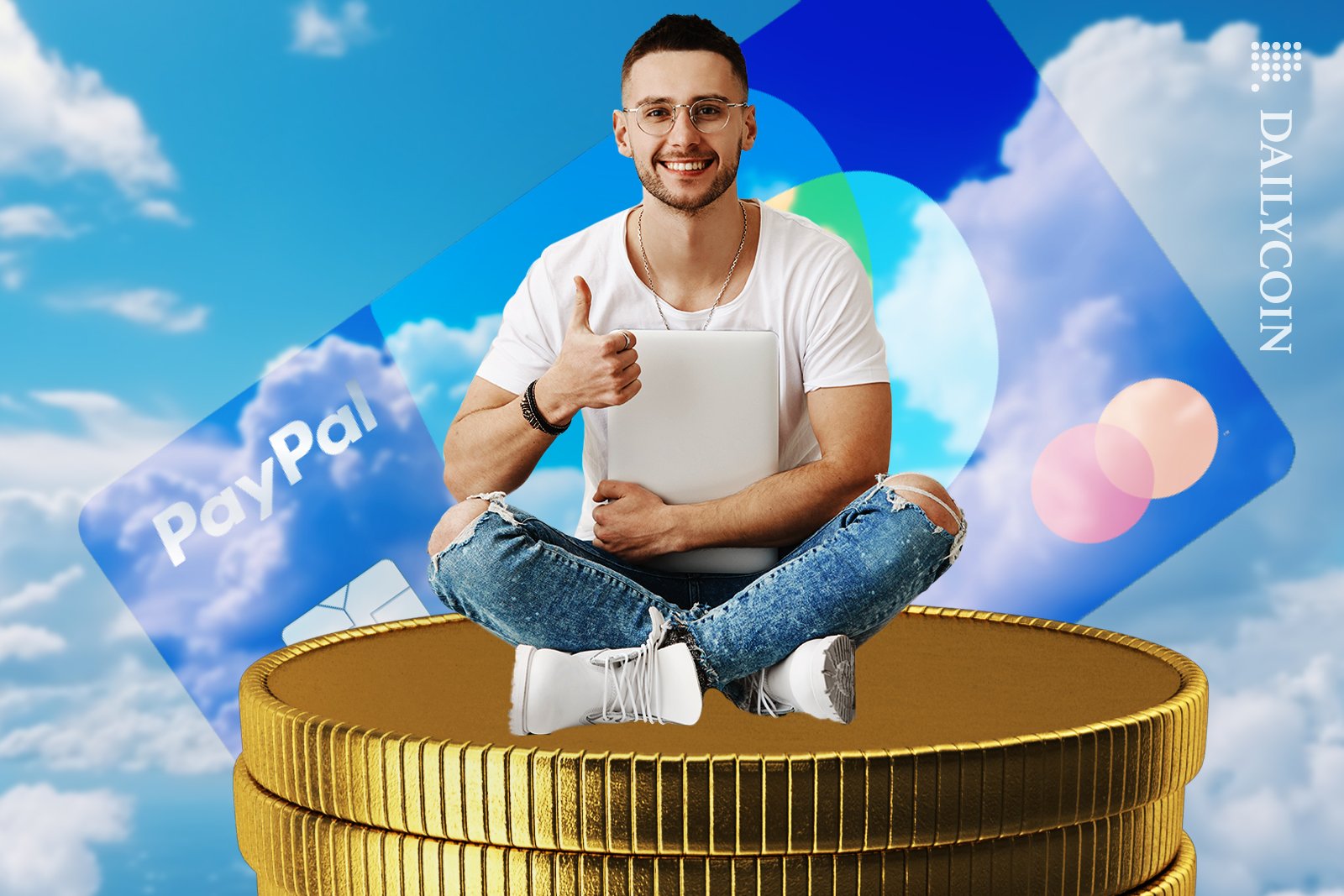 Crypto exchanges that accept PayPal are helping to bridge the gap and onboard thousands of beginners to the cryptocurrency market.
PayPal is known for its fast fiat currency transactions, low fees, and, most importantly, its simplicity. It's no secret that the crypto market can seem complicated from the outside, so integrating PayPal payments for crypto purchases is a no-brainer that makes buying Bitcoin (BTC) and altcoins like Ethereum (ETH) and Litecoin (LTC) easier than ever.
This article will guide you through the top crypto exchanges that accept PayPal, making your entry into the crypto market smoother and more accessible.
Why Use PayPal With a Crypto Exchange?
PayPal, a well-established name in the online payment sector, offers a user-friendly interface that most of us are already comfortable with. This familiarity can be a significant advantage when venturing into the relatively new and complex world of digital assets.
What's more, PayPal transactions are fast. Unlike traditional bank transfers that can take a few days, PayPal deposits and withdrawals are processed within minutes. This speed can be crucial in the fast-paced crypto market, where prices move suddenly, and you need to be able to buy or sell crypto quickly.
Additionally, PayPal offers a layer of security to your transactions. You can easily set up essential security functions like Two-Factor Authentication from within the PayPal app, which helps to protect your PayPal balance.
However, it's important to note that not all crypto exchanges accept PayPal for various reasons. Even the top PayPal crypto platforms have some slight workarounds you'll need to know.
Fortunately, we're here to guide you through all that and help you find a crypto exchange that accepts PayPal and meets your individual needs!
Best Cryptocurrency Exchanges That Accept PayPal
It might surprise you, but not many crypto exchanges accept PayPal. Even within this niche group, there are still some obstacles to overcome. For example, using PayPal as a deposit method might be restricted to certain geographic locations, while other exchanges will only accept Paypal for P2P or OTC trading markets.
As we dig a little deeper, we can see that some of the top trading platforms support PayPal purchases and provide a host of extra features, like crypto credit cards and staking services. Let's take a closer look at the best crypto exchanges that are PayPal-friendly.
1. Coinbase
Often called 'The People's Exchange,' Coinbase is a cryptocurrency exchange renowned for its user-friendly interface and tight security. Founded by Brian Armstrong, Coinbase is a favorite among beginners due to its intuitive design and easy-to-understand educational resources.
For customers based in the US, Coinbase and PayPal go together like cheese and crackers. US customers can add USD to their Coinbase account with PayPal and immediately buy and fill their crypto wallet.
Outside the United States, things are a bit more complicated. Internationally, Coinbase doesn't directly accept PayPal for deposits or purchases. However, it allows users in certain regions to withdraw their funds to PayPal, making it easy to exit the crypto market efficiently and safely get your funds back to your app or bank account.
Coinbase supports a wide range of cryptocurrencies, from the well-known Bitcoin and Ethereum to lesser-known altcoins. It also offers features like recurring buys and price alerts, making it easier to manage your crypto investments.
If you want to start using Coinbase, there's one final point worth mentioning. Trading fees start from around 0.60%, while deposit fees cost over $10 USD.
Key Takeaways
US Customers can deposit and withdraw USD using their PayPal account
User-friendly interface and tight security
2. Etoro
I admit we're starting to blur the lines of crypto exchanges. However, I think this is justified in the case of eToro's industry-leading PayPal support. eToro is one of the world's most popular trading platforms, offering everything from traditional stocks to crypto altcoins.
Known for its unique "copy trading" feature, the social trading platform is an excellent option for those looking to use PayPal in their crypto trading journey. With a strong presence in over 200 countries and millions of users worldwide, eToro has made a name in online trading.
For PayPal users, eToro offers a seamless experience. The platform allows you to deposit funds into your eToro account at a favorable exchange rate using PayPal, which you can use to buy, sell, and trade common cryptocurrencies.
One of the critical things customers like about eToro is its social trading aspect. You can follow and interact with other traders, read their insights, and even copy their trades. Social trading is helpful for beginners who are learning the ropes from more experienced traders.
Despite its perks, eToro has one glaring issue. While you can trade crypto on the platform, you don't have access to your private keys, which might be necessary for cryptocurrency purists who believe in self-custody.
If you think eToro might be for you, check out our helpful step-by-step guide on how to buy Dogecoin on eToro.
Key Takeaways
Popular exchange for both cryptocurrency and traditional financial assets
Social trading features help beginners learn to trade
Seamless PayPal integration
3. Binance
Binance, the largest crypto exchange by pretty much every known metric, is known for its deeply liquid markets and a vast range of extra features.
For PayPal users, Binance provides an easy way to purchase crypto assets. Although Binance doesn't directly accept PayPal deposits, it offers a workaround through its P2P Marketplace. You can buy cryptocurrencies like Tether (USDT) and Bitcoin Cash (BCH) directly from sellers using PayPal.
Beyond having a great spread of digital currencies. Binance has plenty of great value-added features that you can explore, like its crypto launchpad, NFT marketplace, and extra financial services.
Key Takeaways
Largest crypto exchange in the industry
Supports Paypal P2P crypto trading
Wide range of extra features
Low fees
4. OKX
Enter OKX, another contender in the realm of PayPal-friendly crypto exchanges. Formerly known as OKex, OKX is known for its advanced trading features, making it a popular choice among seasoned traders.
For PayPal users, OKX offers a P2P marketplace where you can buy and sell cryptocurrencies directly with other users using PayPal. This feature provides a convenient way to use your PayPal funds to enter the crypto game.
One of the standout features of OKX is its comprehensive suite of trading options. From spot trading to futures, options, and even perpetual swaps, OKX caters to traders looking for various ways to trade crypto.
Rounding out OKX's robust offerings is a committed emphasis on security. When safeguarding your digital assets, OKX doesn't muck around, using strict measures like cold wallets, anti-phishing codes, and two-factor authentication to protect users' crypto.
Key Takeaways
P2P marketplace supports PayPal as a payment method
Popular exchange with robust security and value-added features
Low fees
5. BitStamp
BitStamp, one of the oldest cryptocurrency exchanges, has earned a reputation for its reliability and high liquidity. Established in 2011, this Luxembourg-based exchange offers many cryptocurrencies and advanced trading features.
For customers based in the US or EU who want to buy Bitcoin with PayPal, BitStamp offers one of the most seamless processes available. It's as simple as registering and connecting your PayPal account. You can transfer your fiat currency from the PayPal app to the BitStamp platform and dive into trading.
On top of that, BitStamp is known for its transparent fee structure and high trading volume, making it a reliable platform for trading cryptocurrencies. If you're looking for a well-established and secure platform that accepts PayPal indirectly, BitStamp could be a great choice.
Key Takeaways
Lesser-known exchange than others on this list
Buy and sell cryptocurrencies using PayPal
Quality security features and transparent fees
6. Paxful
Rounding out our list of crypto exchanges that accept Paypal is none other than Paxful. A peer-to-peer (P2P) platform, Paxful offers a unique approach to buying and selling cryptocurrencies by connecting buyers and sellers directly, allowing them to negotiate their terms and payment options, including PayPal.
With over 300 payment methods available, including PayPal, Paxful offers one of the most flexible platforms for buying and selling Bitcoin and Ethereum. The platform acts as an escrow service, holding the funds until both parties confirm the transaction.
One of the advantages of Paxful is its 24/7 live chat support, assisting whenever you need it. However, it's worth noting that due to the P2P nature of the platform, the fees can be higher due to blockchain transaction fees.
Key Takeaways
Huge range of payment methods, including PayPal, credit/debit cards, and bank account deposits
Not as well-known as Binance, Coinbase or OKX
24/7 live chat support
P2P crypto trading market
Pros and Cons Of Using PayPal with a Crypto Exchange
Using PayPal with a crypto exchange can offer several advantages but also a few potential drawbacks.
Pros
Simple – PayPal is one of the world's most widely accepted payment methods making it a convenient option for many users.
Fast – PayPal transactions are processed quickly, helping you deposit funds and start trading in minutes.
Secure – PayPal uses robust security measures, safeguarding your funds against hacks.
Cons
Limited Availability – Not all crypto exchanges accept PayPal due to concerns about chargebacks and other potential issues. This limits the number of platforms you can use.
Fees – Some crypto exchanges may charge additional fees for PayPal transactions different from their standard rates.
Withdrawal Restrictions – Some exchanges only allow PayPal to be used for withdrawals, not deposits or purchases. This could limit your ability to buy cryptocurrencies with PayPal.
On the Flipside
While PayPal is convenient and popular, it requires KYC to use in most cases. This might discourage crypto users who value their anonymity and privacy.
Why This Matters
Integrating PayPal into as many blockchain-based platforms and services as possible will make the crypto industry far more accessible than it currently is. On the path toward mass adoption, familiar platforms like PayPal will help bring new users to the space.
FAQs
Which apps let you buy crypto with PayPal?
Mobile apps like BitStamp and eToro make it easy to buy crypto assets using PayPal.
Does Bitstamp accept PayPal?
Yes, BitStamp accepts PayPal deposits and withdrawals. This makes it one of the most seamless PayPal-friendly crypto exchanges.
Is PayPal crypto available in Europe?
You can buy and store crypto assets like Bitcoin and Ethereum using PayPal.