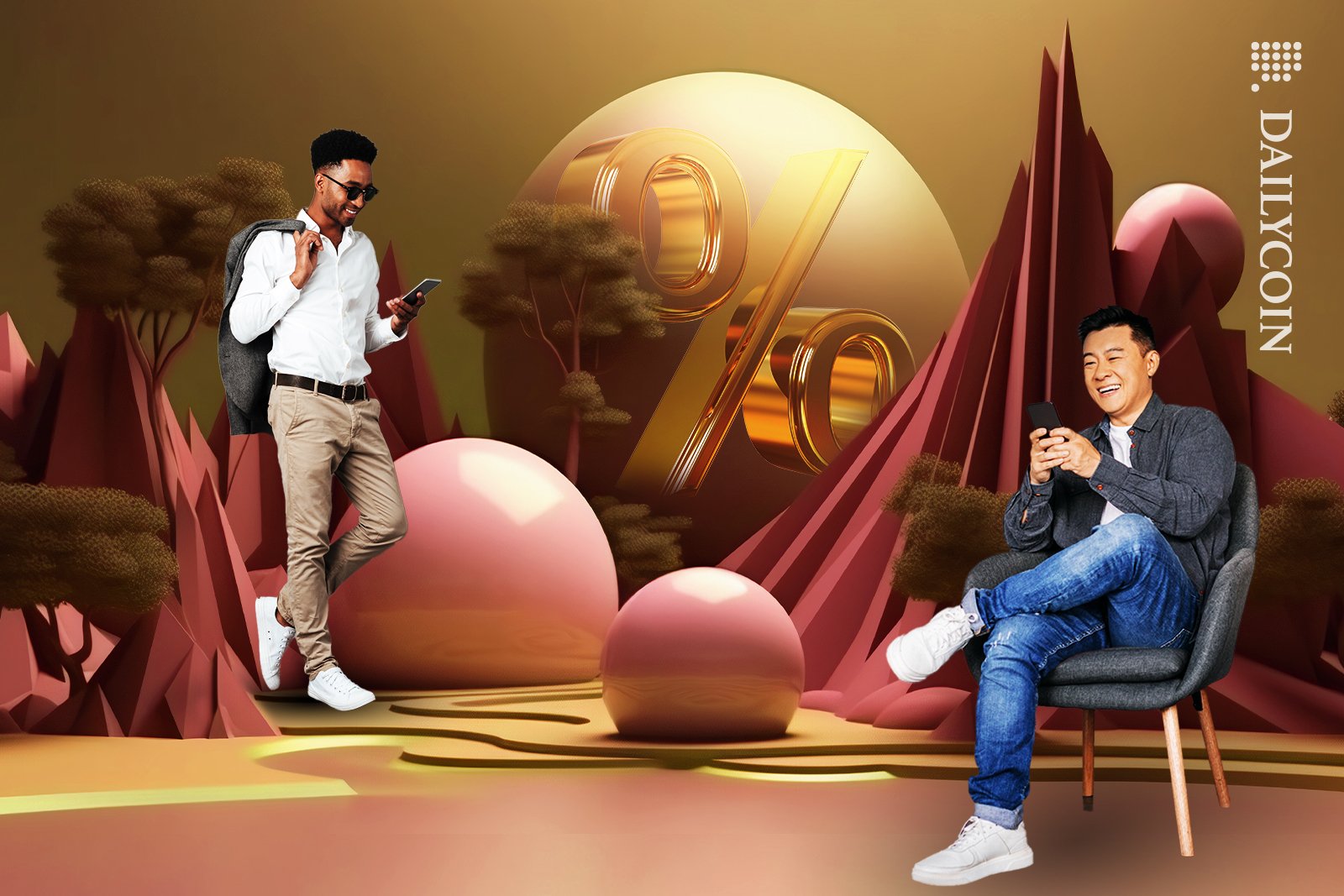 If you're new to the blockchain space, knowing which crypto exchange you'll want to use is one of the first practical decisions you'll need to make. Crypto exchange fees vary, so choosing the most efficient trading platform can save you significant value.
Of course, there's much more to a crypto trading exchange than fees alone. Trading volume and market liquidity are much deeper on top-tier exchanges like Binance than you might find on less reputable platforms.
In this article, we'll briefly review the basic fees beginners can expect in the digital currency market and compare fee schedules from the best crypto exchanges.
What Are Cryptocurrency Exchange Fees?
Crypto exchange fees come in many different shapes and sizes. For new crypto traders buying Bitcoin (BTC) or Ethereum (ETH) for the first time, the most important fees to be wary of are spot trading and deposit or withdrawal fees.
Advanced trading options like futures and leverage markets impose more complicated fees like interest and funding rates. For now, let's stick to the basics and learn what you can expect to pay as a beginner.
Maker Fees and Taker Fees
The most common fee structure you'll come across in cryptocurrency trading is maker and taker fees. Every time you buy or sell crypto on an exchange, the trading platform takes a small percentage of the trade. This helps crypto exchanges pay their operating costs and grow their business.
A 'Maker' is anyone who puts creates a market by setting limit orders and adding liquidity to the trading pair. On the other hand, a 'Taker' is someone who fills those orders. This is typically done by placing market orders that immediately 'take' assets and liquidity off the market. In most cases, makers pay slightly lower fees than takers.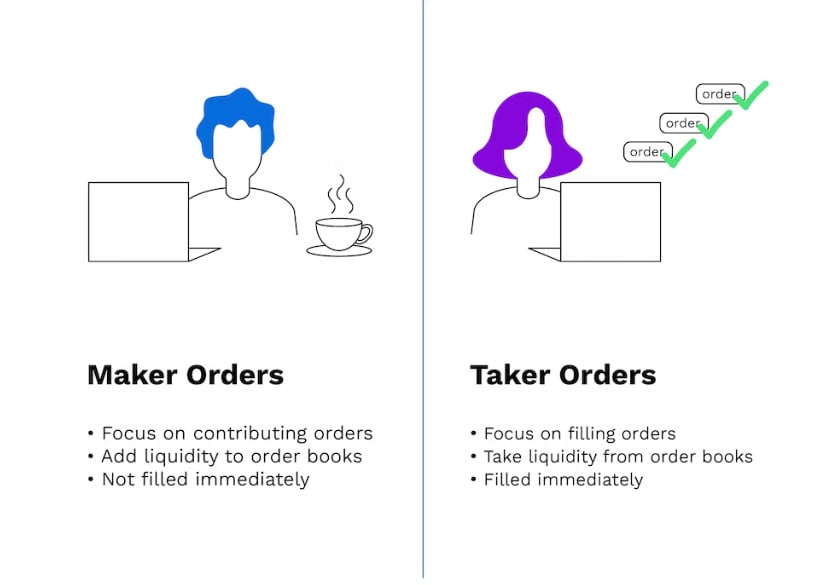 Cryptocurrency exchanges incentivize high-volume traders by lowering maker and taker fees depending on the value you put through the market. This is arguably a win-win for both parties; market makers pay low fees for providing deep liquidity and high volume, while exchanges earn revenue from high trading activity.
Some exchanges offer fee discounts to holders of their native utility token. For example, holding a qualifying amount of BNB gives traders discounts when trading cryptocurrency on Binance or Binance.us.
Deposit/Withdrawal Fees
Most crypto exchanges support a variety of deposit and withdrawal methods. In most cases, you can fund your profile with fiat currency payments from a bank account, credit card, or debit card. In the United States, wire transfers and ACH payments are also accepted.
When depositing funds to a crypto exchange, there is a chance you may need to pay deposit fees. Typically, there are no fees when funding your account via a crypto wallet.
You can also expect to pay a small withdrawal fee whenever you pull funds from a crypto exchange. The withdrawal fee can fluctuate when withdrawing crypto depending on network transaction fees.
Best Crypto Exchanges Fees Compared
To uncover which crypto exchange offers the best basic fee schedule, let's look at what maker and taker fees and deposit/withdrawal fees we can expect to pay on the top exchanges.
It's worth mentioning that having lower fees doesn't necessarily mean that one exchange is better than another. Having tight security practices, quality customer support, and value-added features like NFT marketplaces and staking solutions are also crucial to a crypto exchange's offering.
Without further ado, let's dive in and see which trading platform offers the best crypto exchange fees.
6. Gemini
Gemini's fee structure is slightly more consulted than its competitors. The Winklevoss Twins' crypto exchange fees are split up depending on whether you're using the website, mobile app, or the Gemini ActiveTrader platform. Using the website or mobile app is borderline extortionate, charging a minimum of 1.49% on order value.
Their ActiveTrader fees are more reasonable. Starting from 0.4% for takers and 0.2% for makers, Gemini trading fees get progressively lower as trading volume rises.
One of the big drawbacks of using Gemini is that the exchange charges custody fees. If you're storing crypto on Gemini, expect to pay up to $30 per asset in your account each month. Fiat deposit fees are free if depositing from a bank account but charge 3.49% if depositing from a debit card and 2.5% from PayPal.
Crypto deposits are free, with crypto withdrawals subject to dynamic network fees and a flat withdrawal fee.
5. Coinbase
Coinbase is the second largest crypto exchange by trading volume and is best known for its beginner-friendly interface. Founded by Brian Armstrong, Coinbase has a solid reputation amongst crypto enthusiasts.
The main Coinbase site only gives vague information about their trading fees, estimating maker fees between 0%-0.4% and taker fees between 0.05%-0.6%. If you dig deeper and check the rates on Coinbase Pro, a clearer picture emerges.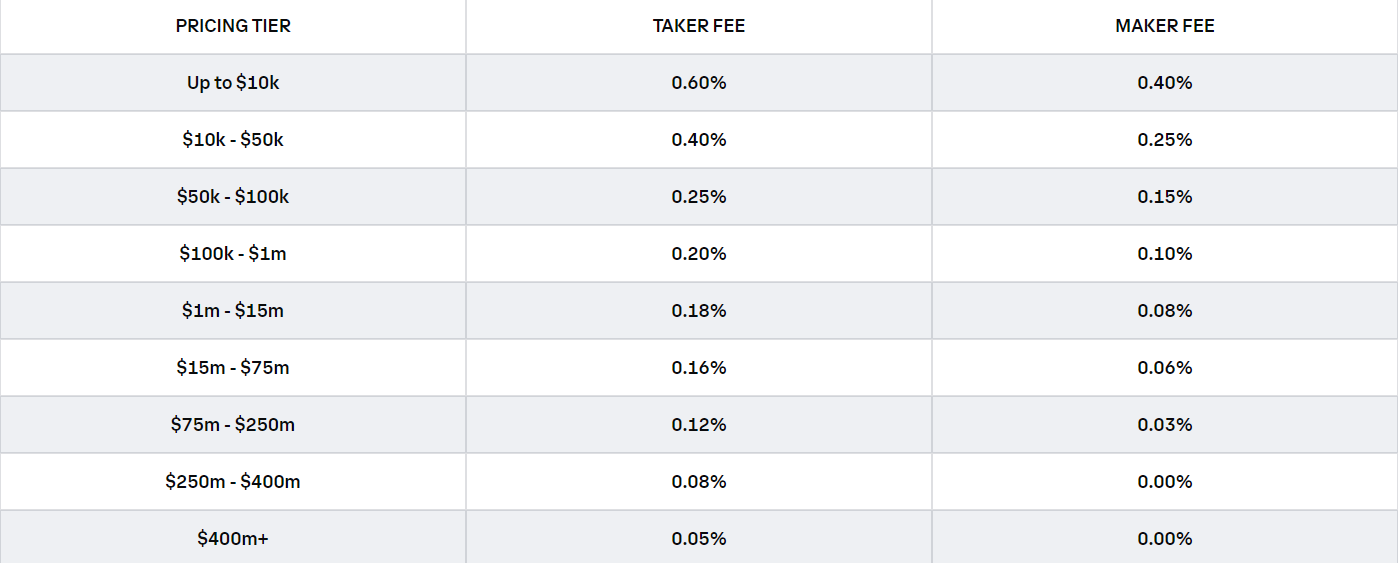 There's no sugar-coating it, Coinbase trading fees are high. Taker fees start from 0.6%, and even if you're a market maker, you'll need to trade over $100,000 worth of crypto before qualifying for entry-level rates elsewhere.
Deposit and withdrawal fees are also vague. According to CryptoFeeSaver, Coinbase charges $10 for USD deposits and $25 for USD withdrawals. Withdrawing crypto incurs a flat fee, with additional charges based on blockchain congestion.
4. Kraken
Jesse Powell founded Kraken, a popular first crypto exchange for beginners. Kraken has a simple and accessible UI but recently closed its staking offerings after facing regulatory pressure from Gary Gensler and the SEC.
Kraken falls somewhere in the middle of the road regarding trading fees. Maker and taker fees start from between 0.16%-0.26%, gradually reducing to 0-0.1% depending on a user's trading volume.
All crypto deposits are free, with fiat deposits varying dependent on the currency and the chosen method. Crypto withdrawals follow the trend, including flat and supplementary network fees.
3. Binance
Binance is easily the largest crypto exchange in the blockchain industry. Changpeng 'CZ' Zhao's exchange has the highest trading volume of all trading platforms and a decent range of digital assets on its books.
On Binance, maker and taker fees start as low as 0.1%. Traders unlock progressive VIP tiers to access reduced trading fees by shifting sufficient value through the exchange or holding more than 25 BNB coins. Trading fees can also be paid in BNB, giving traders an additional 25% discount.
Additionally, Binance charges zero fees on BTC trading, which is the largest market in the crypto space.
The platform doesn't charge any deposit fees on crypto, but crypto withdrawals are taxed at a flat fee, with an additional rate being charged due to network congestion. Fiat deposit and withdrawal fees vary depending on your region and local currency.
2. KuCoin
KuCoin is a popular choice amongst experienced crypto traders. The crypto exchange not only has a generous fee structure but also offers a huge range of altcoins. In fact, KuCoin supports over 800 crypto assets, with a diversity of coins that goes beyond classic coins like Litecoin and XRP.
It has a familiar fee structure to Binance, using its native KCS coin to provide trading discounts.
The altcoin gem haven features trading fees that start from 0.1% for makers and takers, giving the additional option to pay fees using KCS tokens.
Deposit fees for both fiat currencies and cryptocurrencies are free, with a flat €5 fee applied to fiat withdrawals. Crypto withdrawals are subject to a flat fee and blockchain network fees.
1. Crypto.com
Crypto.com breaks the mold amongst exchanges, charging some of the lowest fees in the market. The Singapore-based exchange boasts trading fees that start from as low as 0.075% for both makers and takers and provides generous VIP programs to reduce these even further.

Like Binance, Crypto.com has its own proprietary token. Locking up CRO for designated periods unlocks reduced fee tiers and, in some cases, abolishes trading fees entirely.
There are no deposit fees when using Crypto.com; however, all fiat withdrawals are subject to a flat fee of $25. Crypto withdrawals incur a small withdrawal fee and network transaction fee, depending on the crypto asset in question.
On the Flipside
When it comes to choosing a crypto exchange, trading fees aren't everything. Extra features like staking and lending offer attractive APY that helps you grow your portfolio without needing to trade.
Security is also a priority. As we saw during the FTX debacle, even supposedly 'safe' exchanges can collapse, making you lose access to all your coins.
Why You Should Care
A difference of a few decimal places in a percentage might seem unimportant. But, if you plan to trade crypto for an extended time, reducing your trading fees helps you get better value for your investments.
FAQs
Which crypto exchange has the lowest fees?
Of all the crypto exchanges included in this list, Crypto.com has the lowest trading fees.
Is Binance or Coinbase better?
Whether Binance or Coinbase is better comes down to your personal preference. Arguably, Binance has lower trading fees and a better range of extra services. On the other hand, Coinbase is one of the most reputable exchanges in the industry.
Can I buy crypto on other trading platforms?
You can buy cryptocurrency on other trading platforms like Etoro and Robinhood. However, many users have reported difficulties withdrawing crypto from these platforms to their private crypto wallets.
What is the best crypto exchange for beginners?
The best crypto exchange for beginners is a platform that is easy to use and secure. With this in mind, exchanges like Coinbase and Binance stand out as ideal choices.