Crypto derivatives are growing fast, and many hands want a piece of that pie. With derivatives, traders have the chance to get an edge in terms of risk management and at the same time leverage them as an avenue to boost their revenues. 
Crypto derivatives are essentially secondary contracts signed by two or more parties to acquire or sell a specific cryptocurrency asset at a specified price in the future. Any changes to the asset's cost will directly impact the contract's value.
While these secondary contracts also double as trading instruments or digital assets, their values are "derived" or tied to an underlying primary asset. In this context, a crypto derivative is usually tied to a cryptocurrency. For instance, crypto futures, crypto options, and perpetual contracts are some major crypto derivatives popular among investors.
Today, with the influx of people diving into crypto derivatives, the crypto derivatives market constitutes roughly 69% of the total crypto volumes, up from 66% in June, and helped push overall crypto volumes on exchanges to $4.51 trillion in July.
If you are looking to explore the crypto derivatives market, you should use only the best cryptocurrency exchanges that have proven their worth and mettle over time. For that reason, we have compiled 8 of the most popular crypto derivatives exchanges for you to explore in 2022.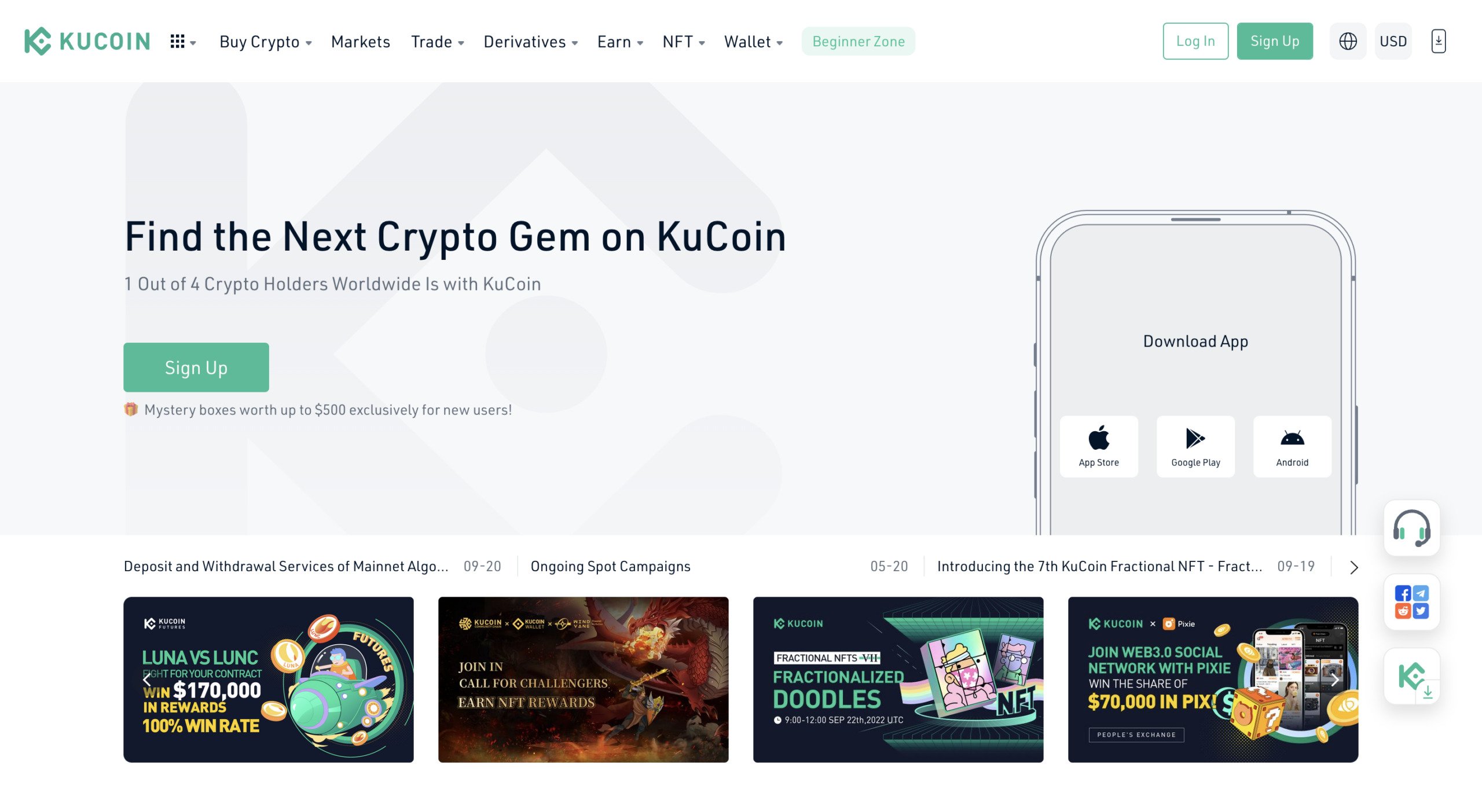 Over a decade of excellence has endeared KuCoin to the hearts of many traders. Headquartered in Seychelles, KuCoin has grown so much that it now has over 10 million users and a presence in more than 200 countries. 
The platform offers nearly 700 cryptocurrencies for buying, selling, and trading, including top coins such as BTC, ETH, USDT, BNB, ADA, XRP, USDC, DOGE, and DOT.
KuCoin exchange supports four types of cryptocurrency contracts: Linear contracts, Inverse contracts, Perpetual contracts, and Delivery contracts. You will find three futures platforms on KuCoin: Futures Lite, Futures Pro, and Futures Brawl. 
The major goodies that come with trading cryptocurrency futures on KuCoin Exchange are transparency in terms of trade volume, customer support, greater market depth, and liquidity to ensure traders don't suffer from drastic market fluctuations and instant withdrawal. On the downside, the exchange is not licensed in the United States, so U.S.-based users should explore other exchanges.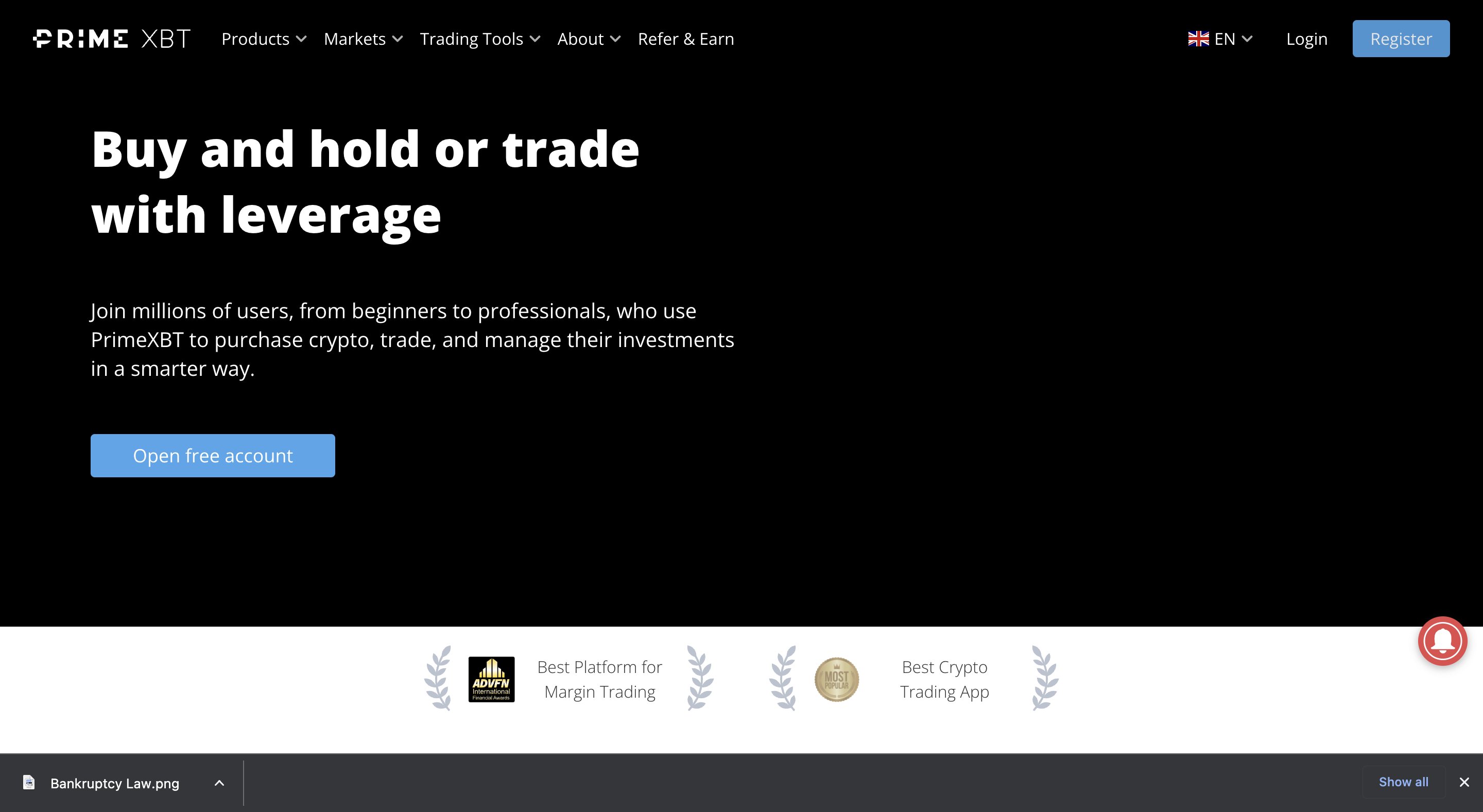 Founded in 2018, PrimeXBT is an award-winning exchange that has become the go-to platform for traders looking to forge their way into crypto derivatives. It is a Bitcoin-based margin trading platform that offers instant access to over 30+ assets, including Crypto (Bitcoin, Ethereum, Litecoin, Ripple, EOS), and much more.
They offer you access to top-tier liquidity and a wide range of trading tools while maintaining security and liquidity, enabling a safe and efficient trading environment. PrimeXBT provides a robust trading system for both beginners and professional traders that demand highly reliable market data and performance. 
You can execute five types of advanced orders to long or short different cryptocurrencies, including stock indexes (S&P500, FTSE100), commodities, and forex all in one place. Moreover, PrimeXBT boasts of over 1 billion+ average daily volume and more than 170,000 daily trades serving 152 countries.
Having been around for 9 years, Gate.io is a global digital asset platform that supports 1400+ cryptocurrencies and 2500+ trading pairs. It offers you a great range of trading, lending, and staking features such as spot, NFTs, margin, copy trading, leverage, derivatives, API trading, and more.
Not only that, Gate.io provides trading incentives and discounts through its native exchange token GateToken. When it comes to security, the exchange takes a multi-layered approach through multi-factor authentication, withdrawal whitelists, suspicious activity monitoring, and security logs that protect user accounts from unauthorized access. 
Likewise, the platform funds are secured by institutional-level online and offline security measures and protected behind physical and encrypted safeguards, eliminating single points of failure.
The various derivatives products offered by Gate.io include Perpetual Contracts, Futures Contracts, and Warrants. In addition, Gate.io charges a settlement commission of 0.015% on Futures contracts. The platform offers 149 perpetual contracts and various futures contracts.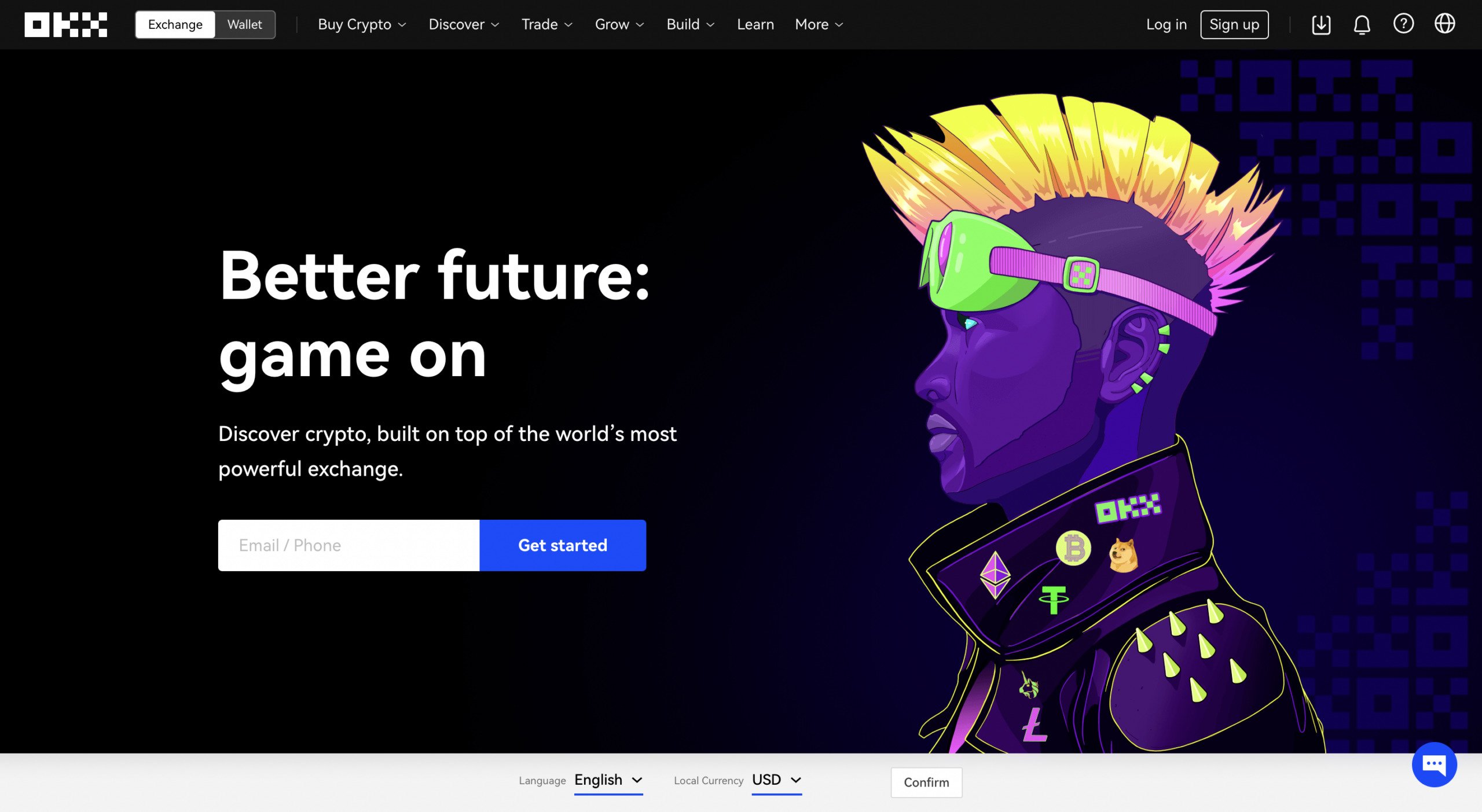 When we talk of big names in derivatives trading, nobody crosses OKEx off the list. The OKEx exchange offers 139 perpetual and 1,336 futures contracts. This variety of derivative products makes OKEx highly profitable for traders who want to trade in Altcoin derivative products.
OKEx is one of the most liquid exchanges for derivatives trading. Derivatives products on OKEx include Perpetual Contracts, Futures Contracts, and Options. The exchange comes with a beginner knowledge quiz for newcomers going into futures and perpetual swaps, which makes it great not just for beginners but also for advanced traders and institutions.
One amazing thing about OKEx is that it allows its Customer to pair derivatives trade with fiat currencies. This means, you can make a trade in a currency of your choice and you won't have to suffer from exchanging from one currency to the other when withdrawing your funds.
According to CoinMarketCap, OKX is the 19th largest cryptocurrency exchange in the world by volume. In fact, the site has over 20 million users in more than 100 countries.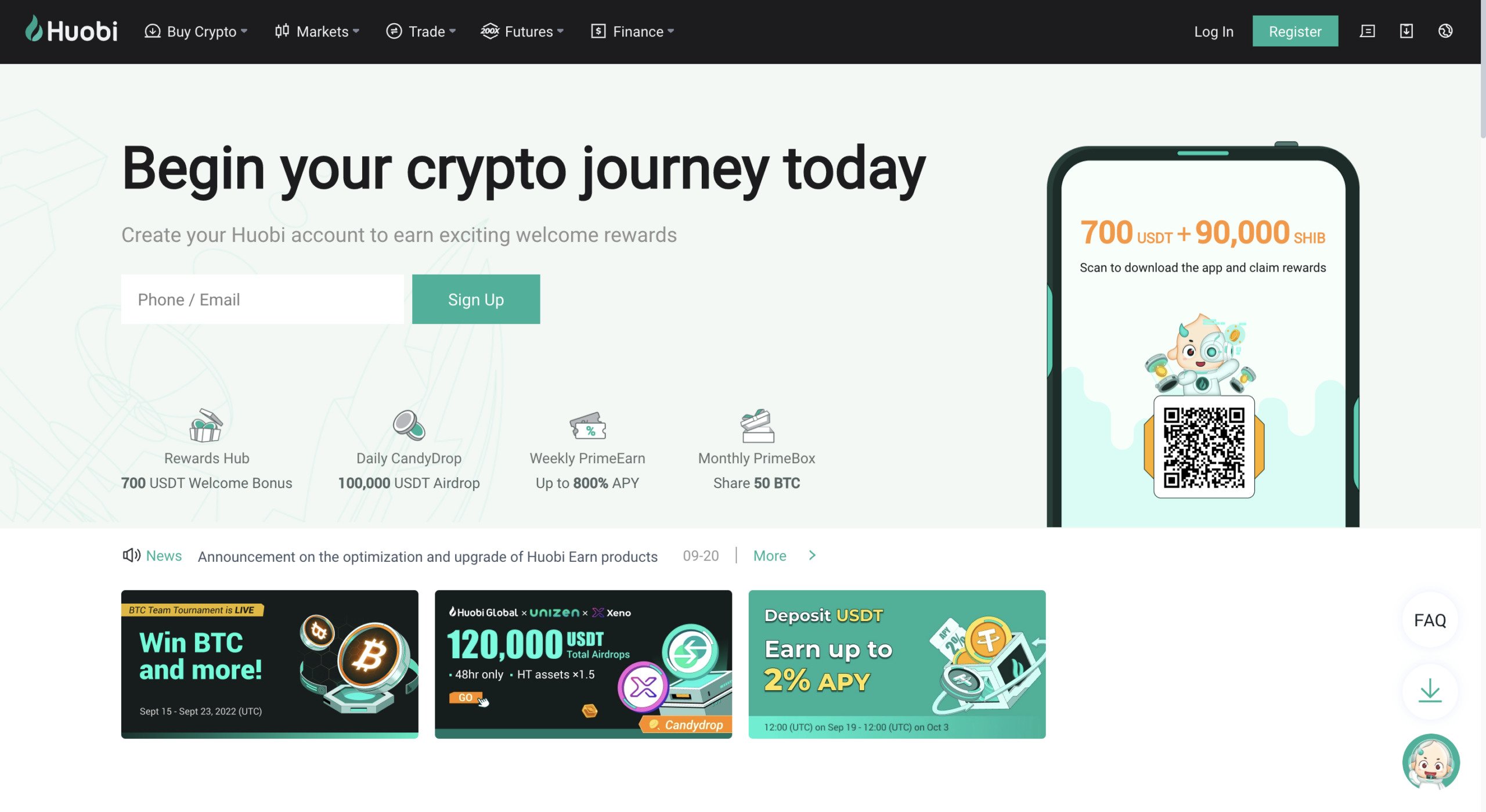 Huobi is a Singapore-based cryptocurrency exchange founded by Leon Li that boasts of being the world's leading crypto exchange since 2013. It is safe to say that Huobi has lived up to its name by becoming Liquidity Ranked No.1 Around the World.
Huobi offers 168 perpetual contracts and 56 futures contracts. The derivative products offered by Huobi can be categorized into Futures, Coin Margined Swaps, USDT Margined Swaps, and Options.
In addition to this, the exchange is one of the best when it comes to security parameters. Huobi has a substantial trading volume in the derivatives market. Sadly, the exchange is not beginner friendly and is unregulated.
The trading fee charged by Huobi for derivatives trading are as follows: USDT Margined Swaps with a maker fee of 0.02% and a taker fee of 0.04%, Coin Margined Swap with a maker fee of 0.02% and a taker fee of 0.05%, Futures Contracts with a maker fee of 0.02% and a taker fee of 0.04%.
FTX is also another great crypto derivatives exchange that provides futures contracts, swaps, options, Move Contracts, and leveraged tokens. The derivatives exchange, as of 2022, has over a million registered members, and the daily trading volume has reached billions of dollars. 
It supports over 300 cryptocurrencies for spot trading and offers products such as derivatives, options, prediction markets, leveraged tokens, tokenized stocks, OTC desks, and volatility products.
FTX also allows its users to trade the prediction markets and help you earn interest on your dormant lying cryptos on its platform. On the downside, U.S. residents cannot trade on the global platform, but a separate FTX.US exchange is available for US customers, with limited functionality and lesser crypto listed.
FTX has the fee model of market takers and market makers, where takers are charged 0.07% and makers are charged 0.02%. However, this trading fee can be significantly reduced by up to 60% depending on how many FTT tokens one holds.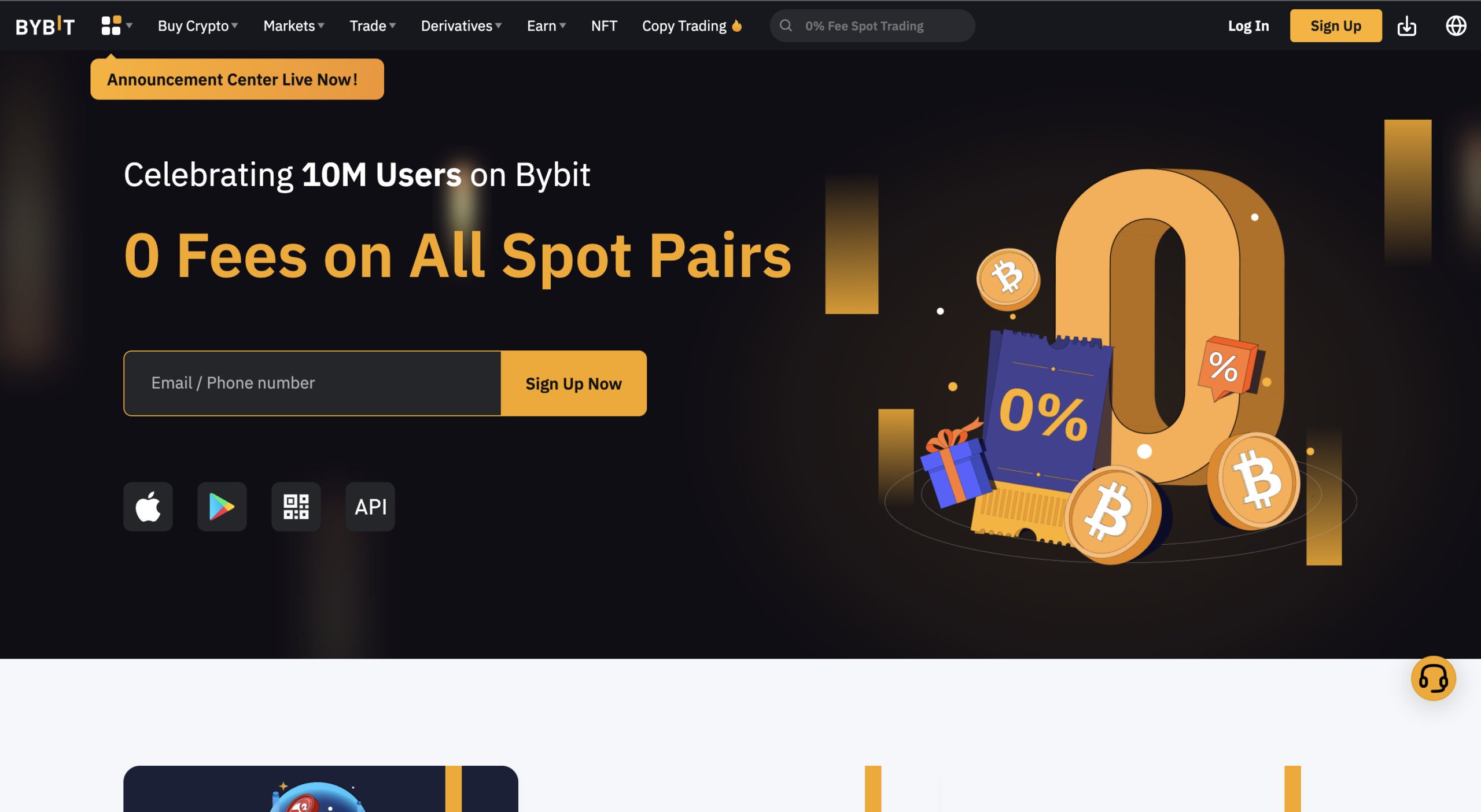 2018 saw the birth of ByBit, a crypto derivatives exchange specialized strictly in the Bitcoin derivatives market. It offers you a choice to trade from different countries for bigger profits.
Bybit can deal with up to 100,000 transactions every second, making it incredible for buyers and sellers. Moreover, the exchange offers 0 fees on all spot pairs. 
In addition, the exchange offers trade derivatives products, including Bitcoin and other cryptos, with three contract options: Inverse Perpetual, USDT Perpetual, and Inverse Futures.
Bybit currently serves over 10 million users and institutions, offering access to over 100 assets and contracts across Spot, Futures and Options, launchpad projects, earn products, an NFT Marketplace, and more.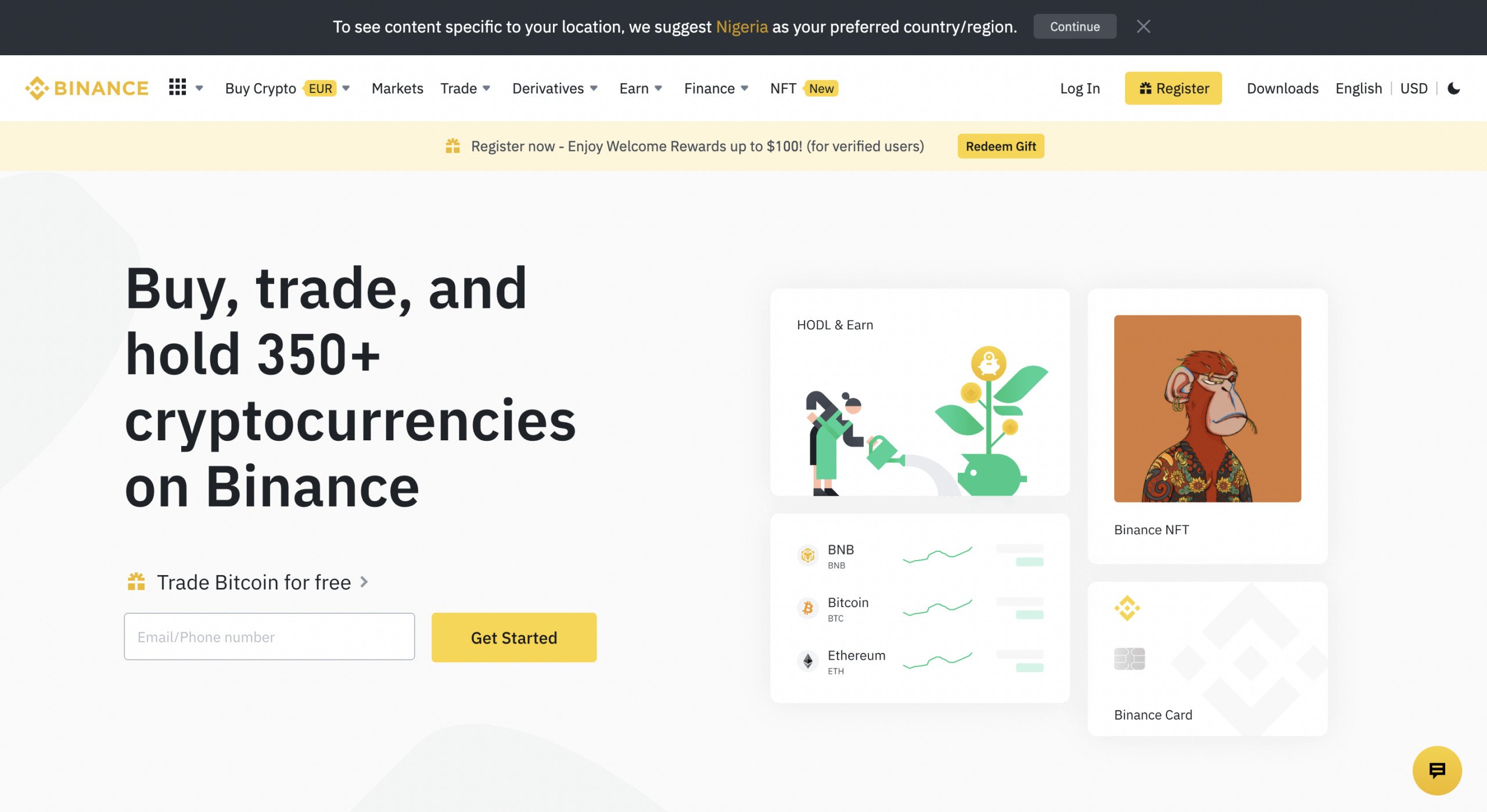 The tallest among the giants of crypto derivatives exchanges on this list is of course Changpeng Zhao's Binance. Binance has the widest customer base and trading volume, with $76 billion daily trading as of August 2022, and 90 million customers worldwide. 
Binance offers four derivatives products including USD-Margined Futures Contracts, Coin-Margined Futures Contracts, Binance Leveraged Tokens, and Binance Options.
The exchange charges a 0.10% fee for trading on the platform as well as a 0.50% fee for Instant Buy/Sell, so your actual fee amount will depend on the amount of the trade. The higher the transaction, the higher the fee. The best way you can reduce this fee is by holding the in-house token of Binance (BNB). The only downside is that the platform isn't available for US, Singapore, and Canada traders.
What a list, eh! So the bottom line is that crypto derivatives trading offers many great prospects to those who know how to navigate the market. In most cases, they offer the best hedge against inflation as they ultimately safeguard a portfolio from high volatility, especially in crypto asset classes.