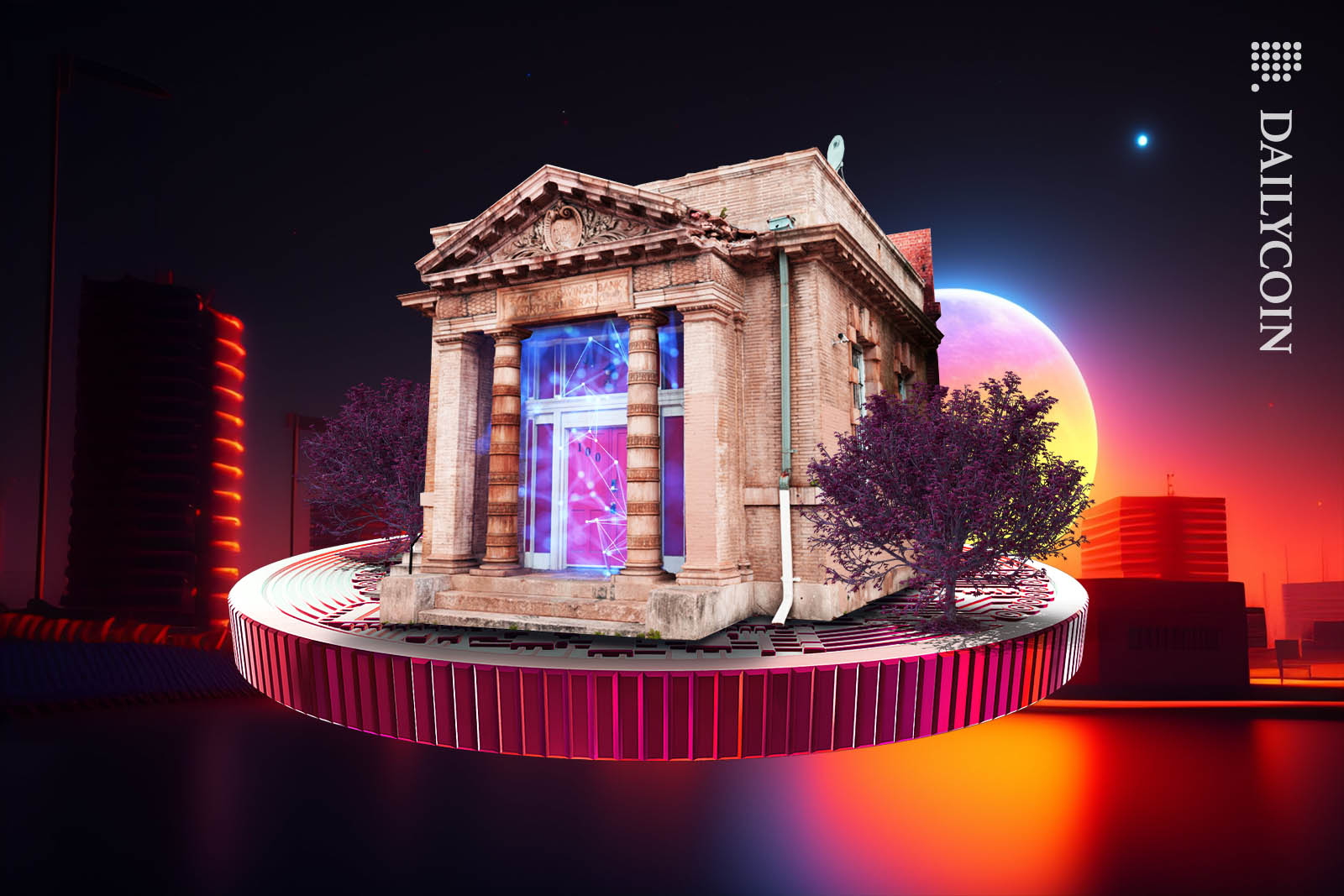 Since the unfortunate demise of long-term crypto-friendly banks like Silvergate and Signature Bank earlier this year, the crypto community has desperately needed reliable banking services.
Traditional banks still have a bone to pick with cryptocurrency as an asset class. Drawing a line in the sand, some have closed bank accounts simply because account holders have deposited funds to a cryptocurrency exchange.
Financial institutions are slowly warming to blockchain technology and the crypto industry despite this. Conversely, crypto companies need trustworthy banking systems that support their needs and store their fiat currency holdings.
But hang on; I thought the whole point of Bitcoin (BTC) was that we no longer need banks!
In theory, yes. However, while this might be the case for maxis, the reality is that crypto assets and traditional financial services will continue to co-exist for the foreseeable future. Having a crypto-friendly bank makes it easier to off-ramp digital assets when you want to exit the market.
What Makes a Bank Crypto-Friendly?
As the name would suggest, crypto-friendly banks are much more welcoming and supportive of digital currencies and crypto businesses. They might offer crypto trading services or support integration with crypto exchanges like Binance or Kraken.
But that's just the tip of the iceberg. Some forward-thinking banks are building a name for themselves in the crypto space by offering insurance for crypto businesses. Some Bitcoin-friendly banks offer credit and debit cards that give you cashback on purchases paid in BTC.
Pros and Cons of Crypto-Friendly Banks
Before diving into our list of the best crypto-friendly banks available, let's quickly review their pros and cons.
Pros
They make crypto easy – The crypto space can be complicated and intimidating for the uninitiated. While self-custody is a fundamental pillar of blockchain technology, it's not for everyone. Crypto-friendly banks can expose customers to the industry from the comfort of familiar banking systems.
Stress-free off-ramping – Traditional banks are often restrictive when the time comes to withdraw fiat currency to your bank account via a cryptocurrency exchange. Crypto-friendly banks make exiting the market easier and realize your profits (or losses).
Support crypto firms and startups – Crypto businesses still need a presence in traditional finance for insurance and operating costs. The best crypto-friendly banks provide blockchain and fintech companies with everything they need to stay compliant in 'the real world.'
Mobile apps – The crypto market never sleeps, so accessing your account while on the go is important. Most crypto-friendly banks have intuitive mobile apps available on Android and iOS that make it easy to track the market in real time and make moves quickly.
Cons
Historically unreliable – The unfortunate truth is that crypto-friendly banks generally have high exposure to volatile digital assets. This puts their reserves under strain, which can end in bankruptcies and insolvencies, as we've seen with Silvergate and Signature Bank. 
High fees on crypto transactions – Crypto-friendly banks are designed to make cryptocurrency easier. This service means they charge a premium on crypto-related services and are generally more expensive than what you would pay using your own crypto wallet.
Top Crypto-Friendly Banks
If you're looking for the best crypto-friendly bank to join in 2023, you're in the right place! This list breaks down some of the top banks for cryptocurrency from a variety of fields, including traditional banking, business banking, and personal accounts.
1. Revolut
Revolut topping the list should come as no surprise to anyone. Since its launch in 2015, the online bank has always been considered a pioneer of modern financial services. Revolut's crypto offerings and support are no exception.
Not only is Revolut FDIC-insured, but the trading platform also supports over 50 cryptocurrencies, including top coins like Bitcoin, Ethereum (ETH), and Solana (SOL). Users can send cryptocurrencies directly to other Revolut bank accounts and even delegate their Ether to third-party staking validators.
Customers in eligible countries can even settle bills using crypto with their credit cards. To complete payments, the Revolut mobile app automatically converts selected crypto assets to their market value in fiat currency.
If that wasn't enough, Revolut's crypto card allows customers to pay for goods and services using crypto and earn up to 1% cash back in any supported cryptocurrency. The online bank plans to launch its own crypto, Revcoin, later this year.
If Revolut had one fault in its crypto services, it would have to be its expensive fees. For the average user, any crypto-related transaction is charged a 1.99% fee.
Key Takeaways
Supports cryptocurrency trading of 50+ crypto assets.
Crypto card lets customers spend crypto in shops worldwide while earning cashback.
Provides delegated staking services.
High fees.
2. Wirex
Wirex flips the script amongst the other 'best crypto-friendly banks' contenders. While other platforms began their story as traditional banks and slowly moved to cryptocurrency acceptance, Wirex set out to be the world's leading crypto bank from day one.
The platform offers a comprehensive of crypto products and services. Not only is Wirex a complete trading platform that supports over 37 digital currencies, it also hosts a cross-chain bridge, helping users shift tokens across different blockchain networks.
The benefits don't stop there. Wirex's crypto debit card has some of the biggest advantages in the game, offering a staggering 8% cash back on purchases made with cryptocurrency. The account also offerers generous staking services and provides a crypto wallet that supports NFTs and lets users interact with DeFi dApps.
Key Takeaways
Crypto-first approach to banking.
Extensive trading platform and cross-chain bridge.
Excellent cashback rewards and staking services.
NFT and dApp support.
3. Juno
Juno is a fintech company that aims to combine cryptocurrency and traditional finance into one seamless checking account. Not only is Juno a functional bank account for fiat currencies like USD, but it also integrates with crypto wallets. Users can directly connect their wallet to the Juno app and off-ramp their crypto assets to an FDIC-insured account in seconds.
The app supports a wide variety of crypto assets, including popular stablecoins like USDC. Users can fund their checking account with USDC on multiple blockchains like Polygon, Arbitrum, and Optimism.
A great feature that makes Juno one of the best crypto-friendly banks is that the platform lets you automatically convert a percentage of your incoming paychecks into cryptocurrency.
The Juno crypto debit card allows customers to use digital assets to make payments or withdraw cash from an ATM, just like a regular card. What's more, users can get up to 5% cash back on purchases.
Key Takeaways
Smooth crypto-to-fiat and fiat-to-crypto ramps.
Automatically convert incoming payments to cryptocurrency.
A large variety of supported cryptocurrencies.
Crypto debit card lets you spend crypto everywhere.
4. BankProv
BankProv is an old-school U.S. Bank with over 200 years of experience in traditional banking. While many of the banks on this list are focused on personal users, BankProv aims to strengthen and stabilize crypto businesses.
Crypto startups get peace of mind from banking with BankProv. All deposits are FDIC and DIF-insured, giving emerging businesses the security they need to chase their ambitions.
Another factor separating BankProv from its competitors is its comprehensive crypto-backed lending services. Account holders can put their crypto assets to work, earning interest by lending out their funds to other traders.
Finally, BankProv also offers an extensive suite of API tooling, helping crypto businesses streamline their products and services.
Key Takeaways
Best crypto-friendly bank for blockchain-based businesses.
Supports cryptocurrency lending.
All deposits are insured by FIDC and DIF.
5. Ally Bank
Stepping away from banks that offer cryptocurrency trading, Ally Bank is an excellent example of a traditional bank that is taking steps to be crypto-friendly. Ally Bank allows customers to invest in crypto-exposure funds, like the Grayscale Bitcoin Trust.
While customers can't directly buy and sell cryptocurrency with Ally Bank, the firm's partnership with Coinbase makes integrating an account with the crypto exchange easy. Thanks to this integration, users enjoy Coinbase's intuitive cryptocurrency trading platform and benefit from a simplified off-ramp.
Key Takeaways
Allows customers to invest in hedge funds and companies with crypto exposure.
Doesn't directly support cryptocurrency trading but instead integrates with Coinbase.
Fast and compliant on/off-ramp.
6. Quontic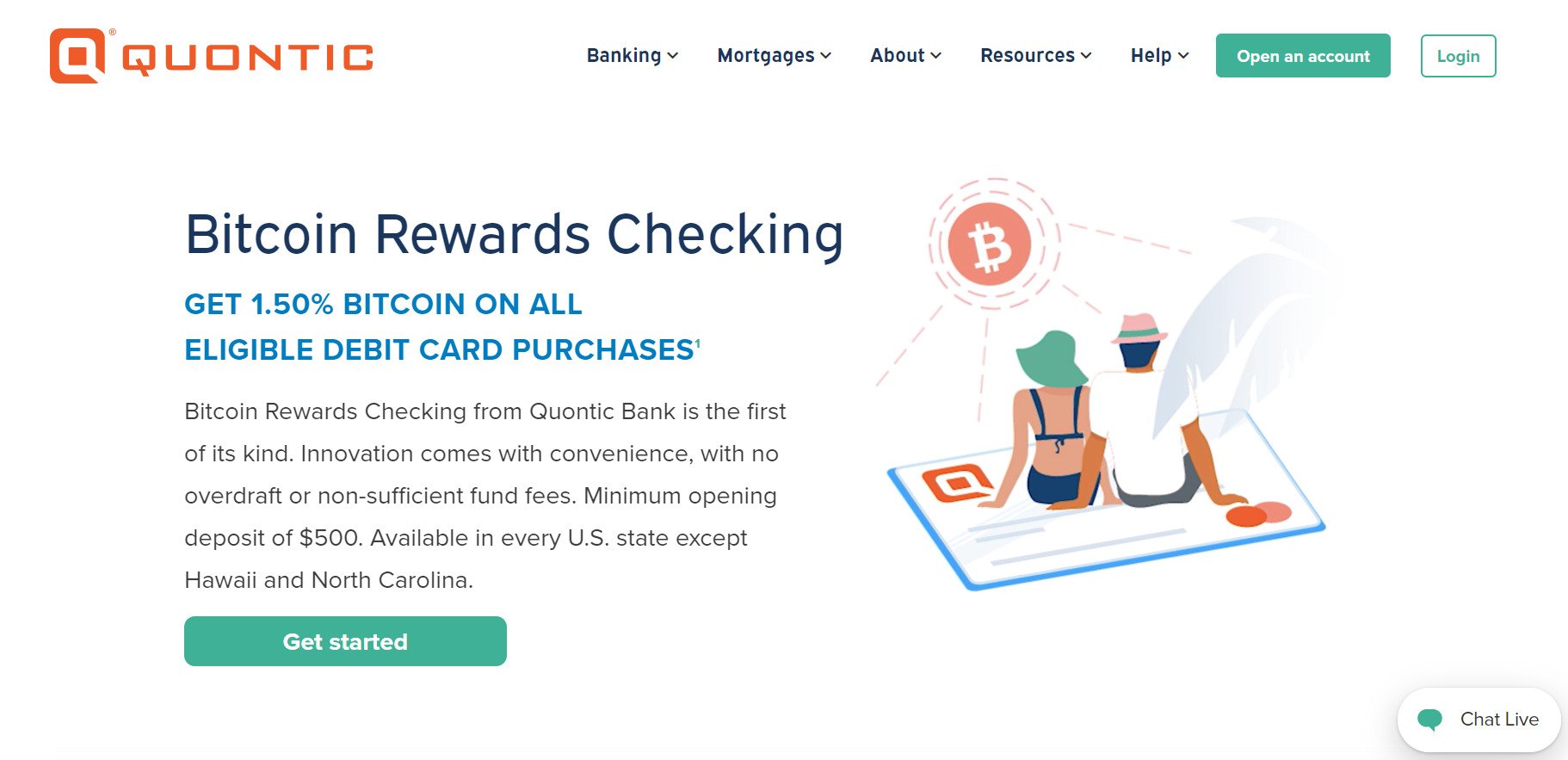 Walking the line between a traditional bank and a crypto-friendly bank is difficult, but Quontic manages to do it gracefully. Quontic offers everything you'd expect from a traditional bank, like home loans and savings accounts, with the bonus of a Bitcoin rewards checking account.
Quontic's 1.5% cash back rate might seem insignificant compared to others in this list. However, Quontic offers up to 1.5% cash back paid in Bitcoin on all purchases, not just payments made using cryptocurrency. This style of cashback is arguably more sustainable and doesn't encourage you to spend your crypto holdings.
Key Takeaways
Traditional bank testing the cryptocurrency waters.
Wide variety of traditional banking services.
Bitcoin rewards checking account.
On the Flipside
While the best crypto-friendly banks offer a wealth of great features, the realm of opportunities presented in DeFi is far more widespread. Let's not forget that cryptocurrency was invented to give people greater control over their finances through self-custody. 
While crypto-friendly banks are unlikely to deny you access to your funds, it's important never to forget the mantra: 'Not your keys, not your crypto.'
Why This Matters
Crypto-friendly banks help make digital assets more accessible and do wonders for mass adoption and industry growth. Figuring out which crypto-friendly banks align with your needs can also help you earn crypto through cash-back payments or grow your crypto business,
FAQs
Do all banks accept cryptocurrency?
No, not all banks accept cryptocurrency. Some traditional banks are known to place restrictions on accounts with crypto-related transactions.
Why won't my bank let me buy Bitcoin?
Banks are worried that Bitcoin and other cryptocurrencies are used for fraudulent or illegal activities. These doubts about digital assets have led some banks to block their users from buying Bitcoin.
Is Revolut a crypto-friendly bank?
Yes, Revolut is one of the best crypto-friendly banks in the world of finance and offers a wealth of cryptocurrency-related products and services.
Can banks track crypto?
Yes, crypto, by nature, is designed to be publically verifiable and trackable. This ironically makes cryptocurrency a poor method for fraudulent or illegal transactions, which many traditional banks still see as a reason not to adopt cryptocurrency.