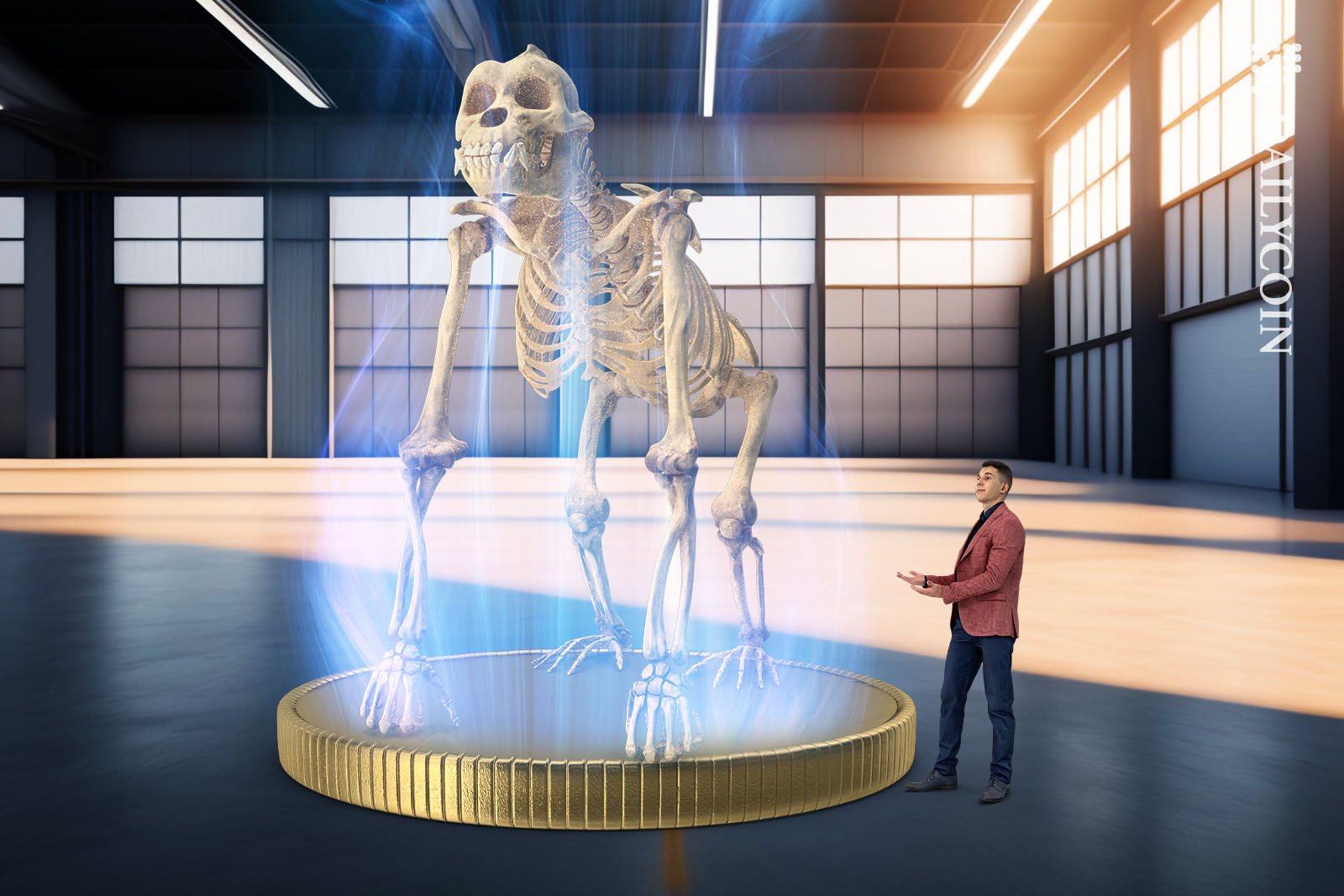 What is ApeCoin? Is it the lifeblood of the world's most ambitious metaverse project, or just a vanity token for deluded Yuga Labs fanatics?
Regardless of your opinion on the Bored Ape NFT Collection, the Ape Ecosystem is undoubtedly the biggest player in the non-fungible token (NFT) ecosystem. Securing partnerships with Web3 heavyweights like Animoca Brands and household Web2 names like Adidas and Gucci, Yuga Labs is here to stay.
What is ApeCoin used for, and is it a truly necessary part of the Yuga Labs ecosystem?
What Is ApeCoin (APE)?
Emerging from the splendor and glamour of the NFT universe, ApeCoin is an ERC-20 token deployed on the Ethereum blockchain. Created by the ApeCoin DAO, a decentralized autonomous organization, APE tokens are designed to be the beating heart of the Yuga Labs ecosystem.
Airdropped to Bored Ape Yacht Club (BAYC), Mutant Ape Yacht Club (MAYC), and Bored Ape Kennel Club (BAKC) NFT holders in March 2022, APE is the governance token of the entire Ape ecosystem.
But ApeCoin is not to be confused with animal-themed meme coins like Shiba Inu (SHIB). With aspirations to become a dominant player in the burgeoning metaverse sector, APE is already carving out retail niches and new opportunities that bridge the gap between Web 3 and the real world.
What Is Apecoin Used For?
That sounds all good, but we've heard this promise from dozens of NFT projects in the past. What makes this any different, and what is ApeCoin actually used for?
Governance – ApeCoin isn't just about DeFi trading and rewarding BAYC holders. APE serves as a ticket into ApeDAO, the exclusive community at the heart of the Yuga Labs universe. ApeDAO members can vote on system improvements and steer the community's direction.
Metaverse Currency – Besides its role in ApeDAO governance, APE is a versatile utility token within the expanding Yuga Lab's economy. To give you an idea, APE is the preferred exchange currency within the Otherside, the Ape ecosystem's thrilling metaverse. From buying virtual land in the Otherside metaverse to in-game transactions, ApeCoin is integral in creating a sustainable digital economy.
Real-World Brand Partnerships – As the largest NFT brand in the world, Yuga Labs has been able to integrate Apecoin use cases with luxury goods and retail services. For example, Apecoin is accepted by select Gucci and Tag Heuer stores worldwide.
Third-Party Integrations – APE has also been integrated into other Web3 dApps and games. Apecoin can be used in DeFi applications across the Ethereum blockchain. At the same time, it's also been used as a source of crypto rewards in Play-to-Earn games like Animoca Brands' Benji Bananas.
Exclusive Access – Beyond the obvious utility perks, holding APE and other Yuga Labs NFTs is also a ticket to exclusive events, airdrops, and other community-based perks.
Yuga Labs Ecosystem
Founded in early 2021, Yuga Labs quickly rose to prominence, thanks to the artwork and explosive popularity of Ethereum-based Bored Ape Yacht Club NFTs. A randomly generated collection of 10,000 unique, hand-drawn apes, BAYC took the digital art world by storm in 2021.
With celebrity endorsements and prices soaring to over 100 ETH (around $300,000 USD at all-time highs), BAYC became more than just digital art; it became a status symbol. Holding a BAYC NFT became a digital flex, much like how Rolexes and Lamborghinis were perceived in the real world.
But Yuga Labs didn't stop there. They expanded their NFT empire with the Mutant Ape Yacht Club and the Bored Ape Kennel Club, further cementing their dominance in the NFT arena. Eventually, Yuga Labs bought out ownership of Larva Lab's CryptoPunks collection, which stood against BAYC as its strongest competitor in the NFT market.
As the dust on 2021's NFT mania slowly settles, Yuga Labs has shifted its attention to a new field. With the introduction of Otherside, Yuga Labs ventured into virtual real estate, minting digital land parcels known as "Otherdeeds."
The long-term vision is for the Otherside to become a kind of digital playground for all members of the Ape Ecosystem. This flourishing metaverse will host future ApeDAO events and experiences and will all be tied together by the Apecoin economy.
Apecoin DAO
You can think of the Apecoin DAO as a community-led group of passionate Yuga Labs and Ape Ecosystem supporters that act as a separate entity helping to grow the world of Bored Ape NFTs. The Apecoin DAO has its own treasury and Ecosystem fund, which helps developers build products and services that benefit Apecoin.
From systematic improvements and ecosystem fund initiatives to strategic partnerships, APE token holders and Apecoin DAO members vote on pivotal decisions that shape the future of APE. Every suggestion and idea passes through the APE Improvement Proposal Process before being passed or rejected by voters.
Ape Foundation
At the heart of the Apecoin DAO is the Ape Foundation, a central legal entity responsible for overseeing and executing decisions made by the DAO. The Apecoin Foundation handles the day-to-day administration of the Apecoin DAO, bookkeeping, and certain aspects of project management.
Heading up the ApeDAO, we have an elite council of elected individuals who handle governance proposal administration and help guide legions of loyal APE supporters toward a shared vision. Previous board members have included some of the brightest minds in the crypto world, including Reddit Co-Founder Alexis Ohanian, Animoca Brands CEO Yat Siu, and Amy Wu, an early FTX investor.
Apecoin Tokenomics
To better understand Apecoin's growth opportunities, it's important to analyze APE's tokenomics and explore what the various token allocations could mean for the future of Apecoin. APE has a fixed max supply of one billion tokens, meaning no new tokens can be minted or added.
The 1B APE tokens have been distributed via smart contract as follows:
Ecosystem Fund – 62%: The Ecosystem Fund includes the initial airdrop (150,000,000 tokens) for Bored Ape and Mutant Ape holders, as well as 470,000,000 tokens distributed to the DAO treasury and resources to be unlocked over four years.
Yuga Labs and Charity – 16%: 15% of the total supply was allocated to Yuga Labs, with a linear unlock period spanning four years from launch. 1% was also given to the Jane Goodall Legacy Foundation, an environmental charity.
Launch Contributors – 14%: Launch contributors who helped conceive the idea and bring APE into the world received 140,000,000 tokens. The exact allocations and number of contributors are unknown. However, all tokens are expected to be unlocked after four years.
Bored Ape Yacht Club Founders – 8%: Finally, the visionary founders who changed the face of the NFT industry forever each received around 2% of APE's total supply.
Apecoin Airdrop
On March 17, 2022, the APE airdrop rocked the blockchain space by instantly distributing millions of dollars worth of cryptocurrency to BAYC and MAYC holders. With 150,000,000 tokens distributed on the day at a listing price of around $10 USD, long-term holders who'd never sold their Ape NFTs finally found themselves with realized profits worth millions.
BAYC NFT Holders were entitled to claim 10,094 APE tokens and an additional 856 tokens per BAKC companion, even if the ID numbers didn't match. On the other hand, Mutant Apes were eligible to receive 2,042 APE tokens per Mutant, with an extra 856 for accompanying BAKC NFTs.
The scale of the airdrop was staggering. APE surged to over $20 per coin in the months following the airdrop. This translated to over $3B USD in wealth creation, making APE one of the largest crypto airdrops in history.
Apecoin Pros and Cons
In the dynamic world of cryptocurrencies, every token brings with it a set of advantages and challenges. ApeCoin, with its meteoric rise and unique positioning in the intersection between the NFT and crypto worlds, is no exception. What makes ApeCoin stand out in the crowded crypto marketplace, and what are the potential pitfalls investors should be wary of?
Pros
Strong Backing – With Yuga Labs receiving a valuation of $4B following huge investments from top firms, APE has plenty of support and resources to achieve its vision.
Decentralized Governance – In the true spirit of cryptocurrency, the growth and direction of APE are decided by its community of passionate investors who want to see the project succeed.
Diverse Utility – APE offers a range of helpful utilities within the Ape Ecosystem and metaverse, and is starting to be integrated with several real-world brands.
NFT Integrations – ApeCoin's roots in the Yuga Labs ecosystem give it a unique position in the booming NFT and metaverse markets, opening avenues for growth and diversification.
Cons
Locked supply – With less than 40% of APE tokens in circulation, ApeCoin is steering down the barrel of years and years of future token unlocks.
Ecosystem Dependency – Despite technically being a separate entity, Apecoin's entire value is tied to the Yuga Labs ecosystem. Any challenges faced by Yuga Labs will have a significant impact on Apecoin.
Is APE a Security? – Though nothing has come of it so far, the US SEC is currently investigating Apecoin to decide whether or not it could be considered an unregistered security.
On the Flipside
Despite APE being the currency of exchange within the Yuga Labs metaverse, all Yuga Labs NFTs are still largely traded and denominated in ETH. Transacting solely in APE would bring plenty of attention and necessity to Apecoin, which may help its growth.
Why This Matters
As the cryptocurrency of the Ape Ecosystem, APE is one of the largest cryptos in the NFT industry. Some would argue that APE is a leading indicator for the health of the metaverse and NFT niche, much like how Bitcoin (BTC) affects the rest of the crypto market.
FAQs
Where can I buy Apecoin?
You can buy Apecoin on popular crypto exchanges like Binance and Coinbase.
Can Apecoin reach $100?
If Apecoin reached $100, it would have a market cap of over $36 billion USD, making it larger than top altcoins like XRP and BNB Coin. While it's not impossible, this kind of valuation is unlikely.
Is Apecoin a metaverse coin?
APE is heavily tied to developing Yuga Labs' Otherside metaverse, categorizing Apecoin as a metaverse cryptocurrency.