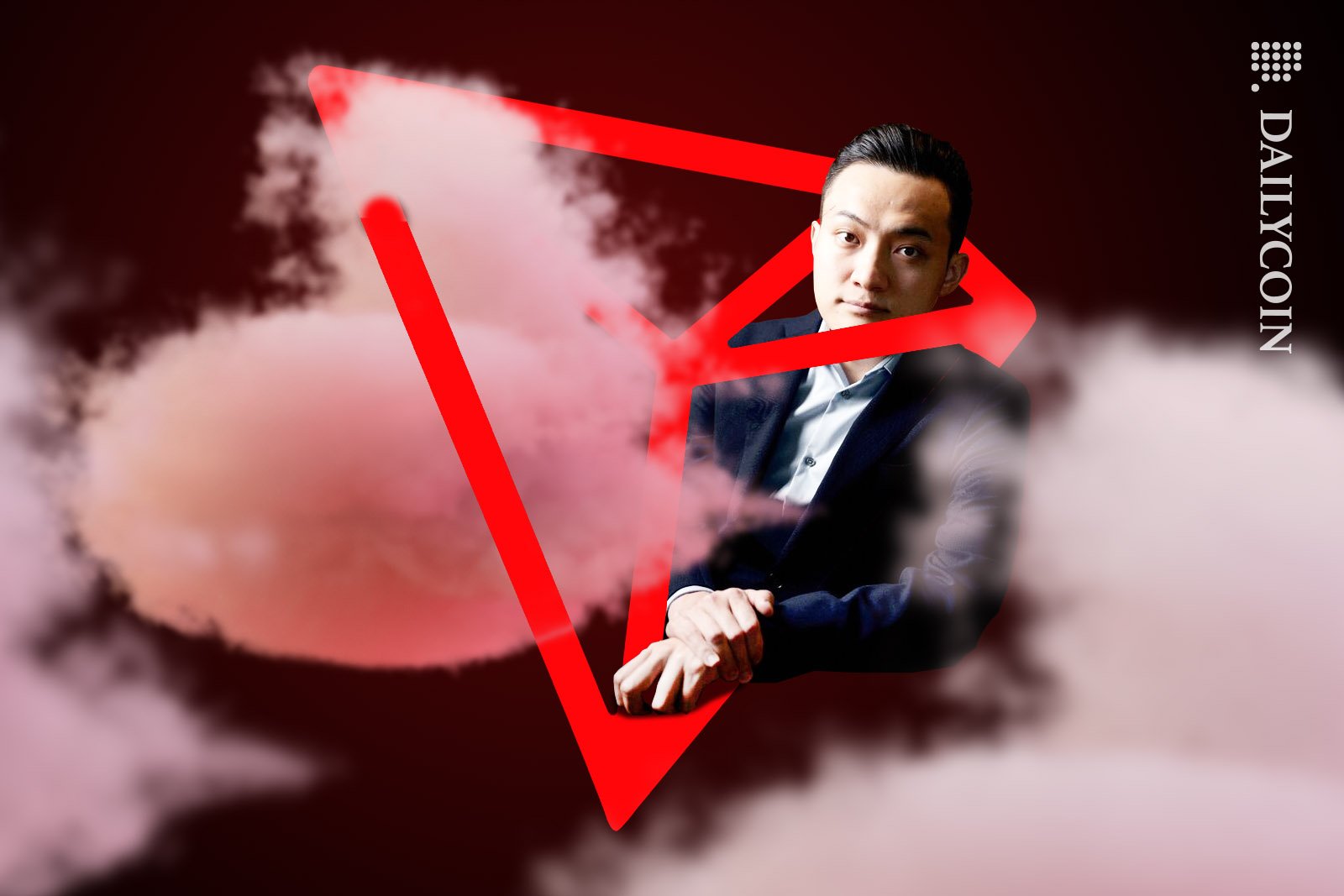 The Tron crypto ecosystem continues to fly somewhat under the radar in the eternally competitive race to be the top Layer-1 blockchain. The cornerstone of Justin Sun's cryptocurrency empire, the Tron blockchain holds more funds than Cardano (ADA), Solana (SOL), and Avalanche (AVAX) combined, but attracts far less hype and attention.
With over 150 million unique accounts, the Tron blockchain claims to be the world's fastest-growing public blockchain. On paper, the Tron network is a perfect candidate to lead a decentralized internet revolution. The network is fast, affordable, and supports smart contract and dApp development, fitting the bill as a potential Ethereum (ETH) killer.
What is Tron, and how does it work? Led by the Tron Foundation, can this scalable network separate itself from the fierce competition and fulfill its destiny to become a truly decentralized internet?
What Is Tron (TRX)?
Tron is a Layer-1 blockchain network that aims to provide a frictionless and accessible decentralized internet for the masses. Like most blockchains, Tron features an account-based structure, meaning anyone can create a wallet and store their digital assets on a public ledger.
The Tron network was initially designed to provide a global entertainment platform where content creators could easily share their work worldwide. While Tron still supports these features, the network has also grown to offer a range of blockchain-based applications, like DeFi apps and NFT functionality.
How Does Tron Work?
What's interesting about Tron is that from the get-go, the team never promised to bring any wildly new innovations or progressions in blockchain technology. Everything from Tron's consensus mechanism to its programming language was recycled from other networks, drawing criticism from experts.
Despite this, Tron has become one of the largest blockchains in the crypto industry, both in terms of user count and market cap.
The Tron Blockchain's Consensus Mechanism
A delegated-Proof-of Stake consensus secures the Tron blockchain. In this DPoS chain, Tron token holders delegate their tokens to validator node operators. These validators, called Super Representatives, are responsible for producing new blocks on the network and representing their stakers in matters of protocol governance.
Every six hours, 27 Super Representatives (SRs) are chosen from a selection pool of over 100 SR Partners, who are in turn shortlisted from over 300 SR Candidates. The 27 chosen Super Representatives earn TRX tokens as a reward for creating new blocks and securing the Tron blockchain.
New blocks are created every three seconds and added to the circulating supply, with each new block rewarding the chosen Super Representative with 32 TRX coins.
Tron Network Architecture
The Tron blockchain operates a TVM (Tron Virtual Machine), which records all accounts and transactions on the network and enables developers to build and deploy smart contracts on the Tron Mainnet.
While similar to an EVM (Ethereum Virtual Machine), the Tron network is not EVM-compatible. Cryptocurrency tokens on the Tron network follow the rules set by the TRC-20 token standard, unsurprisingly similar to Ethereum's ERC-20 standard.
As outlined in the Tron whitepaper, the main infrastructure of the Tron blockchain is broken down into three layers. Separating network responsibilities into different layers helps ease congestion and scale the blockchain.
Core Layer – The Tron core layer handles computational instructions written in Java or Solidity. Transactions are then sent to the Tron Virtual Machine, which executes code logic.
Application Layer – Users and developers interact with this layer to execute on-chain transactions and deploy decentralized applications, products, and services.
Storage Layer – As the name suggests, the storage layer records blockchain data and keeps a live register of the state of the network and all Tron-based smart contracts.
Tron Blockchain Performance
Despite not boasting any revolutionary new technologies or innovative features, the Tron network achieves high levels of scalability and decentralization. Tron claims that its network can reach a maximum transaction throughput of around 2,000 TPS (transactions per second).
On top of that, transaction fees on the network are typically low, with users expecting to pay around $0.000005 per transaction. In this respect, the Tron blockchain is comparable to Ripple (XRP).
These are impressive figures compared to certain Layer-1 networks like Ethereum and BNB Chain, which respectively struggle to hit 15 TPS and 150 TPS. However, Tron still falls short of networks like Solana and Aptos, which theoretically handle over 100,000 transactions per second while maintaining low transaction fees.
The Tronix token
The native token of the Tron blockchain, Tronix, is used to pay transaction fees and secure the network through Tron's DPos consensus mechanism.
TRX tokens are also used as the main currency of exchange for Tron NFTs and can be used in DeFi apps within the Tron ecosystem.
The Tron Ecosystem
DeFi is booming on Tron thanks to a variety of decentralized applications and products. What many people don't know is that the Tron network is the king of Tether (USDT), the largest stablecoin in the crypto market. More Tether coins are stored on the Tron blockchain than on any other network. This adds to Tron's impressive stablecoin dominance over all chains that aren't Ethereum.
The Tron network also hosts several DeFi apps exclusive to the Tron ecosystem, including JustLend, JustStable, and SunSwap, a decentralized exchange. DeFi users can also trade wrapped versions of other popular coins, like Bitcoin (BTC), in liquidity pools on the Tron blockchain.
Admittedly, it seems ironic that a blockchain so committed to decentralization would name its main dApps after one person, Tron founder Justin Sun.
Tron Partnerships
Led by Justin Sun and the Tron Foundation, the Tron blockchain is no stranger to blockbuster partnerships. In October 2019, the Tron network confirmed a partnership with Samsung, one of the world's largest tech companies. Tron tokens are integrated directly into Samsung's built-in blockchain wallet, while the Samsung App Store has a section exclusively dedicated to Tron applications.
Tron also acquired one of the world's largest online file-sharing platforms, BitTorrent, in 2018. The acquisition brought over 100 million users to the Tron ecosystem, making BitTorrent the largest decentralized application.
Tron History
Justin Sun founded the Tron Foundation in 2017 to create a blockchain-based platform to share digital files and data and fairly reward content creators. Tron hosted an ICO (initial coin offering) on the Ethereum blockchain, successfully raising $70M.
The platform proved a great success but was initially limited by Ethereum's scalability issues. Sun set a course of action to deploy a dedicated blockchain to host the platform and launch the Tron blockchain just one year later.
In 2021, Justin Sun stepped down as the CEO of Tron. This marked a significant moment for the Tron blockchain, which became truly decentralized. The network is now governed by its community of token holders and the Tron Foundation, a non-profit organization.
Tron's Controversial Founder: Justin Sun
The founder of Tron, Justin Sun, is a polarizing personality in the crypto community. He never shies away from an online argument, even with industry thought-leaders like Vitalik Buterin, who insinuated that Sun plagiarized content from Ethereum when writing the Tron white paper.
Some believe that Justin Sun has more money than sense. He once paid over $4M to have lunch with legendary investor Warren Buffet. He also spent over $500,000 on an Etherrock NFT, laughing about his purchase on Twitter.
Tron Pros and Cons
The Tron blockchain has plenty to offer. It's fast and cheap, with over 100 million unique accounts stored on the network. Despite this, the Tron network still has a lot of work to do if it wants to compete with other top Layer-1 blockchains.
Pros
High Transaction throughput – The Tron network claims to execute up to 2,000 transactions per second, making it significantly faster than Ethereum.
Low fees – Transaction fees of the Tron blockchain cost less than a cent, making it affordable and accessible to users from all kinds of backgrounds.
High TVL – Second only to Ethereum, the Tron network has a higher TVL (Total Value Locked) than all its other competitors. This means more funds are stored on Tron than on most other networks.
Cons
Low comparative volume – Despite hanging high TVL, the network sees comparatively low trading volume. This suggests that even if plenty of people store their cryptocurrency on the Tron blockchain, most DeFi users aren't trading there.
Outperformed by other chains – The competition between Layer 1 blockchains is fierce. While Tron's scalability is superior to legacy chains like Ethereum, more powerful networks like Solana and Aptos blow it out of the water.
Low developer activity – Tron has a high user count and plenty of value stored on-chain. However, there are few dApps on the network compared to other chains. What's more, this doesn't look to be changing anytime soon. Electric Capital's developer report suggests that fewer than 100 developers are building on Tron, compared to Ethereum's 5,000+.
On the Flipside
The cryptocurrency industry is rapidly evolving, with new technology being discovered and implemented every day to improve blockchains. Even when Tron was launched, it didn't provide any innovative developments. With so many emerging chains pushing the boundaries of blockchain technology, there is a chance that Tron will be left behind if it cannot adapt.  
Why You Should Care
Tron is one of the largest crypto projects in the blockchain industry and holds the largest supply of Tether on its network. Tether plays an immense role in the health and reputation of the crypto space; if the Tron network were to suffer an outage, it would have a significant impact on the entire crypto market.
FAQs
Could Tron reach $100?
While nothing is impossible, it is very unlikely that Tron will reach $100. If TRX reached $100 per coin, Tron would have a market cap of $10T, making it 10x larger than Bitcoin.
Is Tron crypto a good investment?
The crypto market is unpredictable, and knowing whether or not any coin is a good investment depends on your thesis and goals. We recommend that you always carry out thorough research before investing in any cryptocurrency and never buy more than you can afford to lose.
Where can I buy Tron?
You can buy Tron on top crypto exchanges like Binance and Coinbase.
What is the all-time high price of Tron?
The all-time high price of Tron was recorded on January 5, 2018. At the time, Tron's price was $0.30 per coin.
Does Tron crypto have a future?
As long as the Tron Foundation and the Tron community continue to act in the network's best interest, the Tron blockchain will continue to operate and provide a decentralized internet for its users.