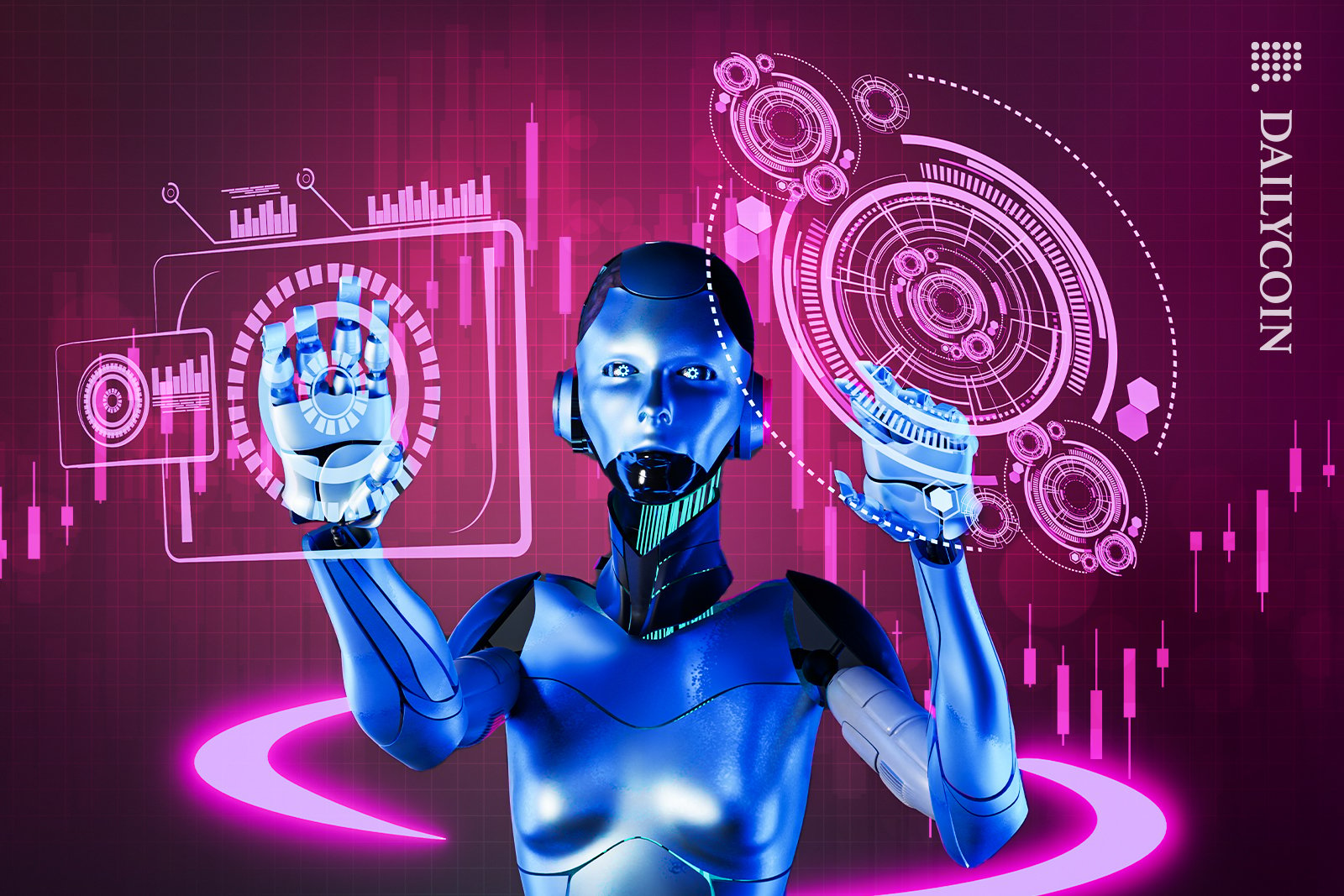 Crypto analysis tools are like a map to buried treasure. As we navigate the thrilling yet unpredictable waters of the crypto market, having the right tools at our disposal can make all the difference.
Whether you're a seasoned trader or a Bitcoin (BTC) beginner, analyzing and understanding the market's ebbs and flows is crucial. Being on top of market data helps you to stay a step ahead of other crypto traders, giving you a competitive edge in the digital asset industry.
At the same time, it's easy to be overwhelmed by the sheer volume of crypto news and complicated metrics. How do you sift through the noise and find the information that truly matters?
The best crypto analysis tools are a compass that guides us through the vast ocean of data, helping us make informed decisions in the digital asset space. In this article, we'll dive deep into crypto research tools, exploring their potential and how they can give you an edge in the crypto market.
What Are Crypto Analysis Tools?
Crypto analysis tools are software platforms or applications designed to help crypto investors and traders navigate the digital asset market. From tracking price movements and market trends to analyzing blockchain data, tracking profitable crypto wallets, and providing predictive insights, these tools offer a wealth of information at your fingertips.
These tools come in various forms, each with unique features and capabilities. Some focus on real-time price updates and historical data of various cryptocurrencies, while others offer in-depth technical analysis and charting capabilities. For DeFi enthusiasts, some tools track on-chain data, providing insights into transaction volumes, smart contracts, and other blockchain activities.
Sites like CoinMarketCap and Coingecko are great places for beginners that are looking for the basics, like cryptocurrency prices and portfolio trackers. However, if you want to dig a little deeper and ask the big questions in the crypto industry, you'll need to find more powerful tools.
How Can Blockchain Metrics and Cryptocurrency Analytics Tools Help Us?
Blockchain metrics and cryptocurrency analytics tools are like the high-powered telescopes of the crypto universe, allowing us to observe and understand the intricate dynamics of this digital cosmos. They provide a wealth of insights that enhance our decision-making process.
But how exactly do crypto analysis tools help us make informed trading decisions?
Understanding Market Trends – Crypto research tools provide real-time data on price movements, trading volumes, and market caps of all kinds of digital currencies. This data helps us identify market trends and patterns and make educated crypto investment decisions.
Technical Analysis – With charting capabilities and a range of technical indicators, these tools allow us to perform in-depth technical analysis on various timeframes. Popular amongst derivatives traders, technical analysis helps predict future price movements and find crypto trading opportunities.
On-Chain Analysis – Tracking on-chain data such as transaction volumes, wallet allocations, and TVL (Total Value Locked). These tools provide insights into the underlying health and activity of different blockchain networks, dApps, and DeFi protocols.
Risk Management – These tools also help manage risk by providing data on market volatility, liquidity, and other risk factors. This can help us make safer and more secure investment decisions and practice portfolio management.
Learning and Education – These tools can serve as valuable educational resources for those new to the crypto world, providing insights into the workings of the crypto market and blockchain technology.
Top 7 Crypto Analysis Tools
The crypto market is teeming with analysis tools that promise you the world, each offering unique features and capabilities. But which ones truly stand out from the crowd? Which crypto trading tools provide the most valuable insights and user-friendly experience?
1. Messari
Topping the list is Messari, a titan in crypto analysis tools. Renowned for its comprehensive and reliable data, Messari should be your first port of call when researching crypto assets. Whether you're looking for real-time price updates, historical data, or in-depth research reports, Messari has got you covered.
One of the standout features of Messari is its commitment to transparency and accuracy. The platform goes to great lengths to verify and validate the data it provides, ensuring users can access the most accurate information possible.
This makes it an invaluable resource for investors and crypto traders who need to make data-driven decisions and solidifies Messari's reputation as a leader in the space. One of the things I love about Messari is that the screener gives up-to-date information about the movements of the crypto industry's top venture capitalists, like a16z.
Moreover, Messari offers a wealth of educational resources, making it an excellent tool for those new to the crypto world. From detailed explanations of blockchain technology to insightful analyses of market trends, Messari is as much a learning platform as it is a research tool.
Messari is like a trusted guide in the crypto universe, providing you with the data, insights, and knowledge you need to confidently navigate the market. Whether you're a seasoned trader or a crypto newbie, Messari is a tool that can truly give you an edge.
Key Takeaways
Accurate, comprehensive data on crypto assets.
Powerful crypto news aggregator.
Tracks the investments of top crypto investing firms.
2. Glassnode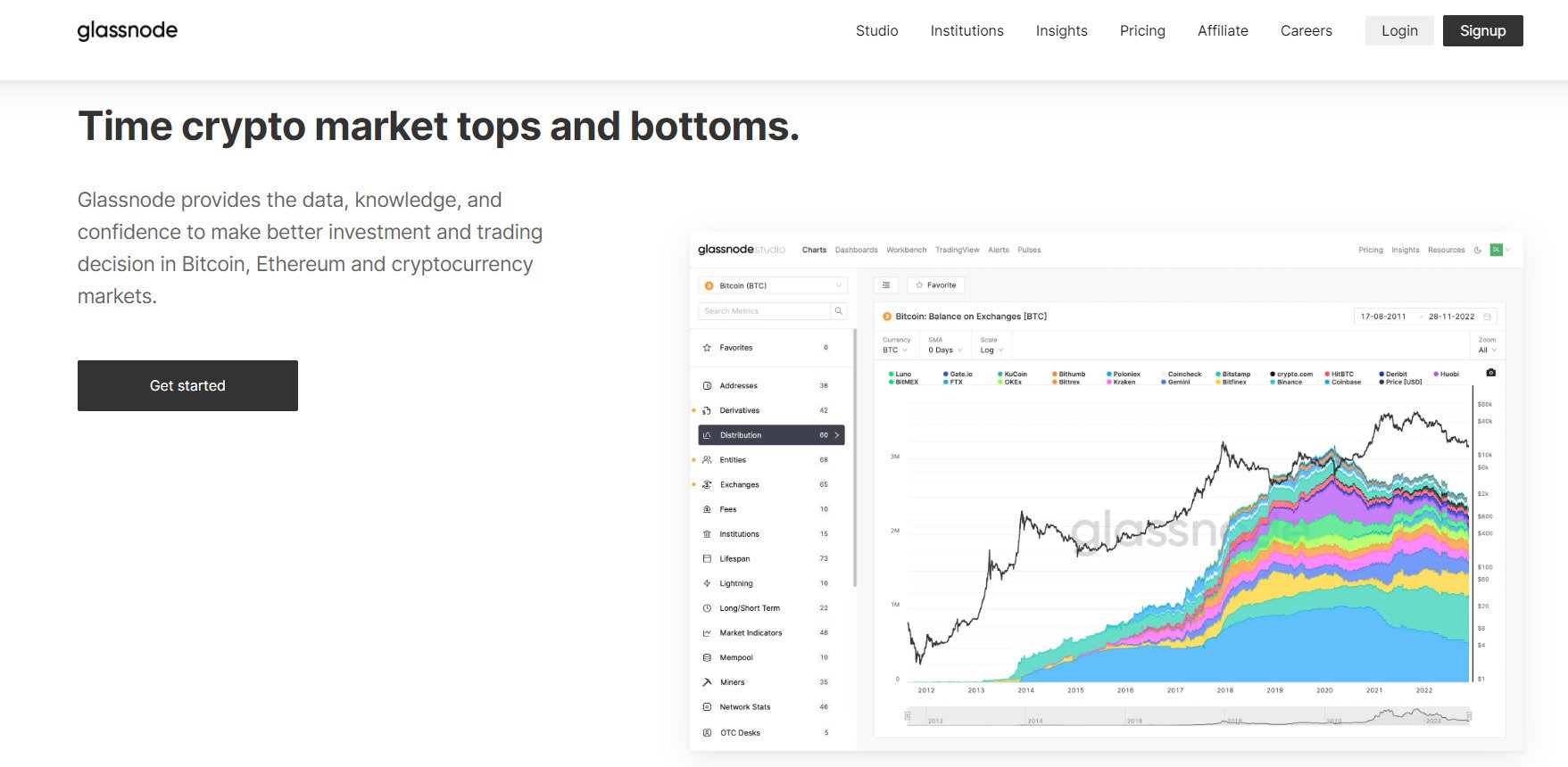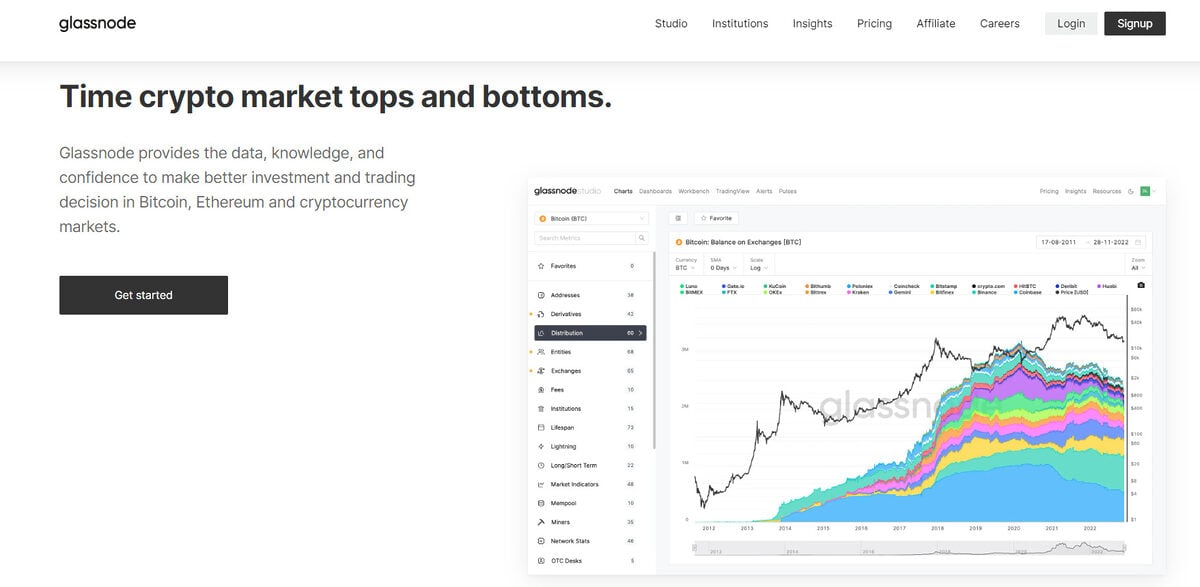 Next up is Glassnode, a platform that shines a light on the often overlooked but incredibly valuable world of on-chain data. As a leading provider of on-chain analytics, Glassnode offers a unique crypto market perspective, providing insights beyond mere price and trading data.
Glassnode's strength lies in its ability to track and analyze a wide range of on-chain metrics, such as the number of active addresses, transaction volumes, and network hash rates. These metrics can provide valuable insights into the health and activity of different blockchain networks, helping investors identify potential opportunities and risks.
Moreover, Glassnode's user-friendly interface and comprehensive data visualizations make it easy for users to understand and interpret on-chain data. Whether you're an on-chain analysis expert or a complete beginner, Glassnode makes it easy to delve into the world of on-chain analytics.
One of my favorite features of Glassnode is tracking exchange inflows and outflows in the cryptocurrency market. For example, this tool helps you keep an eye on the amount of Bitcoin and Ethereum (ETH) being kept on trading platforms like Binance, Kraken, and Coinbase.
Key Takeaways
Wide variety of on-chain analytics.
Clean and simple user interface.
Good for measuring exchange activity.
3. DefiLlama
Coming in at number three is a personal favorite. DefiLlama is a crypto analysis tool that has quickly become a go-to resource for all things related to decentralized finance (DeFi). As the name suggests, DefiLlama is all about DeFi, providing comprehensive data and analytics on a staggering range of blockchain networks and DeFi protocols.
DefiLlama stands out for its extensive coverage of the DeFi sector. The platform tracks hundreds of dApps across multiple blockchains, providing data on total value locked (TVL), user numbers, transaction volumes, and more. This makes it an invaluable tool for anyone looking to invest in or understand the rapidly growing world of DeFi.
What makes this even better is that DefiLlama offers a user-friendly interface and detailed project profiles, making it easy for users to find and analyze DeFi projects. Even if you find the world of DeFi intimidating, DefiLlama makes it easy to explore and understand this exciting sector of the crypto market.
Best part? DefiLlama is completely free.
Key Takeaways
Huge range of Defi protocols.
Excellent cross-chain comparison tools.
Completely free to use.
4. LunarCrush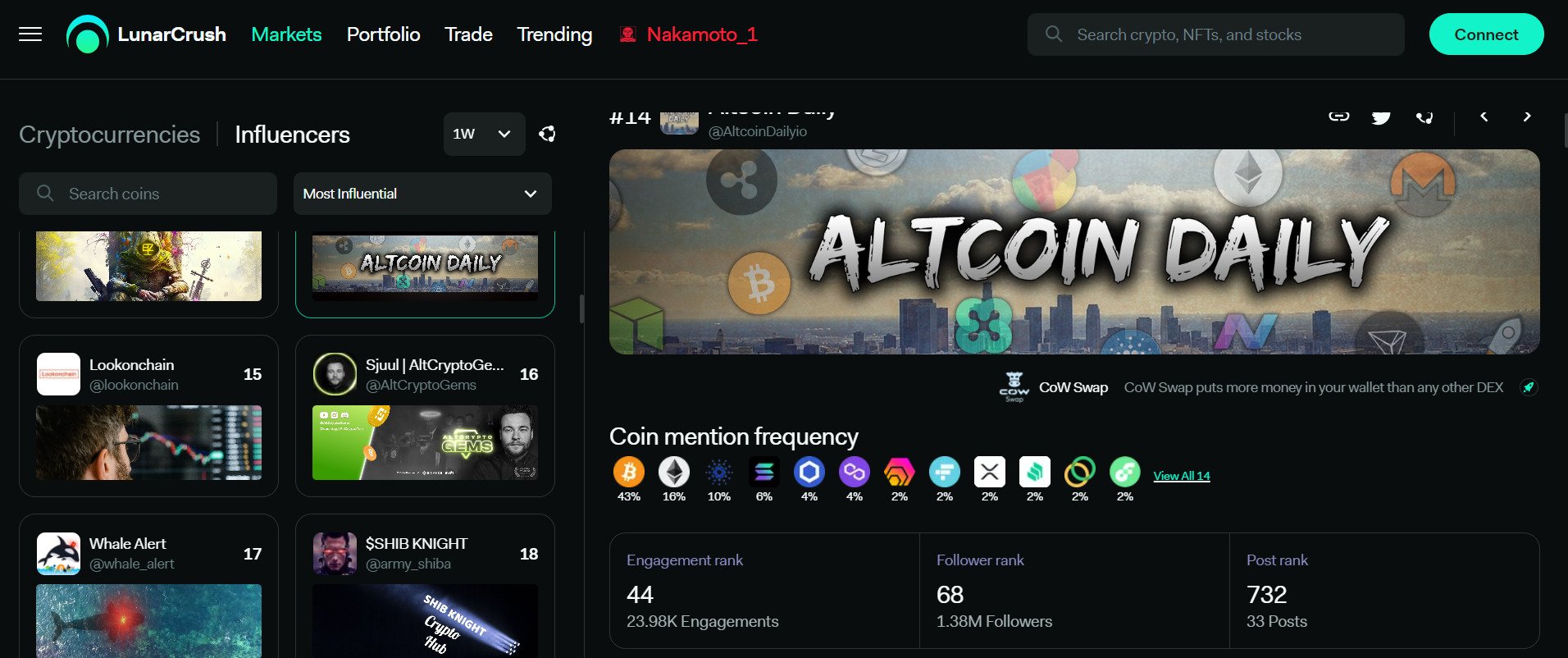 LunarCrush helps us see the crypto market from a different, but no less important, angle. The platform brings a unique and valuable perspective to crypto analysis: social sentiment.
This platform understands that in the crypto industry, public sentiment can have a significant impact on market trends. As a result, it provides tools to track and analyze social media activity relating to various digital assets.
LunarCrush collects data from numerous social media platforms and uses advanced algorithms to analyze this data, providing insights into the overall sentiment towards different digital assets, including NFTs.
In many ways, LunarCrush is like a pulse-checker of the space, helping you understand the sentiments and trends that drive the market. This crypto analysis tool offers a range of other features, including price tracking, market analytics, and an intuitive user interface.
Key Takeaways
Tracks sentiment and public opinion on social media.
Ranks influencers algorithmically based on which cryptocurrencies they talk about.
Built-in trading platform.
5. TradingView
Day traders and technical analysis wizards, this one's for you! TradingView is a platform that has become synonymous with charting and technical analysis in the crypto world. Offering an unmatched suite of charting tools and a vast array of technical indicators, TradingView is a haven for traders seeking in-depth market analysis.
The standout feature of TradingView is its powerful charting interface. With its customizable charts, immense range of technical indicators, and intuitive drawing tools, TradingView offers everything you need to conduct detailed technical analysis.
TradingView boasts a vibrant community of traders and investors, making it not just a tool but a platform for learning and sharing trading ideas. From published trading strategies to insightful market commentary, the community aspect of TradingView adds a whole new dimension to this crypto analysis tool.
Key Takeaways
Leading technical analysis platform in the space.
Wide range of charting tools and indicators.
Social element, with chart sharing and commentary.
6. Nansen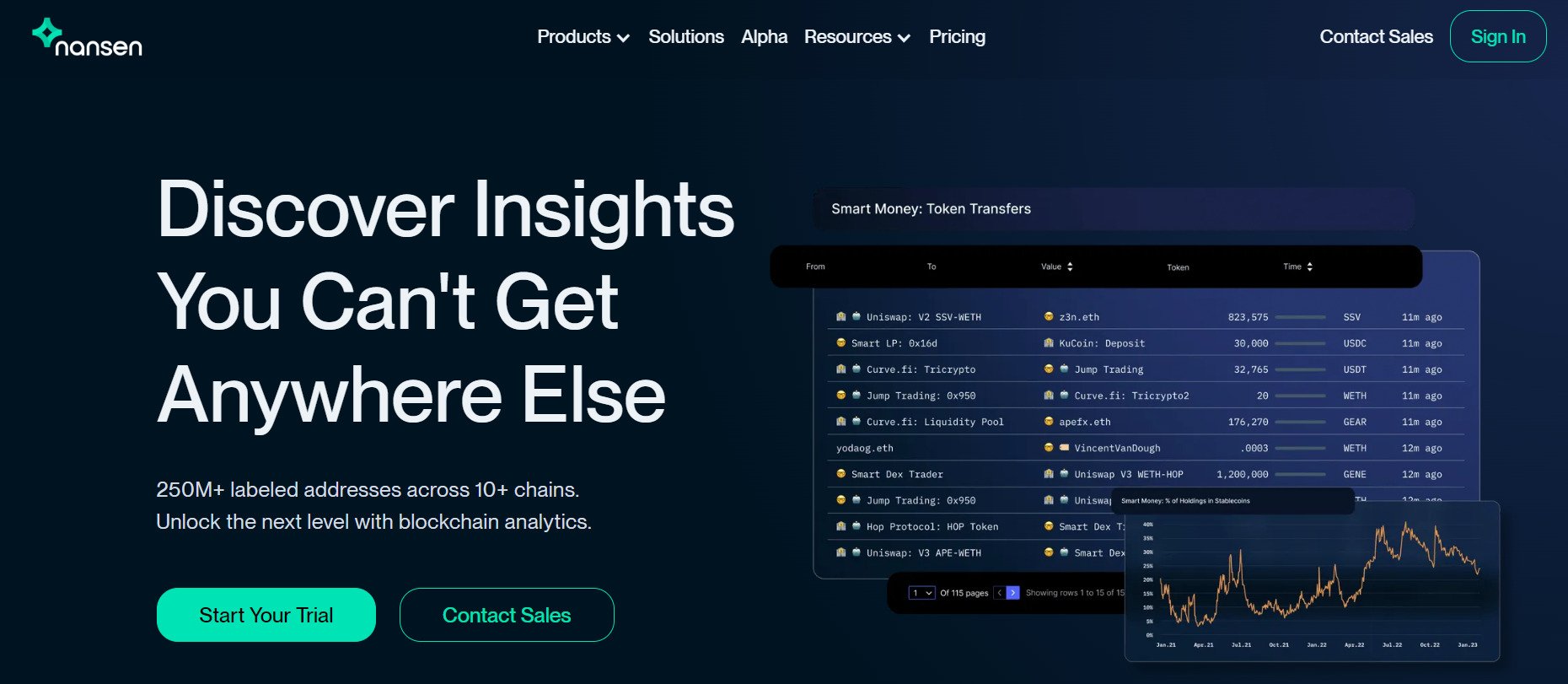 Next on our list is Nansen, a platform that has carved out a niche in the world of on-chain analytics. Nansen stands out for its focus on Ethereum blockchain data, providing detailed insights into Ethereum-based tokens, DeFi projects, and top NFT collections.
Nansen's strength lies in its ability to track and analyze Ethereum wallet addresses. The platform categorizes addresses based on their behavior, helping users identify smart money, DeFi farmers, miners, and other types of participants in the Ethereum ecosystem. This can provide valuable insights into market trends and potential investment opportunities.
Beyond that, Nansen offers a range of other features, including token flow visualizations, DeFi project dashboards, and a user-friendly interface.
Key Takeaways
Specialized for Ethereum and top EVM-compatible networks.
Designed for wallet tracking and niche trend analysis.
Supports NFT integration.
7. CoinMarketCal
Never miss another key hard fork or mainnet launch! Rounding out our list of the best crypto analysis tools is none other than CoinMarketCal, a platform dedicated to listing crypto events. In the world of cryptocurrencies, events such as product launches, partnerships, and regulatory developments can significantly impact market trends.
If you've ever wanted a cheat code for 'selling the news', CoinMarketCal is your best friend. The platform stands out for its extensive coverage and user-friendly interface. CoinMarketCal tracks thousands of events across a wide range of cryptocurrencies, providing detailed information about each event. Users can filter events by date, coin, and type of event, making it easy to find relevant information.
Like any good decentralized service, CoinMarketCal relies on community contributions and uses a voting system to verify the accuracy of event information. This ensures that users have access to reliable and up-to-date information.
Key Takeaways
Tracks crypto market events, like hard forks, mainnet launches, and conferences.
Information is managed by a community of contributors.
Simplified filters help users sort by date, coin, and type of event.
Free to use.
Pros and Cons of Crypto Research Tools
While these crypto analysis tools offer numerous benefits, they also come with their own set of limitations. Understanding these pros and cons can help us make the most of these tools and navigate the crypto market more effectively.
Pros
Informed Decision-Making – Crypto analysis tools provide a wealth of data and insights that give users an edge in the market and help them make informed investment decisions.
Time-Saving – Data is pulled from various sources, saving users the time and effort of gathering this information manually and making crypto research more productive.
Learning and Education – Crypto analysis tools serve as valuable educational resources, providing insights into the workings of the crypto market and blockchain technology.
Cons
Data Accuracy & Manipulation – While these tools strive to provide accurate data, they are not perfect. Data inaccuracies can occur, and not all platforms can pick up market manipulation techniques like wash trading.
Overreliance – Using powerful crypto analysis tools is only one piece of the pie. The crypto markets involve many moving parts that need to be looked at from more than one perspective.
Complexity – Some of these tools, especially those focused on technical analysis or on-chain data, can be complex and difficult to understand for beginners.
On the Flipside
No crypto analysis tool is a true one-stop shop for everything. The crypto market continues to expand in all directions, making it impossible to cover every niche and corner of the industry and give it the time and attention it deserves in one platform.
Why This Matters
People are entering the crypto market in droves, making the space far more competitive than ever. Access to the right tools can be the difference between finding an emerging narrative or trend early and buying at the top.
FAQs
Does chart analysis work for crypto?
All the same technical analysis tools and indicators used in traditional financial markets, like stocks and FOREX, are applicable in the crypto market.
How can I analyze a cryptocurrency?
You can analyze a cryptocurrency by reading its whitepaper, evaluating its team, and researching its tokenomics, product, and market share.
Where to read about crypto projects?
Crypto analysis tools like Messari are an excellent resource for reading about crypto projects.