The Non-Fungible Token (NFT) market has recently gained a lot of attention from the creative industry. It has equally grown in market size, which according to a recent report touts a CAGR of 35.27% and is expected to register an incremental growth of USD 147.24 billion between 2021 and 2026. 
Similarly, the buzz around NFTs has continued to attract investors from all works of life while interest from corporate organizations in the space is soaring by the day. For instance, NFT's weekly sales volume has gone from 100 sales in 2017 to 15,000, or even 50,000, in 2022. 
Amidst the growing public interest, several new NFT projects are being born every day with the potential to change the industry's future or, perhaps, destroy your portfolio. Why is that? You may ask. Keeping track of the best NFT projects and the ones that are likely scams is no easy task for anyone, regardless of your expertise in the space.
To stay ahead of the game and maintain a profitable NFT portfolio, there is a need to keep track of multiple activities ranging from mint dates to project reveals and countdown auctions. Consequently, you need to use various NFT analytic tools; with these in place, and you can stay updated on auctions, project launches, and market insights. 
That said, we decided to compile some of the best analytics tools to help investors track different NFT projects in 2022. All right let's get the show on the road!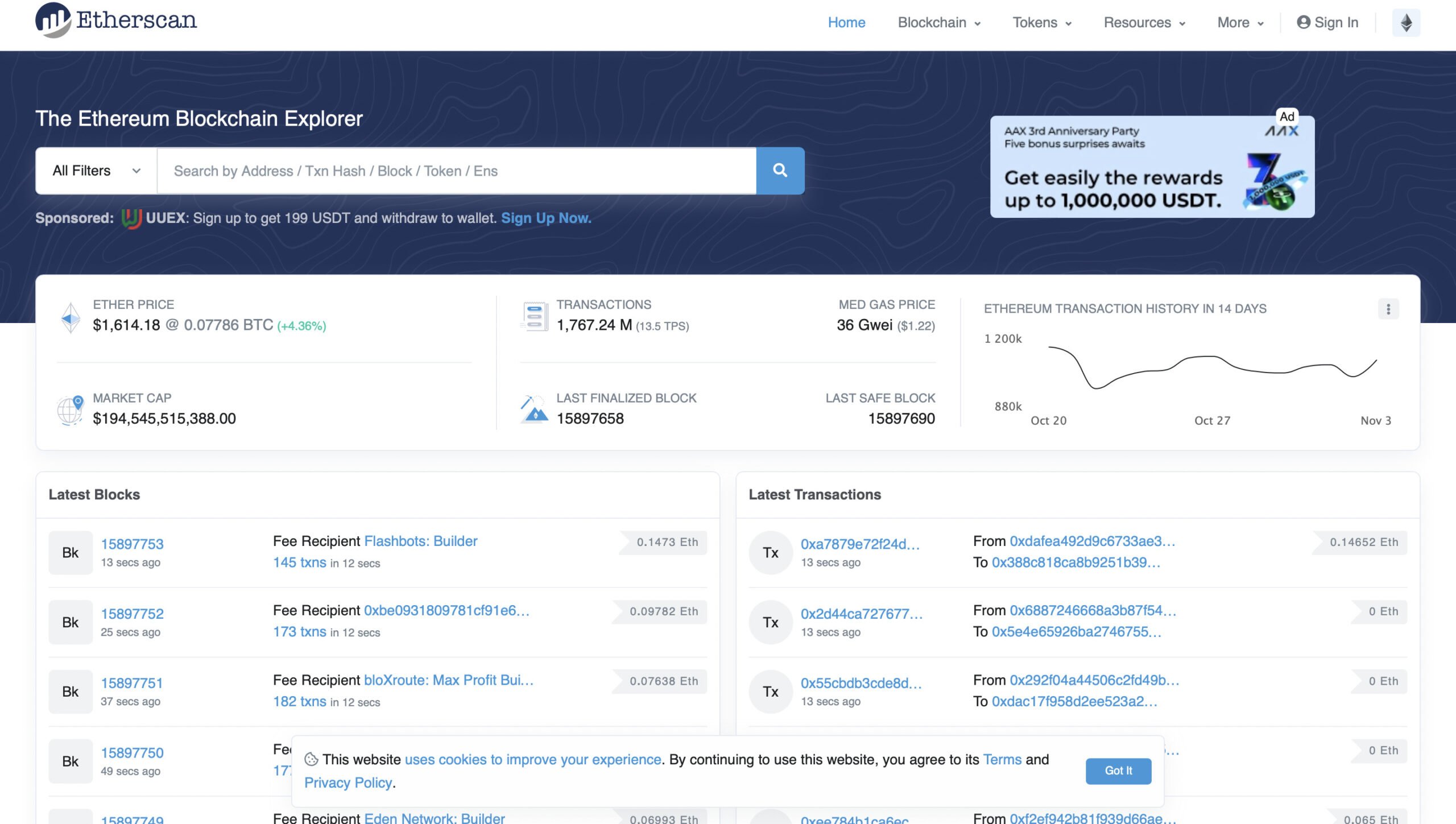 NFT traders often choose to mint directly on Etherscan to ensure they are minting from the right contract. Etherscan allows users to search the Ethereum blockchain for free. You can find past transactions, wallets, smart contracts, and other details related to Ethereum-based assets and trades.
Users can also use Etherscan to learn more about the transactions on the Ethereum network spanning from transfer for coins to purchase of NFTs. The platform breaks down every transaction to show its properties, whether they are for a simple transfer, loaning activity, trade, or another type of activity.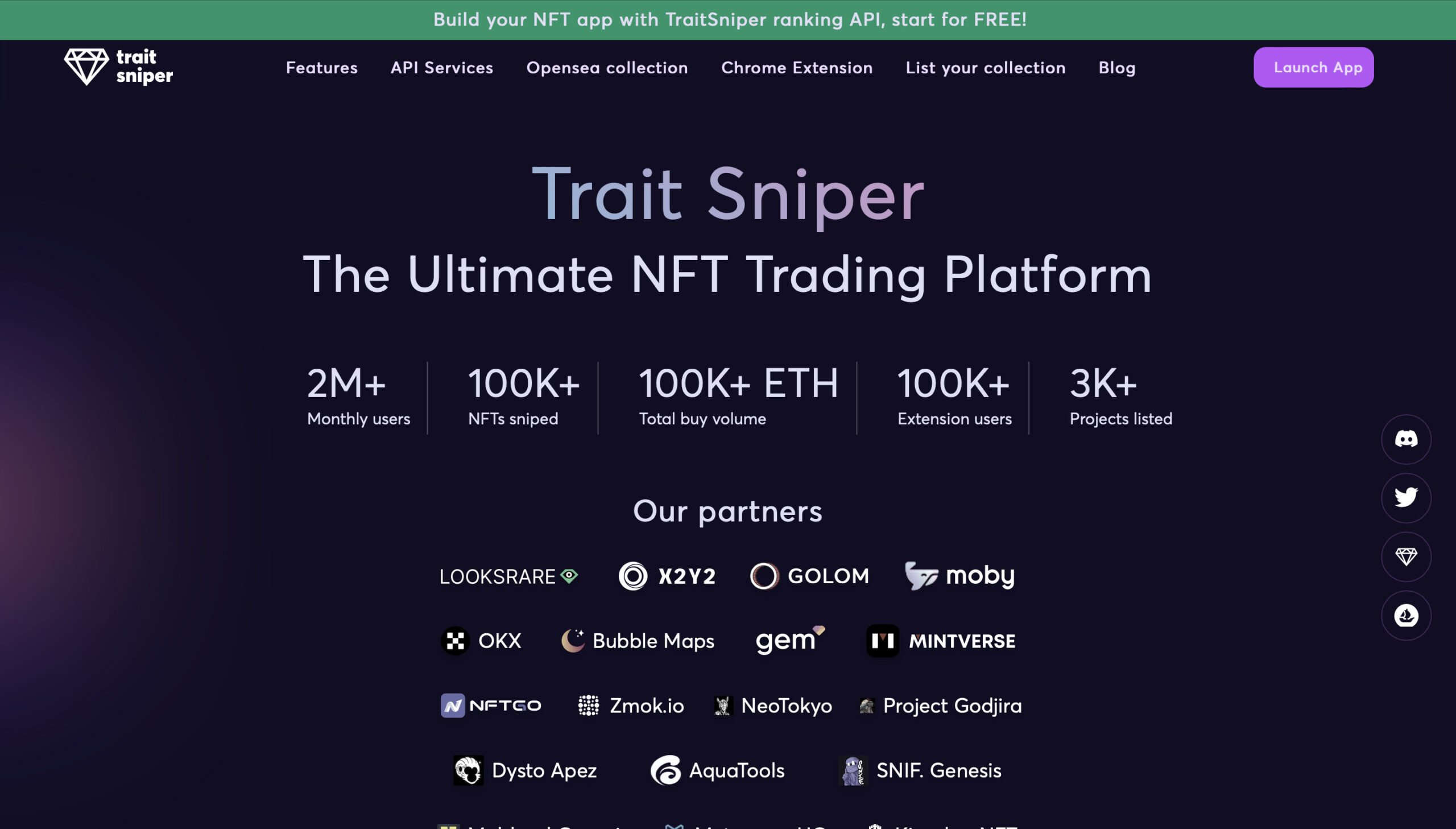 Trait Sniper is one of the most widely used trading platforms for NFT, boasting 2m+ active monthly users. The analytic platform also doubles as a metadata sniffing tool that calculates rarity in an NFT collection as soon as they reveal, which opens up many profit opportunities.
The platform scans NFT collections with ease and speed. It can scan any number of NFT collections and reveal instant rankings in as little as 30 seconds. It has a 95% accuracy rate and can also set up alerts to alert you of mispriced NFTs.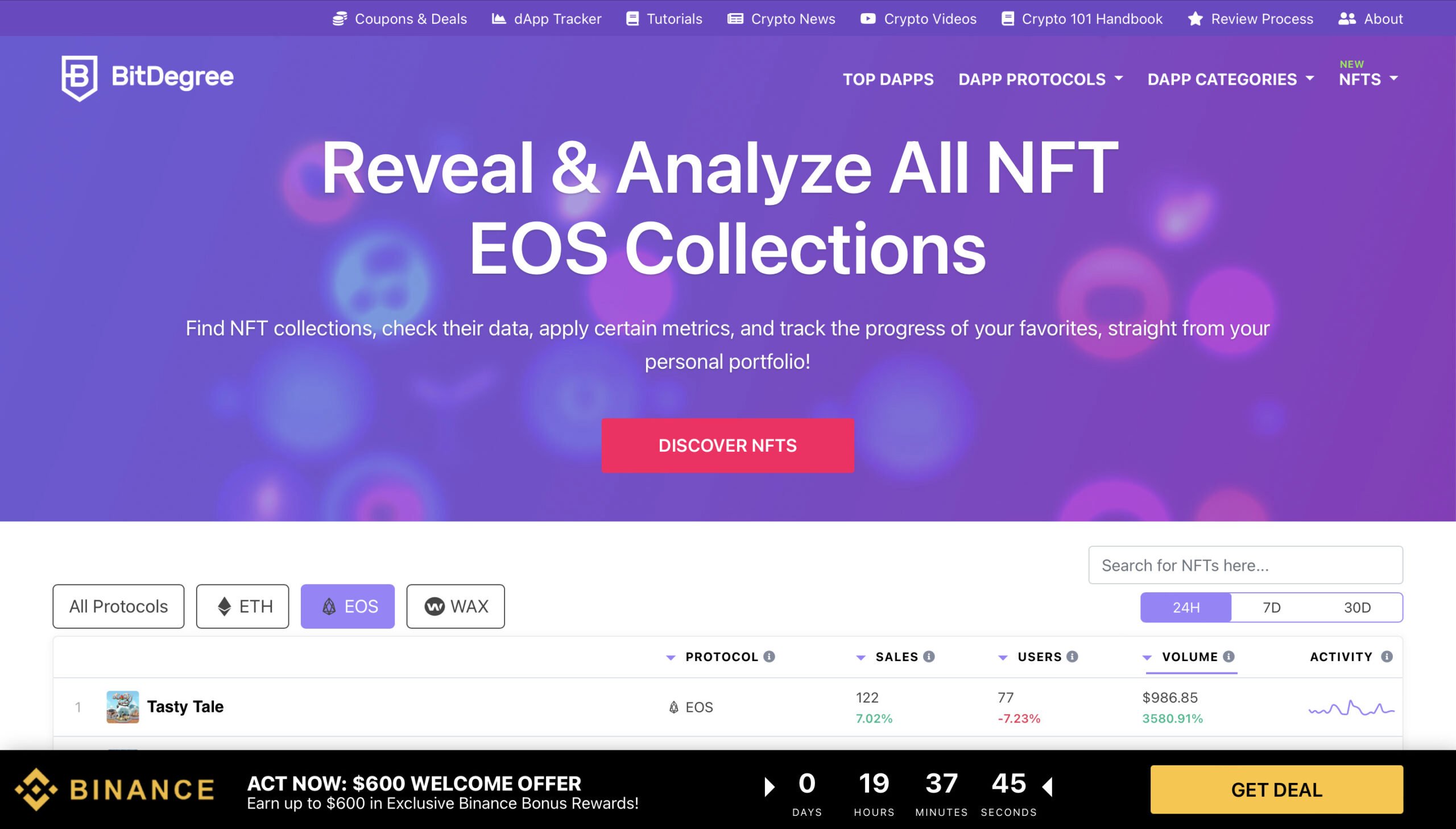 Founded in 2017, BitDegree is an online research tool for NFT investors. It allows users to search through thousands of NFT collections and analyze them with various metrics, including blockchain protocol, sales, users, and trade volume. The platform can also track the top NFTs based on market performance (i.e., demand) and make recommendations. 
BitDegree also has a dApp Tracker, which allows users to explore, track, and analyze all blockchain dApps. Similarly, the platform allows users to personalize their crypto analysis process by enabling them to stack a portfolio of projects that they can monitor, set conditional events for, and track performance fluctuations.
NonFungible boasts the largest blockchain gaming and crypto collectible markets database. It offers real-time project rankings, asset price evolution, and advanced market analysis. 
The platform also offers data on blockchain collectibles and gaming markets, helping investors understand the market while building a valuation model. NonFungible further lets users compare similar assets to determine whether they are getting a fair price when buying or selling NFT.
DappRadar is a free go-to site for NFT collection and sales analysis. The platform lets you find the Top NFT collections, the Top NFT Sales, and the Top NFT Marketplaces.
In 2020, they came up with a portfolio tracker for users to monitor Ethereum wallets in real-time. Not only that, DappRadar enables users to directly view any NFT collection's volume, traders, and sales. At the same time, users can keep track of trending NFT collections and also monitor their real-time sales volume. So far, the platform currently boasts over 500,000 monthly visits with support for more than 20 blockchain protocols.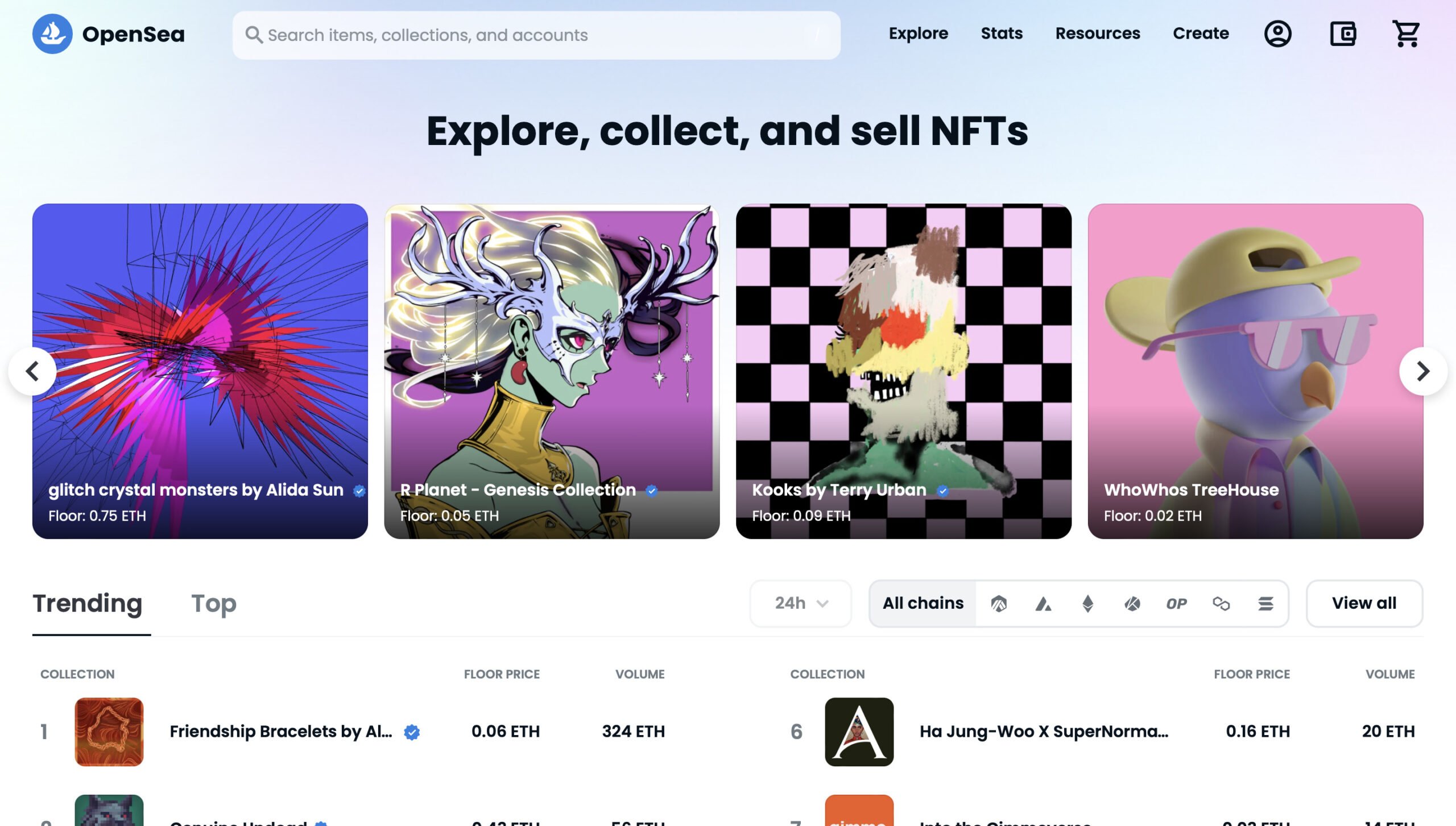 Definitely one of the most widely used sites in the world, OpeanSea allows users to trade, purchase, sell, and track NFTs. This platform offers you a variety of tracking and analysis tools and makes it easier for you to choose which NFTs to invest in.
Being the world's largest NFT marketplace, it makes it simple to view all activity and data for any NFT listed on the platform. The platform lets you see the activity and ranking of an NFT in real time by going to the Stats page. All NFTs based on the Ethereum, Polygon, and Klaytn blockchains are supported.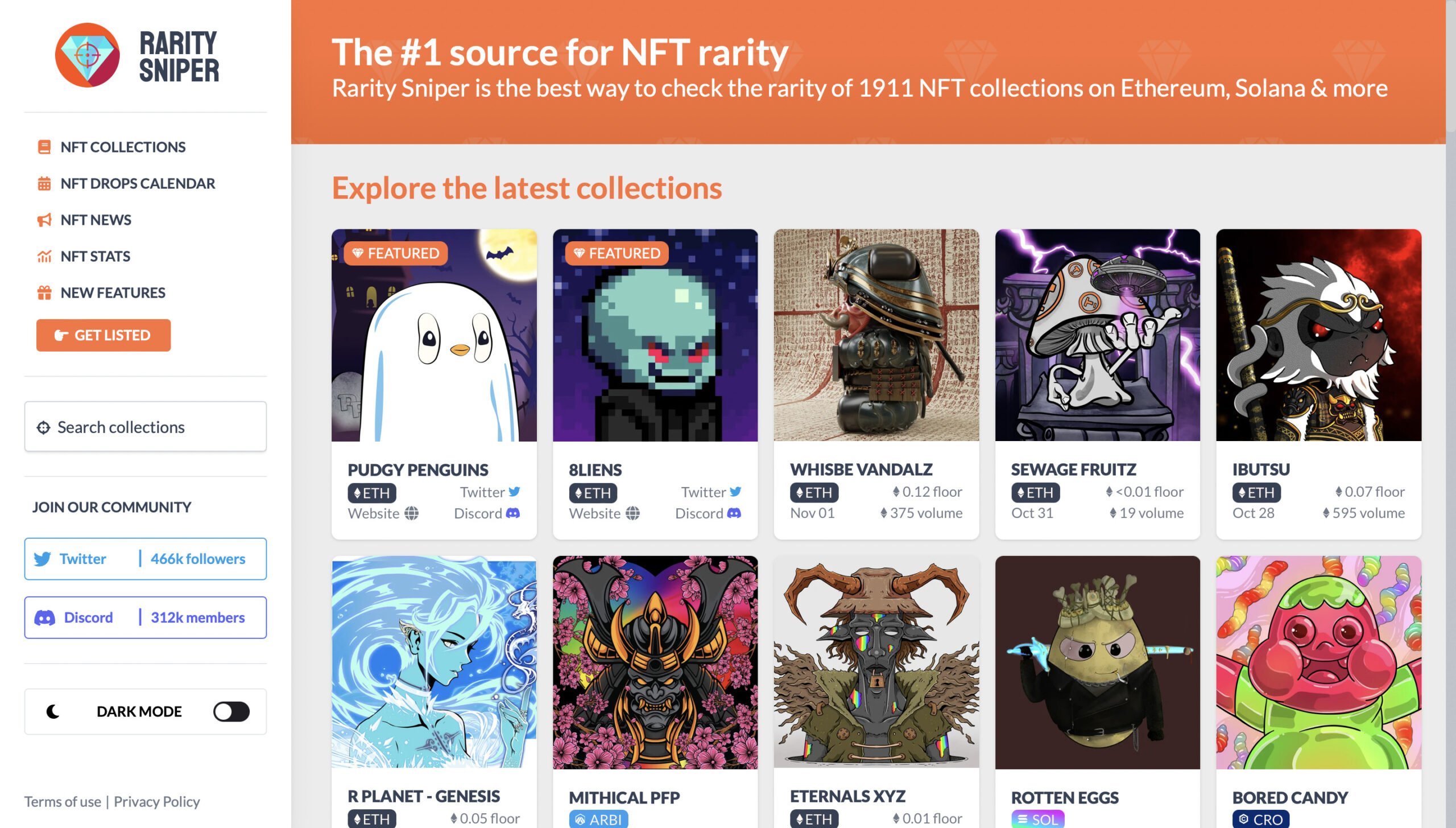 Rarity Sniper is one of the biggest NFT communities in the world and the best way to check the rarity of 1911 NFT collections on Ethereum, Solana and more. It has a community of more than 492,000 Twitter followers and 321,000 Discord members. 
The platform scores are for image NFTs, colloquially referred to as JPGs, and more specifically for large NFT collections. The rarity tool includes more than 1,500 projects from 18 blockchains. 
Rarity Sniper also provides the latest news in the space and an NFT calendar for upcoming projects' mints, helping users stay informed about the market and keep up with future mints.
NFTBank is the easiest way to build and manage your entire NFT portfolio from one place. It offers you in-depth knowledge about NFT investment. 
For a particular NFT or collection, you can view the spending, ROI, and other activities. The NFTBank tool can also be used for portfolio management. A basic user interface, analytics, and a portfolio tracker are just a few of the many services that consumers can access.
Rarity Tools is a free tool many investors are fond of due to its broad tracking and analytical skills. It offers a simple, easy-to-understand ranking method for NFTs. You can easily compare two NFTs and check how rare an NFT is compared to the others in that collection.
Rarity functions by giving every trait in a particular NFT a rarity score. These scores are then summed up to make up the overall NFT rarity score. NFTs are then ranked according to their overall rarity score, making swapping and trading much easier.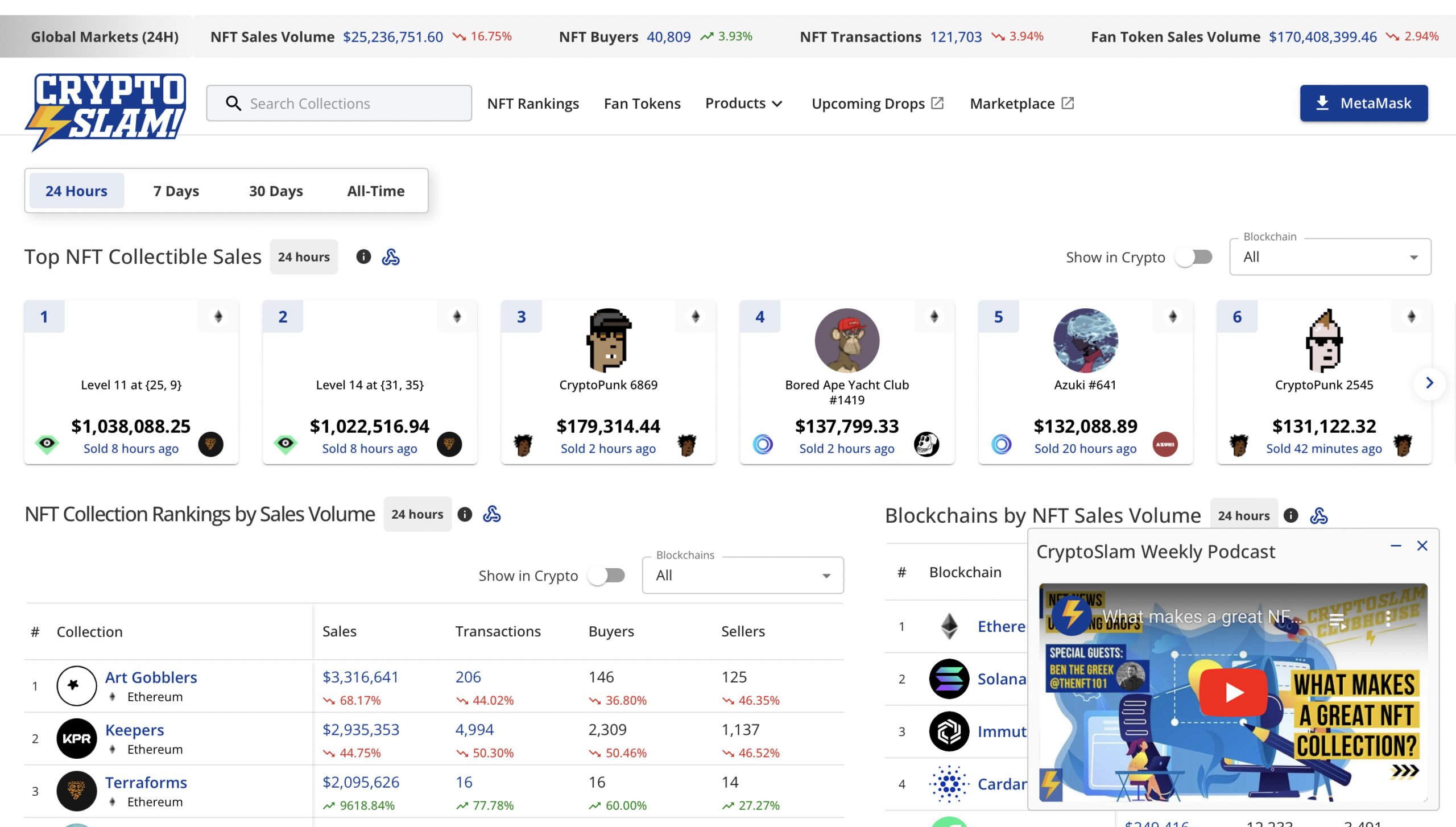 Founded in 2018, Cryptoslam is an NFT aggregator that tracks the location and metrics of numerous NFTs from over 50 websites and projects.
Cryptoslam can be used to track daily sales volume, market sellers, mints, top market buyers and sellers, NFT collection ranking by sales volume, blockchain by NFTs sales volume, and more.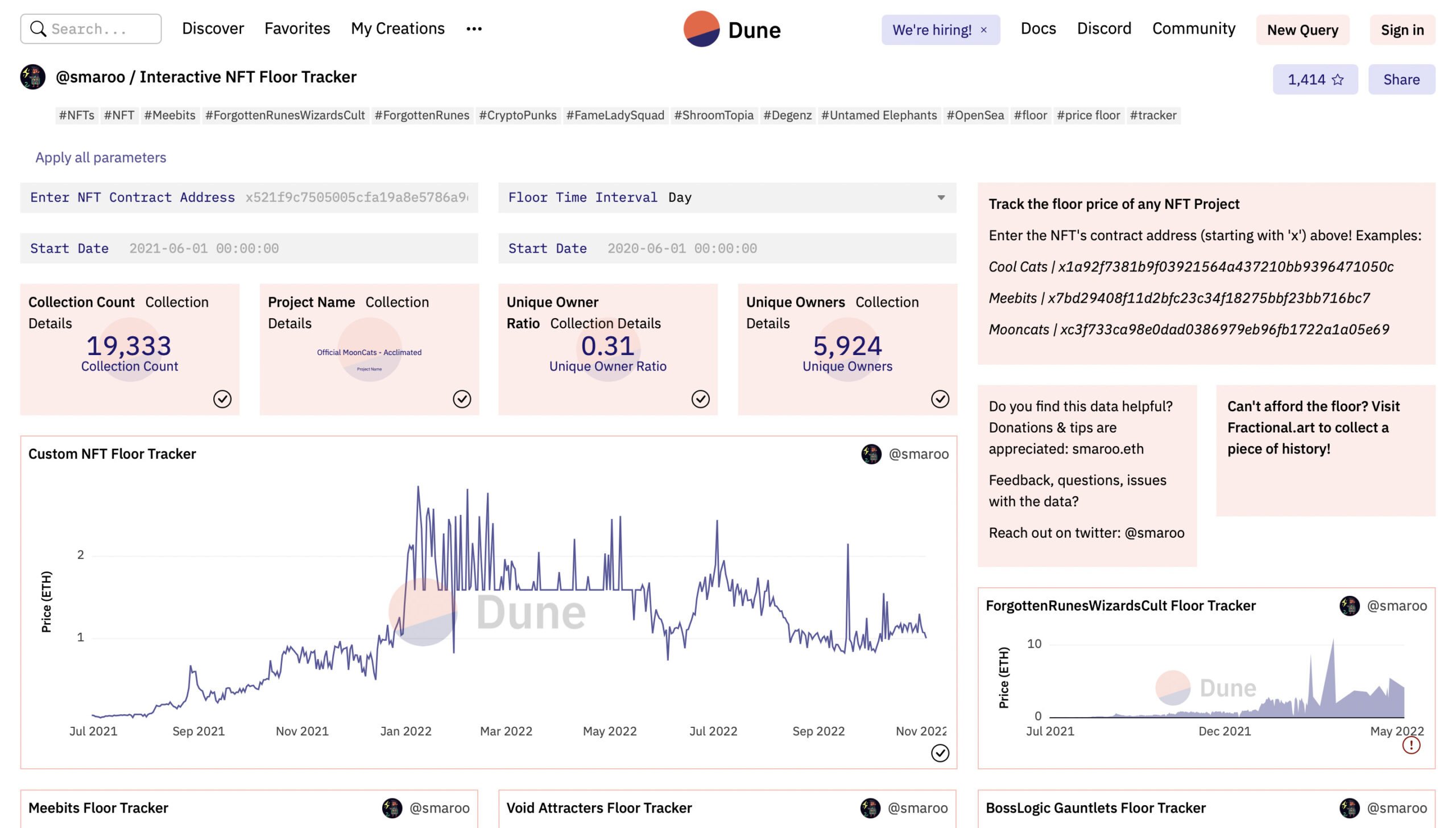 Dune Analytics is arguably one of the most well-known free NFT analytics tools. Launched in 2019, Dune is great for those who don't have a lot of technical knowledge. 
Dune allows you to organize historical collection data and visualize them as graphs. It is a top NFT tool that lets you monitor floor prices of NFT collections, NFTs listed for sale, and more. 
The platform also allows users to create custom dashboards to do deeper research before making NFT investments. It supports multiple blockchain platforms, such as Ethereum and Polygon.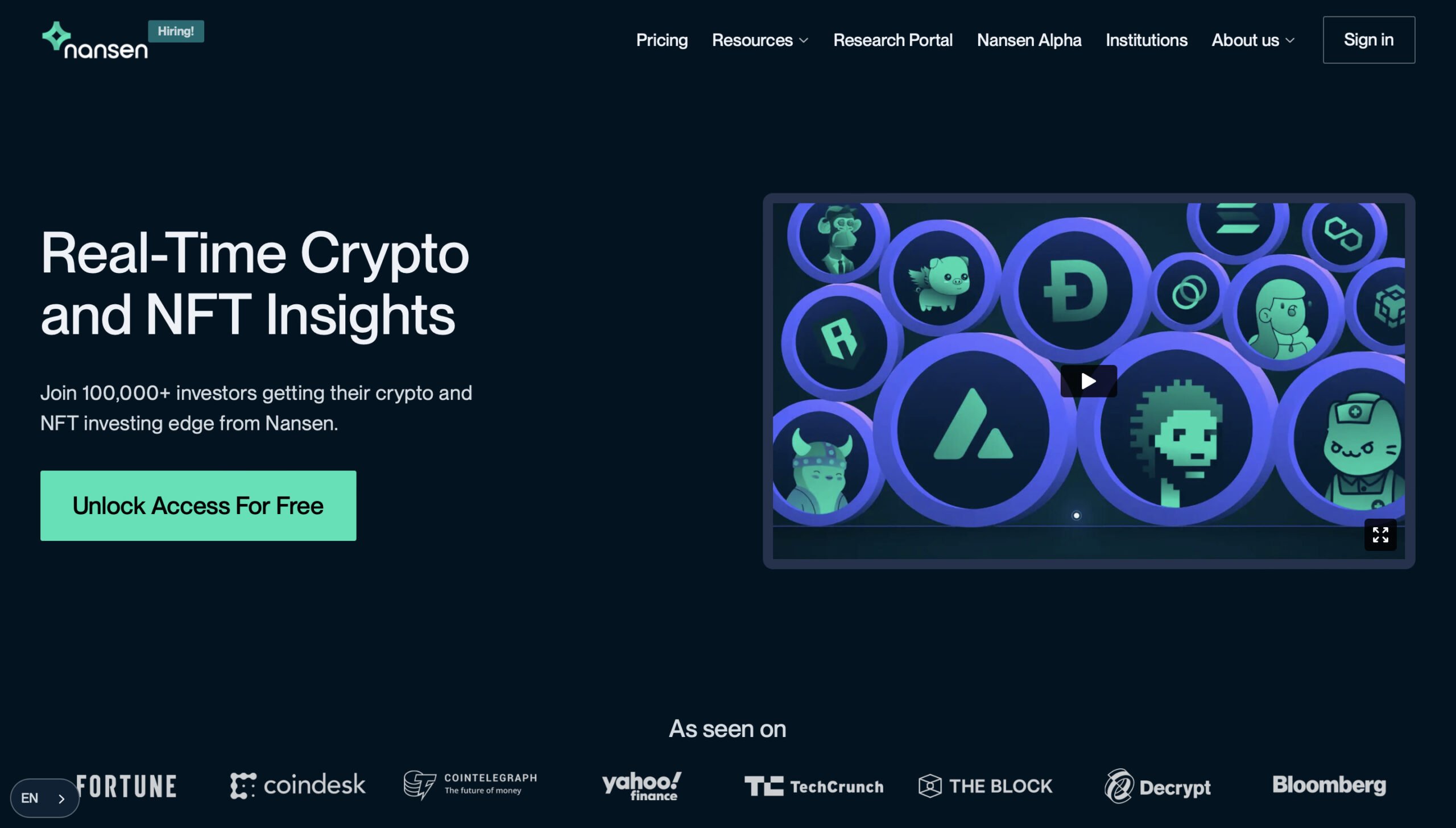 Since 2020, Nansen has built a reputation of being one of the best premium NFT tracking tools for investors. Nansen offers insights about the NFT marketplace and makes it easy for you to spot any emerging NFT trends. It also lists the rarity of NFTs in various collections.
Nansen gives detailed wallet address insights, especially for those owned by crypto whales. NFT Paradise is Nansen's primary window to the NFT market, giving exclusive insights into the general state of the market and marketplaces. 
It contains a profit leaderboard that introduces users to the most profitable investors in the space and lets them analyze their prior investment decisions. Unfortunately, Nansen is not a free platform. Its pricing starts at $100 per month, billed annually.
With the introduction of new projects and use cases, the NFT market is becoming increasingly complicated. As a result, having an indepth understanding of the market is much more important now than ever, necessitating the use of analytic tools such as those mentioned above. These analytics tools ensure that you invest in the right NFT projects and potentially maximize your profits by keeping track of any upcoming and existing NFTs and more.