Crypto's most wanted criminals are an unruly bunch. Hunted for everything from pyramid schemes and securities fraud to cybersecurity hacks, these blockchain bandits are either missing in action or still at large.
The cryptocurrency world is murky and perilous. If you believe what mainstream media tells you, crypto enthusiasts are a bunch of anonymous criminals, slinging magic internet money at vaporware and complex fraud schemes.
Despite similarities, this is not to be confused with investment managers at Silicon Valley Bank.
Con artists and hackers like those listed below only fuel the fire, damaging the crypto industry's reputation.
Who are these devilish rogues, and what crimes have they allegedly committed?
Crypto's Most Wanted List
Before diving into the list itself, let's quickly clarify the criteria. It would be easy to put big players like Sam Bankman-Fried and Do Kwon at the top of the list. However, considering the FTX CEO and Luna founder have been taken into custody, they've lost their places to more elusive foes.
To qualify for this list, a crypto crook must be:
Provably guilty of the crime they've allegedly committed.
Still at large or haven't been brought to justice.
Reported missing or presumed dead.
1. CryptoQueen Ruja Ignatova
Top of the list is none other than Dr. Ruja Ignatova. Wanted by law enforcement squads and special agents worldwide, the CryptoQueen has been on the run since 2017 with over $4B in stolen investor funds.
In Jamie Bartlett's book 'The Missing CryptoQueen,' Ignatova is described as a smart and driven entrepreneur. After studying European Law at Oxford University, it looked like she had a great career ahead of her. Ultimately, an insatiable desire to be rich led her astray.
Ruja Ignatova founded Onecoin, a company that promised to dethrone Bitcoin (BTC) and steal its position as the world's top digital asset. Glamorous and charismatic, the CryptoQueen swindled investors out of billions of their hard-earned cash.
Onecoin was a glorified multi-level marketing scam, where money from new investors is essentially paid to previous investors. This type of scam is more commonly known as a pyramid or Ponzi scheme. Investors were promised 5x and 10x returns and encouraged to convince other potential investors to buy Onecoin cryptocurrency packages.
A German citizen born in Bulgaria, Ruja Ignatova is wanted for leading one of the largest international fraud schemes ever operated. She was assisted by her co-founder, Sebastian Greenwood, who was since pleaded guilty to wire fraud and money laundering charges.
Ignatova's brother, Konstantin Ignatov, also couldn't escape punishment. He was arrested in Los Angeles in 2019, trying to return to Bulgarian soil.
To this day, Ruja Ignatova has yet to be found. In 2016, the CryptoQueen boarded a flight in Sofia bound for Athens, Greece, and disappeared forever. Her notoriety has found her a place as the only woman on the FBI's Top Ten Most Wanted Fugitives List.
The FBI speculates that Ignatova travels with a troop of armed guards and might even be unrecognizable, thanks to plastic surgery.
In January 2023, a London penthouse was listed for sale in her name, giving the FBI new hope that she might be found. However, German prosecutors appeared behind the recent listing after seizing the property.
2. The Cajee Brothers
In 2019, Ameer and Raees Cajee created a cryptocurrency business based in Johannesburg, South Africa. Masquerading as an exchange, Africrypt promised investors a five-fold or ten-fold return on investment for their Bitcoin purchases. Sounds familiar?
After collecting around $3.6 billion from investors, the Cajee Brothers, at the tender ages of 21 and 18, claimed Ukrainian hackers attacked their site. According to Sean Peirce, head of the investigation, the claims were unfounded.
The disgraced Cajee brothers fled the country under the weight of death threats from investors. The young scammers join the ranks of cryptos' most wanted criminals and have been hiding ever since.
3. The Lazarus Group
Infamous for a string of cybersecurity hacks spanning more than a decade, the Lazarus Group is arguably the most dangerous cybercrime group in the world. Based in North Korea, the Lazarus Group is suspected of being behind both the Axie Infinity Bridge Hack and Harmony Horizon Bridge attack in 2022.
Rumor has it that Lazarus Hackers are hand-selected from amongst the brightest children in North Korean schools and specifically trained to become elite hackers. While it's never been proven, the Lazarus Group is suspected of being a secret arm of the North Korean government.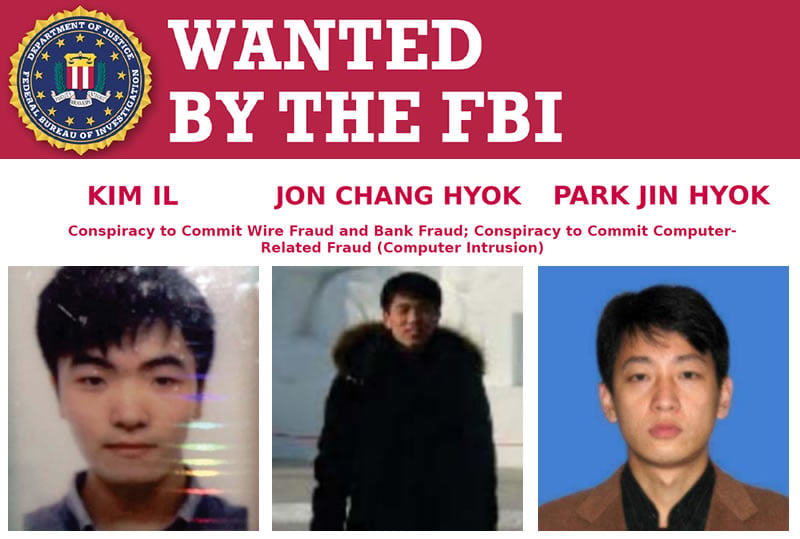 Rounding out our list of crypto's most wanted crooks, the suspected leader of the Lazarus Group is Park Jin Hyok. He's wanted by the FBI, alongside other suspected members like Kim Il and Jon Chang Hyok.
On the Flipside
While it may seem like the bad guys keep getting away, things seem to be improving. U.S. Attorney for the Southern District of New York, Damian Williams, acted quickly to get Caroline Ellison and SBF indicted within a month of the company's collapse.
While the CryptoQueen is still in hiding, the successful capture of Sam Bankman-Fried and Do Kwon is renewing crypto investors' faith in law enforcement.
Why You Should Care
Unfortunately, wherever there is greed, bad actors lurk to take advantage of it. Ponzi schemes and multi-level marketing scams are common in the crypto space.
You must identify these pyramid schemes to protect your funds, or you might end up with a personal vendetta against future members of crypto's most wanted list.
FAQs
Who is the most wanted crypto scammer?
Dr. Ruja Ignatova is the most wanted crypto scammer after disappearing with over $4 billion worth of investors' money.
Where is Dr. Ruja now?
The whereabouts of Dr. Ruja Ignatova is unknown. She was last seen boarding a flight in Sofia, Bulgaria, and has not been seen since.
Can stolen crypto be traced?
Yes, stolen crypto can be traced using a blockchain explorer. However, thanks to applications like token mixers, it's easy to lead trackers astray.
Is Onecoin still trading?
No, the Onecoin exchange was shut down in January 2017.