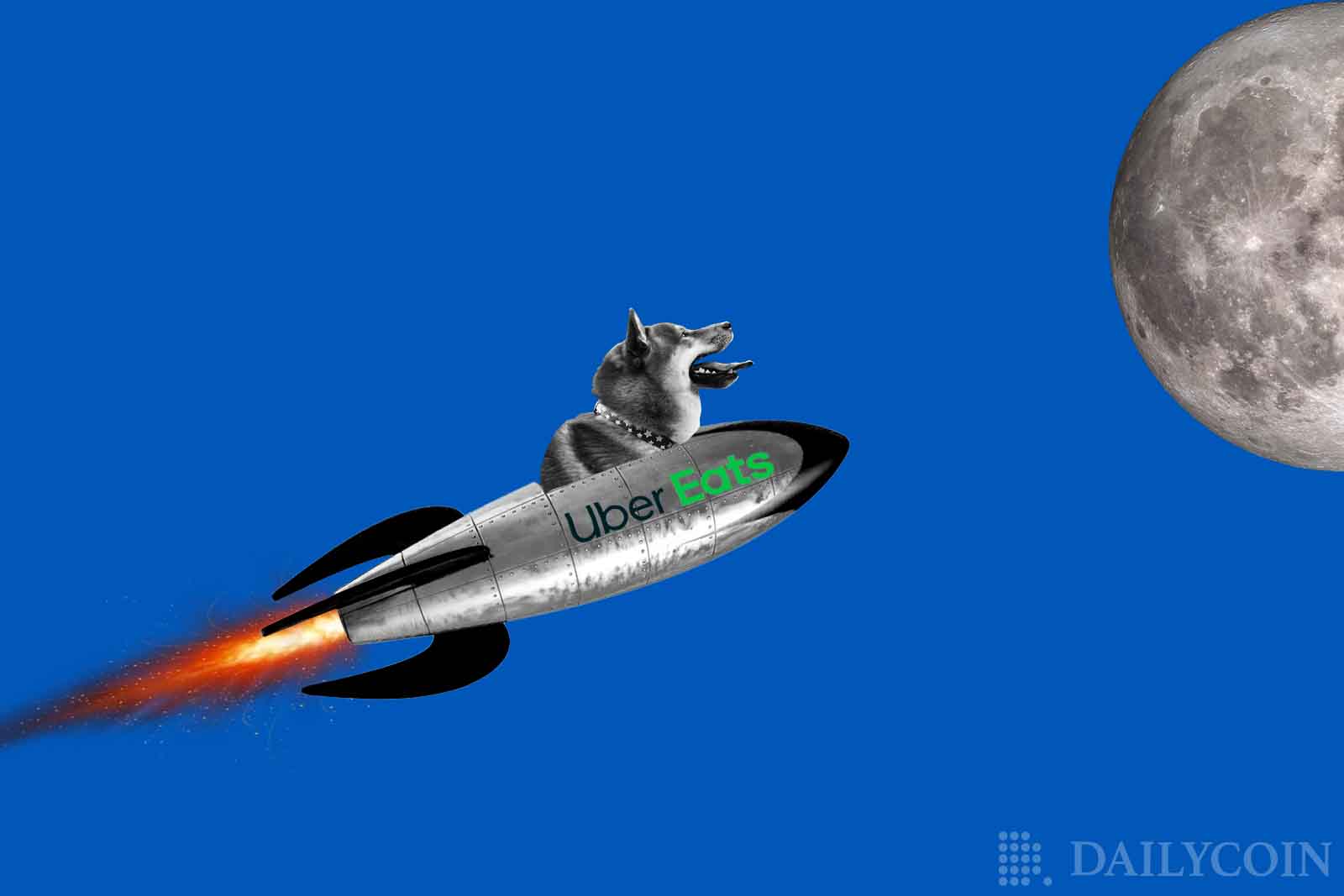 The wide adoption of Shiba Inu may come as a surprise to some, but thanks to the immense growth of the SHIB Army crypto community, holders of the dog-themed crypto now find themselves able to book flights, hotels, book a ride in a Lamborghini and, as of last week, enjoy a delicious meal from the comfort of their own homes through two of the top American food delivery services.
3 Ways to Eat with Crypto
In recent news, both Uber Eats and DoorDash announced the availability of crypto payments using three different methods:
The BitPay crypto card, which supports Bitcoin (BTC), Ethereum (ETH), Bitcoin Cash (BCH), Dogecoin (DOGE), Shiba Inu (SHIB), Litecoin (LTC) and popular stablecoins. To order from Uber Eats, customers simply need to provide their BitPay card details, and the crypto will be automatically converted into cash for the transaction.
Prepaid gift cards – ranging between $25 to $1000. To access this feature, users can download the BitPay app, and enter the shop through the 'Crypto' page. Upon completing the transaction on the app, the gift card of the chosen amount will be delivered to the user's specified email address. An added benefit is that these gift cards are also supported by Google Pay and Apple Pay, thus circumventing the usual gift card hassle many have otherwise encountered.
Delivery & takeout on Menufy, a new, local food & national chain website that accepts Bitcoin (BTC), Ethereum (ETH), Shiba Inu (SHIB), and its rival Dogecoin (DOGE), for payments. In spite of the fact that Menufy is only available in the United States, BitPay has made provisions for other regions, saying: "Europeans, fear not. You can get the very same service on your side of the pond using Takeaway.com". Indeed, Takeaway.com is a crypto-friendly food delivery service available in 14 European countries, as well as in Israel.
Enjoy Breakfast at Chili's with Shiba Inu
Some of the restaurants participating in this mouth-watering deal include Chili's, Bonefish Grill, Steak 'n' Shake, Carrabba's Italian Grill, and many others featured on Bitpay's merchant directory. As it stands, there are a wider range of delivery options compared to takeout, unless buying with a gift card, which can be done in-app.
Although many of the top cryptocurrencies recorded losses last week, popular, dog-themed, meme coin Shiba Inu (SHIB) raked in double-digit gains, with its price rise of 10% putting it firmly in the green zone.
At press time, Shiba Inu (SHIB) trades at $0.00001093, according to CoinGecko. Despite the aforementioned 10% weekly increase, that marks a 4.3% loss over the last 24 hours, following a similar trend to the world's leading crypto asset, Bitcoin (BTC), which dropped 4.2% in value.
It's Getting Hot in Here for Shiba Inu
Ever since wiping a zero from its valuation, Shiba Inu (SHIB) has enjoyed a wave of success. It was revealed that SHIB is held by the majority of Coinbase users, and news of the meme coin's listing on Robinhood only served to build hype on Twitter, with hashtags like "#SHIBArmy" and "#SHIB" constantly trending across the platform. On top of that, Shytoshi Kusama announced a major update on Shibarium, and the development of SHIB's very own stablecoin.
Perhaps most importantly, the benevolent Shiba Inu community sent 69,507,755 tokens to a dead wallet, setting aflame a massive stack of coins in hopes of deleting another zero.
Shiba Inu (SHIB) and its rival Dogecoin (DOGE) were both kicked off of the Crypto.com Earn program.