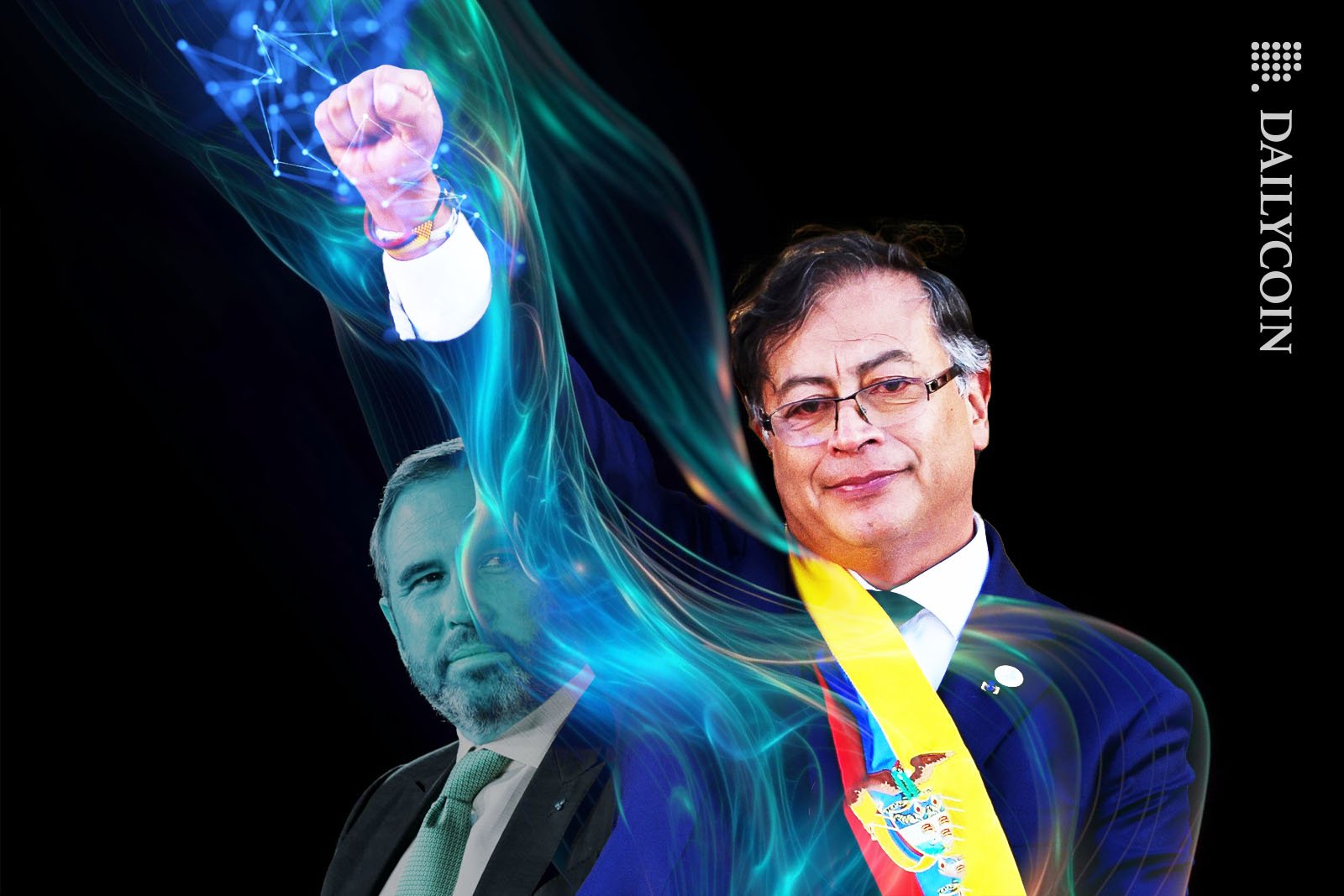 Colombia's central bank has partnered with Ripple and Peersyst to pioneer blockchain technology.
Banco de la República has aimed to enhance financial transaction effectiveness.
Governments and financial institutions worldwide have increasingly explored blockchain's advantages.
Colombia's renowned central bank, Banco de la República, has recently partnered with blockchain technology firm Ripple and software development company Peersyst to embark on an ambitious project. This collaboration aims to explore the vast potential of blockchain technology on the XRP Ledger (XRPL), a cutting-edge platform.
Ripple and Peersyst Partner with Banco de la República for Trial
Overseen by Colombia's Ministry of Information and Communications Technologies (MinTIC), this venture seeks to leverage Ripple's recently launched central bank digital currency (CBDC) platform.
Peersyst, a trusted Ripple partner, took to Twitter to outline the project's objective: evaluating the potential efficiencies of using Ripple's CBDC Platform, which is built on robust XRPL technology. The primary focus is to improve high-value payment systems by harnessing the innovative capabilities of this solution.
The partnership between Banco de la República, Ripple, and Peersyst is a pivotal step towards integrating blockchain technology into Colombia's financial infrastructure. Through this pilot project, they will thoroughly examine the various use cases blockchain presents on the XRPL, particularly about central bank digital currencies.
Ripple's XRPL to Revolutionize Colombia's Banking Sector
The partnership between XRP and the Colombian CBDC could substantially impact the value of XRP. However, it's important to consider other market factors that may influence its price. While this collaboration may generate increased interest in XRP, it's worth noting that the Colombian CBDC will not directly employ XRP itself.
Instead, it will rely on the underlying XRPL distributed ledger technology. The success of this venture will depend on the effective implementation of the pilot project and the acceptance of blockchain technology within Colombia's banking sector.
Banco de la República aims to enhance the effectiveness, security, and transparency of the nation's financial transactions by adopting Ripple's CBDC platform. This collaboration aligns with the global trend of central banks exploring the advantages of blockchain technology and virtual currencies.
Ripple's CBDC Fuels Colombia's Digital Currency Future
Initiatives like this pave the way for broader adoption and mainstream integration of blockchain-based solutions. Governments and financial institutions are increasingly recognizing the revolutionary potential of decentralized technologies.
While the pilot project's specific use cases and outcomes are yet to be determined, this partnership holds promise for the future of digital currency in Colombia. By capitalizing on the possibilities offered by blockchain technology and Ripple's CBDC platform, the nation aims to strengthen its financial infrastructure, enhance security measures, and foster innovation.
On the Flipside
Incorporating blockchain technology into Colombia's financial infrastructure may face scalability and regulatory frameworks challenges.
There is a need for thorough testing and evaluation of the pilot project's outcomes before implementing any widespread changes to the financial system.
While blockchain technology offers enhanced security, there are lingering concerns about potential vulnerabilities and the need for robust cybersecurity measures to safeguard against potential threats.
Why This Matters
The partnership between Banco de la República, Ripple, and Peersyst marks a significant milestone in integrating blockchain technology into Colombia's financial infrastructure. By exploring the potential of blockchain on the XRP Ledger, this collaboration paves the way for increased effectiveness, security, and transparency in financial transactions.
To learn more about the controversy surrounding XRP holders and their unknowing link to Ripple, read here:
52% of XRP Holders Could Unknowingly Be Linked to Ripple Controversy
To stay updated on the recent events surrounding the Ripple-XRP lawsuit, read here:
Ripple XRP Lawsuit Spawns Controversy Around Summary Judgement Timing
FAQs
Do banks use XRP?
Yes, some banks utilize XRP. Ripple, the company behind XRP, has developed partnerships with various financial institutions worldwide. These partnerships enable banks to leverage the speed and efficiency of the XRP Ledger for cross-border transactions and liquidity management. By utilizing XRP as a bridge currency, banks can potentially reduce costs and improve the speed of their international payments.
Who owns XRP Ledger?
XRP Ledger operates as a decentralized blockchain platform. Its ownership is not attributed to any single entity or individual. Instead, it is maintained and governed by a network of validators, consisting of various independent parties spread globally. This decentralized approach ensures that no single entity has absolute control over the ledger, promoting transparency and security.
What are the benefits of blockchain technology?
Blockchain technology operates on a decentralized network, eliminating the need for intermediaries and enabling peer-to-peer transactions. Transactions recorded on the blockchain are visible to all participants, promoting transparency and accountability. The technology utilizes advanced cryptographic techniques, making it highly secure against tampering and fraud. By removing intermediaries and automating processes, blockchain streamlines operations, reducing costs and time. Blockchain's immutable nature and consensus mechanisms foster trust among participants, as transactions cannot be altered without consensus from the network.
What is an example of a CBDC?
One example of a Central Bank Digital Currency (CBDC) is the digital yuan, also known as the e-CNY, issued by the People's Bank of China (PBOC). The digital yuan is a digital representation of China's fiat currency, the renminbi (RMB). It aims to provide a secure and efficient medium of exchange, allowing users to make electronic payments and transactions digitally using the official currency issued by the central bank.