Polygon zkEVM continues to record new milestones.
The network's latest achievement suggests that more users are piling in.
Despite a growing user base, network activity on Polygon zkEVM is dwindling.
Polygon Labs launched Polygon zkEVM in March, promising to revolutionize security and scalability in the Ethereum (ETH) Layer 2 space. The vision for the network has since expanded in line with the Polygon 2.0 roadmap.
While Polygon zkEVM continues to record new milestones, as evidenced by recent data, the network may be having trouble maintaining user activity.
Unique Addresses Soar
According to data from Polygon zkEVM Explorer, the zkRollup has surpassed 400,000 unique addresses. Specifically, on Monday, August 21, the data placed the number of unique addresses on the Ethereum Layer 2 network at 400,479, representing an increase of 1,298 addresses over the previous day.
The new milestone comes as more DeFi protocols have integrated the network in the past week, paving the way for thousands of new users to explore the Polygon zkEVM ecosystem and making their dApps accessible to the zkRollup's existing users. The list of recent integrations includes KyberSwap, CygnusDAO, and Mellow Protocol.
But while Polygon zkEVM's unique addresses are soaring, another key metric has declined in recent weeks.
Network Transactions Plummet
According to data from the Polygon zkEVM Explorer, daily transactions on the Ethereum Layer 2 network have been in a downtrend since August 4. The metric has fallen from a peak of 122,136 to 32,160 transactions as of Monday, August 21.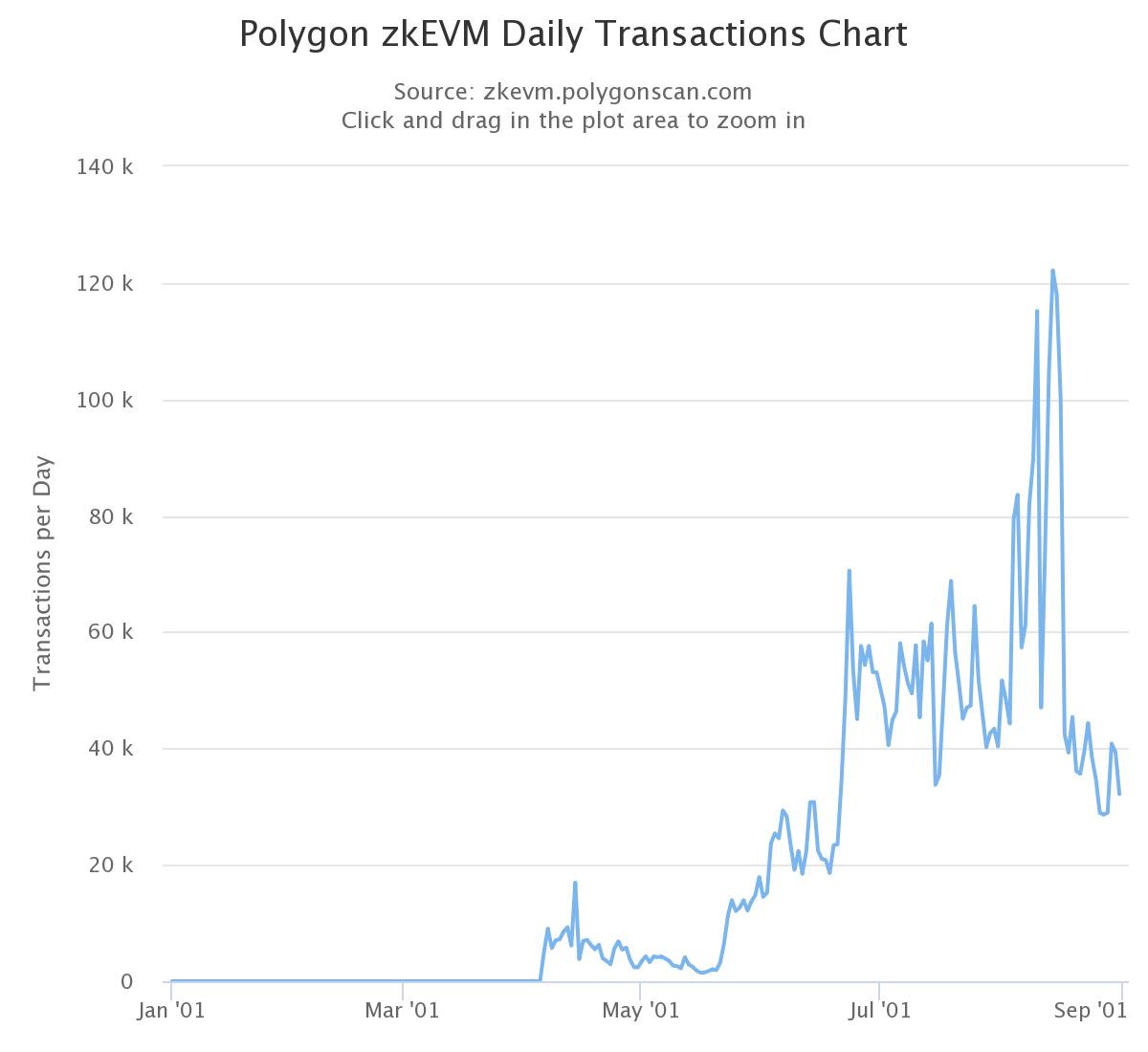 The recent decline in network activity comes as the hype surrounding the Polygon 2.0 roadmap cools. Amid this decline in network activity, Polygon zkEVM is also witnessing a decrease in its TVL. According to L2Beat data, the network's TVL is $46.39 million, representing an 11.39% decrease in the past seven days.
On the Flipside
Base, a Coinbase-incubated Layer 2 solution launched less than two weeks ago, already boasts over 1 million unique addresses per data from BaseScan.
According to data from Arbiscan, transaction activity on Arbitrum has been in a downtrend since March 2023, though it remains significantly higher than activity on Polygon zkEVM.
Why This Matters
While Polygon zkEVM promises to change the Ethereum scaling landscape and is seeing gradual adoption, the current level of activity on the network suggests that it has a long way to go before surpassing popular solutions like Arbitrum (ARB) and Optimism (OP).
Read this to learn more about Polygon zkEVM's Spark Protocol integration:
How Polygon zkEVM Plans to Fire Up DeFi Activity with Spark

Vitalik Buterin recently caused a stir with a large ETH deposit on Coinbase. Find out more:
Buterin Makes Huge $1M Transfer as Exchange Deposits Inflate