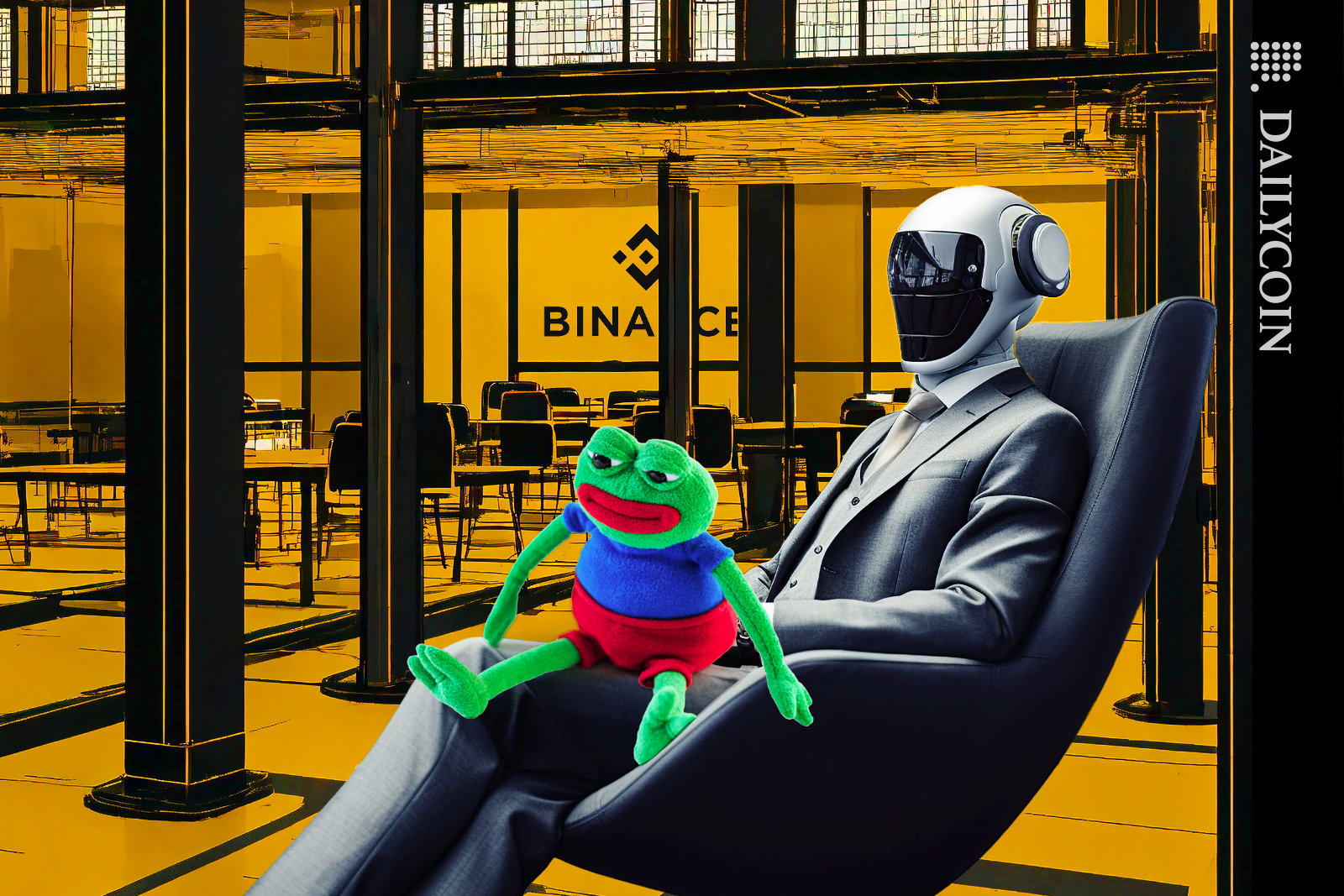 Pepe Token developers initiate sweepstakes for Binance Earn users.
The $505,000 on-chain transfer followed an official 𝕏 statement by developers.
PEPE's price movement draws similarities to the 6.9T burn reaction.
Pepe Token developers bewildered the crypto community with a 418.4 billion $PEPE transfer to Binance Earn in the early hours of Monday. The transaction equals $505,000, while PEPE devs are planning to use the crypto funds to reward Binance users "through various campaigns over the coming months".
The 418.4B $PEPE transfer assisted the frog-themed meme coin in breaking the phased consolidation of its market value. Pepe embarked on an instantaneous 6.3% run after developers shared the announcement on 𝕏, previously known as Twitter. Following the news, $PEPE reclaimed the #99 spot by global market capitalization, now closely approaching rival memecoin ApeCoin (APE).
PEPE Demonstrates Signs Of Resurgence
The latest developments caused an uptick in Pepe's hourly charts, evident in the 6.3% run for $PEPE. At press time, $PEPE trades at $0.00000120, according to CoinGecko. Adding $30M in market capitalization over the last 24 hours $PEPE reclaimed confluent resistance, a move reminiscent of its powerful run in October.
Last month, the 'Uptober' rally was marked with significant gains for top meme coins. However, the catalyst for PEPE's 109% monthly surge was not just the positive sentiment around the Bitcoin ETF. On October 24, 2023, PEPE developers burned a staggering 6.9 trillion PEPE tokens, valued at approximately $5.83 million USD.
According to blockchain records, the PEPE developer team still holds a remaining balance of 3.21T PEPE coins, currently worth just under $4 million. While this also could be used for onboarding activities like sweepstakes and giveaways, PEPE developers didn't disclose their plans with the remaining 3.21 $PEPE in the team's multi-signature cryptocurrency wallet.
On The Flipside
On Monday, the PEPE community celebrates #FREEPEPE Day, which gathers together meme and crypto enthusiasts to protest GIPHY's decision to remove Pepe the Frog from its emoji database.
PEPE developers have previously withdrawn $16M in PEPE from the same multi-signature crypto wallet, causing an instant 21.9% dump for $PEPE token at the time.
Why This Matters
PEPE token is one of the most watched newcomer altcoins, clinching a $1 billion market cap in two weeks since launch earlier this year.
Explore DailyCoin's top crypto news:
OpenAI Boots Sam Altman and Sparks Worldcoin Rollercoaster
Mastercard Broadens Crypto Fraud Protection with AI Tie-Up