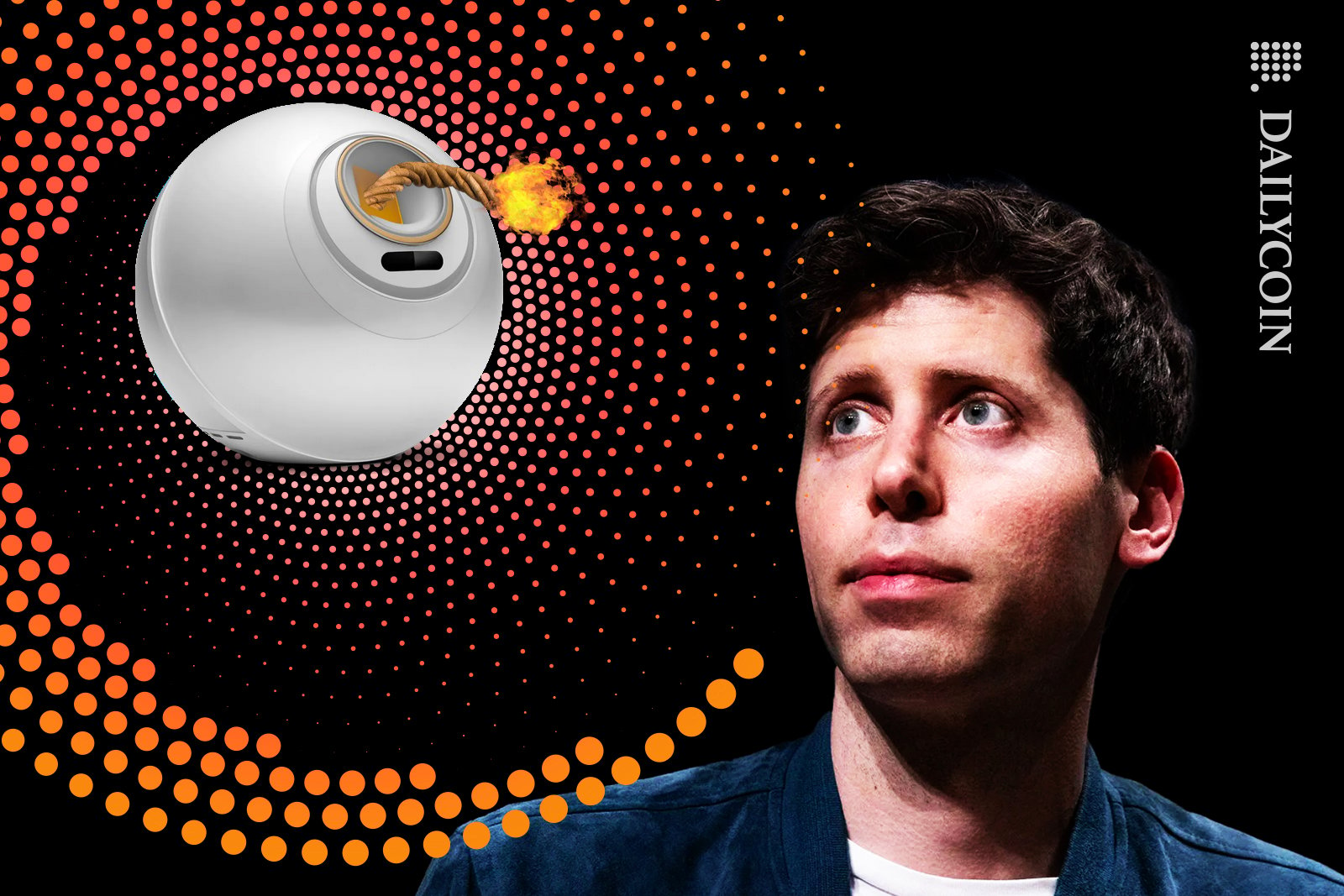 Sam Altman was removed as CEO of OpenAI on November 17, 2023.
Worldcoin's value surges amid rumors of Altman's return to OpenAI.
Speculation abounds regarding board overhaul and delayed decisions at OpenAI post-Altman's exit.
The worlds of artificial intelligence and cryptocurrency often intersect. Sam Altman, formerly at the helm of OpenAI, has also been a significant figure in the cryptocurrency world, notably through his involvement with Worldcoin (WLD).
His recent departure from OpenAI sent shockwaves through the AI community and impacted the cryptocurrency market, particularly Worldcoin. Now that Altman is in talks to come back, Worldcoin rebounded. However, the controversial eye-scanning crypto project has its own set of issues.
Strife at OpenAI After Sam Altman's Firing
Sam Altman, known for pioneering AI work, was removed as CEO of OpenAI on Friday, November 17. This unexpected decision was attributed to a breakdown in communication between Altman and the OpenAI board.
Concurrently, Worldcoin, a cryptocurrency project co-founded by Altman, experienced a tumultuous market reaction. Following Altman's removal, the WLD token of Worldcoin saw an initial drop in value. However, amidst rumors and speculations of Altman's potential return to OpenAI, the token's value witnessed a recovery.
The board's decision was met with significant backlash, leading to speculation about internal strife within the organization. Furthermore, notable investors and figures in the tech industry, including Microsoft and Elon Musk, expressed concerns and criticism over this move​​​​​​. These concerns have reportedly led to talks on Sam Altman's reinstatement as a CEO. In fact, on Saturday, November 19, the former CEO posted a selfie from the OpenAI headquarters, showing off his guest badge.
The fluctuation in Worldcoin's market value post-Altman's departure highlights the project's dependency on its high-profile founder. The project, which has faced its own set of controversies regarding its data collection methods and operational ethics, has its fortunes closely tied to Altman's influence in the tech world.
The Controversies Surrounding Worldcoin
Worldcoin, a cryptocurrency project co-founded by Sam Altman, has been facing several controversies, particularly concerning its data collection methods and ethical considerations.
For one, Worldcoin uses a futuristic device called an 'Orb' to scan people's irises, creating a unique identifier or "World ID" for each individual. This method has sparked privacy concerns, as it involves collecting biometric data, raising questions about the potential for data misuse.
Specifically, in July, the Kenyan government suspended Worldcoin's local activities, citing potential risks to public safety​​. The suspension was announced after a preliminary review raised concerns about obtaining consumer consent in return for monetary rewards, which was seen as bordering on inducement​​.
Critics also allege that Worldcoin targets developing economies by offering participants 25 WLD tokens, worth about $48, in exchange for signing up​​. This practice has been criticized as potentially exploitative, particularly in regions where such financial incentives can be significant.
On the Flipside
Despite the controversies, Worldcoin's application has seen substantial downloads and active users. In November, the app had over 4 million downloads, with more than 2.4 million unique users​​.
Worldcoin was scrutinized for its field testing, allegedly involving deceptive and coercive practices. Reportedly, the project collected more data than disclosed and failed to obtain proper consent.
Why This Matters
Altman's exit from OpenAI and his potential return are pivotal moments for both AI and crypto. Moreover, the fluctuating fortunes of Worldcoin post-Altman's departure highlight the project's sensitivity to its founder's image.
Read about Ethereum founder's take on Worldcoin: 
Vitalik Buterin on Worldcoin: What Are the Risks and Alternatives?

Read more about the latest issues in Binance: 
Binance's Counter-Terrorism Lead Resigns, Crypto in Focus