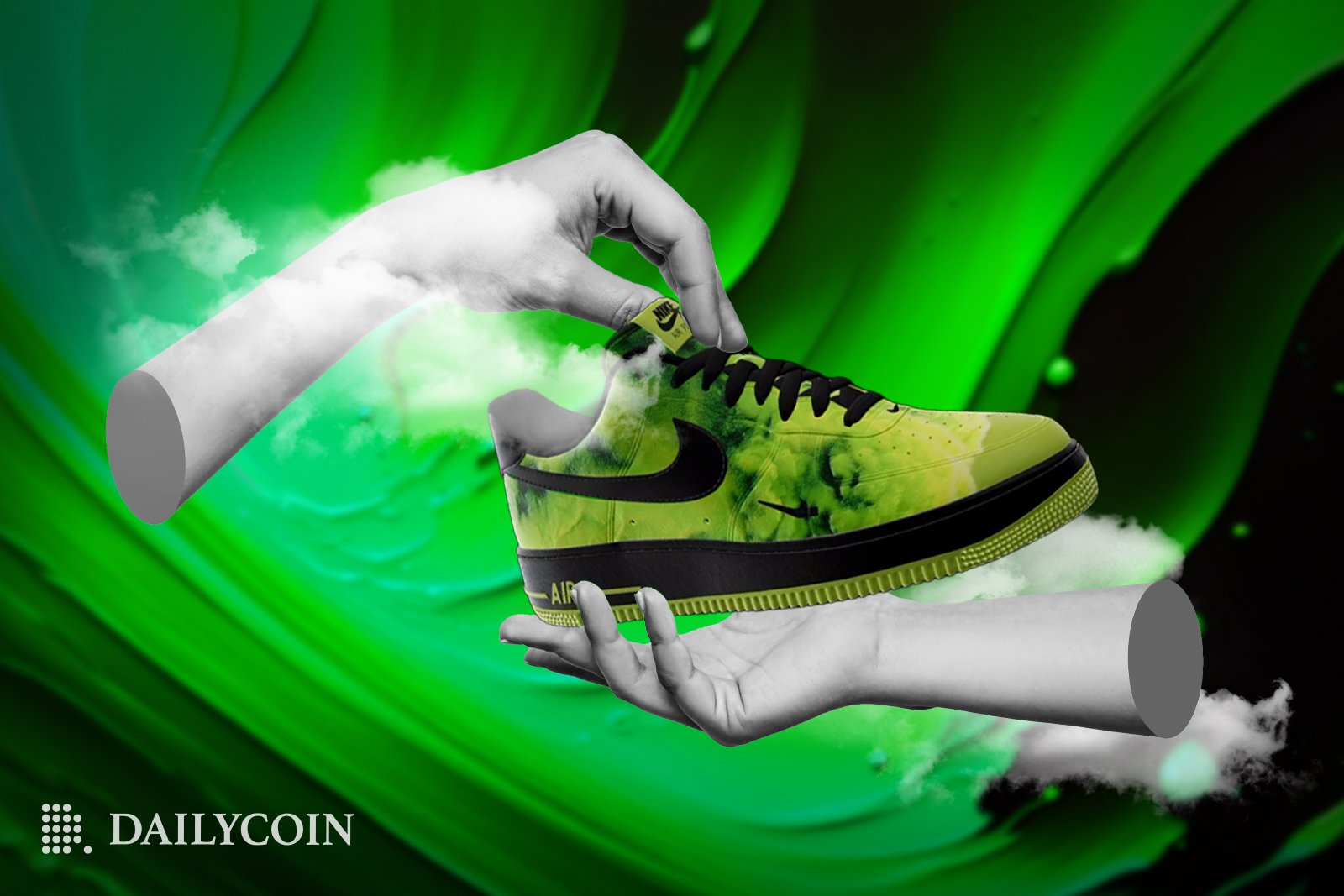 Web3 platform .Swoosh presents the inaugural virtual sneaker collection.
The Our Force 1 NFT collection is a remake of the physical Air Force 1 shoes.
The virtual Nike kicks will live on Polygon and come in two types of boxes.
The American athletic footwear giant Nike just released the first-ever digital sneaker NFT collection, which takes inspiration from the legendary Nike Air Force 1 Low, originally released back in 1982.
The initial drop today will be available for OF1 Poster holders, while the first access Our Force 1 sneaker box sale will launch on May 8th, 2023. For the rare NFT hunters, there's a chance of finding the co-created AF1s from the four .SWOOSH "Your Force 1" contest winners.
Two Boxes, One Collection
On the .Swoosh platform, NFT enthusiasts will be able to choose from two types of boxes, which represent two eras of Nike Air Force 1 – Classic Remix and New Wave. The Classic Remix box contains variations of Nike Air Force 1 between 1982 and 2006, while New Wave consists of all of AF1 Low model remakes from 2007.
On top of that, some of these NFT boxes come with either "Futuristic Twist" or "Nostalgic Twist" – which are deemed the most valuable in the virtual sneaker collection. Besides, all of the NFTs cost $19.82, a symbolic price that pays homage to the original Nike Air Force 1 release year.
Nike's platform for virtual goods assures that these virtual sneaker NFTs will unlock special discounts and VIP experiences in the physical world. While the perks will be revealed in the coming months, the general access sale begins on May 10th, 2023, on a first come first serve basis.
On The Flipside
Despite building on Polygon (MATIC), Nike doesn't support cryptocurrency payments for this NFT collection.
The .Swoosh platform is currently unavailable in most of Europe.
It's unknown if the virtual sneakers will be compatible with avatars in the most popular blockchain games.
Why You Should Care
Nike is one of the leading established brands in Web3. To date, Nike's virtual creation platform .Swoosh counts over 330,000 active users worldwide.
Explore top trending DailyCoin crypto news:
Elon Musk Transforms Twitter into X Corp, DOGE Shoots Up 11%
FTX Lawsuit Catches Up with Shaquille O'Neal at Atlanta Residence