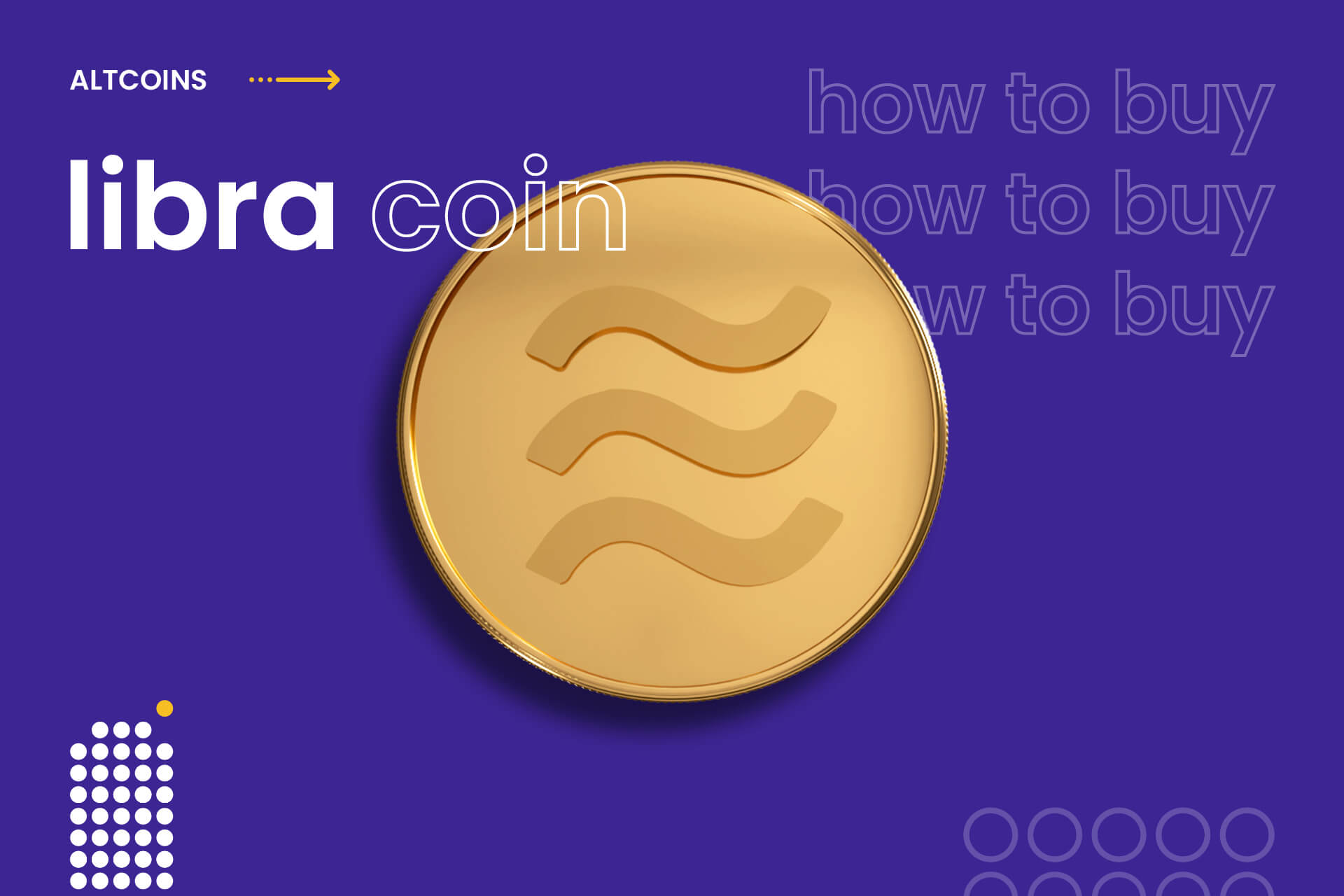 Facebook Libra coin is not officially released yet.
The most probable ways it will be available to buy include:
Integrated crypto wallet on Facebook's apps
Cryptocurrency exchanges
Facebook has a remarkable effect on global society. One might even assume that everything the company touches turns into gold. But will it be the same when social networking giant steps into global financing?
The world's biggest social network Facebook announced its Libra cryptocurrency a year ago. An ambitious coin aimed to transform the global economy, however, encountered massive resistance worldwide. A year after it is more like a shadow of the initial idea. Despite the fact that Libra is not officially launched at the time of publishing, it still interests the crypto community. In this article, we'll give an answer to how to buy Libra coin when it comes live.
The idea of Libra coin was born in Facebook's headquarter, in Silicon Valley, California back in July 2019. The ambitious project aimed to become the world's single digital currency, which means changing the existing financial system.
The project initiated by Facebook later has gained backing from various well-known companies who are also involved in the project and became members of the Libra Association. An independent membership organization of 27 current members includes names like Uber, Spotify and Shopify, venture capital firms like Andreessen Horowitz, Union Square Ventures, as well as the US biggest cryptocurrency exchange Coinbase.
While Libra Coin at first aimed to compete with national currencies of the world's various countries, the motivation behind its initial idea was the will to enable billions of people around the world without bank accounts to participate in the financial system.
The Libra's ambition to become an alternative global system, however, faced severe resistance from global financial and regulatory authorities. The biggest concern stemmed from the compromised reputation of Facebook regarding the Cambridge Analytica scandal back in 2018, when millions of Facebook user's private data were exploited without their consent due to political advertising.
The regulators won over Facebook in 2020, making the social networking giant retract with its global Libra ambitions. The Libra project agreed to scale-down and currently presents itself as a "simple global payment system and financial infrastructure". It is a stablecoin built on blockchain technology and backed 1:1 by a reserve of assets made up of fiat currencies like USD, GBP, or EUR.
Ways how to buy Libra Coin
Although Facebook Libra is a widely-discussed cryptocurrency project, it is not officially launched yet. And since it's going live is expected to happen in the second half of 2020, the project hasn't seen the daylight at the time of publishing this article.
Despite the fact that Libra Coin is still a theoretical one, the intentions behind it include Libra being the open system. This means that purchasing Libra Coins will be available through digital asset exchanges and not only via its own applications and wallets.
However, for those interested in how to buy Libra Coin, here are some tips that could be followed right after Libra currency is officially launched. The most common ways include purchasing Libra coins via:
Facebook apps
Novi wallet
Cryptocurrency exchanges
Buying Libra via Facebook apps
Another way to buy Libra coins would be through Facebook's own applications, like Messenger or WhatsApp. The network's apps will integrate Novi, Facebook's native Libra cryptocurrency wallet, previously known as Calibra.
The process is simple here:
Sign up to Facebook, in case you do not have an active profile. Enter your name, email, password and other details like gender and date of birth, click the sign-up, confirm the email or phone number to start using Facebook.
Download Messenger or WhatsApp from Google Play or Apple Store. Install it on your device.
Login using your Facebook account. Follow the instructions on how to sign in using your email or phone number.
Open the Novi wallet via Messenger or WhatsApp. Enter your credit card or bank account data to be able to buy Libra Coins.
Buy Libra coins with fiat currency (USD, EUR, GBP). With Libra Coins in your integrated digital wallet, use them to pay for purchases wherever Libra Coin is accepted.
At the time of publishing, Libra claims to support only three major fiat currencies, including the United States dollar, European euro and Great Britain's pound. The project, however, intends to support other fiat currencies over time.
Buying Libra through Novi wallet
For those who are not registered users of Facebook and it's applications, there is also a way how to buy Libra coin, and it's called the Novi wallet.
Novi wallet is a new digital wallet dedicated to the Libra payment system. It is created by Facebook and allows sending Libra coins in a fast and simple way. Moreover, the Novi wallet is said to apply no hidden charges, meaning that users will get the same amount of Libra coins that they have sent. To start buying Libra coins via the Novi app, you need to complete the following steps:
Download the Novi wallet application. You may do that on Google Play or Apple Store the moment when the application gets listed.
Sign up for opening a personal account.
Verify your ID. Submit the data required for personal identification, like a government-issued ID document. Novi implements Anti Money Laundering (AML) and Know Your Customer (KYC) policies, thus customer identification is necessary here.
Make a deposit. When you transfer funds to your Novi wallet, it directly converts them into Libra coins. This is the way how you buy them via the Novi wallet app.
Since you have bought Libra coins and hold them in your Novi wallet, you can make purchases or transfer Libra coins to other users by choosing the receiver, entering the amount and confirming the transaction.
Buying on cryptocurrency exchanges
Although there is no confirmed information about the potential Libra coin listings, the fact that one of the biggest cryptocurrency exchanges Coinbase is a member of the Libra Association suggests the fact is very much possible.
Assuming that the Libra coin is listed on the US leading digital asset trading platform, here are the simple steps of how to buy Libra coin on the cryptocurrency exchange:
Set up an account. Enter personal details like email, location, and password.
Verify identity. Coinbase requires ID verification, thus prepare to submit a valid ID document like passport, State Issued ID or Driver's Licence.
Make a deposit. You need to add a payment method to your new Coinbase account in order to make a deposit. Link your bank account, debit card, Wire Transfer or PayPal account to transfer and withdraw funds.
Buy a Libra coin. Select Libra coin as an option on the Coinbase's Buy page, enter the amount you would like to buy, select a payment method as well as the wallet where to deposit funds and confirm the order.
Keep in mind, however, that despite the good reputation, cryptocurrency exchanges sometimes get hacked. This is why it is always better to keep your digital funds outside the trading platforms. The recommendation does not apply for the small number of digital currencies, however, if you are dealing with the big amounts, it is safer to withdraw funds to your personal cryptocurrency wallet outside the exchange.
Best payment methods for buying Libra
Having in mind, that Facebook has over 2.6 billion users across the globe already, it is logical to assume that the network will definitely use this advantage when launching Libra. The fact suggests that the Novi wallet, integrated into Facebook's Messenger or WhatsApp, will become the most widely used way of purchasing Libra coins.
Although there is no confirmed information yet, which payment methods Novi will use to add funds, we may have a look at Facebook Pay, another Facebook service that allows users to transfer money and make payments. The current Facebook Pay supports Visa, MasterCard, American Express, and Discover credit and debit cards as well as PayPal.
Following the logic that another Facebook project might use similar payment methods, fiat currencies transferred to Novi via traditional bank accounts, credit cards or online payment networks come as the most convincing option. And since Libra has not announced support for any other fiat currencies except the US dollar, Euro and Great Britain's pound yet, these three traditional currencies remain the leading initial sources of funds for buying Libra.
Is Libra coin worth investing in?
Libra coin has gone a long way in just a year since its ambitious announcement. It scaled down to become more of a payment network instead of a global alternative to the traditional financial system. Despite the fact, it is going to appear soon and, who knows, maybe will shake the whole cryptocurrency industry up.
The thing is, when it appears, Libra will definitely have a huge, massive audience. The existing ecosystem of active Facebook, Messenger and WhatsApp users is an unquestionable advantage, that gives Libra the potential to grow.
On the other hand, the same Facebook existence might raise questions and doubts about Libra's project reputation and trust. And here is why. When it comes live, Libra will not be a fully decentralized cryptocurrency.
Born with the idea of full decentralization, Libra Association obeyed the global regulatory requirements to fully secure private information and finances from illegal abuse. With Facebook having issues with private data security, the Association agreed to make it the private blockchain, meaning that it still be kind of centralized and thus benefits its founders first.
Despite those facts, Libra will sooner or later come into the crypto space. And like any other new asset, it will get the kind of attention. Thus it might be helpful to know how to buy Libra coin in order not to miss the train when it arrives.