ETH staking withdrawals have continually gone down in the past couple of weeks.
ETH's price is roughly the same as before the Shapella upgrade.
There's more locked ETH than ever before.
The Ethereum Shanghai and Capella (Shapella) upgrade was considered a bearish event for the price of ETH as staking withdrawals were enabled. However, so far it has proved to be a relatively bullish event.
Almost a month after Shapella, ETH staking withdrawals are going down, while deposits have just hit a new all-time high.
ETH Staking Withdrawals Slow Down
Before the Shapella upgrade hit the Ethereum mainnet, there was a widespread fear that unlocking billions worth of ETH will crash its price.
However, not only has it not happened, but staking withdrawals have also slowed down.
According to data from Nansen, ETH staking withdrawals have consistently gone down. For example, in the past 24 hours, 58,411 ETH have been withdrawn, compared to 115,031 deposited.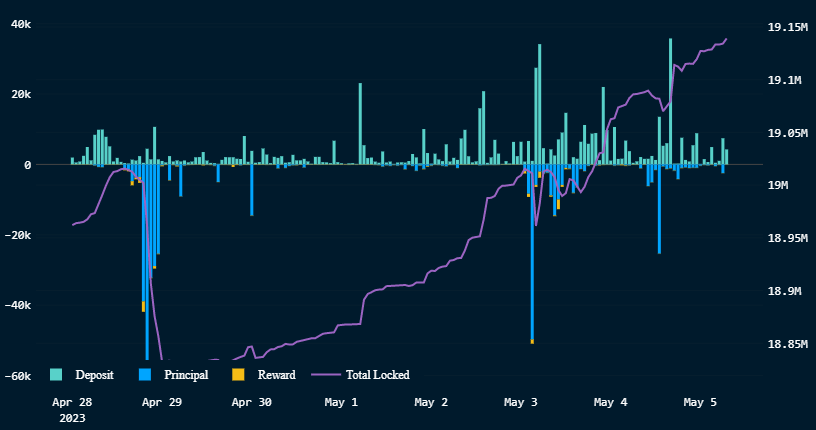 ETH is currently trading at $1,900, according to data from CoinGecko. That's about the same price as before the Shappela upgrade.
Admittedly, the largest decentralized ETH liquid staking service provider Lido has yet to enable withdrawals. However, most industry observers believe that there won't be sustained selling once Lido enables withdrawals, mostly because ETH staking deposits are continuing to increase.
ETH Staking Deposits Hit New All-Time High
At the same time as ETH staking withdrawals are slowing down, deposits are picking up.
In fact, according to Nansen, locked ETH has just hit a new all-time high of 19,143,891. Nansen defines "locked ETH" as all ETH that's out of circulation, including ETH staked on the Beacon chain, ETH deposited to the Beacon contract but not validating yet, and rewards on the Beacon contract.
Most of the ETH is flowing into decentralized liquid staking protocols like Lido. For example, Lido has just surpassed 6 million ETH deposits. Rocket Pool, Stakefish, Swell, and other protocols have also seen net inflows since the Shapella upgrade.
On the Flipside
An uncertain economic environment could have an impact on the price of ETH and other cryptocurrencies as central banks around the world continue to raise interest rates.
Why You Should Care
The more staked ETH there is, the more secure the Ethereum blockchain gets. On top of that, stakers enjoy rewards and can participate in other DeFi activities while staking with liquid staking derivative protocols. However, users should always do their own research before deciding where to stake their ETH.
Read more about Sotheby's launching an NFT marketplace on Ethereum:
Sotheby's Launches New NFT Marketplace on Ethereum and Polygon
Read more about recent PEPE price action: