Dogecoin is created for fun and used to support generous ideas.
The mining process is faster than mining Bitcoin.
Dogecoin mining is an accessible way to learn about cryptocurrency mining.
While lots of people mine Bitcoins for profit, there are communities that choose to mine cryptocurrencies just for fun. And for the good cause as well. Dogecoin mining could be such an example.
For Dogecoin mining all you need to have is appropriate hardware (CPU, GPU or ASIC), software, Dogecoin wallet and, certainly, a computer with a good internet connection. Besides that, you will need to decide, are you going to be a solo miner or join the Dogecoin mining pool.
The Dogecoin is a cryptocurrency that is bests know as one of the most famous meme cryptocurrencies in the world. The coin was created as a fun currency, that could stand out from other digital currencies and reach a wider audience than Bitcoin.
The date of birth of Dogecoin reaches the end of 2013 when two programmers Jack Palmer and Billy Markus launched it as a joke.  Both men found a crypto community too serious, so they created a new cryptocurrency with a cute Shiba Inu dog as its symbol to make fun of the hyped and moon chasing crypto players of the time. Furthermore, the founders had a goal to engage more outsiders, that still had no interest in cryptocurrencies.
The cryptocurrency, which started as a joke, soon became more than just a coin, that brings smile on your face. The use cases behind it reveal the deeper and more social-conscious side of Dogecoin.
Since the Dogecoin became well-known quite soon, it was used for resonance charitable donations like supporting the Jamaican Bobsled team for Olympics or building up water wells in Kenya. Besides that, Dogecoin became a popular coin for Reddit users as they used funny coins for rewarding each other's content.
For the time of publishing, Dogecoin (DOGE) is worth $0.002532 and sits at the 29 positions in CoinMarketcap's coin ranking chart.
Before diving into the details of Dogecoin mining, it is important to know how the whole process of cryptocurrency mining works.
Speaking shortly – cryptocurrency mining is a process when you get rewarded for verifying peer-to-peer (P2P) crypto transactions. Each time when the cryptocurrency transaction is made, the nodes of the network have to ensure its authenticity and update the blockchain with the information of the transaction.
When a certain node competes with the others and solves complicated mathematical problems, it earns a native cryptocurrency of the blockchain. However, the confirmation of these transactions requires a lot of computing power and electricity, which means that the price of the process is quite expensive. And since there is no central money payer, who could compensate for the electricity expenses, the network itself offers the reward for confirming transactions.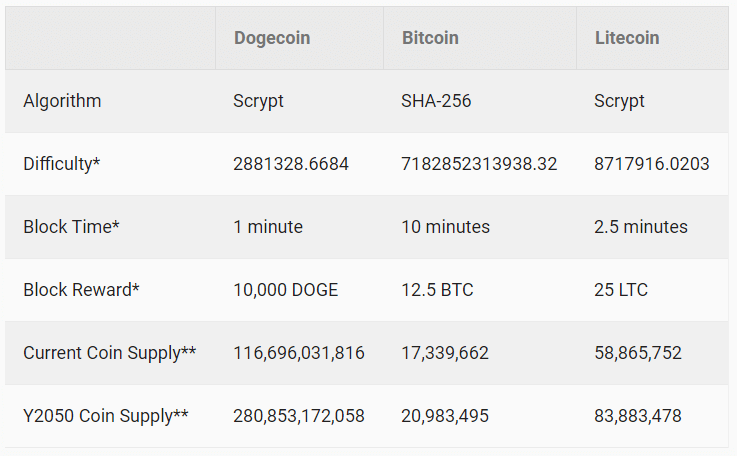 Thus the lucky node of the Dogechain that adds the new block of transactions to the old block, mints some new Dogecoins. The process, although similar in its principle, is much faster compared to Bitcoin mining. And this is mainly because of the Scrypt hashing algorithm, used for Dogecoin mining.
Unlike the SHA-256 algorithm used to mine Bitcoin, Scrypt required fewer resources. This means that the Dogecoins can be minted from various less powerful computers. Besides the fact that mining becomes easier available for users, it is also faster.
Furthermore, the difficulty of mining a Dogecoin is significantly smaller than the difficulty of mining Bitcoin. The fact supposes that the user has better chances to get a reward. Not to mention the fact that the reward itself is much higher. Well, in figures mainly, as the value of Dogecoin is thousands of times smaller compared to Bitcoin.
The process of mining Dogecoins is quite the same as mining other cryptocurrencies. It is a validation of transactions when miners obtain new cryptocurrency as a reward. However, the speed and several other parameters depend on what algorithm is used for mining. Since Dogecoin blockchain – or Dogechain – uses the Scrypt algorithm, each new block is minted every 1 minute and offers 10.000 Dogecoins as a reward.
There are two possible ways to mine a Dogecoin: do it by your own computer (solo mining) or join the group of other miners (pool mining).
Since solo mining supposes that the whole reward goes for the same user, the chances of competing for other nodes and winning the block are quite opaque. This mainly depends on the time, as waiting for confirmation of a transaction might take days, weeks, or even months.
Meanwhile, the pool miners mine blocks much faster than single users. However, the individual reward could be smaller, as the pool members share the total. Furthermore, pool members do pay fees for being a part of the community.
What do you need to start mining Dogecoins
Despite the computer and good internet connection, you will need hardware and software to mine a Dogecoin. And of course, the Dogecoin wallet to keep you newly minted coins.
Hardware for Dogecoin mining
Hardware needed for Dogecoin mining includes processors (CPU), video cards (GPU) or a Scrypt ASIC miner.
Although the CPU of the computer has enough power to mine Dogecoins, it is not recommended, as less powerful computers might suffer from overheating. Meanwhile, GPUs provide better performance metrics and there are plenty of different GPUs on the market today to choose from.
However, since mining became a very competitive sector with a high rate of difficulty, the attempts to mine cryptocurrencies with CPU or GPU might be unprofitable. This is why lots of users turn to ASIC mining.
An application-specific integrated circuit (ASIC) is an integrated circuit miner that can work with the Scrypt algorithm. Though much more powerful, ASIC is significantly expensive as well. This is why lots of cryptocurrency miners turn to mining service providers that have access to lower-cost electricity.
Regardless of what hardware you use to mint Dogecoins, you also need software.
Those who choose to mine coins with CPU should check up the CPU miner, the simple program that performs both solo and pool mining. The GPU miners have though more options to choose from, like CudoMiner, NiceHash, or Minergate software.
Meanwhile, ASIC users do not have to download and configure mining software, as lately, it comes together with built-in software. However, if you have a version of ASIC without an integrated program, you should check up CGminer, a Dogecoin mining software that supports almost every platform.
However, if you would like to mine DOGE coins, but don't want to invest in hardware, there is another option – cloud mining. The idea of such kind of coin minting is to rent computing power for a monthly fee. This means that large mining centers mint coins and then provide you with your share. There are several Dogecoin cloud mining pools like Eobot, Nice Hash or Genesis Mining. All you need to have to join them is your Dogecoin wallet.
When you have minted your first Dogecoins, you need to have a place where to store them. Here is when you need to set up a Dogecoin wallet. The wallet can be easily downloaded from Google Play or the App Store. Cryptocurrency wallet works like your bank account – a place, where you can store coins, or send and receive them.
Lots of miners consider Dogecoin mining more as a kind of fun than a profitable business. However, minting those playful coins could be a good start if you want to learn how the whole process works. And although from the very beginning Dogecoins were considered as a joke or a parody, they could be used for supporting generous social initiatives as well.