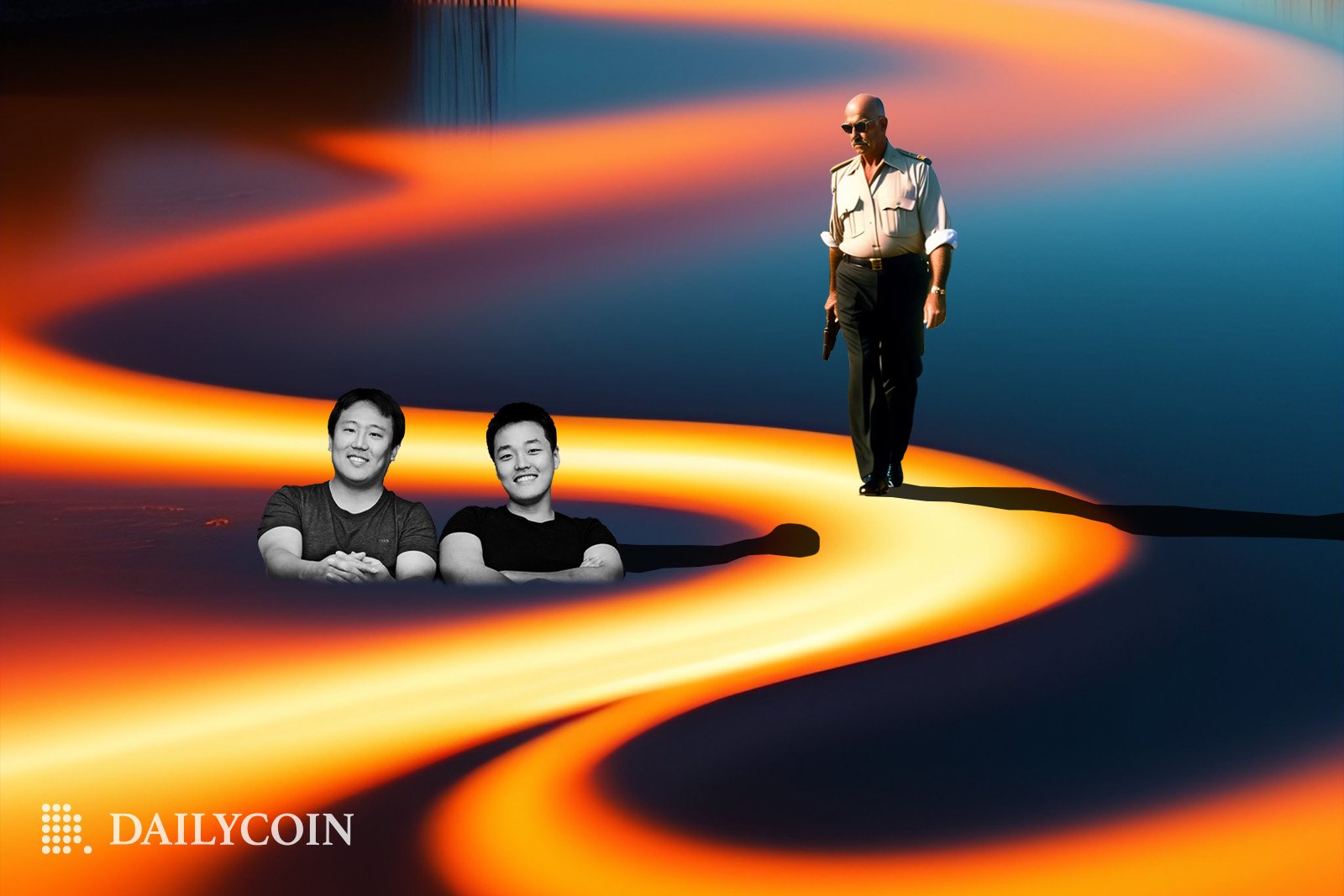 Singaporean authorities initialized the investigation into TerraForm Labs Pte.
Crypto fugitive Do Kwon hasn't posted on Twitter since February 1st, 2023.
LUNC plunged 29% since Kwon's last tweet, whereabouts still unknown.
The fallen crypto entrepreneur's evasive tactics led the authorities to chase Do Kwon around the globe. He has been hunted in Dubai, South Korea, Singapore, and now Serbia. On top of that, the Singaporean Police officially launched a probe into TerraForm Labs and its founder, who is now wanted in 196 countries.
SEC Tightens the Grip on TerraForm
The worldwide manhunt for the downtrodden founder of TerraForm Labs, Do Kwon, has been going on since May 2022 when the controversial Terra (LUNA) and its stablecoin Terra Classic USD (USTC) suddenly dropped by close to 100% in a few days.
Back then, Do Kwon was suspected of having siphoned around $2.7 billion right before the infamous Terra crash, only to repeatedly deny the allegations on Twitter before vanishing from the public eye. Just last month, a South Korean special task force followed the hot footsteps of the immigrant without papers to Serbia, where he was last noticed.
Even though Do Kwon's Twitter bio notes that the disgraced crypto entrepreneur is located in Singapore, local police informed Bloomberg on Monday that he is definitely not in the city-state. His passport was revoked four months ago.
Finally, the Securities and Exchange Commission (SEC) joined South Korean and Singaporean authorities in the race for Do Kwon's head with a class-action lawsuit claiming that UST was an unregulated security with clear signs of price manipulation.
Terra System Tokens Drowning in Despair
Terra Classic USD (USTC) failed to restore a significant resistance line despite an active community and constant token-burning events by popular crypto influencers. While a recently passed re-peg proposal helped USTC double its price, it still trades below $0.05.
At press time, the depegged stablecoin trades at $0.02444228, further declining by 13.3% in the last 24 hours. The flatline stablecoin's companion Terra Luna Classic (LUNC) also dropped by an eye-watering 29% in the last 30 days, sending LUNC below the crucial resistance line of $0.00015 for the first time since New Year's Day.
At the time of publication, the 57th-ranked altcoin Terra Luna Classic (LUNC) trades at $0.00014654, according to CoinGecko. 
On top of that, this comes just a month after Binance removed warning labels on both aforementioned cryptos from TerraForm. At the same time, the LUNC community has high hopes in Binance's CEO Changpeng 'CZ' Zhao to revive the troubled blockchain.
On the Flipside:
Conspiracy theories surrounding Do Kwon suggest that part of the LUNC community believes that Kwon's downfall is politically motivated. To illustrate, known Luna validator Nachodon said, "it was likely a state sponsored event (likely by the US federal reserve)."
Su Zhu, another famous destitute crypto entrepreneur, blamed Sam Bankman-Fried and Alameda Research for plotting against Do Kwon and TerraForm. According to this theory, SBF deliberately oversold UST to cause market panic.
Why You Should Care:
TerraForm labs are blamed for $2 trillion in crypto assets sent down the drain because of an erroneous algorithm, which pegged the stablecoin to its sister altcoin. As a result, Do Kwon is charged with conspiring against investors, fraud, and intended manipulation of the cryptocurrency price by Gary Gensler and the U.S. Securities and Exchange Commission (SEC).
Read the latest stories in altcoins:
Lido Denies Rumors of Receiving Wells Notice, LDO Dumps 15%