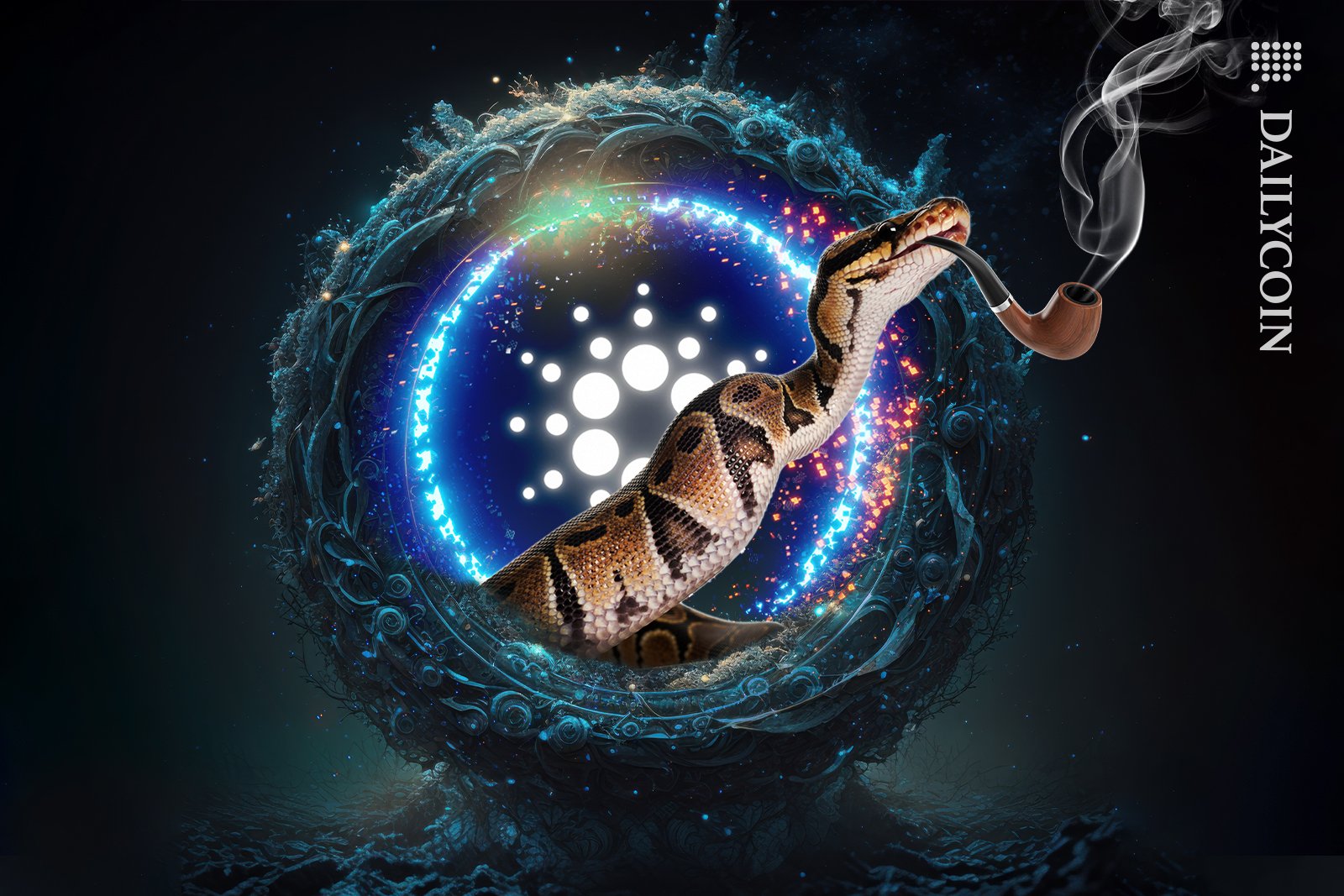 Cardano has had an exceptional month.
The Proof-of-Stake chain's transactions grew by 1.5 million in one week.
The recent surge in activity is likely because of the widespread memecoin mania.
One memecoin, SNEK, has become the second-largest token in the Cardano ecosystem.
Cardano is making significant strides in the crypto industry, positioning itself as a prominent player in the DeFi sector. Since 2023 started, the Proof-of-Stake chain has been relentlessly expanding its network and delivering its highly-anticipated solutions to compete with its more established competitors.
With notable advancements in deploying smart contracts, climbing DeFi rankings, and introducing innovative protocols, Cardano has captured the crypto community's attention, especially that of whales. However, what sets it apart this time is the unexpected emergence of memecoins, especially SNEK, which have come out of nowhere to reshape the network in unprecedented ways.
Slithering to the Top
The Cardano DeFi ecosystem has had an exceptional month, as revealed in the latest weekly development report by the Cardano Foundation published on May 26. The report highlighted that Cardano transactions grew by 1.5 million the previous week, indicating a significant surge in network activity and user engagement.
One key catalyst behind the recent surge is the widespread memecoin mania that has also affected Cardano's competitors, Bitcoin and Ethereum.
In particular, one memecoin, SNEK, has been stirring quite the storm with its extraordinary performance. Since its inception on April 29, its price has skyrocketed by over 300%. In the past week alone, the token's price catapulted by 140%, helping it become one of the top tokens in the Cardano ecosystem, according to MinSwap. 
Adding to the momentum, on May 29, SNEK hit an all-time high of $0.00090, marking a significant milestone for the token. This surge in price resulted in a peak market cap of $65 million – a 23,000% increase since its SundaeSwap listing. Additionally, the memecoin showcased an impressive daily trading volume of 13 million ADA or $4.9 million at press time.
This performance has allowed SNEK to slither its way to become the second-largest token within the Cardano ecosystem only a month after its release.
To put the network's activity into perspective amid the ongoing memecoin mania, CardanoScan has revealed that over 110,000 transactions were processed on the same day SNEK hit its all-time high.
On the Flipside
PEPE reached a $1bn market cap in 19 days since launch.
$PEPE scored 400% gains in its first week and entered the top 50 tokens by market cap.
Why This Matters
Cardano is poised to reach new heights given the ongoing memecoin mania. The network has performed exceptionally well in contrast to its competitors, Bitcoin and Ethereum, which struggled with network congestion and high gas fees, among other issues, during memecoin mania.
Read how Nike made $1 million with its new NFT collection:
Nike Celebrates $1M NFT Sales Despite Botting Allegations
Read what Charles Hoskinson has planned for Cardano Summer:
"Cardano Will Be More Decentralized Than All Crypto": Charles Hoskinson on Summer Expectations