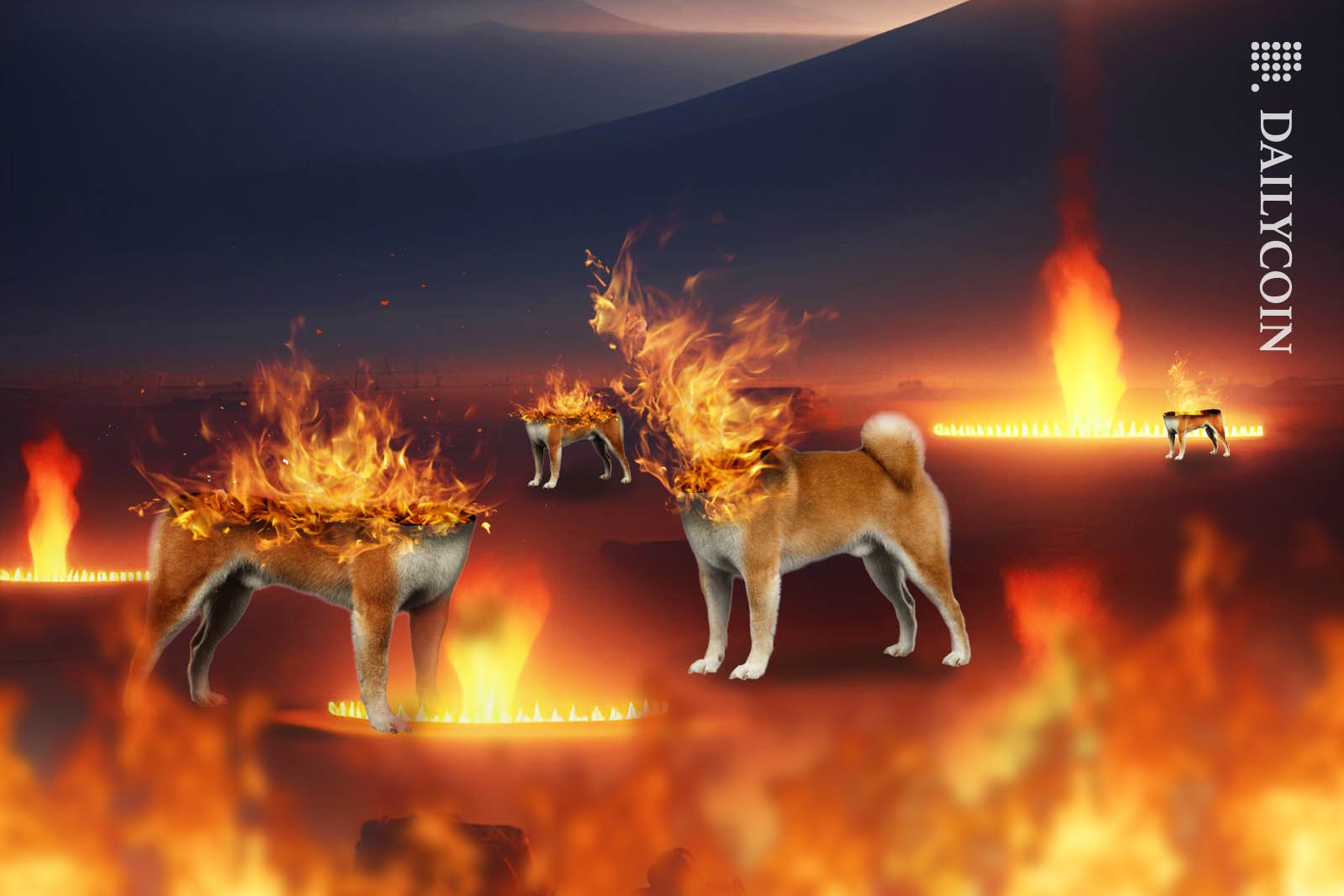 Over three billion Shiba Inu tokens were set ablaze last week.
A preview of Shibburn dApp shows how burns are performed.
ERC-20 token Shiba Inu (SHIB) spiked 2.5% following the news.
Last week, the fans of Shiba Inu (SHIB) contributed heavily towards the canine coin's resilience to bearish market conditions. While the currency traded in consolidation for most of the week, SHIB soared by 2.5% in the last 24 hours in continuing efforts to reclaim the $0.000009 support line.
At press time, #16 ranked memecurrency is changing hands at $0.00000888, according to CoinGecko. The 3,093,934,362 Shiba Inu tokens burnt in the last seven days played a part in maintaining the price.
However, the 3B $SHIB set ablaze is still 36.07% less than the previous week, which saw the yearly record shattered. Indeed, a whopping 3,016,073,367 SHIB tokens were sent to the depths of eternal fire in a single transaction.
How Shibburn dApp Works on Shibarium
LucieSHIB, a prominent member of the Shiba Inu community, took to Twitter to share a preview of Shibburn dApp on Shibarium's mainnet. Apparently, the crypto influencer reposted a preview by SHIB Informer, another SHIB Army member with over half a million followers. The sneak peek suggests that Bone ShibaSwap (BONE) will be swapped into SHIB, then sent to a burning address.
Further, the sneak peek indicates that the procedure of burning Shiba Inu can strike both ways, as both Shibarium L2 and Ethereum (ETH) are applicable. This comes just a few weeks after Shibarium devs declared to be working hard on a Shibarium-Ethereum bridge.
Indeed, the cross-chain bridge would allow crypto enthusiasts looking to delegate their $BONE to finish the ETH transaction without swapping funds. It's also worth noting that SHIB holders need 10 $BONE to do it on Shibarium, by manually pressing "initiate burn."
At press time, Shibarium's gas fee token BONE trades at $0.734554, according to CoinGecko. Sliding down by 8.1% in the last seven days, the monthly chart suggests that $BONE traded in a protracted descent for the better half of the month.
On top of that, $BONE hit a three-month low of $0.704 today, hinting that the gas fee token of Shibarium has a long way to go to reclaim three consecutively lost key support levels.
On the Flipside
The preview features a manual burning procedure converting $BONE to $SHIB.
Many members of the SHIB army are waiting for an auto-burning mechanism.
Why This Matters
Shibarium, the Layer-2 scaling solution for Shiba Inu (SHIB), aims to provide an ample space of building and communication tools for a vast and active crypto community.
Explore today's cryptocurrency news:
Huobi Forced Out of Malaysia, Loses 5th Largest Market
El Salvador: Bitcoin Nation or Failed Experiment?