Ordinals are taking over Bitcoin.
However, Bitcoin is struggling to handle Ordinals' success.
Issues like network congestion and high network fees are rising.
A Bitcoin Core Dev has a solution, but people don't like it.
Since its inception, Ordinals have been breaking record after record, forever changing Bitcoin. However, its unprecedented success came with a myriad of problems that the network hadn't previously seen. 
Now, Bitcoin is going through its most challenging test yet. Over 400,000 transactions sit in limbo on Bitcoin's mempool, exchanges are struggling with withdrawals, users are panicking, and the list of problems continues. Interestingly, only Bitcoin core developers can solve it.
However, there's a problem. The developers are calling for a ban on ordinals and have started a war in the Bitcoin community.
How Did It Start? 
On Monday, May 8, Luke Dashjr, a veteran Bitcoin core developer known for his work in implementing the 2017 SegWit upgrade, took a shot at the burgeoning Ordinals and BRC-20 token sector.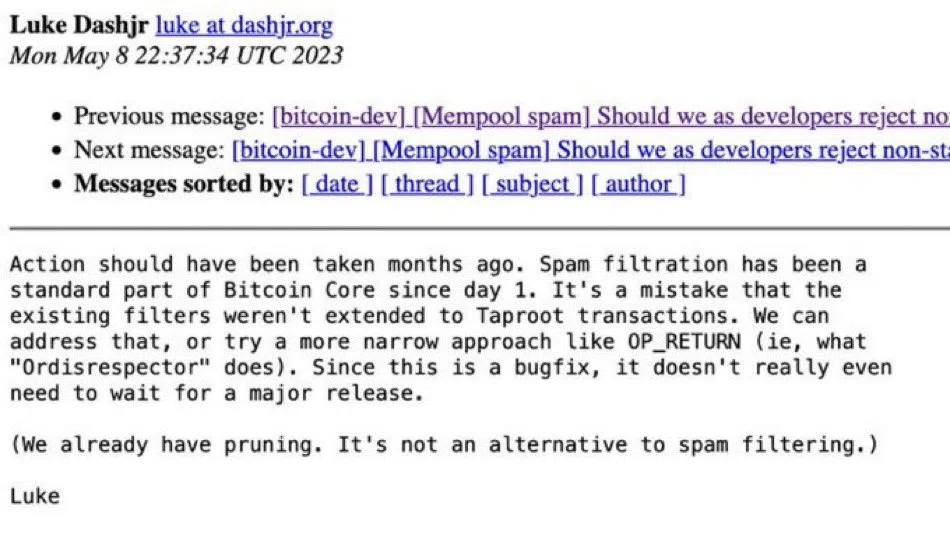 The developer's offensive came as a "solution" to Bitcoin's recent struggles with network congestion and unconfirmed transactions flooding its mempool. He shared that "action [against Ordinals] should've been taken months ago."
Dashjr's "action" involves adding a "spam filter" to taproot transactions, allowing the network to sift Ordinals and BRC-20 token transactions and prevent Bitcoin from breaking.
While the veteran Bitcoin developer thought his anti-Ordinals stance would unite the community, it sparked a heated debate instead. 
Bitcoin Community Reacts
Following Dashjr's message, all hell broke loose in the Bitcoin community. Users were torn about Ordinals. While miners and Ordinal holders expressed their concerns on Twitter, some ran victory laps seeing the developer's message. 
Ordinals have been a controversial topic since its inception. While some support it, others don't, especially Bitcoin maximalists, which was evident at the peak of the drama.
Bitcoin maximalists like Adam Beck heralded the developer's announcement. However, on the other hand, NFT historian and Ordinals advocate Leonidas came to the technology's defense. Legendary Bitcoin maxi and Microstrategy CEO Michael Saylor also chimed in, celebrating Ordinals for what they bring to the table, claiming they'd be here "even after 100 years."
Advocates from other networks also shared their opinions. Ethereum supporter Ryan Berckmans called the altercation a "civil war." He also playfully invited "Ordinals War refugees" to Ethereum, sharing that the network won't infringe on users' property rights or violate their apps.
While it's uncertain what Bitcoin core developers decide after stirring chaos in the community, shutting down Ordinals won't be easy and could lead to even more problems besides network congestion. After generating over 1000 BTC or 27 million in fees for miners, some predict a hard fork similar to Ethereum Classic if developers decide to ban Ordinals.
Are Ordinals a Problem?
The recent Ordinals craze has unveiled a lot of problems in Bitcoin, and hiding them under a rug isn't the solution. Users suggest that the challenges Bitcoin currently struggles with aren't unique to Ordinals and would arise regardless of whether everyone uses Bitcoin right now. 
Bitcoin maximalist Billy Bitcoin shared that Ordinals have revealed that Bitcoin isn't ready for mass adoption, and Bitcoin core devs need to confront the inevitable. He adds that the size remains constant whether the data pertains to a JPEG image or a financial transaction. Developers need to address these issues with new scalability solutions and long-term visions. 
On the Flipside
Why You Should Care
Ordinals have revolutionized Bitcoin and how it operates by introducing a new layer of utility, which is why most of its users are so bullish on the technology. Thanks to Ordinals, Bitcoin isn't just a store of value anymore, and people like that. However, the new change comes at the cost of stability, which Bitcoin developers must focus on and solve. 
Read more about Ordinals:
How Bitcoin BRC Tokens Exploded into a $1B Market Cap Amid Listings
Solana Holders mock Bitcoin and Ethereum for their troubles:
Solana Holders Gloat as Bitcoin and Ethereum Grind to a Halt