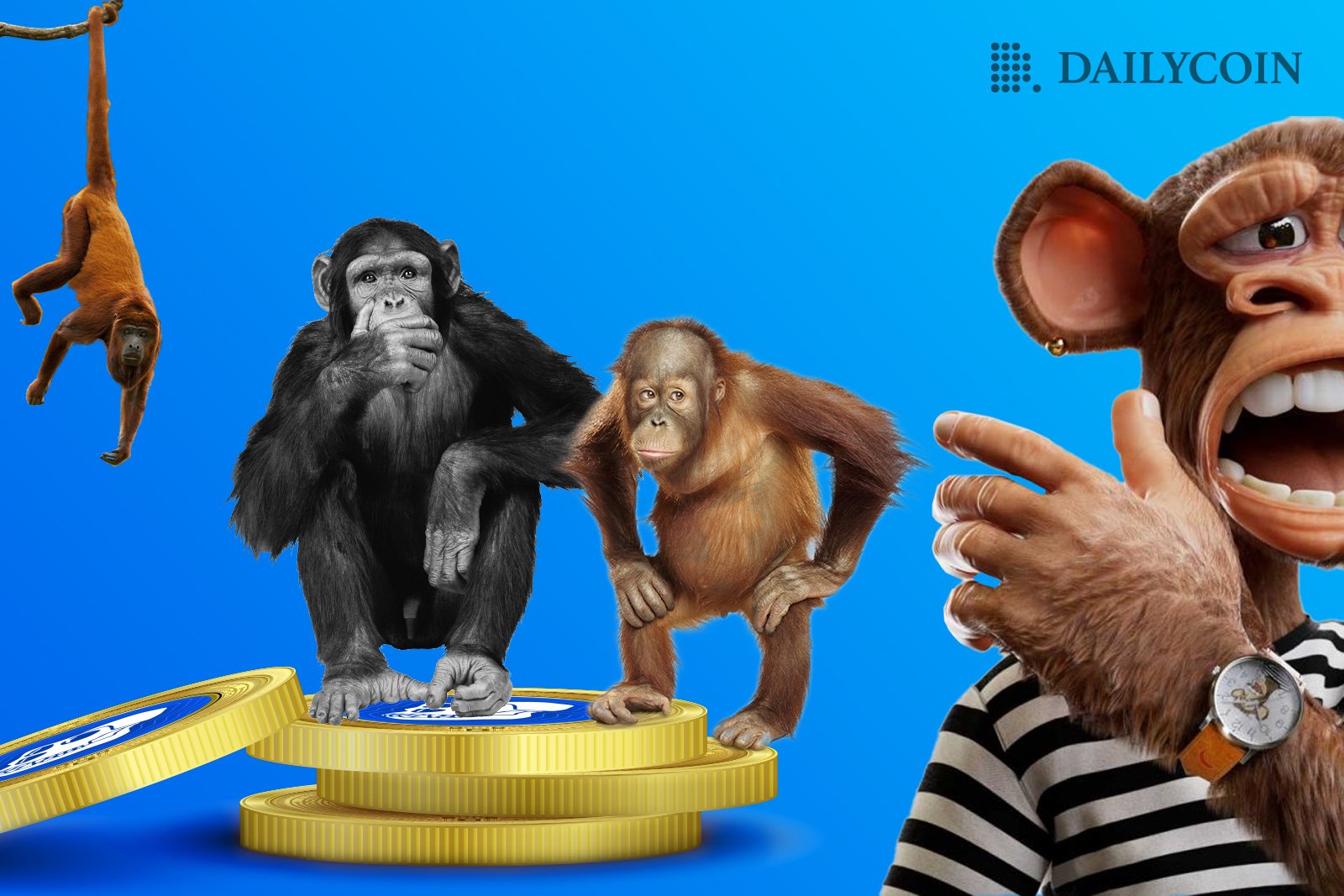 Ape Foundation, the "legal steward" and administrator behind the ApeCoin (APE), published its inaugural Ape Transparency Report in early December 2022.
The document showed financial positions and APE flows since ApeCoin was released, thus from March 16, 2022.
However, blockchain data reveals that days before the ApeCoin launch, Ape Foundation made millions of dollars worth of APE transfers to market makers Wintermute and now bankrupt Alameda Research.
None of these names were officially disclosed to the ApeCoin community.
1/7 GM $APE fam, we are pleased to publish the inaugural Ape Transparency Report! This report shows $APE balances, inflows and outflows, and grants that have been allocated, paid, and remaining.

The full report can be found here: https://t.co/f1qUsxT4Xx

Let's dig in 👇

— ApeCoin (@apecoin) December 6, 2022
ApeCoin Launches, Declares Allocations
ApeCoin (APE), the governance and utility token for Yuga Labs projects that include the Bored Apes Yach Club (BAYC) NFTs, saw daylight on March 16, 2022. Months of development and continuous media attention.
The tokens will be owned and operated by ApeCoin DAO, "a decentralized organization where each token holder gets to vote on governance and use of the Ecosystem Fund," official posts stated.
Ape Foundation also officially started its operations the same day. According to the tweets of the time, Ape Foundation was a supportive body created to act as a "legal steward of ApeCoin and administer the decisions made by the ApeCoin DAO community." 
Introducing ApeCoin ($APE), a token for culture, gaming, and commerce used to empower a decentralized community building at the forefront of web3. 🧵

— ApeCoin (@apecoin) March 16, 2022
The total supply of ApeCoins came in a fixed number of 1 billion APE tokens. As today says the official website, the APEs had to be distributed among four groups: 
62% distributed to BAYC/MAYC NFT holders (150M) and DAO treasury/resources (470M);
16% to Yuga Labs (150M) and charity (10M);
14% to launch contributors (140M)
8% to BAYC founders or founders of Yuga Labs (80M) 
On-chain Records Show ApeCoin Transfers to Alameda Research and Wintermute
A few weeks after, on March 4, the same Apecoin: Token Distributor wallet made two ApeCoin transfers for wallets labeled Wintermute: Multisig and Alameda Research 8.
Alameda Research 8 received 750,000 APES, while another batch of 1,750,000 ApeCoins dropped into Wintermute: Multisig's wallet.  
A few days after ApeCoin got officially launched, on March 18, 2022, Apecoin: Token Distrubutor wallet transferred another 1,750,000 APEs to Wintermute: Multisig in two separate transactions.
Considering the actual APE price of $15.24 that day, the transfer value sat at $26,670,000.
Unnamed Contributors Got the Exclusive Rights
According to the information available on the ApeCoin website, all tokens had to be distributed following the strictly pre-scheduled terms and dates. Most APE token supplies should be unlocked monthly for the upcoming 48 months.
Yet, none of the receivers were named as the ones who have the right to get ApeCoins ahead of their launch or the days of unlock. Except for the launch contributors.
Launch contributors, described as "the companies and people that helped make this project a reality," were the only group with the right to receive "10,000,000 tokens upfront". 
The website does not specify what is "upfront"; thus, we may only guess that "upfront" meant ahead of the ApeCoin launch.
ApeCoin issuers have not specified the names behind "launch contributors," leaving the crypto space to speculate on whether they are the investors in Yuga Labs.  
Yuga Labs has raised $450 million in funding, the latest round led by a16z dated March 22, 2022. Forty-one investors fund the company behind the Bored Apes Yacht Club NFT collection. Sam Bankman-Fried's FTX was one of them. 
Ape Foundation's Transparency Report Names Loans
More than eight months after the token launch, Ape Foundation released its transparency report, which aimed to "provide transparency into Foundation's financial position and APE flows."
The document included the balance of 2,500,000 APE tokens labeled as "loans receivable." These represented the "loans to market makers" assigned to the Ape Foundation on May 16, 2022.
Market makers are entities or organizations that place bid and sell orders through crypto exchanges to provide liquidity. They typically profit through the difference in buy and sell spread.
Wintermute is one of the leading cryptocurrency market makers. Alameda Research served as one, too, before its collapse on November 2022.
750,000 ApeCoins were lent to the counterparty that "became impaired in November 2022", while the remaining 1,750,000 APE loan is unaffected and "will come due" on February 18, 2023, the report states.
Ape Foundation's document further notes, that APE tokens for loans were unlocked at the Commence Date, which refers to March 16 2022, when operations of the Foundation formally started.
Meanwhile, the transactions mentioned in this article and the findings by crypto intelligence platform Arkham Intelligence clearly show that transfers likely to Wintermute and Alameda Research wallets were made 12 days before the ApeCoin was launched and Ape Foundation formally started.
"In the 'Inaugaral Transparency Report', ApeCoin DAO mentions loans made to two market makers, to provide ApeCoin liquidity on exchanges. Onchain data indicates these were likely Wintermute and Alameda. It also explains why one of these parties was "impaired in November 2022," Arkham states.
Ape Foundation has not mentioned Alameda Research, Wintermute, or any other specific market maker in its transparency report. 
It did not explain the following 1,749,999 APE transfer to Wintermute's Multisig wallet on March 18, 2022.
As seen from ApeCoin unlock schedules, the only Apecoins available two days after launch could only be the tokens distributed to APE treasury or NFT holders or distributed to unnamed launch contributors ahead of launch.
Dozens of millions of APE tokens were initially locked-up for 12 months, ending on March 16, 2023. According to TokenUnlocks, 62% of ApeCoin remains unlocked at the time of publishing.
ApeCoin is owned and operated by the ApeCoin DAO, thus a decentralized organization whose token holders vote on governance and use of the funds distributed to the treasury or the community of Bored Apes NFT holders. These are 62% of ApeCoin's total supply.
ApeCoin DAO has no voice in about 38% of the remaining ApeCoin supply. This means that transactions, accounting for 38% of supply, may remain undisclosed to APE token holders.