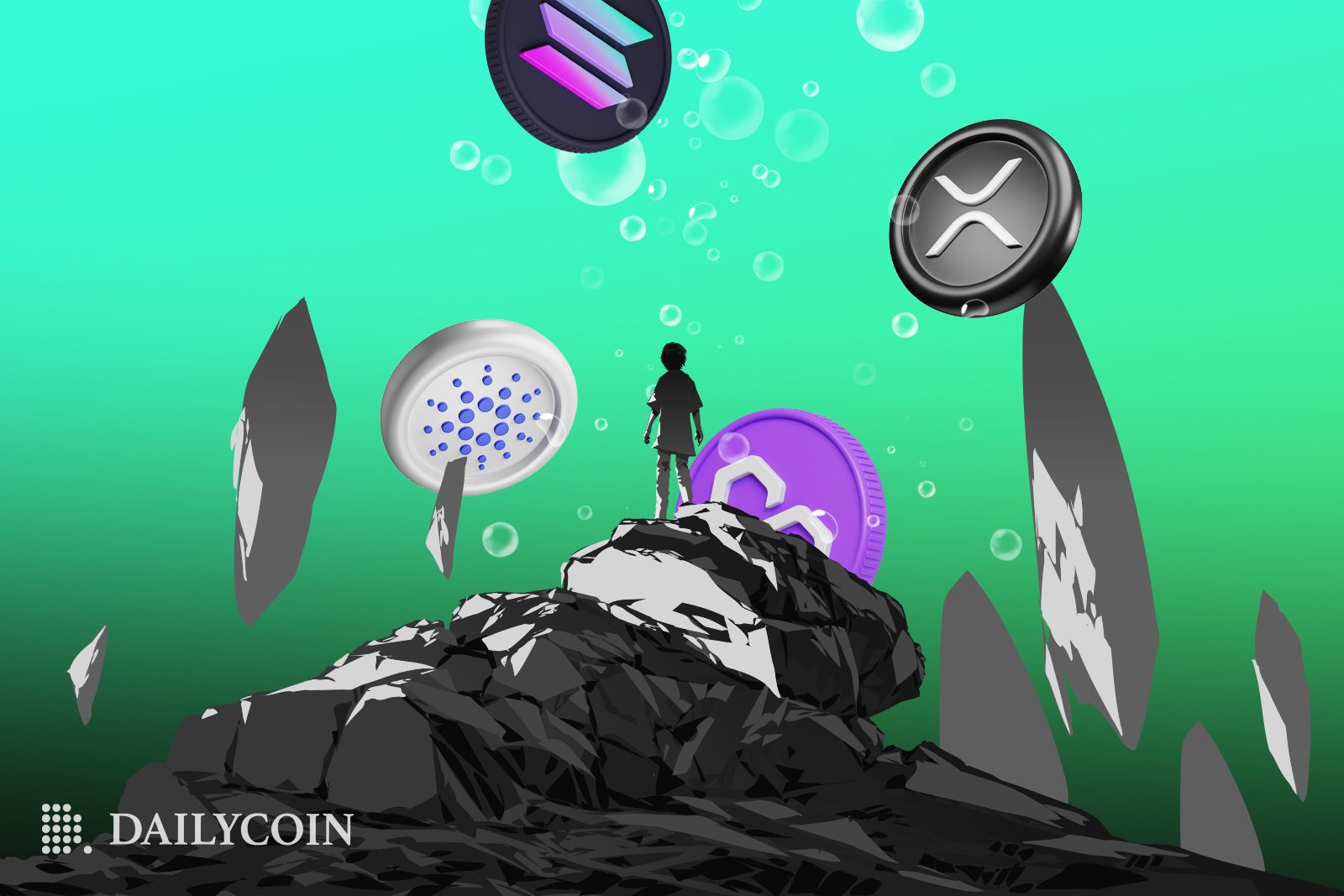 Solana's price has been surging since February 13th and is currently trying to hold above crucial support.
Cardano's token has significantly increased since its Valentine upgrade went live on the Cardano mainnet.
XRP's trading volume has increased, with unique on-chain transactions driving the growth.
Polygon's ecosystem growth has slowed down but the price action shows bullishness.
Bitcoin had an incredible 24 hours, seeing significant gains. Naturally, the altcoins followed; Solana has rebounded almost 10% after a slow start to February, Cardano is performing well after its recent upgrade, XRP's trading volume is holding steady despite legal uncertainty, and MATIC's market structure looks promising as it attempts to break out of its current resistance level. How much was due to their own developments?

Solana Price and Hackathon Update
On Wednesday, the 15th of February, Solana's price drastically rose by 9.29% to $23.77, after steadily increasing from Friday the 10th. If Solana can sustain price action above the immediate support at $22.86, the cryptocurrency's price could rise toward critical resistance at $28.55, which was previously a highly contested trading zone. 
In recent news, Solana has announced a hackathon called Grizzlython, allowing builders to go from idea to company in six weeks. Over 5,000 builders worldwide have already signed up, with $5 million in prizes and seed money up for grabs in the much-awaited event. But Solana hasn't been the only Layer-1 making moves.
Cardano's Valentine Upgrade Live
Cardano's ADA has also been generating headlines lately, rising 8.3% on Wednesday, as investors have been increasingly focusing on this top-10 proof-of-stake crypto. The token has soared roughly 16% since Tuesday, February 14th, topping nearly $0.42 per coin on February 15th. 
This move comes after news that Cardano's Valentine upgrade is now live on the Cardano mainnet. The upgrade aims to improve interoperability features and the security of the Cardano blockchain, providing additional cross-chain functionality and back-end developer improvements. ADA has become a favorite among whales lately, and community support for the network has become reminiscent of XRP.
XRP Sees Unique On-Chain Transactions
XRP's price has increased by 8% since February 14th, trading at $0.4006. The digital currency has shown promising trading volume growth, up by 15.46% within the same period.
Although legal uncertainty with the SEC remains, XRP has continued to perform well among other digital currencies. Whale Alert, a crypto analytics platform, has reported a series of perceived whale activities, contributing to the recent rise in the digital currency's trading volume. 
MATIC Ecosystem Development

The bears pulled Polygon's MATIC below the 20-day EMA at $1.19 on February 13th and 14th but proved unable to keep the powerhouse Layer-2 down for long. 
The bulls are not willing to give up their advantage, which was proven on Wednesday with a 5.6% increase as the market structure for Polygon looks bullish from a technical standpoint. 
The recent 78% increase in MATIC's price since the start of 2023 could see a correction as speculative buying cools down. One aspect of Polygon that shows no signs of slowing down is the range of impressive partnerships the network has signed over the last year.
Square Enix, a well-known video game company from Tokyo, has teamed up with the Polygon network to introduce a new art-collecting experience with a gaming twist. Meanwhile, Doritos Triangle Studios is diving into the growing world of NFTs on the Polygon Network, joining the trend of using blockchain technology for digital art ownership.
Despite the stalling growth of its decentralized finance ecosystem, Polygon has built a strong bullish narrative, within its partnerships, in the market with the upcoming zkEVM launch, and the team's efforts in the Web3 space are promising and show signs of increasing activity.
Regardless of the Ripple vs SEC case, XRP still rose dramatically. 
MATIC's market structure looks bullish at the moment. However, it's worth noting that the cryptocurrency has seen a 78% increase in price since the start of 2023.
While Solana's recent price action seems promising, the overall market is surging, and a turn in the trend would take Solana down with it.
While Cardano's Valentine upgrade is an exciting development, time will tell whether it will lead to increased adoption or usage of the Cardano blockchain.
As Solana, Cardano, XRP, and MATIC continue to make headlines. From the potential impact of legal battles to significant ecosystem developments and upgrades, keeping up with the latest news can provide valuable insights into the overall market sentiment.