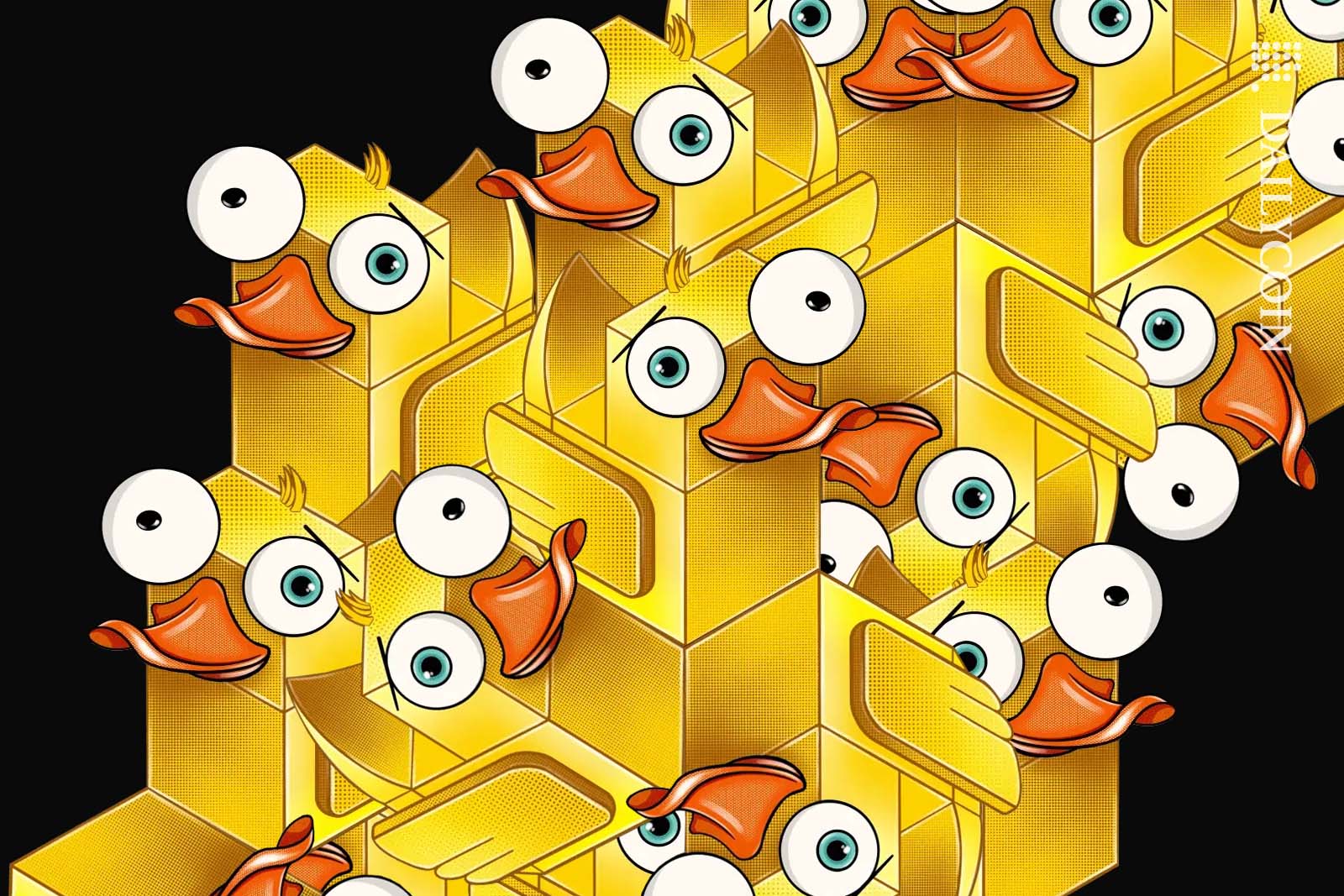 The Yellow Network is striving to solve the inherent issues of blockchain technology.
The Layer-3 network takes a unique approach to showcasing its capabilities.
Read how Yellow's approach tests all its features in a real-world setting.
NFTs and Web3 games are some of the best use cases to emerge from the Blockchain industry. Their success in recent years has been extraordinary, boasting a 2,000% growth in 2022, with investors and users flocking in large numbers. Today, the sector drives 36% of the total DeFi industry engagement, per Dapp Radar.
Despite its revolutionary potential, however, the industry's growth remains hampered, not by a lack of innovation but by infrastructure. Network congestion, high transaction fees, and slow throughput still affect blockchain games and the DeFi sector.
Enter Yellow, a Layer-3 decentralized peer-to-peer mesh network that looks to tackle these challenges head-on and showcase its prowess with the Duckies platform, an NFT card-trading game and Canary Network built into one.
What Is the Duckies Platform?
Duckies is a Canary Network where users can explore and test ground-breaking features in a real-world setting before integrating into Yellow Network.
The environment is built with the same team, code, and tools as Yellow Network, allowing it to integrate the same functionality while operating as a sandbox.
The network is fueled by the DUCKIES utility token, which users can use to access various features and services within the Canary Network, particularly its card-trading game, where users can complete quests, invite friends, earn yield, and more.
Web3 games are abundant with micro-transactions, liquidity, and items. As a result of the sheer volume of transactions that come with the territory, blockchains often struggle to manage the demand, thus making it an ideal stress test.
Currently, Yellow is accepting applications from brokers to join the Canary Network. At the same time, the public can enjoy the Ducklings NFT game as a form of "soft entry" to the Yellow ecosystem and a means to become part of the community.
What are Ducklings?
Ducklings is an NFT-based trading card game hosted on the Duckies platform, where players embark on a journey as a duckling breeder to collect and meld NFTs or participate in quests to earn some DUCKIES.
The game gives DUCKIES, the in-game token and currency of the game, a real-world use case outside of protocol.
Duckling NFTs come in four levels of rarity: Common, Rare, Epic, and Legendary. Each Duckling has unique traits, such as eyes, wings, beaks, hairstyles, personality, clothes, etc., that define its rarity and qualities.
The game's objective is to collect as many Legendary Ducklings as possible and MELD their DNA to create a Mythic Duckling. Doing so unlocks YELLOW token yield and other benefits, such as early access to new features and products.
The MELD feature combines Ducklings of the same rarity or element to create a rarer Duckling. The melded cards are destroyed, and a new one is created.
It needs careful planning and min-maxing because there's a chance that MELDing Duckling can result in zombie ducks that form another collection called Zombeaks.
It's worth noting that Ducklings are readily available on major NFT platforms, including OpenSea and OKX. In early September, Ducklings will also be available on the Hodooi marketplace, where players can trade NFTs using DUCKIES.
The game hooks players in with fun quests to earn more DUCKIES, which they can then spend on the Ducklings NFT collection. To allow me to get a better feed for exactly how that would work, I jumped into the game to test it out and experience it firsthand.
DailyCoin's Impression of the Game
Setting up an account was fairly straightforward; I had to connect my social account and wallet, and the game gave me seven quests from the get-go. I used a fresh MetaMask wallet for the game. If you play the game, select the Polygon Network and add the DUCKIES smart contract to your wallet.
The first quest is to kickstart your card deck. The game offers you 20 cards for free. However, note that users are required to pay the network fees. I spent about $0.03 in network fees to get a set including legendary, epic, common, and rare ducklings.
Following that, I was tasked to MELD my cards to ascend them to Rare cards. I fused five common Ducklings to create a rare card, for which I also paid about $0.03 in network fees. Other quests included inviting friends and logging in daily to earn DUCKIES or free cards.
The transactions were instant, which was especially pleasant given that on a typical Layer-2 or Layer-1 network, it would have taken up to a few minutes to go through a round of confirmations. Moreover, a different system would have been more expensive due to high network fees.
Although I have yet to complete my "inviting five to twenty friends" quest, other tasks were fairly easy. Players can also buy Duckies to mint new booster packs to progress faster in the game. So, I purchased ducklings with some DUCKIES as a test. To my dismay, and classic for my luck, I only received five common rarity cards.
I then used more DUCKIES to buy booster packs and MELD those cards. During my trial of the game, I noticed that all of these transactions were instant and very cheap, significantly benefiting games.
However, I was surprised at how difficult it is to ascend from a Rare card to an Epic card. Leveling up an Epic card to a Legendary card is even more challenging. Instead of MELDing the same colors to ascend to Common, with Rare and Epic cards, players must use MELD cards with matching colors and families to level up.
Getting matching families and colors is quite difficult. With Ducklings divided into five families and four colors, the odds of getting a specific card are just one in 20. Players will need five cards to ascend to the next rarity, increasing the difficulty and raising the stakes.
Given that the objective is to collect a Legendary set of Ducklings, it's quite a long journey. However, I still enjoyed the game and understood how players can get hooked on the alluring yet easy quests when the transactions are processed in real-time.
Yellow's Vision
Yellow Network aims to provide a platform that makes blockchain technology more accessible and efficient for traders and exchanges using next-gen tools. Using state channels, mesh networks, and other tools, Yellow seeks to outperform existing solutions with a platform that maintains security and throughput.
The Duckies platform is one of the community-driven projects of Yellow, which highlights the real-world applicability of Yellow Network while also being a fun way to explore GameFi.
Team
Yellow Network is run by a talented team of fintech entrepreneurs, crypto investors, engineering leaders, financial experts, and more. The project is spearheaded by CEO Louis Bellet alongside Executive Chairman Alexis Yellow and CTO Camille Meulien.
Bellet has extensive experience as a software architect and entrepreneur in fintech, crypto, and blockchain. He has worked on and founded many projects, such as Openware, a crypto exchange software provider. He now looks to solve the inherent issues through Yellow Network.
Both Alexis Yellow and Camille Meulien are also veterans of the blockchain industry. Alexis previously founded GSR, a crypto market maker, whereas Camille has over 20 years of experience working as a software architect and is a known authority in Fintech Development circles. Camille and Alexis are seeking a solid, scalable solution that aligns with Yellow's Vision.
Roadmap
Yellow Network has a lot of things in store for 2023 in its roadmap. While the project is in its private testing stage, the Layer-3 protocol plans to expand its DeFi capabilities, cross-chain support, and ecosystem. In Q4 of 2023, the project plans to list the DUCKIES token, deploy the YELLOW token on Ethereum, open-source Yellow Sidecar, and run a Private funding round with Tier-1 backers.
On the Flipside
The Web3 gaming sector is saturated with NFT-based trading card games. In popular games like Splinterlands, cards can cost as much as $150,000. 
Why This Matters
Yellow Network uses a unique and easy-to-use approach with the Duckies platform that showcases its network's capabilities and features and exposes its users to Web3 in a fun, exciting, and cost-effective way.
Considering Web3 games drive a majority of the DeFi sector's engagement, as it stands, the Duckies platform promises to play an important role in kick-starting a community centered around a solid blockchain network.