The popular Bitcoin alternative, Litecoin (LTC), is pulling a comeback after years of falling out of favor with investors.
Litecoin has now become one of the market leaders in payment and adoption, facilitating over $1 trillion worth of transactions.
To further build on its adoption, the Litecoin Foundation has partnered with Mastercard to launch a Litecoin Card in Europe and the U.K.
The recent surge in the use of Litecoin has positively affected the price of LTC, and it has gained over 41% this year to trade above $100.
Litecoin was born as a result of some flaws inherent in Bitcoin, the first released crypto, most notably its slow transaction processing. Litecoin was created by Charlie Lee and launched in 2011 as a "better alternative" to Bitcoin. 
Although Litecoin is based on the Bitcoin protocol, it offers a better transaction processing speed of up to 54 TPS, which is significantly higher than Bitcoin's transaction processing speed of 5 TPS.
At its peak, Litecoin was the second largest crypto until September 2013 and stayed in the top seven all the way to July 2020. However, a shift in focus to decentralize protocols and a dwindling community saw Litecoin's dominance fade. 
However, Litecoin is pulling a comeback, growing at a rapid rate. Its native crypto, LTC, which is solely used for transactions, has seen increased usage in recent times. So, what is behind the comeback story of Litecoin?
Social Media: Website | Twitter | GitHub | Facebook | Telegram | Reddit
Recent Developments and Future Events
Litecoin's seeming resurgence can be traced to increasing talks of its halving event entering into 2023. Happening every four years, Litecoin's halving is an event that "halves" the volume of LTC rewarded to miners.
Like Bitcoin halving, Litecoin's halvings are usually accompanied by significant price movements, thus raising interest from investors. The community played an important role, promoting the halving as one of the most significant events in the 2023 altcoin calendar.
Litecoin has also received significant media attention this month, as the team behind the project announced it has completed more than $1 trillion in transactions, a milestone only a handful of projects can boast of.
Building on the news, Litecoin is pushing to maintain a healthy adoption rate. The Litecoin foundation has announced that the Litecoin Card program is now active and available across Europe.
The program is a partnership between Litecoin and Mastercard to introduce the Litecoin Mastercard in the UK and Europe. Everywhere Mastercard is adopted in the EU, Litecoin cards can also be used.
The news has been followed by an uptick in activities on the Litecoin network. On February 16, the Litecoin Foundation announced that the project had processed its 144 millionth Litecoin transaction.
This comes after the network recorded a new all-time high hashrate of 886.17 TH/s. The team says the increasing activities are "a direct illustration of the steady, healthy, & maturing growth of the $LTC network."
Litecoin has also announced that its LTC eSports team has become the first-ever crypto-backed team to turn professional. The LTC eSports team will now play in the APEX Pro League tournament in June.
The barrage of recent developments at Litecoin hasn't been without benefits for its native LTC crypto. In the last seven days, the price of LTC has jumped by over 8%.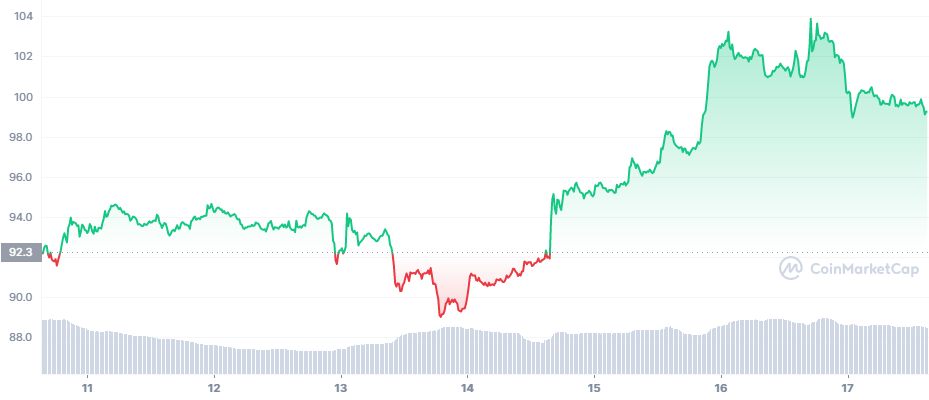 The 24 hours price chart for Litecoin (LTC). Source: CoinMarketCap
Going back even further shows more gains as LTC is a +14.5% in the last seven days and has amassed gains of over 41.2% since the start of the year. This rally has seen the price of LTC jump above $100 for the first time since May 2022.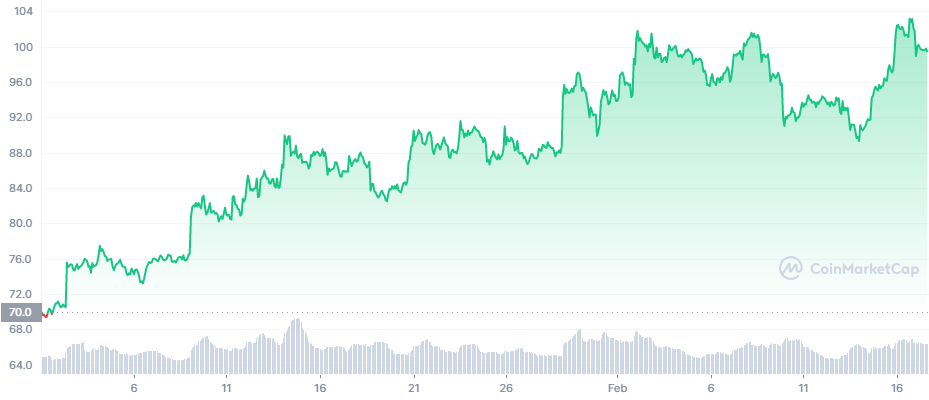 The year-to-date price chart for Litecoin (LTC). Source: CoinMarketCap
Litecoin (LTC) now trades at $99.38, retracing by 1.25% in the last 24 hours. However, Litecoin is now the 14th largest crypto, as its market cap has swelled to $7.2 billion due to its price rise.
While Litecoin has seen significant growth in its on-chain activities, like Bitcoin, it lags behind other proof-of-stake blockchains in the development of dApps and DeFi protocols.
Like other aspects of Litecoin, there has been a resurgence in the social media activity of the Litecoin community, who have taken to Twitter to share why LTC trumps the original BTC. 
Blogger and Litecoin advocate @indigo_nakamoto shares this about Litecoin:
#Bitcoin does not have the longest uninterrupted chain in crypto. #Litecoin has the longest uninterrupted chain in crypto, with 💯% uptime since its creation on Oct. 13, 2011, for 4,144 days. $LTC also has #MWEB, which allows for on-chain FUNGIBLE transactions. pic.twitter.com/8LnZSA3v31

— Indigo | Nakamotoist (@indigo_nakamoto) February 16, 2023
Litecoin community members are also very bullish on the price of Litecoin (LTC). One popular engineer and on-chain sleuth, Shan Belew shares his predictions:
Pseudonymous crypto trader DonAlt, famous for calling the 2023 crypto breakout, has also shared his bullish outlook for the price of LTC. He tweeted:
$LTC

At resistance, but given how important this one is I'm honestly shocked at how weak this pullback has been.

Above $76 this looks excellent
Below it starts looking dicey
A close above $100 would open the door to $130/$220

Personally just holding, looks good to me still pic.twitter.com/6h9Ev1iYFK

— DonAlt (@CryptoDonAlt) February 12, 2023
By pushing to bridge the gap that exists between crypto and traditional consumer markets, Litecoin is strategically positioning itself for greater adoption. Its partnership with Mastercard could see LTC's use cases increase as governments struggle with regulating the crypto industry.