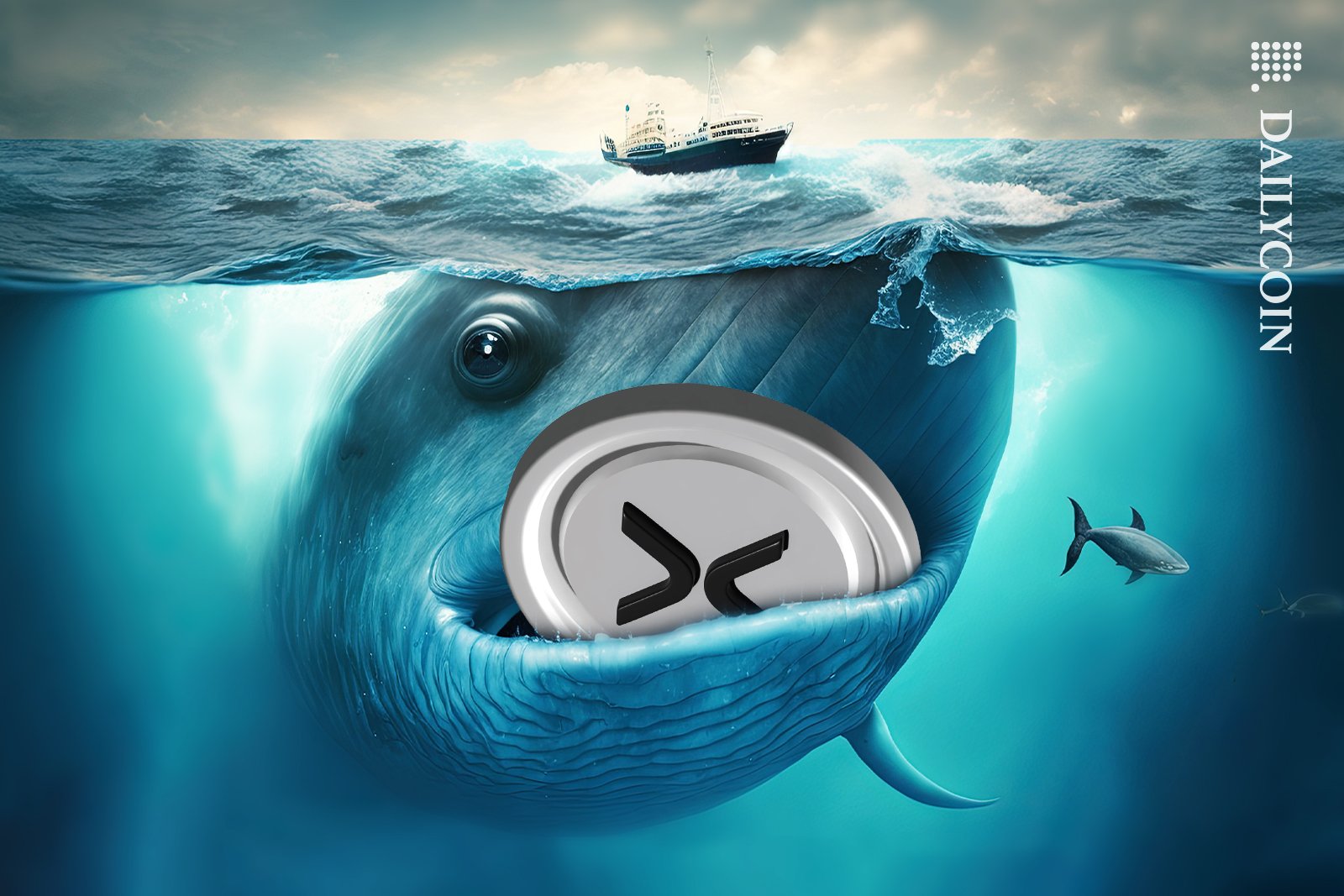 Significant transfers of XRP have occurred, with millions of dollars worth of XRP moved to unknown wallets.
XRP has faced challenges this month, experiencing only a limited number of positive trading days.
The daily RSI has indicated that XRP is nearing oversold levels
As the crypto market experiences a sell-off, XRP has struggled to maintain a positive outlook, with bears showing no signs of relenting. However, amidst the current market turbulence, large holders or "whales" of the token are making significant moves on the network, taking advantage of the dip in price.
XRP Market Struggles, Is It Oversold?
Two notable transfers of XRP have recently occurred, one involving 25,342,122 XRP worth $12,940,229 sent from Binance to an unknown wallet and the other involving 23,500,000 XRP valued at $12,307,916 sent from Bitso exchange to an unknown wallet.
However, the current crypto market sell-off has not been kind to the token, with only two positive trading days out of eight in May. As a result, the cryptocurrency has fallen below the key daily MA 50 level at $0.48, and bears have shown no signs of letting up.
Fortunately, XRP may be nearing oversold levels, as the daily RSI is approaching 30. An RSI of 30 or below typically indicates an oversold or undervalued condition.
In such a scenario, once oversold conditions are confirmed, the cryptocurrency could experience a relief rebound. However, if the declines continue, the nearest significant support for XRP will be at the daily MA 200, currently at $0.41.
Crypto Data Tracker Reports Significant XRP Transactions
Despite these challenges, large holders or "whales" of XRP are making moves on the network, likely taking advantage of the recent dip in price. Crypto data tracker Whale Alert has reported several significant transactions in the past 24 hours, including a transfer of 50 million XRP worth $21,874,438 from the Crypto.com exchange to an unknown whale wallet.
Another substantial transfer involving 113.2 million XRP worth $51,650,912 was made between two unknown whale wallets. Additionally, 29 million XRP worth $13,243,791 was moved from an unknown wallet to the Bitstamp crypto exchange.
On the Flipside
It is also worth considering that the recent token transfers to unknown wallets may not necessarily indicate negative sentiment toward the cryptocurrency.
While the current crypto market sell-off has undoubtedly harmed XRP, it is important to remember that this is a market-wide phenomenon affecting a range of cryptocurrencies.
It is also worth noting that while technical indicators like the RSI and moving averages can provide some insights into the market, they are not foolproof, and can sometimes be misleading or misinterpreted.
Why You Should Care
The recent whale movements in the XRP market indicate that large holders are taking advantage of the current market conditions to make strategic moves. This could potentially impact the broader crypto market, as these movements could signal a sentiment or market direction change.
FAQs
What is happening to XRP now?
As of writing, XRP has struggled in the current crypto market sell-off, losing 9% of its value since the start of May. In fact, out of the eight trading days so far, XRP has only managed to record two positive days. This challenging market environment has not been favorable for XRP, and has fallen below the key daily MA 50 level at $0.48.
How high can XRP realistically go?
It's challenging to predict XRP's future price with certainty. However, some experts and analysts believe that XRP could potentially reach $1 or higher in the long term. Still, this largely depends on various market factors and developments in the crypto industry, which are challenging to predict accurately.
Is Ripple winning the SEC lawsuit?
It's difficult to determine the outcome of the SEC lawsuit against Ripple. However, Ripple and its supporters believe they have a strong case and will ultimately come out on top. The lawsuit alleges that Ripple sold XRP as an unregistered security, which Ripple denies. The case is ongoing, and it may take some time before a final verdict.
Are whales good or bad for crypto?
Whales, or large crypto holders, can have positive and negative impacts on the market. On the one hand, whales can inject liquidity into the market and help stabilize prices. On the other hand, they can manipulate prices and create volatility, leading to potential losses for other investors. Some argue that the concentration of wealth in the hands of a few whales goes against the decentralized nature of cryptocurrencies.
To learn more about the ongoing legal battle between Ripple and the SEC, check out this article:
Ripple CEO: $200M Spent in Legal Battle Against the SEC
For recent news on Binance and its decision to pause bitcoin withdrawals, read here:
Binance Draws FTX Comparisons After Pausing Bitcoin Withdrawals